Thoughts on the Continuing Crisis
April 4, 2008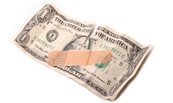 Thoughts on the Continuing Crisis
If the Rules are Inconvenient, Change the Rules
Let's Re-arrange the Deck Chairs
Regulations Coming to a Hedge Fund Near You
More Fun in the Unemployment Numbers
A Muddle Through Recession
How Much do we Borrow for a $1 growth in GDP?
London, Switzerland and South Africa
There is so much that is happening each and every day as the Continuing Crisis moves slowly into month 8, so much news to follow, so many details that need to be followed up that it can get a little overwhelming. Where to begin? Maybe with a "minor" change of the rules on how we value assets, then a look at the proposed changes in regulations, some comments to my hedge fund friends, a quick look at the employment and ISM numbers which are clearly showing we are in a recession and then finish up with some thoughts as to what it all means. There is a lot of ground to cover, so we will jump right in without a "but first" today.
Several times in the past few months I have reminded readers of the problem that developed in 1980 when every major American bank was technically bankrupt. They had made massive loans all over Latin America because the loans were so profitable. And everyone knows that governments pay their loans. Where was the risk? This stuff was rated AAA. Except that the borrowers decided they could not afford to make the payments and defaulted on the loans. Argentina, Brazil and all the rest put the US banking system in jeopardy of grinding to a halt. The amount of the loans exceeded the required capitalization of the US banks.
Not all that different from today, expect the problem is defaulting US homeowners. So what did they do then? The Fed allowed the banks to carry the Latin American loans at face value rather than at market value. Over the course of the next six years, the banks increased their capital ratios by a combination of earnings and selling stock. Then when they were adequately capitalized, one by one they wrote off their Latin American loans, beginning with Citibank in 1986.
If the Rules are Inconvenient, Change the Rules
The change in the rule allowed the banks to buy time in order to avoid a crisis. It did not change the nature of the collateral. They still had to eventually take their losses, but the rule change allowed both the banks and the system to survive. I have made the point that the Fed and the regulators would do whatever it has to do to manage…
To continue reading, subscribe for free.
---
Or login below.