Thoughts on the Continuing Crisis
September 5, 2008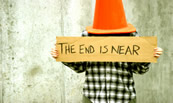 Thoughts on the Continuing Crisis
Fool Me Once, Shame on You
Delinquencies and Foreclosures Spike UP
Unemployment Rises to 6.1%
Action Is Needed Now
Annapolis, La Jolla and Wedding Videos
We are entering the next stage of the credit crisis, and one which is potentially more troubling than what we have seen over the past year, absent some policy reactions by the central banks and governments world wide. The crisis was started by an intense run-up in leverage by financial institutions and investors world wide, investing in increasingly risky assets such as subprime mortgages and then the realization that leverage could hurt. The deleveraging process started to intensify last year about this time. The easy part of that process has been just about done. Now is the time for the really hard work. It will not be pretty. In this week's letter, we look at the process and think about its implications for the markets and the economy, and visit some data on the housing market and unemployment.
And just for the record, the problems I am describing in this letter are very real. But we will get through them, as we have always done. This is not the end of the world. There are a lot of very good things happening here and there. As we will see, for most smaller banks, it is business as usual. In general, in most places and for most people, life is going on just fine. There are opportunities being created. The markets will find new solutions. But there is some more short-term pain for many market participants, and we need to be aware of the problems and see if we can avoid them for ourselves.
But first, let me ask you for some help. I get to travel a lot with my daughter and business partner Tiffani (actually she runs the business) and meet new people. Over the years, she has become as fascinated as I have with their individual stories. Everyone has a story to tell or a lesson to teach. As I announced a few months ago, we have decided to write a book (or series of books) about those stories, looking at the differences in perspective between old and young, retired and working, those who are wealthy and those who aspire to wealth. What are the differences in attitudes, in work habits, in how you manage money, in how you look at the future, and a score of other items? How do all of these things correlate?
We have created a totally anonymous online survey seeking answers to these questions and more. We have had more than 12,000 of my readers fill out the survey (thank you!!!) and we are learning a lot. We are eager to see what we find as we pore over the resulting data and engage in a lot of in-depth analysis. Are the rich really different? Is there a difference in people from Europe, Asia, Latin America,…
To continue reading, subscribe for free.
---
Or login below.