Thoughts on the Housing Bubble
July 1, 2005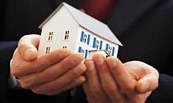 Thoughts on the Housing Bubble
Just the Facts, Ma'am
A Little Irrational Math
But What Do I Really Think?
Moving On Up and Going Nowhere
Looking at a recent magazine covers one is left with the impression that the whole world is concerned about US real estate prices. This is borne out by the fact that if you go to Google and type in sex you get 78,000,000 hits. If you type in real estate you get 110,000,000 hits, which makes housing about 40% more interesting than sex. Is there a greater sign of a bubble? But if you type in housing bubble you get "only" 1,120,000, so there is not much worrying going on. While the above facts do not constitute a scientifically valid study, they make a fun launching point for this week's letter. Are we in fact in a housing bubble? How long will prices continue to go up? Will they start to fall, or even crash, and when? We explore all this and more.
Housing values have been on my mind for the past month or so. In April, I was on a panel with Paul McCulley of PIMCO and Rob Arnott of Research Affiliates. Both are very smart and quite well off. Surprisingly, we were all in the process of either moving or getting a second home, and we all had decided to rent. They both live in the hot Southern California markets and find that renting…
To continue reading, subscribe for free.
---
Or login below.