Time for a Reality Check
February 13, 2009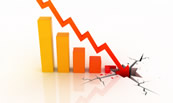 Time for a Reality Check
World Trade Is Falling Off a Cliff
European Bank Losses Dwarf Those in the US
Geithner: "You Can't Handle the Truth"
Earnings Will Get Even Worse
Orlando, Colorado Springs, New York, and Las Vegas
It is not just the US that is in recession. The world is slowing down, and rapidly. This week we quickly survey the rest of the world, and then come back to the US. We follow up with the implications for corporate earnings worldwide, and specifically address my speculations about earnings forecasts for 2009.
Let's start with some charts from my friend Simon Hunt, out of London. The following chart shows World Merchandise Export Values and World Industrial Production falling off a cliff. This is the worst such period since the end of World War II. And as the data we will examine next indicates, it is likely to get worse. Simon notes that consumer spending is about 60% of world GDP, and it is not just in the US that spending is slowing down. Consumers all over the developed world are in shock, as assets such as stocks and houses, real estate, and commodities fall in value. Unemployment is rising.
We think that almost 2,000,000 lost jobs in the last three months in the US is a catastrophe. China lost a reported 20,000,000 jobs in the last quarter, and migrant workers came back to the cities after Chinese New Year to find factories and jobs simply gone. Unemployment is rising rapidly in Europe, as the demand for goods has clearly been falling since last October.
World Trade Is Falling Off a Cliff
This means that inventories are too high, not just in the US but in factories all over the world, and that production is slowing down. Look at the recent US trade deficit. Many market analysts rejoiced that it dropped to a six-year low, just below $40 billion. But the internal numbers were not as positive. Exports are dropping faster than imports, as seen below.…
To continue reading, subscribe for free.
---
Or login below.