Warren Makes a Bet
June 20, 2008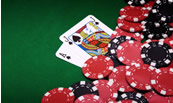 Warren Makes a Bet
It's All About Values
Hedging Your Bet
Mean Reversion of National Wealth
New York, Las Vegas, and Sweden
The Sage of Omaha made a bet that was written up in a recent Fortune magazine article. Basically, Warren Buffett bet that the S&P 500 would outperform a group of funds of hedge funds over the next ten years. A million dollars to someone's favorite charity is on the line. This week we will analyze the bet, using it as a springboard to learn about valuation and value investing. As we will see, there are times that making a bet on the S&P 500 to outperform hedge funds (or bonds or real estate or whatever asset class) makes sense and times when it doesn't.
But first, an apology is in order. I get to travel a lot with my daughter and business partner Tiffani (actually, she runs the business) and meet new people. Over the years, she has become as fascinated as I have with their individual stories. Everyone has a story to be told or a lesson to teach. We have decided to write a book about those stories, looking at the differences in perspective between old and young, retired and working, those who are wealthy and those who aspire to wealth. What are the differences in attitudes, in work habits, in how you manage money, in how you look at the future, and a score of other items? How do all of these things correlate?
We sent an email to some of you a few days ago, asking you to fill out a survey to help us gather data, with the intention of sending it to everyone over time. After you complete this survey, I offer an audio stream of a speech I recently made.
The survey software we're using had been stress tested to handle 50,000 surveys in a 24-hour period. For whatever reason, though, the server on which the survey was hosted simply collapsed under the number of people trying to complete the survey and listen to the speech.
I am sorry about the frustration some of you had not being able to get into the survey. We are working on getting the problem fixed and will send…
To continue reading, subscribe for free.
---
Or login below.