Welcome to the New Normal
September 25, 2009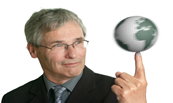 What We See
And What We Don't See
The Statistical Recovery
A Double-Dip Recession?
Welcome to the New Normal
Birthdays, New Orleans, and then the Road Trip from Hell
Unemployment is high and rising. But if the recession is over, won't employment start to rise? The quick answer is no. We look deeper into the Statistical Recovery and find yet more reasons to be concerned about near-term deflation. This week we consider all things unemployment and ponder the need to create at least 15 million jobs in the next five years to return to a full-employment economy - and the implications for both the US and world economies if we don't. Economic is often about what we can clearly see, and yet it is understanding what we can't see that gives us true insight. We start with a collection of facts that we can see and then begin a thought exercise to find the implications.
First, the unemployment rate is now officially at 9.7%. We are approaching the official high we last saw at the end of the double-dip1982 recession. In the chart below, notice that unemployment rose throughout 1980 and then began to decline, before rising rapidly as the economy entered the second recession within two years. Also notice the rapid drop in unemployment following that recession, as opposed to the recessions of 1991-92 and 2001-02, which have been characterized as jobless recoveries. Unemployment was as low as 3.8% in 2000 and saw a cycle low of 4.4% in early 2007.
(For the record, all this data is available on the Bureau of Labor Statistics website. There is a treasure trove of data. They are quite open about what they do and how they do it. When I call to ask a question, they are quite helpful. How people interpret the data is not their fault.)
What We See
This headline unemployment number (9.7%) is what we see when we read the paper. What we typically don't see is the real number of unemployed. For instance, if you have not actively looked for a job in the last four weeks, even if you would like one, you are not counted as unemployed. You are called a "marginally attached" or "discouraged" worker. Often there are very good reasons…
To continue reading, subscribe for free.
---
Or login below.