What Does the Fed Know?
January 25, 2008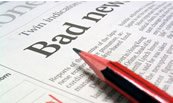 What Does the Fed Really Know?
Fed's Folly: Fooled by Flawed Futures?
Brother, Can You Spare a Billion?
$5 Billion a Quarter
Planes, Trains, and Santa Barbara
And Charlie Wilson's War
It had been my original intention to devote this week's letter to the view from Europe, as I have been here for the last week, but events have changed that goal. The Federal Reserve made a very rare inter-meeting rate cut of 75 basis points this week, after the worldwide markets were in turmoil. Many pundits suggest the Fed was responding to the worldwide collapse in stock prices. This week we examine that suggestion, and I will offer an alternative explanation. I am beginning this letter in a London subway train. Quickly, the consensus wherever I go seems to be that Europe and the United Kingdom are also headed into recession. There is a lot of interesting ground to cover, so let's get started.
But first, I want to make a quick correction from last week. I do know the difference between monocline (a set of rock layers that all slope downward from the horizontal in the same direction) and monoline (a business that focuses on operating in one specific financial area). However, Microsoft Word doesn't. I *think* I had it right in the original version of the letter, but when I sent it to my editor, the word monoline was "helpfully" changed automatically to monocline. As we will be mentioning the monoline companies again this week, let's hope we can get it right.
Fed's Folly: Fooled by Flawed Futures?
In The Financial Times today the inside headline is "Markets ask if the Fed was duped?" It seems that a rogue trader (interesting how a lone trader who loses a lot of bank money is always a rogue) lost Societe Generale $7.1 million (4.9 million euros). Seems he knew how to override the risk control systems, had other employees' passwords, and built up a massive long position which was…
To continue reading, subscribe for free.
---
Or login below.