What Will Cause the Next Recession?
August 19, 2005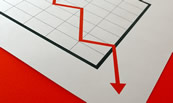 What Will Cause the Next Recession?
$70 Tank of Gas
The Housing Market Starts to Show Signs of Weakness
Greenspan - Where's the Fire?
Malta? New York, London, Brussels, Sofia, Toronto, Etc.
It's a race to see what will be the cause, or maybe better put, what will be blamed for the next economic slowdown. Will it be oil and rising energy prices? What about a slowdown in the housing market? You can't count out the Fed raising interest rates as source of economic slowdown. If China slows down and thus has less money to invest in our bonds, will rates rise? There are so many potential culprits. We run through them and more as we try to peer into 2006.
One of my favorite cartoons is a picture of two scrawny vultures sitting on top of a cactus in the middle of the desert. One turns to the other and says, "Patience, hell. Let's go kill something." Patience is what we are going to need for the rest of this year.
$70 Tank of Gas
It happened to me for the first time this week. My gas tank topped out at over $60. Texans are not used to $2.65 a gallon. The local good old boys can now spend over $70 to fill their Ford F-150 pickups. Let's work the numbers on that. The truck gets 14 miles per gallon. In Texas, you can have a long commute to work. If you do…
To continue reading, subscribe for free.
---
Or login below.