Whither Europe and the Euro?
June 10, 2005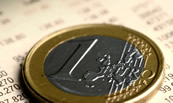 Whither Europe and the Euro?
No Dogs or Irish
Where Did All the Immigrants Go?
Friends, Surf and Family
What if the Malthusian doom and gloom crowd is wrong? What if the trend of lower population growth clearly evident in the developed world is echoed in the rest of the world? This week we look at a remarkable book by Ben Wattenberg called simply "Fewer." It is about "How the New Demography of the Population Will Shape Our Future." His thesis has implications for currency valuations, public pensions and the future of Europe, among many other things. The book has given me a great deal of food for thought, and I share some of those deliberations with you. Not all of my speculation is pretty, but these are topics which will be addressed, because the markets will not allow them to be ignored.
"Fewer" is an amiable book of some 220 pages. It is extremely well written and easy to read. For an investment of a few enjoyable hours you will be given a considerable grasp of the demographic issues facing the world. I highly recommend you buy the book. (www.amazon.com)
But before we get started, let me warn you. Some of you may not like my thoughts on immigration. I should note that…
To continue reading, subscribe for free.
---
Or login below.