Whither the Price of Oil?
May 23, 2008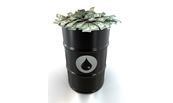 Those Nasty Index Speculators
Is Correlation Causation?
Where Are All the Tankers?
Where Will Oil Prices Go?
Is it 1980 All Over Again?
The Middle East, California, and Help for Myanma
Why has the price of oil risen so much in the past few months? Is it a supply and demand issue as some believe; or is it because of an out-of-control futures market driven by the proliferation of commodity index funds and rampant speculation, as everyone tries to get in on the rise in commodity prices? This is a very complex issue, with a lot of emotion attached to it.
This week I try to give you an understanding of why oil prices have risen and whether they are likely to stay at such lofty heights or maybe even fall! And we look at a very odd statistic: where are all the tankers? There are some very unusual things happening in the oil patch. If you are currently exposed to the energy or commodity markets, or are thinking about it, I believe you will find this letter of interest. At the end of the letter, I also tell you how you can personally see that help gets to the victims of Cyclone Nargis in Myanmar. It is a desperately needy situation. There is a lot to cover, so we will get to the essay right after this quick note.
I have talked for the past few months about why I feel we may be in for a tough investment environment and a Muddle Through Economy. I think in this type of market cycle it is important to increase your portfolio allocation weighting to noncorrelating investment strategies. I work with Steve Blumenthal and his team at CMG to help investors find managers who can take smaller minimums and who have such alternative strategies. We are creating a platform of managers that you can access for your personal portfolio. I recently completed a special write-up on Eric Leake of Anchor Capital, an investment advisor I am particularly impressed with. For the last 12-1/2 months, he is up 16.77%, in comparison to the S&P 500 index that is down -2.08% (net of fees from April 30, 2007 through May 15, 2008). Past results are not necessarily indicative of future results.
You can get this report and others I have written by going to https://cmgfunds.net/public/mauldin_questionnaire.asp and filling out the form. If you are a manager and would like to be considered for the platform, drop a note to PJ Grzywacz at pjg@cmgfunds.net. And if you are an investment advisor and would like to see the managers that are on our platform and determine whether they might fit into your client portfolios, we do have…
To continue reading, subscribe for free.
---
Or login below.