Why Investors Fail
August 20, 2004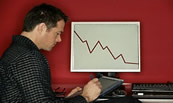 Why Investors Fail: Analyzing Risk
Investors Behaving Badly
Why Investors Fail
I've Got a Secret System
When Will the Next Bull (or Bear) Market Run Begin?
Becoming a Top 20 Percent Investor
Philly, London, Bermuda
This week we look at how to make you a top 20% investor, think about some of the mistakes we all make and much more. I am writing today in Florida and will finish up in Texas tonight before taking off for Philadelphia. Because of the time constraint on my usual research, I am going to borrow a few pages from Bull's Eye Investing and some letters written last year and add a few thoughts. I think this letter contains some very important points that are worth repeating. If you would like more on this line, you can go to chapters 15 and 17 in Bull's Eye Investing (see below how to get a 32% discount.)
I should note that I have just finished a new (free) Accredited Investor E-letter which will be sent out within a few weeks. It has been some time since I have written one, but I am now committed to getting one a month out. I apologize to those who have signed up for the letter and have not gotten one for months. No more apologies, just copy will be my future motto.
For those who are interested and who qualify, I write a free letter on hedge funds and private offerings called the Accredited Investor E-letter. You must be an accredited investor (broadly defined as a net worth of $1,000,000 or $200,000 annual income - see details at the website.) You can go to www.accreditedinvestor.ws to subscribe to the letter and see complete details, including the risks in hedge funds. (In this regard, I am…
To continue reading, subscribe for free.
---
Or login below.