Will They Raise or Will They Stay?
April 23, 2004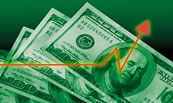 Will They Stay or Will They Raise?
Riots in the Market
Inflation? Well, Maybe
The Global Carry Trade
Red-Faced in La Jolla
With the theme song (circa 1979) from The Clash as our background music - Should I Stay or Should I Go? - we explore whether the Fed will raise interest rates this summer or postpone any actions until after the election. We look at a prediction by bond maven Jim Bianco, whose track record on these matters is quite good. He believes the Fed may raise rates as early as the June meeting. This seemingly arcane topic has important implications for your portfolio and the economy. It should make for an interesting letter.
But first, a brief update and commercial for my book, Bull's Eye Investing . I woke up Saturday to find it had risen to #1 at BarnesandNoble.com. It stayed there for the weekend and has been at #2 behind Woodward's book, Plan of Attack , after an appearance on 60 Minutes rocketed his book sales. Surprisingly to me, Bull's Eye went to #7 at Amazon.com over the weekend, and has been fairly strong. Last…
To continue reading, subscribe for free.
---
Or login below.