A Conversation on Europe's Political Economy with George Friedman and John Mauldin
June 14, 2012
My travels last week took me to Austin, and I was able to stop by Stratfor to visit my friend and fellow thinker George Friedman. We had a great discussion about Europe, and luckily he had the wherewithal to video it. It is short for a discussion between George and me, but we got our points in. I think you'll enjoy hearing George's point of view on political economy versus economy, and our back and forth. I don't always agree with him ... but disagreement produces the best conversations. 


Click here to watch the video.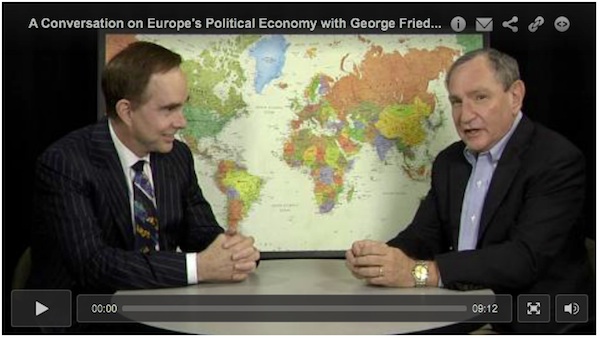 If you're interested in more from George, you can sign up for a subscription to Stratfor. They produce some of the best geopolitical analysis out there – I read it daily. My readers get a discount, plus a free copy of George's newest book, The Next Decade.
Click here to check out the offer.


Your agreeing to disagree analyst,

John Mauldin, Editor
Outside the Box
subscribers@mauldineconomics.com
Sign-Up to Receive Outside the Box
Each week, John Mauldin highlights a thoughtful, provocative essay from a fellow analyst or economic expert. Some will inspire you. Some will make you uncomfortable. All will challenge you to think outside the box.
---
To continue reading, subscribe for free.
---
Or login below.