Navigating the Eurozone Crisis and Preparing for Greece's Failure
October 6, 2011
Folks, you hear a lot about the eurozone crisis, but what you don't run across very often is a coherent idea on how to move forward. My friends at STRATFOR, a private intelligence company, have done us all the courtesy of saying out loud what everyone else shies away from: Eject Greece from the eurozone.
It's not pretty. It belies the lovely concept of a unified and prosperous Europe. And the worst part: it comes with a big fat price tag, of the 2-trillion-euro variety. But it may be the only way to steer the train before it derails completely.
Today I have the privilege of sending you two pieces from STRATFOR. If you have a couple of minutes now, <<watch this video on preparing for Greece's (inevitable) failure>>. Then check out the written piece below, a deeper dive into the crisis as a whole. If you're interested in following all of STRATFOR's geopolitical analyses, as an OTB reader you can get a hefty discount off their subscription rate, plus a free copy of the NY Times bestseller by George Friedman (my buddy, and STRATFOR's founder).
Your hoping the Rangers take it all analyst,
John Mauldin, Editor
Outside the Box
subscribers@mauldineconomics.com
---
Navigating the Eurozone Crisis and Preparing for Greece's Failure
September 28, 2011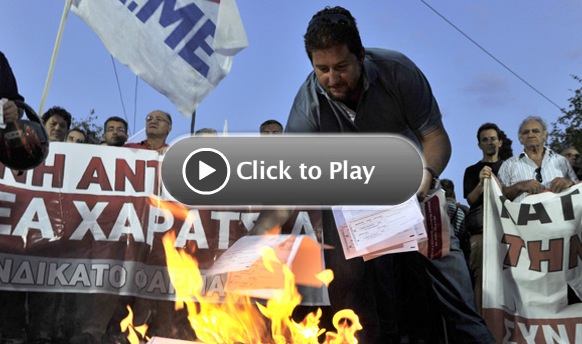 LOUISA GOULIAMAKI/AFP/Getty Images
A protester sets fire to euro banknote copies in Athens on Sept. 17
Summary
The eurozone's financial crisis has entered its 19th month. Germany, the most powerful country in Europe currently, faces constraints in its choices for changing the European system. STRATFOR sees only one option for Berlin to rescue the…
To continue reading, subscribe for free.
---
Or login below.