This week's Outside the Box is with an old friend to long-time readers, Ed Easterling of Crestmont Research. Ed is usually on the bullish side, but his research of late points to a few warning signs that say some cycle convergences may be pointing to problems. And that coincides with my macro concerns. As usual, lots of charts and data, but easy to read and understand. And, for those with stock market investments, very thought-provoking and timely.
I write this at 34,000 feet on the way back to Dallas. I met with a few Congressmen this morning and then ten Senators (!) this afternoon. It seems that some of them had read Endgame and rounded up a rather impressive group to come hear me speak for about 90 minutes. No Powerpoint, just off the cuff, with lots of very pointed questions, and they were taking notes (mostly). Some have been my long-time readers (go figure). It was bipartisan. Actually tripartisan, as independent Joe Lieberman was there, and asked some very hard questions. They cut me no slack and I gave no quarter. It was a very frank discussion. This is a group that is quite worried (I should say seriously worried) about our future, and they let me know there were more like them. On both sides of the aisle. It was actually somewhat encouraging, except that they are not optimistic. There was a sense of palpable concern that nothing might be done until we have a crisis, and so they realize the need to act. They are working to get their fellow Senators on board. Maybe there is hope. Without naming names, I was particularly impressed with the questions from a "Tea Party" Senator when I talked about the "glide-path option" and what going too fast would mean – as in a depression. I think he got it. We'll see. He took the most notes, although Portman (who ran OMB so has a serious resumé and credibility on budgets) was going through paper rather fast as well.
They grilled me on the debt ceiling, and I gave it my best; but I think the debt ceiling is a temporary sideshow to the whole deficit issue. They truly were getting the "hitting the wall" if we don't get the deficit under control. I left a lot of books and was surprised that more than a few came with their own copies to have me sign. Senator Dan Coats set up the meeting, and Rob Portman helped round up the group. Getting that many Senators in a room is not easy. And a few of my heroes were in the room, too. It was a very humbling experience for your already humble analyst.
As an aside, neither the Congressmen (some of whom are in the GOP leadership) nor any of the Senators have a clue as to how the debt-ceiling issue will work out. There were lots of guesses and speculation. One of the "Gang of Six" was there, and he had no idea what would happen.
Small self-promotion: you should get Endgame and read it. If Senators are reading it and marking it up, maybe you should take a look. http://www.amazon.com/Endgame.
Ok, we are landing, so it's time to hit the send button. More later.
Your can't believe this life analyst,
This week we look at another except from Ed Easterling's gonzo book on stock market return projections, called Probable Outcomes. This section is entitled "Game Changer," and it is that and more. (Again, thanks to Ed for letting us read his work!)
"Game Changer" is a thought-provoking, somewhat detailed analysis, with two major surprises. The first is that GDP growth was well below average last decade (a trend that could continue this decade); and second, slowing growth has a substantial negative effect on valuations (P/E ratios). This ties well into my own Endgame and suggests implications about slower growth, etc. (similar to what I project from work of my own). Slower growth drives P/Es lower (even without higher inflation, or deflation) and could drop the market by a third or so relative to "normal" cycles.
Ed and I talk about this a lot, and agree that readers must understand Endgame to appreciate how significant "Game Changer" can be. Probable Outcomes complements Endgame with specific implications for investors and policy makers who look to the stock market for returns over this decade.
Just another quick plug for Endgame from a review on Amazon:
"Endgame: 'The final stages of an extended process...' The aptly chosen title for Mauldin's new book reflects the vision that he started sharing over a decade ago when he foresaw the Muddle Through Economy (he repeatedly warned about Muddle Through in his free weekly newsletter at Thoughts from the Frontline and in his best-selling books).
"In Endgame, Mauldin and Tepper detail the history of events that layered increasing debts on an underperforming economy. Their analysis is not limited to the U.S., but rather walks around the world highlighting a global issue. Mauldin again demonstrates his laudable ability to synthesize vast amounts of information into relevant nuggets. The first half of Endgame lays the foundation brick-by-brick, including a look at the basics of economics and recent research to understand the situation. The second half of the book proceeds country by country laying out the common and unique problems that they confront. It exposes a world of vulnerability, but not one that is hopelessly destined. Mauldin and Tepper are optimists, and present a call to action that can result in a successful endgame.
"Once again, as another decade starts, Mauldin assembles a plethora of data and charts to deliver information that investors, policy makers, and involved citizens need to better understand and act upon. From the classic principles of Minsky to the modern groundbreaking research of Reinhart and Rogoff, Mauldin explains clearly the credible scenario that the burdens from mountains of debt create another decade or longer of Muddle Through as a process rather than an event. Passage through the vestibule of the endgame requires restitution in the forms of deflation, inflation, volatility, and slow economic growth. Despite the headwinds, endgame need not be game-over – which appears to be Mauldin's personal game plan for his new book. He includes writings to his children that their future can be much brighter than the current period that we confront. Knowledge is power and you'll find both in Endgame."
You can get the book at Amazon or Barnes & Noble. And enjoy "Game Changer"!
Your writing away analyst,
Today's OTB features an excerpt from my friend Vitaliy Katsenelson's recently published The Little Book of Sideways Markets. Vitaliy is CIO at Investment Management Associates, a value investment firm in Denver, and he is a prolific and engaging writer (you can find and subscribe to his articles at http://ContrarianEdge.com). I had the pleasure of writing the foreword to Vitaliy's book, and here is a brief excerpt:
"Markets go from long periods of appreciation to long periods of stagnation. These cycles last on average 17 years. If you bought an index in the United States in 1966, it was 1982 before you saw a new high – that was the last secular sideways market in the United States (until the current one). Investing in that market was difficult, to say the least. But buying in the beginning of the next secular bull market in 1982 and holding until 1999 saw an almost 13 times return. Investing was simple, and the rising markets made geniuses out of many investors and investment professionals.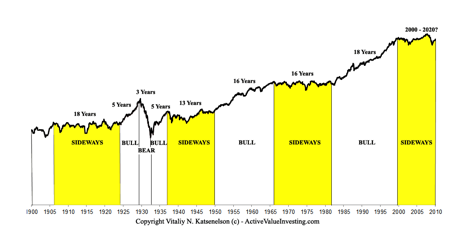 "Since early 2000, markets in much of the developed world have basically been down to flat. Once again, we are in a difficult period. Genius is in short supply.
" 'But why?' I am often asked. Why don't markets just continue to go up, as so many pundits say that "over the long term" they do? I agree that over the very long term markets do go up. And therein is the problem: Most people are not in the market for that long – 40 to 90 years. Maybe it's the human desire to live forever that has many focused on that super-long-term market performance that looks so good.
"In the meantime, we are in a market environment where investors have to be more actively engaged in their investments than before during a bull market when the rising tide lifted all ships. The Little Book of Sideways Markets is a life preserver that will help you navigate these perilous waters. Wear it well and wisely."
In the excerpt that follows, Vitaliy explains the whys and wherefores of bull, bear, and sideways markets.