After I sent out this week's OTB on Germany, I remembered this very intriguingly titled piece by my friend George Friedman, founder of a geopolitical analysis company called Stratfor.
The piece was written a few days ago, but when it comes to someone as ahead of the pack as George, who managed to write a book called The Next 100 Years, well, let's just say what he writes is pretty timeless.
The content of this report is as bold and thought-provoking as the title. Some nuggets:
• Greece disappointed Europe not because of the choice it made but because it was crippled with indecision.
• Germany has become the problem in the eurozone where once it was the solution.
• France is not yet leading a coalition against Germany, but it is difficult to imagine a different scenario.
If you like the piece below, consider subscribing to Stratfor. <<OTB readers can click here to access a pretty significant discount on a Stratfor subscription>>. Their coverage of Europe (and the rest of the world) provides a unique geopolitical perspective. I also know that a very in-depth report on the geopolitics of Germany is coming up in the next couple of weeks, so you may want to subscribe to access it.
Your wishing this Italy trip was also timeless analyst,
My travels last week took me to Austin, and I was able to stop by Stratfor to visit my friend and fellow thinker George Friedman. We had a great discussion about Europe, and luckily he had the wherewithal to video it. It is short for a discussion between George and me, but we got our points in. I think you'll enjoy hearing George's point of view on political economy versus economy, and our back and forth. I don't always agree with him ... but disagreement produces the best conversations. 


Click here to watch the video.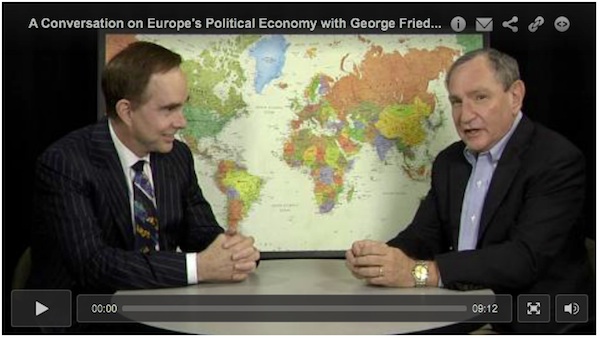 If you're interested in more from George, you can sign up for a subscription to Stratfor. They produce some of the best geopolitical analysis out there – I read it daily. My readers get a discount, plus a free copy of George's newest book, The Next Decade.
Click here to check out the offer.


Your agreeing to disagree analyst,

There are political sides in America ... and then there are political sides in the communist state of China. Here, it's a matter of the right and the left. In China, it's a matter of private enterprise and strong foreign investment versus highly centralized and debt-heavy state enterprise.
According to the geopolitical analysis company Stratfor, the left may be losing ground in China, and Beijing may be headed down an economic path that focuses on private enterprise. If the trend becomes the national strategy in the long term, this could mean greater room for private business in China. You can read Stratfor's complete analysis in the article below.
You can see why it's important to follow events like this. For those of you who don't know Stratfor yet, it is a company, founded by my friend George Friedman, that provides daily reports and analysis on global affairs. I read them daily and have arranged a special discount on Stratfor subscriptions for OTB readers. <<Check out the offer here>> – it includes a new book on the geopolitics of the BRICS nations.
Your right hand always knows what the left hand is doing analyst,
Companies issue state of the enterprise addresses, and presidents issue state of the union addresses ... but you've got to be pretty confident to address the state of the world. Luckily for us, Stratfor founder and CEO George Friedman is just that confident – and it's well-deserved.
George is the expert in geopolitics, and his company is the best source out there for geopolitical analysis. Thus, his recent article, "The State of the World: A Framework," is well worth a thorough read. It identifies three distinct phenomena the world is facing: the European financial crisis, the Chinese export crisis, and Iran's rise to power in the Middle East.
One of his most interesting points, and one that I'm inclined to agree with, is that the most powerful country in the world – the United States – is currently unprepared to deal with this new reality. Something to keep in mind as we enter election season ...
Some of you may know that Stratfor was hacked several weeks ago. While they rebuild some infrastructure, they've got an open-house website – you can access the content that's usually only available to subscribers. You may want to take advantage of this opportunity by visiting www.stratfor.com before they lock up the house again. I particularly recommend their 2012 Annual Forecast.
Your wondering whether I'll have Greek, Chinese, or Iranian food tonight analyst,
A new year is almost upon us, so now seems like a perfect time to step back from the (many) crises at hand and take stock of the big picture. According to my friend & fellow thinker George Friedman, the big picture of the next 10 years is this: America will dominate, and the American president will have to figure out how to act as global emperor without admitting that's what he is.
George's newest book, The Next Decade, comes out in paperback in January; and he's graciously agreed to let me send you the first chapter, which backs up the bold statements above. We don't always agree, but I have to give George credit. He's an expert at constructing an argument.
If the first chapter whets your appetite, you can <<get a free copy of the book>> when you subscribe to STRATFOR, a geopolitical intelligence company founded and led by George. It is the publication to read if you're interested in foreign affairs. Plus, OTB readers can get a hefty discount.
Your really glad I'm not a global emperor analyst,
Today I offer a topic that might have missed your "news-net" coverage of the eurozone crisis, US debt insanity, and a possible global recession. Folks, we may have the modern-day equivalent of the Cold War on our hands.
Go ahead and let go of the images of McCarthy at the podium, the Sputnik launch, and reel footage of schoolchildren ducking under desks; this cold war likens more to Tom Cruise's Mission: Impossible than the original with Peter Graves. I'm referring to ongoing covert operations against Iran over its quest for nuclear capabilities, and its staunch position against the existence of Israel. After the defection of nuclear officials, the Stuxnet computer worm, and a few questionable "explosions," it is becoming increasingly clear that a cold war is being waged (and has been, since at least 2007) to ensure, simply put, some level of peace in the Middle East.
Take a look at this Security Intelligence Report (a short read) from my friends over at STRATFOR. And lest you forget why these spy missions matter beyond the Mission: Impossible intrigue they offer, recall that Iran is conveniently located on the narrow Strait of Hormuz, through which passes 40% of the world's seaborne oil. So a covert mission gone wrong or an Iranian countermove could elevate the current financial crisis into something of epic proportions.
This is the kind of phenomenal information I expect from STRATFOR, and <<you can too, with their special rate, available only to OTB readers>>.
This email will not self-destruct in 5 seconds.
Let's peel our eyes away from the eurozone disaster momentarily and take a look at another crisis – one with just as much potential to impact our global financial system.
As we've discussed in Outside the Box before, Iran's trump card is not its nuclear capability but rather its opportune location next to the very narrow, very important Strait of Hormuz ... through which no less than 40% of the world's seaborne oil passes.
As the US leaves Iraq, Iran is ready and waiting to fill the void and extend its regional influence. So where's the next turf war? A shaky Syria, where the Iranian-Saudi-US balance of power will continue to play out.
If you haven't been following the newest developing crisis in the Middle East, I recommend you spend some time with this piece by my friend George Friedman, CEO of STRATFOR. I'm also including a great background video from STRATFOR on the history of the Sunni/Shia divide. It's something you hear referenced all the time, but you may not know how it got started ... or what it really means.
If you're interested in more than the infrequent freebie from me, you should consider subscribing to their service. As an OTB reader you get a great discount and a free book when you join. There's nothing quite so enriching as getting a daily dose of what's really going on in the world. It's the intellectual equivalent of a Thanksgiving meal.
Your thinking about the turkey-mashed-potatoes-and-gravy balance of power analyst,
Take a minute – and maybe a deep breath too – and imagine the markets at opening bell on a hypothetical morning when live video shows burning oil tankers in the Strait of Hormuz (through which 40% of the world's seaborne oil passes). Couple that with the already shaky state of the current global economy and you get ... well, what does chaos in a mosh pit look like?
Iran is back in the headlines, and once again behaving in a less-than-cooperative fashion regarding its nuclear enrichment program. After they've failed to deliver on promise after promise, it does not appear that Iran will come clean anytime soon, and definitely not in time for the IAEA (International Atomic Energy Agency) inspection report due out any day now.
So what are our options? This week I came across a report from my friends over at STRATFOR, a geopolitical intelligence company, that fully analyzes the situation. They were nice enough to let me share the full article with Outside the Box readers, so I don't want to give too much away here. All I'll say is that there are three factors deterring any form of action against Tehran, and one of them relates to the scenario I described above.
And if you'd like more than just the occasional report from STRATFOR via yours truly, I've finagled a nice discount on a STRATFOR subscription for my readers, plus a free copy of their book on Iran. >>Click here to find out more.<<
Your still grieving Rangers fan,
In my letter earlier this week, our guest writer, Grant Williams, gave Europe about the same odds of escaping crisis as a pitcher throwing a perfect game in baseball. That's 40,000 to 1. Take a look at this decision tree on Europe (below) from STRATFOR, a private intelligence company. Looks like they give Europe something more like the odds of a major-league pitcher leading in home runs. Not gonna happen.
With a serious impending crisis on our hands, we need to understand it from all angles, starting with geopolitical risk. So I'm sending you this insightful two-part series from STRATFOR, written just prior to the meeting of the Eurozone Finance Ministers last Friday Oct 21. STRATFOR starts with a full assessment of the problem: sovereign debt, bank centrality, housing, foreign currency, etc. Then, Part 2 gives you a look ahead at recapitalization options and the EFSF. By the way, the Finance Ministers ended their meeting by punting the problem to no fewer than three subsequent meetings.
To get more than the occasional analysis like this that I pass along to you, I recommend you become a STRATFOR subscriber. They've got the best geopolitical coverage of global affairs I've seen. Plus, OTB readers get a <<hefty discount on subscriptions plus a free copy of their founder's bestseller, The Next Decade>>.
As I write this, the Rangers lead 3-2 ... Let's see what game six brings.
Your truly impressed with Nolan Ryan (no matter the outcome) analyst,
Folks, you hear a lot about the eurozone crisis, but what you don't run across very often is a coherent idea on how to move forward. My friends at STRATFOR, a private intelligence company, have done us all the courtesy of saying out loud what everyone else shies away from: Eject Greece from the eurozone.
It's not pretty. It belies the lovely concept of a unified and prosperous Europe. And the worst part: it comes with a big fat price tag, of the 2-trillion-euro variety. But it may be the only way to steer the train before it derails completely.
Today I have the privilege of sending you two pieces from STRATFOR. If you have a couple of minutes now, <<watch this video on preparing for Greece's (inevitable) failure>>. Then check out the written piece below, a deeper dive into the crisis as a whole. If you're interested in following all of STRATFOR's geopolitical analyses, as an OTB reader you can get a hefty discount off their subscription rate, plus a free copy of the NY Times bestseller by George Friedman (my buddy, and STRATFOR's founder).
Your hoping the Rangers take it all analyst,
Folks, this piece from STRATFOR has compelled me to focus on the US for one more day before I head off to Europe. You've seen the articles and other insights I send on occasion from George Friedman, my friend and prophetic author of The Next 100 Years and The Next Decade, both bestsellers. Well, this article takes the cake. George is the founder of a geopolitical intelligence company called STRATFOR, whose focus is international affairs. But on the rare occasion when domestic politics and international affairs intersect, it's always a treat to get George's insight.


I don't even want to give away any spoilers here. It's better to let you follow first-hand, as George builds his argument and arrives at a profound final conclusion. Let me just say: In Endgame, as you know, I predict that we will deal with the deficit in a controlled manner, or face disastrous consequences. Here, we learn how the realities of the next 14 months before the presidential election present some potential global consequences of their own.
 

If these occasional samples (which I get special permission from George to send) aren't enough for you, my intelligent readers, I recommend you get full access as a STRATFOR subscriber. OTB readers get a <<steep discount on subscriptions and a free copy of George's latest book>>, which I mentioned above. I suggest you investigate. I read them every day myself.
You're familiar with my thoughts on gold: I buy it regularly as insurance, not an investment. Now here's something you didn't expect: I just watched a STRATFOR video and learned that the Venezuelan president, Hugo Chavez, keeps an epic 60 percent of the nation's reserves in gold. Wow. Guess he sees it as insurance as well?


Watch the video. It covers four recent moves by the ailing leader in an attempt to drum up some cash for his social programs, which can only be interpreted as a strategy to keep his waxing and waning political support strong. It all goes to show that Venezuela is a nation to watch, for better or worse, given Chavez's illness and the absence of a strong successor.


Oh, and let's not forget that the U.S. imports about a million barrels per day of oil from Venezuela, or 8 percent of total U.S. oil imports ... not insignificant.


After you <<watch and digest the video>>, I suggest subscribing to STRATFOR to access all their geopolitical intelligence. They cover everything from Chavez to China, and all things in between, with a unique perspective. OTB readers get a whopping 63% discount off their first year, plus a free copy of The Next Decade, the forward-looking bestseller by STRATFOR CEO and founder George Friedman. Try them out. As they say, it's a golden opportunity.


Your keen on geopolitics analyst,

Take a good look at the image below. You'll see how a picture is not only worth a thousand words, but can explain the success of an entire nation. Crops to rivers, rivers to ports – the trade foundation of a country can be summarized in a single image. Sure it stirs up memories of Mark Twain's Huckleberry Finn and the Mighty Mississippi, but this is the foundation of the US as a global power and a fascinating look at the backbone of the American economy. 


We all remember junior high geography (well, some of it, anyway). But somehow it didn't cover how critical geography is in the development of a nation... and that it is, for example, the primary reason the United States became a global power. The territory of the U.S. simply comprises all the right geographic elements to make its occupants an inevitable global force. Yesterday, STRATFOR, my favorite source for geopolitical analysis of world affairs, published The Inevitable Empire, part I of a fascinating assessment of the United States. In it you'll learn how geography shaped the nation's behavior throughout history, and what it means for U.S. foreign policy today. It's a perfect example of the kind of insight STRATFOR provides that you won't find anywhere else. 


>> Join STRATFOR at the special rate for OTB readers << just in time for their release of The Geopolitics of the United States, Part 2: American Identity and the Threats of Tomorrow. In addition, you'll get a copy of The Next Decade, the New York Times bestselling book released earlier this year by STRATFOR Founder and CEO George Friedman. But check it out now, I hear this deal only lasts until Monday. 


Your proud to be an American analyst,
Just last week in Thoughts from the Frontline, we discussed the relative valuations of emerging markets. Any discussion of an emerging market is incomplete without understanding the underlying geopolitical forces that guide behaviors of countries and often predetermine the outcome of events. 

Today I'm sending you STRATFOR's geopolitical analysis of Brazil, a much-discussed emerging market. This is a long read, but it's the most thorough and enlightening analysis I've seen thus far on how the continent's geography has shaped Brazil's history to date, and the major challenges the the country faces today. Hint: Brazil's biggest problems are an overvalued "real," Mercosur, and an Asian giant (you guess which one...). 


For anyone considering an emerging market as an investment choice (or who is simply interested in world affairs), I highly recommend reading STRATFOR's other geopolitical assessments, which they have on all the major players, including emerging markets. You can access these assessments, and all STRATFOR's analysis and updates, when you subscribe. OTB readers can <<get a hefty discount on their subscriptions here>>. Their content is a valuable asset for any investor. 


Your now considering samba lessons analyst,
For today's special-edition OTB, let's turn our fiscal eye across the pond to all that's going haywire in Europe. But not the continent's banking crisis, per se. Today's piece takes a broad look at who's really running the show. I'll give you a hint: they've done it before, and it wasn't too long ago. The folks at STRATFOR (a global intelligence publication) have spent the better part of two years saying that Germany will run Europe. The newly redesigned EFSF (European Financial Security Facility) can be considered concrete evidence of such.
From Berlin's point of view, the Eurozone is its sphere of influence, and its preservation is in Germany's national security interest. It's a new Europe, where Germany is not just the checkbook anymore, but holds some reins.
I'm sure you'll find this piece as thought-provoking as I did. Investors are always talking about geopolitical risk (but you and I talked about it first here); and if you're looking for geopolitical analysis and forecasting, I highly recommend you check out STRATFOR. OTB readers can get a hefty discount on a STRATFOR subscription, plus a free copy of (warning: more self-promotion) my book Endgame.
Your now craving schnitzel analyst,
The saying goes that you can learn something new every day. If you're paying attention that is – and more importantly if you know where to look. Today I was getting my morning fill of geopolitical intel from my friends over at STRATFOR (on everything from personal security to country economic profiles) and stumbled onto their weekly China Security Memo, this particular edition on "Looking into Reverse Mergers on Wall Street." Is this another head-scratcher in the less-than-conventional foreign policy coming from China, or a regulatory end-around by some enterprising Chinese companies? Take a few minutes to read this report, which also goes through everything that happened in China this week that matters.
This article discusses the SEC's ongoing investigation of the "reverse mergers," where questionable Chinese auditing allowed companies to list on U.S. stock exchanges despite their fraudulent accounts. The report is a superb example of the detail and insight STRATFOR gives its customers. If you're into the idea of learning something new on a daily basis (the desire grows with age, I believe) you'll enjoy learning about the current state of Chinese regulations (or lack thereof) for companies that list on US stock markets, state-owned enterprises (SOEs) that compete with American businesses, recent bank robberies, tensions with the Catholic Church, and bottled water contaminated with E. coli. In other words, you'll definitely meet your novel-knowledge quota for the day, all while getting the deepest insight on the security situation in China.
And if you're interested in getting more than just an occasional note and article from me every now and then, I've procured a nice discount of 63% on a STRATFOR subscription. It's one of the smartest sources I read every morning – a great investment, in my humble opinion.
For those of you keeping up with the much-discussed energy deal between China and Russia, you know the many reasons, both geographic and political, why it's unlikely to pan out. The geopolitically savvy folks over at STRATFOR told us about it a couple of weeks ago, and have moved their forecasting on to an existing energy relationship, between China and Venezuela—now potentially uncertain due to Hugo Chavez's precarious position in a Cuban hospital.
Whether Chavez gets better or not, a political transition is down the line somewhere, and China could lose its current preferential treatment as primary investor in Venezuelan oil. This is the kind of thing we have to know about as investors. Yes, we all know that Chavez is ill. But what, if anything, does that mean for the South American energy sector? What about the future of oil, China, the U.S., and so on? This is the kind of forward-looking analysis you get from a news publication like STRATFOR. It doesn't get any better than these guys.
Enjoy this complimentary piece from them. If you're interested in more, watch their video on the <<Venezuelan oil industry here>>, and then take advantage of their special discount for OTB readers. I read them every day, and highly recommend you check out their subscription offer.
They say that natural gas is a more dynamic study in geopolitics than oil. Yes, petroleum is what makes the world go 'round. But, once you get it to a super-tanker, you can ship it anywhere. Natural gas, of which the world consumes 3,000 billion cubic meters per year, is much harder (and more expensive) to transport. You have to build miles and miles of expensive pipeline to get it to your buyer. So whatever countries your pipeline runs through, or to, you'd better stay friends.
Today I'm sending you a video by STRATFOR on the much-discussed potential energy deal between Russia and China. Ideology aside, the two countries would seem like a compatible couple (Russia is the world's largest exporter of raw commodities, China the world's largest importer). But are they ready to tie the knot with a pipeline that would takes decades and hundreds of billions of dollars to build?
<<Watch the video here>> to get the full analysis. OTB readers can also access a discount on subscriptions to STRATFOR, plus get a free book. I read them daily, as they are the best source I've found for understanding geopolitical risk.
Today, I'm sending you a week-old article. Fear not, dear reader—though the news peg is several days gone, the significance is historic... and when this author says "pay attention," I do. Today's piece is from my friend George Friedman, founder & CEO of STRATFOR.
During the week of Palestinian protests and the IMF scandal, George chose to write about an obscure decision by Poland, Slovakia, the Czech Republic and Hungary to form a battlegroup. Though you may wonder why, we're all about to care about the Visegrad Group.
The decision revolves around the new reality of a resurgent Russia, a weakened Europe and a fractured NATO. I don't think you'll wonder why you should care about Russia, Europe and NATO.
Read about this little-understood announcement and its meaning... then look for more of George & his team's writing with STRATFOR. Outside the Box readers get a 63% off discount on new subscriptions, which <<you can access here>>.
A true understanding of geopolitics (and therefore geopolitical risk) is an essential piece of the puzzle in managing investments wisely. You're bright people, I know. If you need to know what's going on in China to inform your investments, you sit down in front of the keyboard, and after a few choice web searches, and a half a day's worth of reading, you would be able to formulate an informed and concise summary – and use it to make investment choices.
There's an easier, quicker, and smarter way to accomplish this task. In this special Outside the Box, I'm including a STRATFOR video on Chinese economic strategy and U.S.-China relations. They're my number one source for important global matters, and this is just one slice of what they have on China, for example. Give them 5 minutes of your time, and they'll save you hours in research poking around the internet. Don't depend on my occasional mailouts: sign up for full access to all their reports. Outside the Box readers even get a 63% discount, which you can access after <<watching the video>>. In a game of ROI, these guys are worth every cent.
Your trying to work smart, not hard analyst,