Another Study Shows Oxaloacetate Helps Fight Alzheimer's in Animals
Stay Up to Date!
Simply enter your email below and click SIGN UP!
August 22, 2016
Dear Reader,
Here's one of my favorite jokes. An older fish meets a group of young fish and asks, "How's the water?" To which, the young fish respond, "What the heck is water?"
While it may not make you laugh, the point is important. We tend to tune out things that are right in front of us. This phenomenon is aptly called a blind spot. Most people are unaware of their own punctum caecum (the large physiological blind spot in our field of vision).
Most of the time, we don't know that we are blind to part of the world around us... until there are consequences. My father, for example, was a B-24 bomber crew chief and tail gunner during World War II. Tail gunners learned the hard way that they had to constantly scan the sky. If not, they'd miss enemy fighters flying on paths that matched their punctum caecum.
Society has a blind spot when it comes to the problems of aging
Psychologists also note that mental blind spots exist. One of the most obvious has to do with aging and our own mortality. We tend not to think too much about getting older… or death.
The aging blind spot afflicts society as well. We saw this with the widespread claims that rising healthcare costs are due to some flaw in our medical system. This error was the main premise of the Affordable Care Act, which we were told would lower American healthcare costs.
Six years after its passage, healthcare costs are now higher than ever, and insurers are backing out of the program due to losses. This year, the US medical bill will surpass $10,000 per capita according to the Department of Health and Human Services. It will continue to go up for the foreseeable future.
It seems most politicians and intellectuals suffer from a scotoma that prevents them from grasping the huge implications of an aging society. This is unfortunate because we now have the scientific know-how to slow and even reverse aging processes.
While it seemed like science fiction just decades ago, mainstream science is coming around. Recent proof has come from the Gero-science Network, a prestigious group that includes the Mayo Clinic, Johns Hopkins, Stanford, and Harvard. A special issue of The Journals of Gerontology titled "Moving Geroscience into Uncharted Waters" was published August 16 (free for download). In a news release, the NIA, which funds the group, asked, "Do people get disease from aging, or are certain aspects of aging caused by disease?"
Not long ago, just asking that question could have ended a scientist's career hopes. Today, at least the question can be asked… though I think the authors already know the answer. There are anti-aging solutions in laboratories that could delay or end many of the diseases of aging. When they are finally approved and deployed, the trend of constantly rising healthcare costs will reverse.
I'm excited about this change of attitude as well as anti-aging breakthroughs such as metformin, rapamycin analogs, and anatabine citrate… though none can be legally prescribed for anti-aging purposes today. In the future, thanks to pressure from scientists, anti-aging therapies will enter the mainstream.
But, I'm not waiting for government to come around. There are promising compounds that can be purchased over-the-counter right now.
Oxaloacetate protects brain health in animals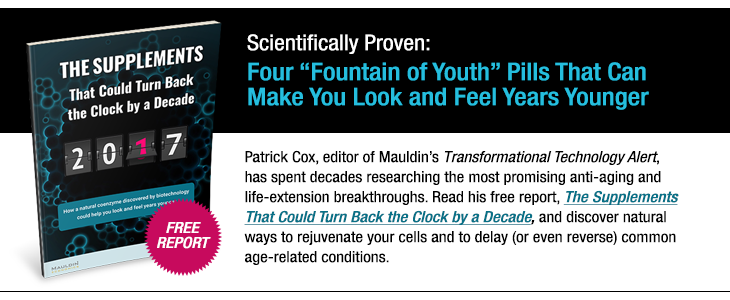 Oxaloacetate is a naturally occurring molecule that plays a vital role in mitochondrial function. Because I've written so much about it and mitochondria in the past, I won't discuss the basic science here. But, I do want to talk about a recent study published in the Oxford journal
Cerebral Cortex
. This study bolsters similar research showing that oxaloacetate protects brain health in animals.
Human oxaloacetate studies using this compound (marketed as benaGene) are taking place at the University of Kansas Medical Center. (By the way, I have no financial connection to Terra Biological LLC, the company that developed and owns the technology used to thermostabilize oxaloacetate.) These trials should either confirm or disprove the theory that this compound helps prevent aging of the brain. In the meantime, though, we have very impressive animal data.
The title of the latest study is "Peripheral Interventions Enhancing Brain Glutamate Homeostasis Relieve Amyloid β- and TNFα- Mediated Synaptic Plasticity Disruption in the Rat Hippocampus." Basically, this means that the physical markers and symptoms of Alzheimer's disease can be reduced by normalizing glutamate levels in animal brains.
Glutamate is a neurotransmitter. It is responsible for turning on the electrochemical switches that send signals through synapses between neurons. Neuronal signaling allows us to think, learn, and remember. But too much glutamate can increase Amyloid β levels and reduce the ability of neurons to function optimally. This is true in humans as well as lab rats.
This is why pharmaceutical companies have invested fortunes looking for ways to reduce glutamate. While several compounds have been found, they can lower glutamate below healthy levels. Too little glutamate is as bad as too much, so what we need is the proper balance or homeostasis.
The Cerebral Cortex study shows that oxaloacetate produces glutamate homeostasis in animal brains. This protects the ability to learn or long-term potentiation (LTP). This is not the first animal study to show that oxaloacetate protects LTP, but it brings new insight into how it works
I've discussed other research that demonstrates oxaloacetate's anti-aging benefits in animals via improvement in mitochondrial function. This includes increased production of adenosine triphosphate (ATP), the energy our bodies actually run on. Oxaloacetate also seems to assist in the activation of gene pathways that have to do with the metabolic benefits of calorie restriction.
I couldn't find the entire study online. So for the biologists in the audience, it seems that oxaloacetate works to reduce excess glutamate in the bloodstream near the enzyme serum Glutamate Oxaloacetate Transaminase (sGOT), converting it to alpha-ketoglutarate. As a result, it's quite safe.
Clearly, you should decide for yourself whether to use oxaloacetate. Even though I have genes that are supposed to protect me from Alzheimer's, I still take it… mainly because of its anti-aging potential.
Sincerely,



Patrick Cox
Editor, Transformational Technology Alert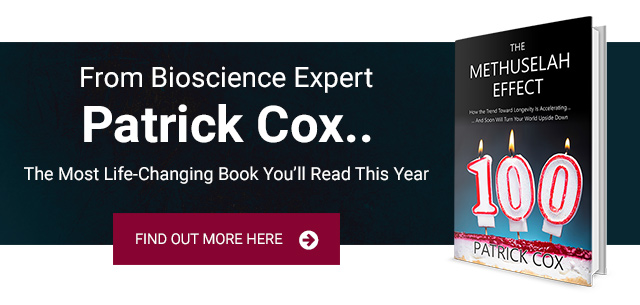 Discuss This
We welcome your comments. Please comply with our Community Rules.