Bull's Eye Investing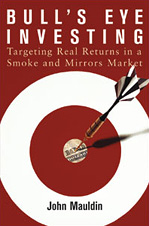 "The Most Enlightening Investment Book of
the Past 40 Years."
Rich Kaarlgard, publisher of Forbes, put it #1 under Instructional Tips on his "2007 Books to Get Rich By." The New York Times agrees, putting the book into their suggested summer reading list. Writing in the Sunday Money Business section, they said: "For a serious summer book, we turn to Bull's Eye Investing…"
Order from Amazon.com and save over 30%!
"This book has more wisdom per page than any reader has the right to ask for."
Peter L. Bernstein
Author, Against the Gods
In Bull's Eye Investing: Targeting Real Returns in a Smoke and Mirrors Market, John Mauldin gives you the right information—he arms you to the teeth—and then tells you how to use it. The book may be the closest thing to a "User's Guide for Investments" ever written. John spells out the most powerful case I've heard for where the markets are heading...and how you can get there first. Simply put, Bull's Eye Investing helps you think outside of the Wall Street box and focus on finding value and controlling risk. This book will reveal the "myth" of relative returns and show you why you must instead focus on absolute returns.
Some of the most widely recognized—and highly respected—investment minds in the business have lavished Mauldin's new book with praise...
"This book has more wisdom per page than any reader has the right to ask for. John Mauldin knows the score and tells the reader how to join him in keeping count."
—Peter L. Bernstein
Author of the bestseller Against the Gods
"Mauldin is the Ben Graham of the new millennium, but unlike Graham, he combines investment savvy with a sense of humor and a gift of style."
—George Gilder
Author of Wealth and Poverty and the editor of the Gilder Technology Report
"Bull's Eye Investing is a scintillating tour of the art and science of long-range forecasting. With his eye fixed as it should be on the great sweep of history, John throws a much-needed splash of realism onto the wishful thinking of recent years."
—Neil Howe
Partner, LifeCourse Associates, and coauthor of Generations and The Fourth Turning
"John Mauldin's widely heralded new book, Bull's Eye Investing, is a breath of fresh air and a treasure trove of market insights and information. When you think you've read 'em all, my suggestion is that you turn to this book. Simply put, Bull's Eye Investing provides information and perspective that you will not find anywhere else."
—Richard Russell
Publisher of Dow Theory Letters
"Mauldin dances and weaves through a mountain of fascinating research, taking us on a well-argued tour of the past and giving us a spellbinding preview of the future. He then lays out in clearly documented detail where the investment opportunities and pitfalls of the next decade will be. In a world where the right investment information is the key to success, Bull's Eye Investing is one book that should be close to every investor's desk."
—Bill Bonner
Author of the New York Times #1 business bestseller, Financial Reckoning Day
"This book is simply the best—probably the most enlightening investment book of the past 40 or so years. Mauldin has done an extraordinary amount of research. He pulls off the wraps on the world of investments that the savvy use, but are unknown to the average mortal... [I have] found no one who is more solidly grounded in how financial investments really work."
—Keith Murphy
Private investor
"This book is lucid, cogent, and useful. Overall, it provides an excellent guide to better investing habits and an effective antidote to standard Wall Street bromides."
—Robert R. Prechter Jr.
Author, Conquer the Crash