All Fun and Games Until Someone Loses an Eye
August 2, 2016
All Fun and Games Until Somebody Loses an Eye is a 2005 novel by Scottish author Christopher Brookmyre. It perfectly describes some of the dangerous toys I played with as a young boy in western Washington.
I'm talking about toys like the Wham-O Air Blaster, a toy gun that shot a blast of air so powerful that it could cause permanent hearing damage. Or the Wham-O Wheelie Bar that made it possible to pop wheelies on your bike and caused severe trauma to boys' privates.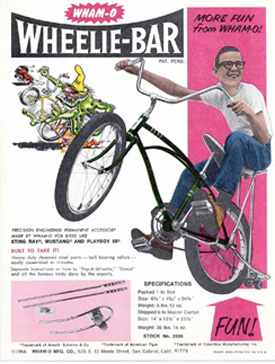 Or the Mattel Creepy Crawler Thingmaker, which included a hot plate that heated up to 300 degrees and produced toxic fumes, JARTS that were nothing more than flying spears, wood-burning kits, Pogo Ball, and Click-Clacks.
In addition to playing with dangerous toys, I never wore a bicycle helmet or a seat belt.

I wasn't alone. That's just the way things were because people didn't think much about safety back then.

The world of toys has gotten a lot safer, but the world of investing has moved in the opposite direction—it is much riskier today than when I was growing up.

The biggest risk I see is an economy that is barely expanding beyond stall speed and threatening to fall into a recession.

Last week, the Census Bureau reported that the US economy grew at a 1.2% annualized pace in the second quarter. Moreover, the Census Bureau adjusted the Q1 GDP growth rate from 1.1% down to just 0.8%.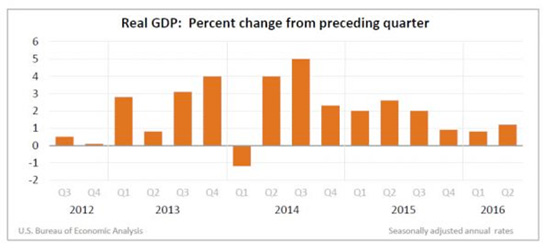 That means the US economy has grown at a rate of less than 2% for three straight quarters now.
But I think economic growth is going to get even uglier. In just the last week…
Ugliness Factor #1: Business bankruptcies are accelerating. According to BankruptcyData.com, the number of business bankruptcies increased by 9% from Q1 to Q2… by 23% in the first six months of 2016… and by 25% over the same period last year.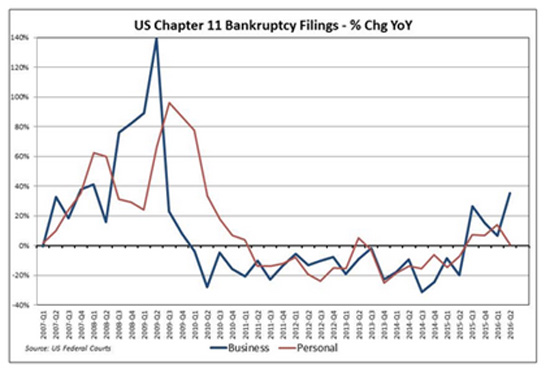 "The domino effect is what the concern is," said Mark Edwards of Creditsafe USA, "the fact that these bankruptcies could affect other businesses. This could get a lot worse."
For example, athletic apparel manufacturer Under Armour cut its sales forecast because of the bankruptcy of The Sports Authority, a large national sporting goods retailer.
Ugliness Factor #2: Tax collections are shrinking. Everybody hates paying taxes, but a big tax bill is an indicator of success. Conversely, small tax bills are a warning sign that you're not making much money.
The US Treasury Department reported a 27% year-over-year increase in the US budget deficit to $401 billion.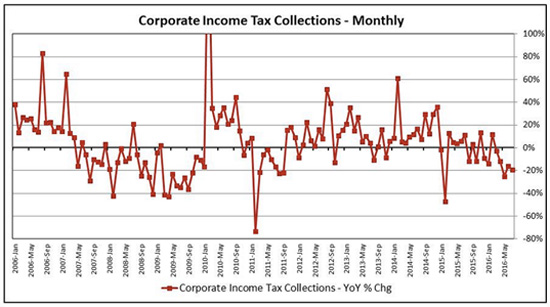 The reason for the deficit jump is an 11% decline in corporate tax revenues for the first six months of 2016.
Ugliness Factor #3: Rapidly evaporating corporate profits. We're in the middle of earnings season, and if Wall Street is right, corporate earnings have dropped by another 3.7% in the second quarter—which will mark the sixth consecutive quarter of falling profits.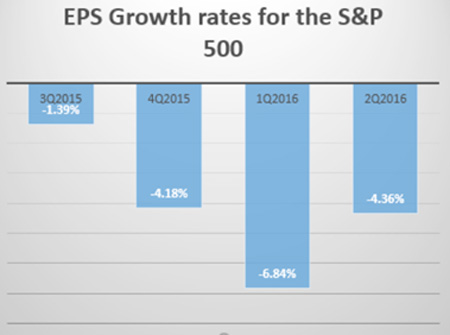 For example, Apple reported its quarterly results last week. Its year-over-year profits shrank to $7.8 billion, a whopping 27% fall from the $10.7 billion it recorded during the same time last year.
You've heard the argument that the stock market is a forward discounting mechanism? If that's true (and I think it is), then we should be worried about the third quarter. The consensus expectation for Q3 earnings is -0.1%.

I could go on with a long list of other dangers, but those three were just from last week.
More importantly, with the stock market near its all-time high, you should have a clear strategy in place to protect your portfolio when things turn ugly.
That might be next week, next month, or next year—but don't forget that it's all fun and games until someone's portfolio loses an eye. Don't let it be yours.


Tony Sagami
30-year market expert Tony Sagami leads the Yield Shark and Rational Bear advisories at Mauldin Economics. To learn more about Yield Shark and how it helps you maximize dividend income, click here. To learn more about Rational Bear and how you can use it to benefit from falling stocks and sectors, click here.