Choppy Seas, Train Wrecks, and Bear Markets
February 23, 2016
"It is worse than in 2008."
—Nils Andersen, CEO Maersk
"This crisis is worse than a divorce. I've lost 50% of my net worth, but I've still got my wife."
—Anonymous
Here it comes again: Another one of my warnings about the transportation industry… specifically the cargo container and railroad sector.
Very Sea Sick: A.P. Moller Maersk (AMKBY), one of the largest container shipping companies in the world, reported awful results—a $2.51 billion loss for the quarter.
Maersk CEO Nils S. Andersen didn't mince his words: "Maersk has been hit by the perfect storm, with the low energy prices dealing a serious blow to the oil unit and minimal benefits for the container business."

"It is worse than in 2008," said Andersen. "The oil price is as low as its lowest point in 2008-09 and has stayed there for a long time and doesn't look like going up soon. Freight rates are lower. The external conditions are much worse."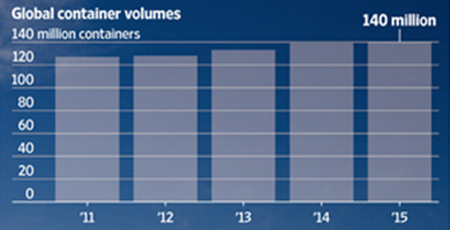 Maersk also warned that 2016 profits will be "significantly below" what it made in 2015.
It is the same problem I've been talking about for months: overcapacity. The global container fleet grew by around 8% last year, but container demand was basically unchanged for the year.
Train Wreck: Kansas City Southern (KSU) is one of the largest railway companies in the US. Unlike most other railroads, which run east-west, the company mainly operates lines running north-south from Mexico through the middle of America's heartland.
Unique business footprint or not, Kansas City Southern reported a mixed bag of results—better-than-expected profits, but worse-than-expected revenues.
The profit upside was mainly due to lower fuel costs, which dropped by 26%, while revenue came in light at $598 million versus the Wall Street forecast of $602 million.
Revenues were down primarily from industrial, consumer, and intermodal carloads. (Intermodal is transportation talk for containers.)
The real meat of the quarterly report, however, was the railroad's outlook for its future. Here is what Pat Ottensmeyer, CFO of Kansas City Southern, had to say:
"As you've heard from all of the other rails that have reported so far, the short-term outlook is very uncertain. And as a result, we're just not in a position to provide more definitive guidance regarding volume, revenue or operating ratio."
"Many of you on the call this morning have as much or better information regarding the economic outlook, commodity, and currency markets than we do. I was at a rail industry conference last week and I thought one railroad executive characterized the current landscape quite well when he said, and I am paraphrasing here, we're in an energy market depression, an industrial and manufacturing recession, but somehow the consumer is doing okay."
Kansas City Southern isn't the only railroad having problems. In fact, there has been a clean sweep of lousy results from the railroad industry. First, CSX Corp. (CSX) missed forecasts, then Union Pacific (UNP), then Norfolk Southern (NSC), and now Kansas City Southern.
I could go on with other transportation examples, but it doesn't matter which part of the transportation food chain you're looking at… they are all in trouble.
As you probably know, another thing I find very worrisome is negative interest rates.
Various Fed heads recently have been making approving noises that make me think the time may be near when you'll have to pay for the privilege of having a savings account with your bank.
And there are already government plans in place to keep you from simply pulling all of your cash out of the bank…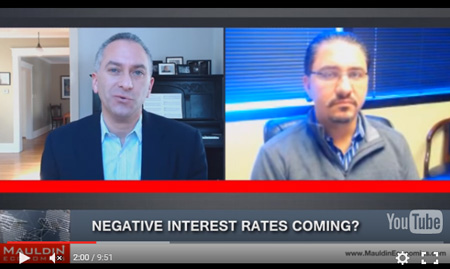 Here's the eye-opening new video interview Ed D'Agostino did with my colleague Jared Dillian and me. It's a must-watch—because negative interest rates are a doozy that will affect each and every American. Click here or on the screenshot to watch.


Tony Sagami
30-year market expert Tony Sagami leads the Yield Shark and Rational Bear advisories at Mauldin Economics. To learn more about Yield Shark and how it helps you maximize dividend income, click here. To learn more about Rational Bear and how you can use it to benefit from falling stocks and sectors, click here.