Deciding Between Farah Fawcett and Timber
May 19, 2015
Someone I used to be married to tried to tell me that diamond jewelry and Rolex watches were good investments. Yeah… and I look like Brad Pitt.
As I was reading the paper a few mornings ago, I spit out the coffee I was drinking when I saw that someone—rumored to be Chinese billionaire Wang Zhongjun—paid $179 million for a painting.
Not just any painting. We're talking about The Women of Algiers, a famous Pablo Picasso painting that was sold at a Christie's art auction last week.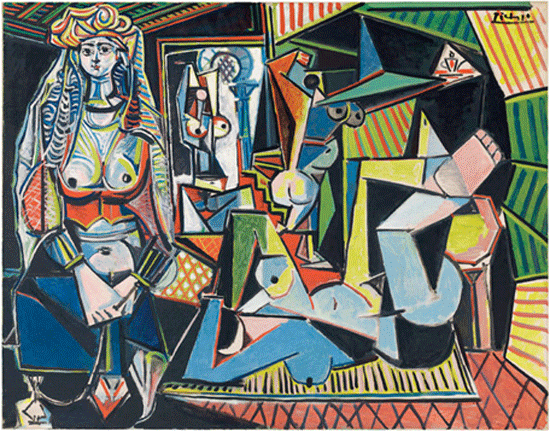 That was just the start; Christie's went on to sell $705 million worth of art, including $141 million for a sculpture by Alberto Giacometti, The Pointing Man, which was a record for the most money ever paid for a sculpture.
Now, I'm probably the worst guy to ask about fine art. Not only do I not have enough money to spend millions on a painting, my youthful idea of what constituted fine art was the iconic 1970s poster of Farah Fawcett.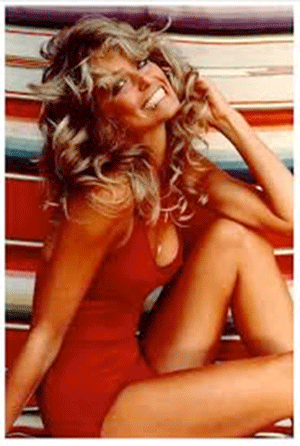 On the other hand, the universe of people who could afford to drop $100-plus million on a piece of art is limited to people with a net worth of at least $1 billion (of which there are an estimated 2,300 in the world).
Art, unlike the jewelry my ex-wife was so eager to buy, has actually been a good investment over the years. The Mei Moses World All Art Index has roughly equaled the returns of the S&P 500 over the past 50 years—and even beat it in the last 10 years.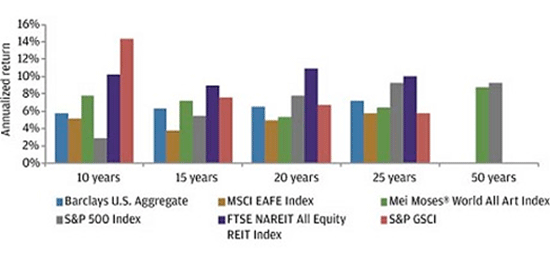 However, we're talking about the rarified air of fine art, and not Farah Fawcett posters, which prices it out of reach for regular investors like you and me.
Moreover, buying and selling art is expensive—with roundtrip commissions more than 20% (not to mention insurance premiums, storage costs, and appraisal fees).
Plus, art does not produce an income.
Which brings me to an asset class that's practical for us "regular" people to invest in and which has produced returns that not only outperform fine art, but also the S&P 500.
I'm talking about trees.
Trees may not be the first thing that pops into your mind when you think about investing, but money really does grow on trees when it comes to investment profits.
Trees represent rich opportunities for investors who understand the dynamics of timber as an investment. Timberland is used as an investment primarily by large institutions such as pension and endowment funds, and it is one of most productive investments you've probably never considered.
Here's what makes trees so attractive as an investment.
Trees beat stocks. Timberland has actually delivered better returns than the stock market. Since 1987, the NCREIF Timberland Index gained an average of 15% per year compared to 11% for the S&P 500.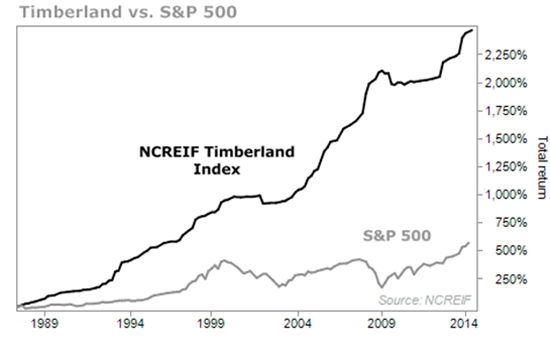 Trees are uncorrelated to stocks. Trees don't know about quantitative easing, our staggering $18 trillion national debt, or even bear markets (though they may be acquainted with bears). Trees keep growing year after year and deliver some of their strongest returns when the stock market is struggling. Through the 1970s (a tough decade for stock investors), timberland never had a losing year.
Timberland delivered positive returns during four out of five of the most recent, major bear markets. In 2008, when the S&P 500 lost 38%, timberland gained 9.5%.
During the Great Depression, timber was up 233%, while the price of stocks fell more than 70%.
Trees beat inflation. Most investors think of gold as a hedge against inflation, but timberland, too, is an excellent hedge. Over the last century, timber prices have risen at 3.3% above the rate of inflation. During our last inflationary bout from 1973-1981, timberland delivered an average of 22% a year.
Trees are a flexible and safe investment. A unique feature of timberland is that it's both a factory and a warehouse. Timber can be grown and then stored on the stump, which gives investors the flexibility of harvesting trees when timber prices are up or postponing harvests when prices are down. And unlike oil, where new discoveries expand supply, there are no hidden timber deposits waiting to be discovered.
This may surprise you, but timberland is resistant to natural disasters. Fire and other disasters consume, on average, less than 0.5% of forests a year, so the risk is minimal. Even damaged timber retains much of its value. For example, 80% of the scorched trees from the Mount St. Helens eruption were still merchantable.
With trees, time is your friend. Best of all, the longer you leave a tree in the ground, the more valuable it becomes. For example, a North American timber forest grows by about 8% a year, and a 24-year-old southern pine is worth three times as much as a 12-year-old tree.
And unlike Picasso paintings, it's easy to invest in trees through publicly traded companies like Rayonier (RYN), Plum Creek Timber (PCL), Potlatch (PCH), and Weyerhaeuser (WY). All four own huge tracts of timberland, and all of them pay dividends in excess of 3%.
If you're looking to collect income while investing in hard assets, consider including some trees in your portfolio.
To be fair, I need to disclose that my Yield Shark subscribers have owned Plum Creek Timber for a very long time. That doesn't mean you should rush out and buy it tomorrow morning, but it does show how enthusiastic I am about trees as an investment.
In closing, I should also mention another idea I'm passionate about: high-quality global macro analysis. My good friend and employer, John Mauldin, recently brought Jawad Mian on board at Mauldin Economics. Jawad's among the sharpest global macro analysts I've ever met.
Jawad's letter, Stray Reflections, has bowled over everyone at Mauldin Economics, including me. I met Jawad for the first time in January and have been reading him religiously ever since. I think you'll enjoy and benefit from reading Jawad too.
John and Jawad are planning a big announcement in the days ahead, so be on the lookout. They're even going to co-author this week's Thoughts From the Frontline. It's sure to be a lively and enlightening debate.


Tony Sagami
30-year market expert Tony Sagami leads the Yield Shark and Rational Bear advisories at Mauldin Economics. To learn more about Yield Shark and how it helps you maximize dividend income, click here. To learn more about Rational Bear and how you can use it to benefit from falling stocks and sectors, click here.