Dividends and Prosperity
August 9, 2016
"Do you know the only thing that gives me pleasure? It's to see my dividends coming in."
—John D. Rockefeller
"I believe non-dividend stocks aren't much more than baseball cards. They are worth what you can convince someone to pay for it."
—Mark Cuban
I love dividends, and I'm far from alone.
One of the biggest dividend lovers of all is Warren Buffett, who has more than 90% of the Berkshire Hathaway portfolio invested in dividend-paying stocks.
Sure, a 1%, 2%, or 3% dividend may not sound like a fortune, but those seemingly small payouts truly add up.
For the first seven months of 2016, the S&P 500 was up 6.3%, but with dividends, the total return increased to 7.7%—that's an extra 22%.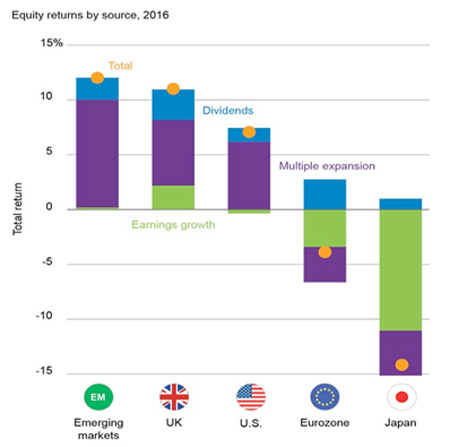 As you can see in the chart above, the positive impact of dividends can be seen not just in the US, but all over the world. And it is even more impressive over time.
Since 1930, dividends have accounted for roughly 40% of the total return of the S&P 500 Index. Moreover, dividend-paying stocks have compounded total returns of 9.2% vs. 2.3% a year for non-dividend-paying stocks.
The sweetest spot of the dividend-loving world is companies that can consistently increase their dividend.
Here's what I mean: If you invested $10,000 in a company that pays a 3% dividend, you'll receive $300 in dividends a year. However, if that company increases its dividend by 5% a year, after 10 years you will have received $3,773 in dividends and enjoy a yield of 4.65%.

Over the last three years, the 10 S&P 500 stocks that have raised their dividends the most are SunTrust Banks (STI), Citigroup (C), Bank of America (BAC), Zions Bancorp (ZION), Regions Financial Corp. (RF), MasterCard (MA), Danaher (DHR), Southwest Airlines (LUV), Capital One (COF), and Vulcan Materials (VMC).
Of course, dividends are not guaranteed and can be reduced or eliminated at any time a board of directors sees fit, but there is a select group of companies that have increased their dividend payments for 25+ consecutive years in a row.
3M (MMM)
Abbott Laboratories (ABT)
AbbVie (ABBV)
Aflac (AFL)
Air Products and Chemicals (APD)
Archer-Daniels-Midland (ADM)
AT&T (T)
Automatic Data Processing (ADP)
Becton, Dickinson & Company (BDX)
Brown-Forman (BFB)
Cardinal Health (CAH)
Chevron (CVX)
Chubb (CB)
Cincinnati Financial (CINF)
Cintas (CTAS)
Clorox (CLX)
Coca-Cola (KO)
Colgate-Palmolive (CL)
Consolidated Edison (ED)
CR Bard (BCR)
Dover (DOV)
Ecolab (ECL)
Emerson Electric (EMR)
Exxon Mobil (XOM)
Franklin Resources (BEN)
Genuine Parts Company (GPC)
HCP, Inc. (HCP)
Hormel Foods (HRL)
Illinois Tool Works (ITW)
Johnson & Johnson (JNJ)
Kimberly-Clark (KMB)
Leggett & Platt (LEG)
Lowe's (LOW)
McCormick & Company (MKC)
McDonald's (MCD)
Medtronic (MDT)
Nucor (NUE)
Pentair (PNR)
PepsiCo (PEP)
PPG Industries (PPG)
Procter & Gamble (PG)
Sherwin-Williams (SHW)
Sigma Aldrich (SIAL)
S&P Global (SPGI) (formerly McGraw Hill Financial)
Stanley Black & Decker (SWK)
Sysco Foods (SYY)
T. Rowe Price Group (TROW)
Target (TGT)
V.F. Corporation (VFC)
W.W. Grainger (GWW)
Walgreens Boots Alliance (WBA)
Wal-Mart Stores (WMT)
The media likes to call these companies "Dividend Aristocrats," and they are a great starting point for all dividend hunters.
However, if you're more of an ETF investor, there's a trio of ETFs specifically tailored toward dividends.
SPDR S&P Dividend ETF (SDY) is one of the most popular dividend-focused ETFs. It comprises companies that have been consistently increasing their dividends every year for at least 25 years, such as the Dividend Aristocrats.
Vanguard Dividend Appreciation ETF (VIG) invests in the NASDAQ US Dividend Achievers Select Index, companies that have increased dividends over the past 10 years.
SPDR S&P Global Dividend ETF (WDIV) takes a global approach to dividends, with companies that have raised dividends for at least 10 years consecutively.
Dividends may be boring if you're looking for casino-like thrills, but slow and steady is the path to long-term wealth.
To get more dividend-rich investment ideas, try my monthly Yield Shark newsletter risk-free for 90 days.


Tony Sagami
30-year market expert Tony Sagami leads the Yield Shark and Rational Bear advisories at Mauldin Economics. To learn more about Yield Shark and how it helps you maximize dividend income, click here. To learn more about Rational Bear and how you can use it to benefit from falling stocks and sectors, click here.