Getting Rich Instead of Sick in the Stomach from Obamacare
December 15, 2015
$949 a month? Are you serious?
That is how much an insurance agent quoted me for a health insurance plan with a $6,000 deductible to cover my three college-aged children and me.
Neither I nor my children have any pre-existing conditions (unless being fat counts) or smoke. We're perfectly healthy.
The insurance industry isn't picking on me, though. According to the Kaiser Foundation, the average annual premium for a family health insurance plan hit $17,545 in 2015!
In spite of the Affordable Care Act's promises of savings, health insurance and healthcare costs are still rising. In fact, Americans spent $3 TRILLION on healthcare in 2014, a 5.3% year-over-year increase, which works out to $9,523 for every man, woman, and child in the US.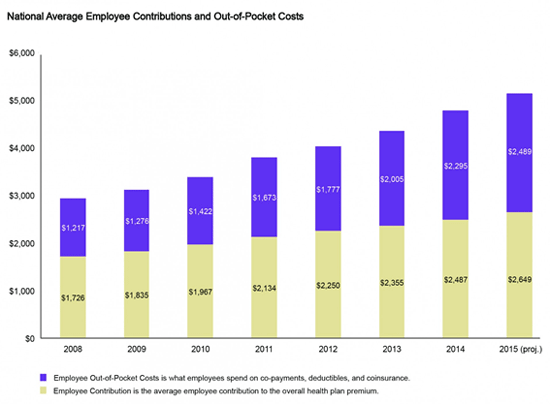 2014 isn't an aberration either; from 2009 to 2013, US healthcare spending grew by slightly less than 4% a year. Today, healthcare spending accounts for a whopping 17.5% of the US economy.
Why the gigantic increases?
"Two main factors were responsible for health spending growth in 2014; coverage expansion associated with the Affordable Care Act and faster growth in prescription drug spending," said Anne Martin, an economist at the Centers for Medicare and Medicaid Services.
FACT: Spending on prescription drugs jumped 12.2% in 2014, to $297.7 billion.
Those rising healthcare costs are not being absorbed by employers either. More and more, employers are passing on the rising cost of health insurance to their employees by increasing deductibles, co-payments, and employee contributions to insurance premiums.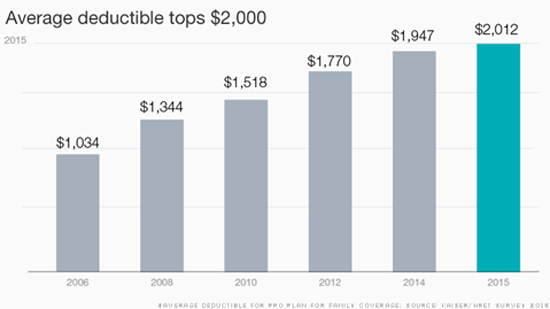 In short, corporate America is shifting more of the costs of health insurance to employees.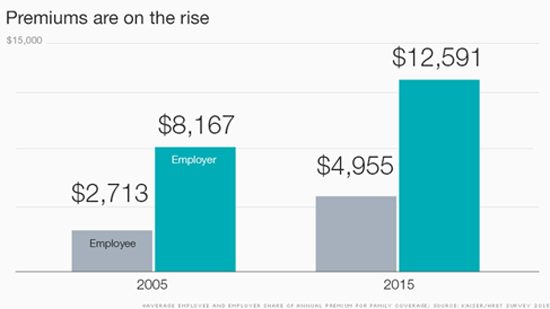 That's one of the reasons that—despite huge savings from lower gasoline prices and a huge drop in the unemployment rate—consumer spending is still stuck in neutral. Remember the Walmart revenues and sales warning?
But there's a silver lining. Buried in all those rising healthcare costs is an investment opportunity.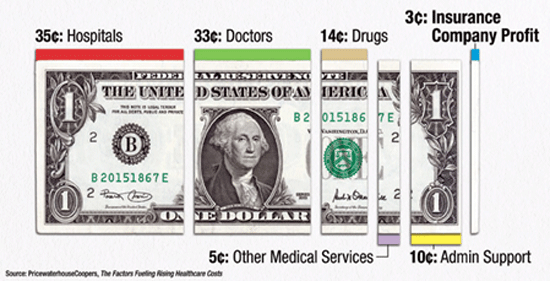 No, it isn't the insurance or drug companies… it is the hospitals that are hogging 35 cents out of every dollar spent on healthcare.
One of the consequences of the Affordable Care Act was an increase in the number of Americans with health insurance.
Sure, there is great debate over the usefulness of the Affordable Care Act, but I believe there's no question that more Americans have health insurance now than before. The two numbers I place the most confidence in are Goldman Sachs's estimate of a 13-14 million increase and the 22 million estimate from the RAND Corporation, a non-profit global think tank.
Whatever the actual number is, the point is that more Americans (millions of them) will be seeing doctors and visiting hospitals than ever before. At the same time, the number of hospitals has barely increased.
More patients and roughly the same number of hospital beds equals a lot more business and ultimately profits for hospitals. There are five publicly traded hospital stocks that you should consider:
HCA Holdings (HCA)
Universal Health Services (UHS)
Community Health Systems (CYH)
LifePoint Health (LPNT)
Tenet Healthcare (THC)
Alternatively, if you're more of an ETF investor, take a look at the iShares US Healthcare Providers ETF (IHF) or the SPDR S&P Health Care Services ETF (XHS).
I'm not suggesting you rush out and buy any of those tomorrow morning. Of course, timing is everything, so I recommend that you wait for my buy signal or for them to go on sale.
But make no mistake, the hospital business is one of the best ways to prosper from the Affordable Care Act and the graying of America.
Before I go, I want to close with my perspective on the anti-refugee talk that is hogging the media headlines.
NOTE: I welcome your comments—good and bad—in the message board segment of this site at the bottom of the page. I can't respond to emails, so please use the message board.
Should We Hit the Pause Button on Immigration?
My father, his nine siblings, and my grandparents were among the 110,000 Japanese-American citizens who were sent to prison camps for four years (without a trial) during WWII.
In addition to those 110,000, thousands of other Japanese-Americans were deported back to Japan when they refused to sign a loyalty oath that was highly critical of Japan.
Moreover, the US government put a complete stop to all immigration from Japan. It was a much different time, economically, and Japan was quite poor at the time, so America offered opportunity as well as freedom.
While it doesn't make my opinion more valid than anyone else's, I tell you this because my experience with immigration/discrimination based upon national origin is more direct than for many Americans.
My family was very different from most other American citizens. They spoke a different language, looked different, and they worshipped a different god.
Nonetheless, my grandparents, my father, my uncles, and my aunts were all proud US citizens. In fact, six out of the eight Sagami boys voluntarily joined the Army during WWII even though they were being held behind barbed-wire fences and sentry towers manned by armed soldiers.
Only one of my unjustly jailed relatives is alive today, but I talked to all of them as much as I could about their wartime experience and all of them understood, accepted, and AGREED with the ban on additional immigration from Japan.
The country was at war, after all, and those hopeful immigrants from Japan were NOT American citizens. The same is true of the hopeful immigrants from Syria today.
Of course, things aren't exactly the same today as they were in the 1940s, but as the son of a man who was unjustly jailed for four years because of his race and religion, it makes sense to me for our country to hit the pause button on immigration until the idiots we elected figure out how to tell the good guys from the bad guys.
I do have an investment reason to tell you my personal story. Regardless of which side of the refugee debate you stand on, I encourage you to take a closer look at the defense and security stocks. There's some big money to be made there.
DISCLOSURE: My Just One Trade subscribers are already sitting on a fat gain on Sturm, Ruger & Company shares, one of the largest firearm manufacturers in the world.
To profit from ALL of the recommendations in my three advisory services—and those of my esteemed colleagues here at Mauldin Economics—at one low price, consider taking advantage of the limited-time opportunity to become a Mauldin VIP. You can get all the details here.


Tony Sagami
30-year market expert Tony Sagami leads the Yield Shark and Rational Bear advisories at Mauldin Economics. To learn more about Yield Shark and how it helps you maximize dividend income, click here. To learn more about Rational Bear and how you can use it to benefit from falling stocks and sectors, click here.