The Curse of Debt and the Blessing of Being a Lender
May 24, 2016
"Large fortunes are all founded either on the occupation of land, or lending, or the taxation of labor."
—John Ruskin
It's that time of year! I'm talking about graduation, and I am proud to say that one of my children, my daughter Keiko, just graduated from the University of Montana.
She graduated with a 3.7 GPA, was named the Outstanding Senior from the School of Journalism, and was one of the student commencement speakers (see video below). Yes, I am shamelessly bragging, but I am a super-proud daddy.

Unlike Bernie Sanders, I don't believe that kids deserve a free ride to college. I could have easily paid for 100% of my children's college costs, but I made all of them work part-time and take out $4,000 a year in student loans.
I don't think graduating with $16,000 (4 years X $4,000 in loans) is an excessive burden. Call me old-fashioned or just a cheapskate, I wanted my children to contribute to the cost of their college education.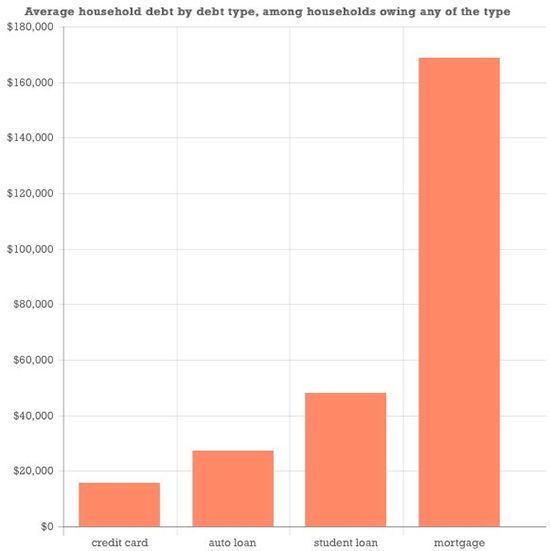 Many college students take on a lot more than $16,000 of debt, though. 42 million Americans owe $1.3 trillion in student loans. The average debt for someone graduating in 2015 was $48,000.
$48,000 is a lot of money, but it wouldn't be so bad if that were all. However, in addition to that $48,000 in student loans, the average American household also owes $16,000 in credit card debt, $27,000 in auto loans, and $169,000 for a mortgage.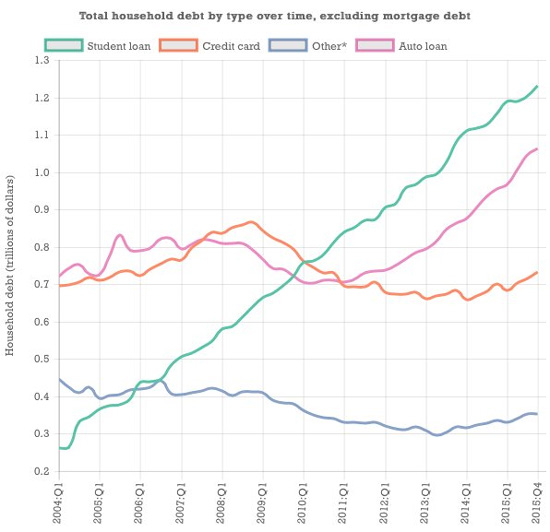 That mountain of debt is starting to take its toll. In the first quarter, the delinquency rates for auto loans and credit cards jumped.
The delinquency rates for auto loans (60 or more days past due) reached 1.12% in Q1, the first time the figure topped 1% in the first quarter since 2011.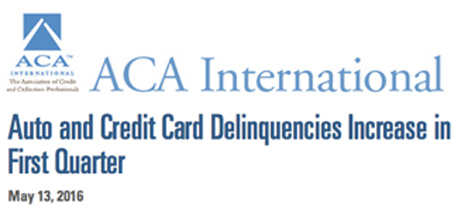 The delinquency rates for credit cards (90 or more days past due) increased to 1.47% in Q1, the highest first-quarter amount since the first quarter of 2013.
Worse yet, Americans continue to take on debt like there's no tomorrow. According to TransUnion, the year-over-year growth in credit card balances is at a record high of $644 billion, a 6.4% year-over-year increase and the highest year-over-year growth in more than six years.
My guess is that most of you reading this column are far from average and have accumulated a nice nest egg, so instead of taking on new debt, you are looking for places to invest those dollars.
Might I suggest that being on the opposite side of that mountain of debt could be a very good place to invest your money. Nobody likes to pay interest on loans, but I don't know anybody who doesn't like to receive interest payments.
For each of the above four debt categories—student loans, credit cards, auto loans, and mortgages—here are four pure plays to be on the receiving end of the debt ledger.
STUDENT LOANS: SLM Corporation (SLM), also known as Sallie Mae.
AUTO LOANS: Santander Consumer USA Holdings (SC), the largest subprime auto lender in the US.
CREDIT CARDS: Capital One Financial Corporation (COF), one of the largest credit card issuers in the US.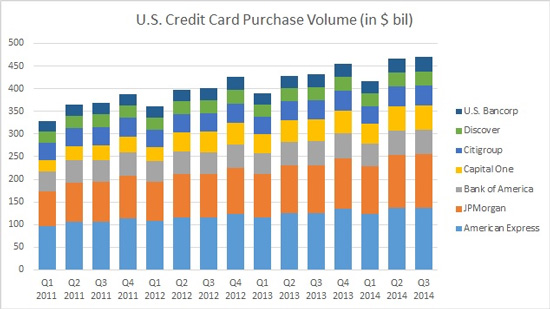 MORTGAGES: PHH Corporation (PHH) isn't a household name, but it is a pure play on the mortgage business.
I'm not suggesting that you rush out and buy any of these stocks tomorrow morning. As always, timing is everything, but the business of lending money, when done properly, is a fantastically profitable endeavor.
Another way to make money is with the high-yield dividend-paying stocks that I pick each month for my Yield Shark subscribers. My latest recommendation, a fallen telecom angel, has a great entry price and pays a fat 7% dividend.


Tony Sagami
30-year market expert Tony Sagami leads the Yield Shark and Rational Bear advisories at Mauldin Economics. To learn more about Yield Shark and how it helps you maximize dividend income, click here. To learn more about Rational Bear and how you can use it to benefit from falling stocks and sectors, click here.