---
Dear Reader,
John Mauldin and Jonathan Tepper's new book, Code Red: How to Protect Your Savings from the Coming Crisis, is more than a blueprint for what the next financial crisis will look like.
Code Red is a fully realized action plan you can put in place now to insulate your portfolio against the effects of seemingly endless quantitative easing (QE) and loose monetary policies from central bankers around the world.
For example...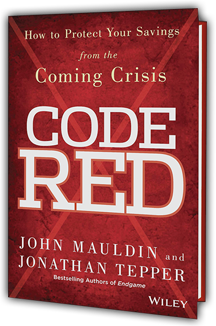 Page 197 reveals a simple and time-tested way to allocate your portfolio that takes advantage of opportunity and insulates you from central bankers' decisions.

Page 199 shows you the five most common investing mistakes (during both booms and busts), and then reveals exactly how to avoid them.

Page 216 shows you how to pack your portfolio with companies that benefit from inflation. You'll also find out why this is such an important investing method in a Code Red situation.

Page 220 shows you why "intangible assets"—patents, for example—are one of the strongest moats of protection you can use when comparing one stock to another.

Page 223 reveals how you can spot low-cost producers and explains why this is another powerful type of moat that can spell bigger gains over time.

Page 231 shows you what role commodities can play for your portfolio during a Code Red crisis.

Page 238 covers how the Chinese are suffering from a growing debt bubble of their own, and what you should do to get ready for when it pops.

Page 241 reveals the economic indicator that can serve as a guide for what will happen to gold prices... and shows you how to take advantage.
It's important that you see all these actions to take that Code Red contains, because more than anything else, John wants you to know that understanding the big picture of another approaching financial crisis is important.
But big-picture understanding isn't, by itself, a solution. And that's what makes John and Jonathan's work in Code Red so special.
Endless QE, political infighting, a complete lack of fiscal discipline in Congress... these are all the problems of a Code Red world. They threaten every American equally.
What John and Jonathan worked hard at (and succeeded) in Code Red was to move the conversation beyond the big picture.
Another book about the problems, after all, is only somewhat useful. A book about the solutions, however, is a powerful tool.
That's what Code Red is. As you can see above, it's a tool you can use to better understand the big picture of central bankers gone wild...
... PLUS continue to build wealth through multiple investment channels today, tomorrow, and for the long run.
Here's more about the solution-focused goal of Code Red...
Why You Need the Code Red Action Plan,
As Described by John Mauldin and Jonathan Tepper...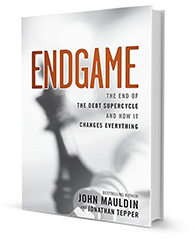 You probably remember John and Jonathan's last book, Endgame: The End of the Debt Supercycle and How It Changes Everything.
In that best-selling book, published in the aftermath of the Great Recession, John and Jonathan showed you how central bankers in the US, the UK, the EU, and Japan made compounding bad decisions that laid the groundwork for economic collapse.
Endgame was a best seller. Amazon.com named it one of the best finance books of 2011.
Code Red is about what happens next.
Today it's clear that five years after the fall of Lehman Brothers, Hank Paulson's TARP program, and endless bailouts, many investors, pros on Wall Street, and bureaucrats in Washington have been lulled into a false sense of security.
They may not see what John and Jonathan call a full-on "currency war" on the horizon.
Is the Dollar Facing a Yen-Like Doom?
Code Red Shows You What to Do to Protect Your Portfolio...
A Code Red crisis is brewing... and the economy could suffer a tremendous shock. The "recovery" you hear so much about is a rickety house of cards.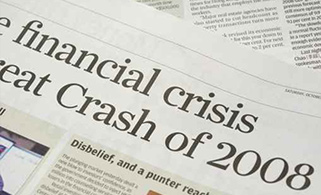 Even worse, no one seems to understand what steps to take to be protected from the coming Code Red financial crisis, which will be different from the blowup of 2008, but could be just as painful.
That's exactly why the solutions you'll find in Code Red are so important.
Though John and Jonathan do their best—and call on every resource they have at their disposal—to forecast what a Code Red financial crisis will look like, the truth is... no one knows for sure how quickly runaway inflation, for example, will set in...
As I'm sure you can see... that's why Code Red going so far beyond being "just another book about the big picture" could prove critical to your financial future.
Code Red Is a First Step... Here's How to Multiply the Benefits of Protection and Continued Growth You Get from Reading Code Red
The team at Mauldin Economics has put together a protection and action kit for you that takes the solutions you can use beyond the pages of Code Red itself. We've designed this kit to take the actions Code Red delivers and create a way to keep you up to date as the crisis begins to unfold.
With this Code Red Survival Kit, you get the explanations and strategies from the book, plus a full year of actionable advice, analysis, and updates from the Mauldin Economics team.
After all, it's one thing to have a long-range action plan like the one you get in the pages of Code Red.

It's quite another thing (but equally useful) to have monthly and weekly updates on direct, specific actions to take to build and adjust your portfolio continually as a Code Red crisis infects the markets... that's what you get with the Code Red Survival Kit.

In short, Code Red the book gives you the action plan from afar. The purpose of the Code Red Survival Kit is to zoom in on individual opportunities today, tomorrow, even a year from now...
The kit is comprised of Mauldin Economics' three most popular and best-selling investment research letters.
These three research letters use different investment strategies, but taken together as a unit, spell out exactly how you can invest to thrive in a Code Red world.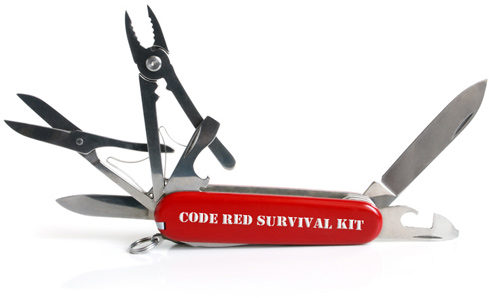 Plus, your Code Red Survival Kit contains another bonus layer of protection and idea...
But first, here are the details on the Code Red Survival Kit, and a point-by-point explanation of how it could help you build the any-weather portfolio you'll need in the months ahead...
The Code Red Survival Kit: $577 Worth of Guidance for just $179,
PLUS Your Copy of Code Red for Free...
The shortest way to explain the Code Red Survival Kit is to say I want to send you $577 worth of investment advice and analysis over the course of the next year for just $179.
$577 is the added-up market value of the three most popular letters John and his team at Mauldin Economics publish.
As part of the Code Red Survival Kit, you get all three letters for the next year for just $179.
The research team's original demand for the offer I detail for you below was $199... but I'm deducting the cost of Code Red, which you've already purchased.
Now here are the details about the three letters you can claim for the next year, plus how they each uniquely fit in the Code Red Survival Kit.
I think you'll agree this kit is an essential resource you'll need at your side, in combination with your copy of Code Red, to thrive during the coming financial crisis...
Code Red Survival Kit Tool #1:
You Get a Full Year of Yield Shark—
Investing for Capital Gains AND Growing Dividends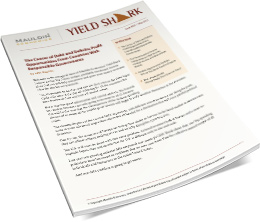 As a Mauldin Economics reader, you're already familiar with Yield Shark.
Yield Shark's mission is to show you how to capture stock price gains and growing dividends.
Dividend income will be a cornerstone of Code Red investing in the months and years ahead.
This is where Code Red's powerful discussion of moats comes into play.
A moat, just like at a medieval castle, is a special form of protection that keeps competitors (or enemies) at bay.
Strong moats often lead to lower-cost production (see Code Red, page 223) and higher margins for producers.
Higher margins mean more net income. More net income means more dollars invested in research, development, and new products.
More net income can also mean bigger dividends to shareholders.
Here's an example from the Yield Shark portfolio...
In April, John's team added a company that makes a tech product I'm sure you know by name.
This company's space is dotted with impostors and knockoffs.
In a little over six months, the stock is up 40.3%, and readers who took action could've already collected $0.90 in dividend payments.

The stock currently yields 3.77%, good for a total return of 42.9%.
42.9% in just over six months is a stout gain.
Plus, this company's strong low-cost-producer moat could keep both the stock price and the dividend growing throughout the Code Red crisis ahead...
Here's another example from Yield Shark... with the same rationale and the same bright future...
In the last week of April, Yield Shark recommended a company that buys, leases, and sells airplanes.
The company has a strong moat known as a "network effect" (see Code Red, page 222) which means that the more people who use a product or service, the bigger its future potential client base becomes.
If you visit eBay for the first time and buy something, for example, you're more likely to sell something there in the future or return again to buy something else.
With every airplane this Yield Shark recommended company buys, leases, or sells, the potential base of future business partners expands.
Yield Shark entered this play in late April. Readers who took a position collected $0.50 in dividend payments and realized a total gain of 47.9% when the sell recommendation was made in October.
That's the advantage you get with Yield Shark by your side: actionable advice you can use to benefit two different ways.
First through growing stock prices and second with reliable dividend payouts.
Yield Shark will prove invaluable during the Code Red crisis awaiting America...
Normally, a year of Yield Shark alone sells for $199.
Usually, that price gets you monthly issues, urgent updates, model portfolio tracking, special reports.
Today you get all that access, plus much more... for less than the cost of a single year of Yield Shark.
That's because, as part of the Code Red Survival Kit, you also receive...
Code Red Survival Kit Tool #2:
A Full Year of World Money Analyst—
The Key to Unlocking Truly Global Opportunities
Page 199 of Code Red discusses what John and Jonathan call home bias.
Home bias is the tendency investors have to focus on exchanges in their home country—rightly, because they're easy to access, well known, and tracked by the media.
The problem with home bias is that all the attention paid to native exchanges means you miss out on opportunity abroad.
For example, are there at least a few junior resource miners you missed out on because you didn't act on a stock trading in Toronto?
Or an electronics play... because you don't trade on Asian markets?
If you suffer from home bias, you might think you're protecting yourself because foreign markets can have strange regulations... or your broker might not execute your trades quickly.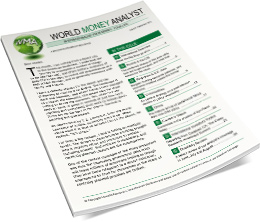 That's what World Money Analyst does... better than perhaps any other letter in existence: show you how to safely, quickly, and directly pack your portfolio with the international exposure you'll need to defeat a Code Red crisis in the markets.
If US markets take a dive but opportunity flourishes elsewhere in a Code Red crisis, you'll need the ability to act quickly and decisively. That's what World Money Analyst can do for you...
This is no empty promise, either.
The team members at World Money Analyst are located in investing hotspots all around the globe.
In short, World Money Analyst leverages a network with truly global reach to defeat home bias and help you build a portfolio to withstand the approaching Code Red crisis.
One World Money Analyst idea from July—a unique way to play building materials in rapidly growing Kazakhstan which trades in London—is already up over 37.5%.
That play came from the team's Russian connection, who has decades of experience investing in Russia and former member states of the Soviet Union. Now imagine that kind of niche market focus spread out across the globe. That's World Money Analyst in a nutshell.
Your monthly dispatches will provide you with the all-encompassing, global exposure your portfolio will need in the critical months and years ahead.

Normally, a year of World Money Analyst sells for $179 all by itself.
You get a full year, plus all the member benefits... PLUS...
Code Red Survival Kit Tool #3:
A Full Year of Bull's Eye Investor—
Targeting The Fastest Growing Sectors Month After Month
Page 231 of Code Red begins an important (don't miss it) discussion of commodities and the role they play in a successful crisis-investing portfolio.
Code Red also gives you an allocation model for your portfolio that makes sense in any conditions.
You've probably heard the old advice that at certain ages, you should have a certain amount of your investment capital in stocks and a certain amount in bonds.
As you get older, you reduce your stock holding percentage and move more money into bonds. That might've worked a generation ago... but it doesn't work as well today.
If frothy markets take a dive, your recovery time could be so long it sets your portfolio behind your goals permanently.
That's why cash and gold and silver figure into modern portfolio allocation that seeks to provide upside... and protection from calamity.
Commodities figure into this equation too... and so do macro investment themes, like the analysis in Code Red about Japan's ongoing financial mess (page 46).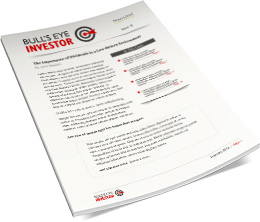 Mauldin Economics' Bull's Eye Investor focuses each month on the single sector with the biggest chance for outsized returns...
For example, the current portfolio connects perfectly with Code Red strategies by showing you a way to profit from a falling yen.

It also shows you how to best gain exposure to the companies pulling gold and silver out of the ground.

Plus, the current Bull's Eye Investor portfolio shows you how to benefit from oil and natural gas prices... like the play on an European natural gas giant Bull's Eye Investor recently closed for a 32.8% gain in just seven months.
You see, a successful Code Red crisis-proof portfolio doesn't just focus on income or international markets or sector-specific ways to allocation your investments...
A Code Red portfolio focuses on everything... all at once.
That's what the Code Red Survival Kit is all about—showing you how to build a portfolio that will weather the storm, no matter how bad it gets or how long it lasts.
Normally, a year of Bull's Eye Investor issues, alerts, updates, reports, and members-only website access sells for $199.
You get a full year, plus a year of Yield Shark AND a year of World Money Analyst, AND your free copy of Code Red for just $179 if you respond to this letter right now.
Here are the full details on how it all works...
Your Complete Code Red Survival Kit: Here's Everything You Get
For just $179 right now, you get:
A full year of Yield Shark including all issues, updates, reports, and members-only website access. (Normally $199 a year.)

A full year of World Money Analyst including all issues, updates, reports, and members-only website access. (Normally $179 a year.)

A full year of Bull's Eye Investor including all issues, updates, reports, and members-only website access. (Normally $199 a year.)

Your copy of Code Red for free. (The original price of this offer was $199, but I deducted what you paid for the book.)
PLUS...
And here's the special bonus I mentioned at the start... if you respond to this offer right now, you also receive:
Quarterly Code Red Survival Kit video updates from John Mauldin himself.
As you can see, the book and the three research services you can claim right now give you a blueprint for investing for the long term in a Code Red crisis.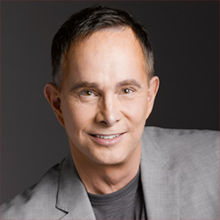 John has agreed (insisted, in fact) to send you quarterly video updates showing you how the Code Red case is developing, sharing ideas, strategies, and giving you more tools you can continue to use to protect and grow your savings...
These video updates will continue on a quarterly basis all year.
In short, as long as the world faces a Code Red crisis, John will give you updates showing you how to protect your savings and your family.
Just click on the link below to get started.
I think you'll agree this is a rare offer that speaks for itself.
Before I sign off, however, I want to make one more thing perfectly clear.
The Code Red Survival Kit Protects You from Bad Policy
and Runaway Central Bankers
Your response today locks you in at the absolute lowest possible prices for Yield Shark, World Money Analyst, and Bull's Eye Investor in the future.
A year from now, you'll receive a notice that each of these three valuable research services are set to renew at the steeply discounted rate of just $297 for another year of all three.
At that time, if you choose to stop receiving these letters, you can do so.
Plus, if at any time in the next 90 days, you decide the Code Red Survival Kit isn't for you, simply call my customer service team. You can get your $179 back with no questions asked.
I hope you agree this is a fair deal.
Right now you can get $577 worth of investment insight and analysis for a full year—at a 69% savings...

Plus your copy of Code Red for free...

And quarterly video updates on the Code Red Survival Kit from John Mauldin himself...
All for just $179.
And as I outlined above, you can take a look at everything for 90 days to determine if you're happy... there's no risk to you
Personally, I think back to 2008 and how much I would've wanted to offer a kit like this to you BEFORE the crisis hit.
I wonder how much it could've saved you... how many mistakes you could've avoided...
And I shake my head. No one can rewrite the past. What's done is done.
What I can do, however, and what I'm proud to do today, is to make this first-time-ever offer on behalf of John and the entire team at Mauldin Economics.
I recommend you respond now and take us up on this first-ever offer.
It just might save your financial future as the Code Red crisis John and Jonathan predict becomes a reality in the months ahead.
Sincerely,


Ed D'Agostino
Executive Publisher, Mauldin Economics

---
Use of this content, the Mauldin Economics website, and related sites and applications is provided under the Mauldin Economics Terms & Conditions of Use.
Unauthorized Disclosure Prohibited
The information provided in this publication is private, privileged, and confidential information, licensed for your sole individual use as a subscriber. Mauldin Economics reserves all rights to the content of this publication and related materials. Forwarding, copying, disseminating, or distributing this report in whole or in part, including substantial quotation of any portion the publication or any release of specific investment recommendations, is strictly prohibited.
Participation in such activity is grounds for immediate termination of all subscriptions of registered subscribers deemed to be involved at Mauldin Economics' sole discretion, may violate the copyright laws of the United States, and may subject the violator to legal prosecution. Mauldin Economics reserves the right to monitor the use of this publication without disclosure by any electronic means it deems necessary and may change those means without notice at any time. If you have received this publication and are not the intended subscriber, please contact service@mauldineconomics.com.
Disclaimers
The Mauldin Economics website, Yield Shark, Thoughts from the Frontline, Thoughts from the Frontline Audio, Outside the Box, Over My Shoulder, World Money Analyst, Bull's Eye Investor, Things That Make You Go Hmmm…, Just One Trade, Transformational Technology Alert, and Conversations are published by Mauldin Economics, LLC. Information contained in such publications is obtained from sources believed to be reliable, but its accuracy cannot be guaranteed. The information contained in such publications is not intended to constitute individual investment advice and is not designed to meet your personal financial situation. The opinions expressed in such publications are those of the publisher and are subject to change without notice. The information in such publications may become outdated and there is no obligation to update any such information. You are advised to discuss with your financial advisers your investment options and whether any investment is suitable for your specific needs prior to making any investments.
John Mauldin, Mauldin Economics, LLC and other entities in which he has an interest, employees, officers, family, and associates may from time to time have positions in the securities or commodities covered in these publications or web site. Corporate policies are in effect that attempt to avoid potential conflicts of interest and resolve conflicts of interest that do arise in a timely fashion.
Mauldin Economics, LLC reserves the right to cancel any subscription at any time, and if it does so it will promptly refund to the subscriber the amount of the subscription payment previously received relating to the remaining subscription period. Cancellation of a subscription may result from any unauthorized use or reproduction or rebroadcast of any Mauldin Economics publication or website, any infringement or misappropriation of Mauldin Economics, LLC's proprietary rights, or any other reason determined in the sole discretion of Mauldin Economics, LLC.
Affiliate Notice
Mauldin Economics has affiliate agreements in place that may include fee sharing. If you have a website or newsletter and would like to be considered for inclusion in the Mauldin Economics affiliate program, please go to http://affiliates.pubrm.net/signup/me. Likewise, from time to time Mauldin Economics may engage in affiliate programs offered by other companies, though corporate policy firmly dictates that such agreements will have no influence on any product or service recommendations, nor alter the pricing that would otherwise be available in absence of such an agreement. As always, it is important that you do your own due diligence before transacting any business with any firm, for any product or service.
Copyright © 2013 Mauldin Economics, LLC