Dear This Week in Geopolitics Reader,
Europe matters. As John Mauldin said recently, in the not-too-distant future Europe, will likely be hit by a "very severe recession, which could push the US into recession if it happens too quickly."
That's why I sat down with Geopolitical Futures founder George Friedman to discuss his outlook for Europe in his just-released report, The World in 2017—his wall-to-wall forecast on global events we can expect this year.
Click below to see George's take on a sickly European Union... the rot sneaking into two of its founding members... why Brussels bureaucrats are like bad teachers trying to control unruly students... and more.
From top to bottom, The World in 2017 report runs 24 pages and is packed with deep-dive analysis and forecasts that will transform the way you see the future. In the US section alone, the report reveals:
How the fallout from the 2008 financial crisis will continue to impact your everyday life
Which recession signals to watch out for so you can game-plan your year properly
How America's domestic problems will be reflected in its new, inward-looking foreign policy
What the decline of US productivity means for economic expansion, and how it will affect you
How the United States' changing relationships will affect trade agreements and the economy
And more...
The report also covers coming events in Russia, Asia, the Middle East, South America, and Africa.
No matter how distant events in those regions seem, their impact on our lives can be tremendous.
That's why The World in 2017 is required reading for investors and concerned citizens alike. The detailed analysis it contains is simply not available anywhere else... and by all rights, access should cost hundreds, if not thousands of dollars.

But today, This Week in Geopolitics readers can get the full report plus a full year of access to Geopolitical Futures' analysis, daily briefings, in-depth assessments, reality checks, and more for just $99.

That's a 60% discount, which won't be offered again anytime soon.
It's also less than $2 a week for unlimited access to everything published by Geopolitical Futures in the coming 12 months, giving you the critical information and tools you need to map out your future.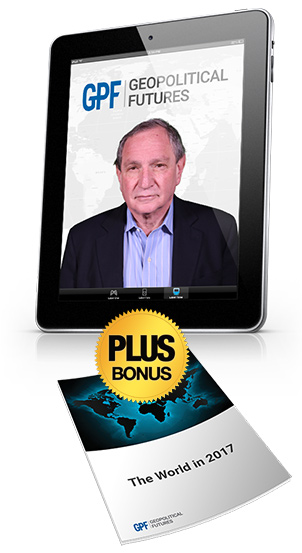 The Mauldin Economics analysts regularly turn to George's analysis to inform their investment strategies and world views.
And it's not just our team. Every subscriber to Geopolitical Futures I've personally met or heard from has become an avid fan in a heartbeat.
Like Dominic F., who says Geopolitical Futures is "unparalleled for open-source analysis. It's like they have a crystal ball."
Or Sean O., who says Geopolitical Futures updates are "probably, if not absolutely the best emails I receive each day."
And Dr. Milo J., who wrote to Geopolitical Futures to "thank you for the best geopolitical service in the world."
To get 2017 off to a bright start, I urge you to consider joining Dominic, Sean, Milo, and all the other well-informed subscribers who rely on Geopolitical Futures for a clear view of what lies ahead.
Get The World in 2017 plus 1 full year of Geopolitical Futures now
Sincerely,


Ed D'Agostino
Publisher & COO
Mauldin Economics
P.S. A full year's subscription to Geopolitical Futures usually costs $249. This Week in Geopolitics readers can take a 60% discount on the list price for a limited time only... so don't delay. Click here to find out more.