Fellow Investor,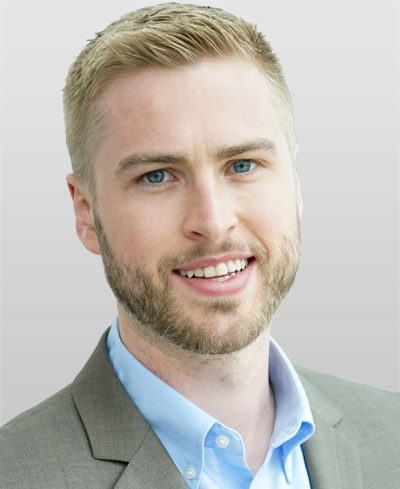 This is Robert Ross, Mauldin Economics' senior income analyst. A recession can bring tough times, not just for your portfolio, but for your family. I am here today to ease the worries I have been hearing so much about lately.
Recession-proofing your portfolio is a lot of work, but I've done the legwork for you to make this a fast and simple process!
By the time you're done with this letter, you'll have a real plan to handle anything the recession throws at you. You'll be TOTALLY prepared!
After all, only a fool doesn't prepare. Only a fool buries his head in the sand and hopes stocks keep rising forever.
You're no fool! You're here because you're a financially responsible person. You're here because you refuse to leave your family's financial future up to chance!
Not worried about a recession? I urge you to think again...
Historically, an S&P 500 bull market lasts 4.5 years. We're currently in the 10th year of the current bull market in US stocks. I expect stocks to revert to the long-term average sooner rather than later.
Why sooner? During an economic expansion, the US economy typically grows for five years. Just last month, we passed the 10th year of continuous growth. So as you can see, we're seeing a similar trend in the US economy. That party won't last forever, and now is the time to start preparing your portfolio.
In fact, what you'll learn today could not just save your retirement...
...but also make retirement considerably more comfortable than you might be expecting.
That's because my Any-Weather Income Strategy is designed to make the recession as worry-free—and as profitable—as possible for you. I want you to be as prepared as you can be!
Keep scrolling and you'll see why you don't even need to worry about "timing" the recession. My strategy works now, during, and after the coming bear market.
You'll also learn how to take full advantage of the special benefits I'm giving away today:
sector I've picked to outperform now... for the next 12–18 months... and beyond.
All the details of the any-weather income
stock pick from that sector—no strings attached. You'll get everything you need including the ticker symbol.
And ahigh-yield, low-risk
So if you're worried about a coming recession, concerned about protecting your portfolio and your family, and looking to profit when the recession hits... you've come to the right place!
How I find the very best
dividend payers
As an income analyst, I look for—and deliver—market-beating income for investors who are fed up with the returns from today's pathetic interest rates.
After all, getting 2% or 3% a year makes living off your savings pretty difficult. Wouldn't you rather be getting two or three times that return?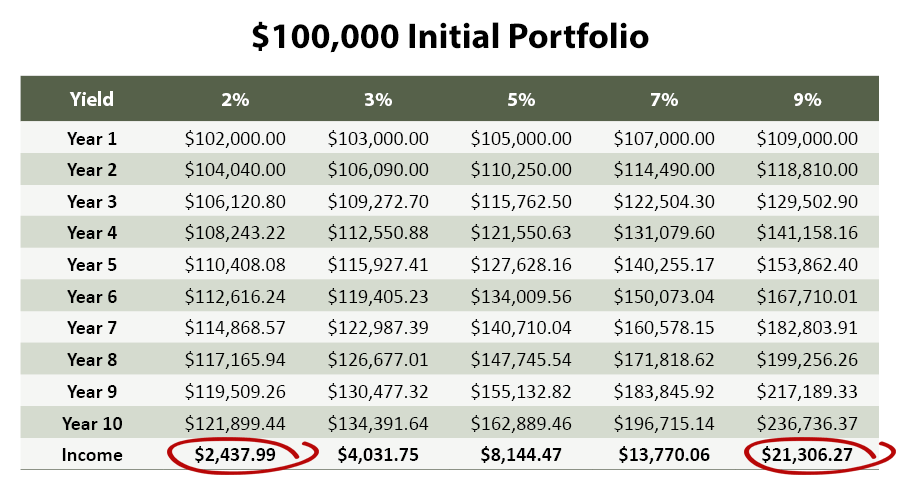 Getting 5%... 7%... and sometimes even more makes a huge difference to your retirement. Imagine earning $21,306.77 a year rather than $2,437.99 from the same $100,000 starting point.
You can't get those kinds of returns from CDs or bonds... or even average dividends right now.
That's where I can help you earn solid income. I uncover the very best dividend payers while keeping risk low.
Here are a couple of examples of recent picks I've made:

And I'm sure you remember the convulsive sell-off we saw at the end of 2018.
My main portfolio held up very well. While the S&P 500 plummeted a heart-stopping 20%, my portfolio eased off only 1.3%. Many of my positions rose during this period!
Here's how I do it:
I look for companies the market gets wrong—a great business where the stock is mispriced and undervalued.
I also look for companies with a formidable economic moat. When a company enjoys a wide barrier to competition, it pretty much holds a monopoly in its industry.
If you've followed
Warren Buffett at all, then...
...you'll know that "undervalued" and "having an economic moat" are the classic definition of Buffett-style value investing.
But for me, it doesn't stop there.
Any stock I like must ALSO generate market-beating income... with low risk.
As you can imagine, it isn't easy to find companies like this. It's not the kind of search you can do from a desk at home.
And that's why I consider myself to be an income-investing nomad.
I'm based in Los Angeles these days, but I'm hardly ever there. I'm constantly on the move and looking for new market-beating income opportunities. That includes live reports from the front line of some of the most exciting markets all over the world.
To give you an idea of where I look, here's a list of the countries I've visited in the last two years:
Brazil, Uruguay, Argentina, Colombia, Mexico, Iceland, the UK, France, Hungary, Italy, Spain, and Portugal.
I've been to 30 countries in my search for the best income investments!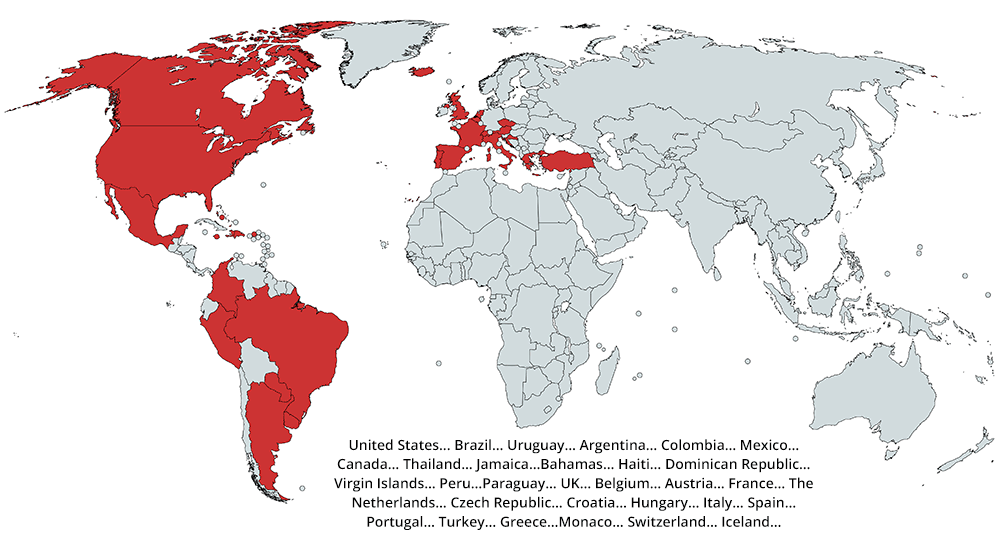 I flew into Napa Valley, California and checked out an explosive real estate income stream anyone can get started with for only $100...
I just went to Mexico City and met with business owners to see how Mexico is benefitting from the trade war with China.
I also tracked down and met the vice president of a cannabis company in Medellin, Colombia, to discover how investors could cash in on the booming pot industry...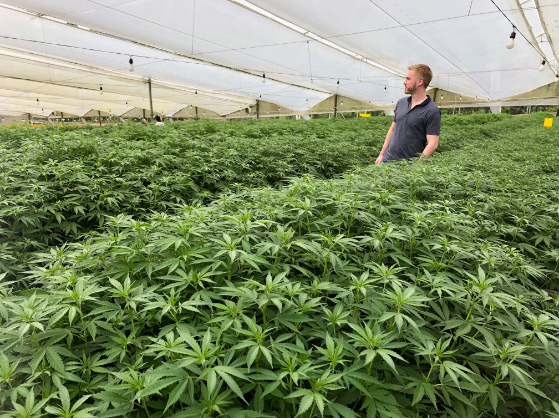 I've also met with fund managers in Buenos Aires, Montevideo, San Francisco, and Los Angeles. I've spoken to business owners in Brazil, oil and gas representatives in Louisiana, and an activist hedge fund in New York City.
There's a clear strategy behind all these visits.
I'm a big fan of Warren Buffett's right-hand man, Charlie Munger. Charlie's focus on behavioral economics and value investing is the same approach I take in my analysis.
Charlie puts a lot of emphasis on understanding incentives. As he says, "Show me the incentives, and I'll show you the outcome."
You can't see all the incentives until you meet people in person and get what really motivates them—and how!
But of course, the personal side is only part of it.
Because while I've been doing all that...
I've also created Mauldin Economics' Equity Evaluation System, or EES for short. The EES Model helps me make sense of all the data once I've visited company management teams and operations around the globe.
What makes the EES special? Well, it's a proprietary stock selection system with more than 75 criteria. I use it to find the best investment opportunities in US-listed stocks. The EES keeps me away from the dogs and gets me into the very best companies.
Now let me explain
something important...
Are you wondering exactly why I'm so passionate about this stuff?
There's a very good reason why I want to help you earn market-beating income.
I saw what happened to some of my family members' portfolios in 2008. I knew I had to do something to help them.
That's when I turned my entire focus to income investing. I'd already been researching the relationships between interest rates, inflation, and dividend investing.
So I had lots of data to prove long-term wealth can be created by holding safe, stable stocks that pay dividends.
Suddenly, it was time to help my family build back their portfolios and keep them safe... regardless of where the market turned in the future.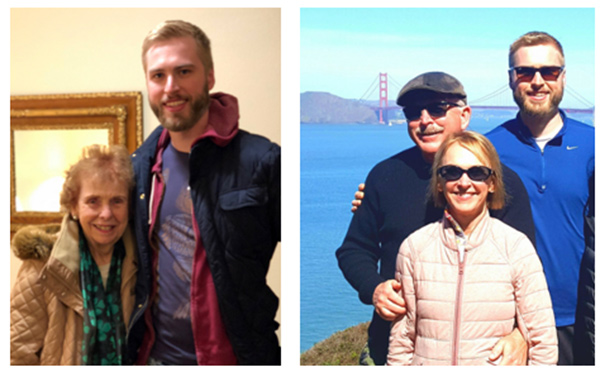 That's why I dedicated almost every working hour to figuring out how to help them and other retail investors avoid common investment traps.
Because after what happened in 2008—it was more than business... it was personal!
Soon I was delivering results for more than just family members. I was using my research to help other investors too. That includes picks like these:
Since I recommended Waste Management stock back in 2018, shares are up 30.3% while earning a solid 2.0% dividend yield. That's a whole lot better than the 3.2% gain from the S&P 500 over the same timeframe.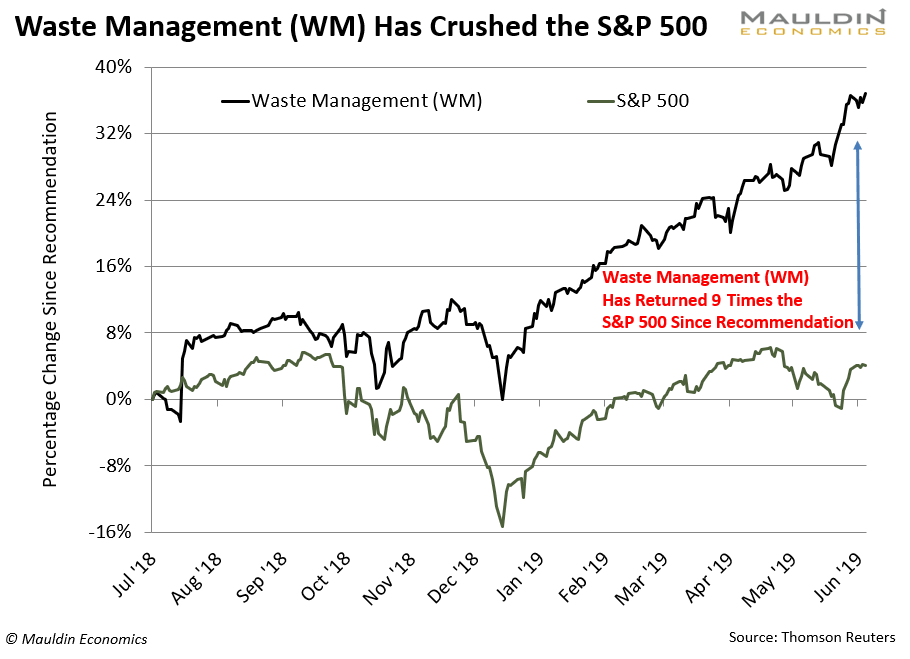 I also picked a manufactured-home REIT called Sun Communities (SUI). While the S&P 500 dropped 1.6%, Sun Communities rose 23.5% while paying a 2.4% dividend yield.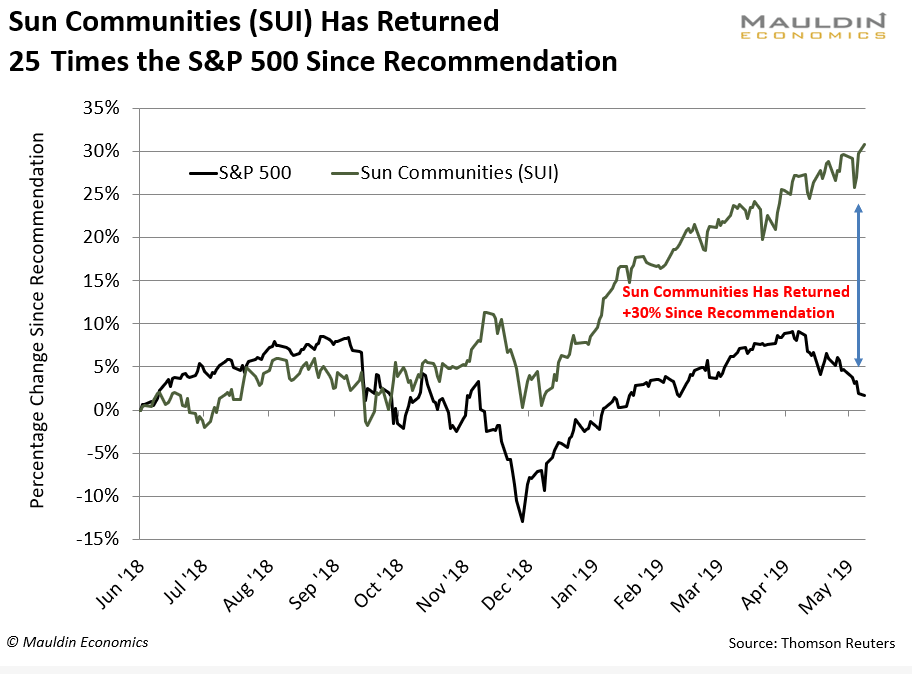 And don't forget my portfolio was crash-proof when last year's panic hit the markets.
Wouldn't you rest a whole lot easier being down just 1.3%—with several big winners shoring you up—than down 20% or more during that time?
My goal is to show you how you can create high yield in your own portfolio without high risk. I want to help you retire more comfortably (and maybe sooner) than you believe possible—even if a recession is coming!
But before we get there, here's something just as important...
I know you might be feeling frustrated and uncertain in today's market.
Let's make that a thing of the past. My objective today is that by the time you reach the end of this letter, you'll understand how to thrive and make steady income in the market no matter what's happening out there.
I'm going to show you exactly what to do, when to do it, and how to do it. I'll show you how to unlock the real income potential that's hidden inside your portfolio.
"Doing" it goes both ways, though! I'm an optimist. I hope and assume you'll actually use what I share with you.
That's why I'm asking you right now, as you read through this, to see yourself doing what I show you. To make it yours and see the future show up right now... today!
This quote from Michael Jordan says it all: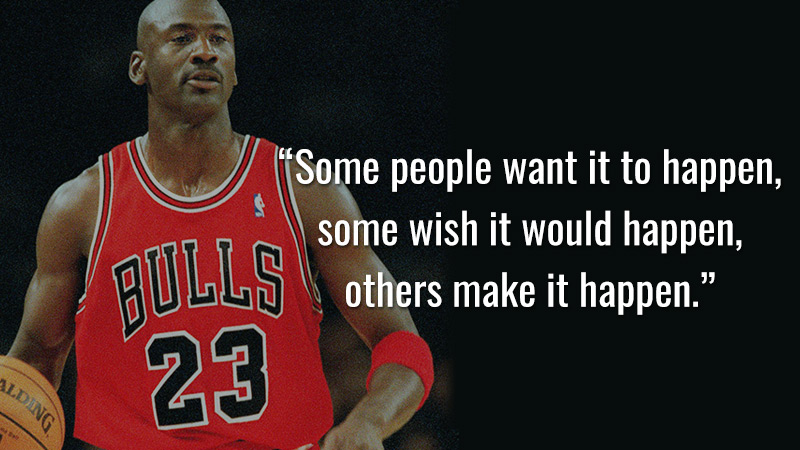 I want you to get into the mindset of making it happen.
So let me ask you another question...
Why do you want
market-beating income?
What's the real reason?
Do you want to make sure you and your spouse live your dream retirement? That's the one with vacations, a nice (paid-for!) home, and extra cash to splurge on your family if you want.
Or is it something deeper?
Are you set on proving that you're a great provider... someone who gets things done and takes care of your family better than they've ever known before?
The fact is, only you know the real reason...
All I'm asking is that you make your personal WHY bigger than your reasons to keep on doing the same old thing.
Now that takes us to...
What just happened?
The once-in-a-decade opportunity
for great pre-recession gains
If you blinked, you might have missed a once-in-a-decade event.
For about a week in late March, a closely watched indicator I call the Diamond Cross was triggered for the first time since July 2006.
You might not remember July 2006, but I'm sure you remember what happened 18 months after it. The US fell into its worst economic slowdown since the Great Depression.
It was no accident. That's because the Diamond Cross is a telltale sign of three key things:
The Economy's Slowing: A Cross is one of the best indicators that investors can use to forecast recessions. It's so good that we've seen a Diamond Cross before every recession over the past 50 years!
No Need to Panic (Yet): History also tells us a Diamond Cross does NOT mean a recession is imminent.
The Bull's Not Dead (Yet): A Diamond Cross means stocks should continue to rise for the next 12–18 months.
I'll get back to those three points in a moment.
First, let's talk about what a Diamond Cross is.
A Diamond Cross is the difference between the yield on the 10-year Treasury note and the 3-month Treasury bill.
Consider the yields on May 15 of this year. The 10-year Treasury note was yielding 2.37%. And the 3-month Treasury bill was yielding 2.42%. So, the difference was minus 0.05%.
Whenever this number is negative—which happened on May 15—it means the Diamond Cross pattern has emerged.
That's important! When elite investors see the Diamond Cross, they pay attention.
That's because it's a sign there's significant worry about the economy.
Let me explain why: US Treasuries are bonds issued by the US government. These bonds are known as risk-free because the American government is the safest lender in the world.
Each bond is issued for different lengths of time, ranging between three months to 30 years. These lengths of time are known as a bond's maturity.
In normal times, the longer the maturity, the higher the yield on Treasuries.
This is logical. The further you go out into the future, the harder it is to predict changes or major world events. So people demand higher yields to compensate for greater uncertainty.
But when we see the Diamond Cross—like we saw on May 15—the opposite happens.
Short-term yields rise higher than longer yields. And when we see this rare pattern, it means investors are pessimistic about the short term. That pushes down the yields on long-term Treasuries like the 10- and 30-year bonds.
The Diamond Cross:
A major opportunity
for investors
That means the Diamond Cross is something you should keep a very close eye on. Remember, it's happened before every recession over the last 50 years.
It's that reliable!
You can see the inversion shortly before the last three recessions in the next chart. (The Diamond Cross inversions are circled in red, and recessions are highlighted in grey.)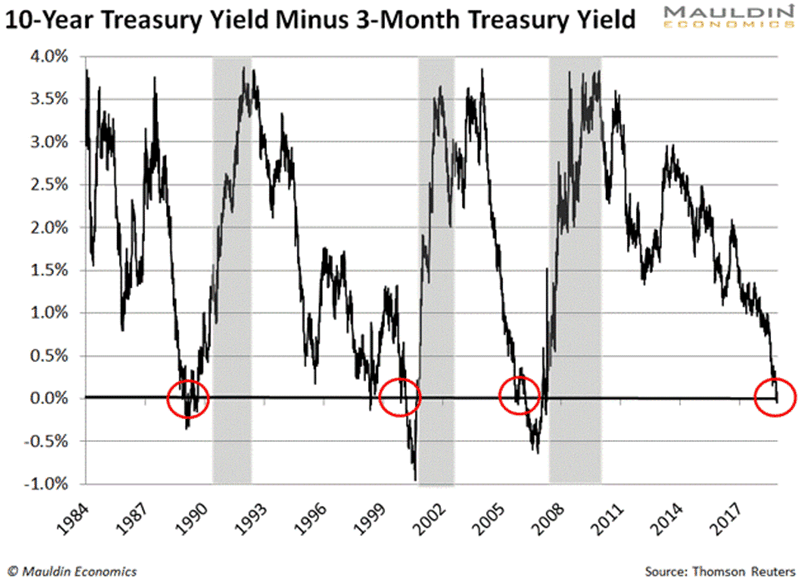 See how good a predictor the Diamond Cross is?
The odds are very, very good that a recession is on the way right now.
That shouldn't be a surprise if you've been watching our economy.
The US has expanded continuously for nearly nine years now. Yet since 1945, we've had a recession every five years, on average. That means we're long overdue for another.
But remember, a Diamond Cross also tells us the recession is NOT imminent. On average, a Cross has appeared 18 months before the last three recessions.
So a recession is coming, but not tomorrow.
That means there's time to prepare!
And that's the best part. Because the last of the three key points about a Diamond Cross is that it's a proven positive sign for stocks in the short term.
Look at how the S&P 500 rose after the last three Diamond Crosses:

18 months after the last three inversions, the S&P 500 returned an average of 32%. That's the same return since July 2016.
At this rate, stocks should continue to climb until September 2020.
There's a catch though...
While the S&P 500 rose an average of 32% after each Diamond Cross, that doesn't mean you should go out and buy any old stocks.
Just the opposite, actually.
Now is NOT the time to take on excessive risk. While history shows stocks rise a lot after a Diamond Cross, you want to approach the situation with caution.
Fortunately, I can show you how to be both cautious and very profitable after a Diamond Cross occurs.
That's because I've pinpointed a sector that consistently outperforms the broader market—and does so by a wide margin—after every Diamond Cross.
It's not bonds or CDs. That's because I expect the Federal Reserve to cut interest rates soon (I'll explain why in just a moment).
This under-appreciated sector can boost your portfolio significantly.
And you absolutely need to understand why it's important after a Diamond Cross.
The best sector to
buy right now
The magic sector is transportation.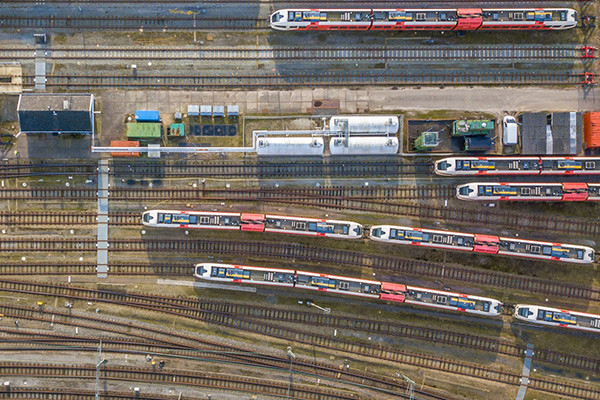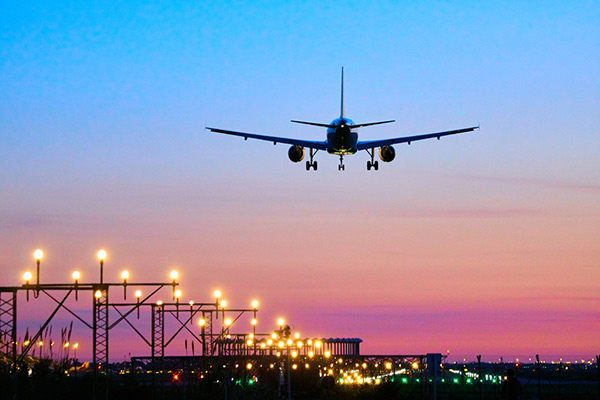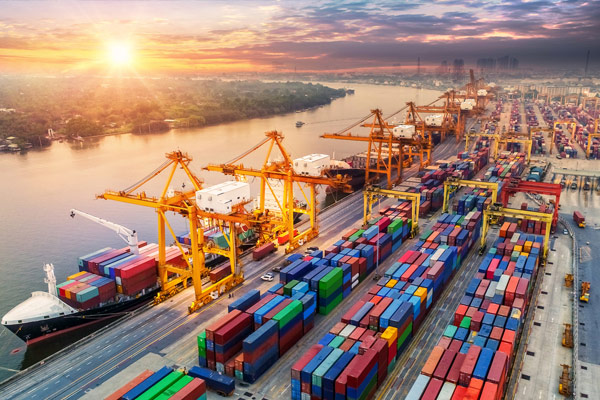 The transportation sector includes railroads, airlines, and shipping companies.
Now it might seem counterintuitive that transportation stocks do well when a recession is looming. Won't they lose money?
After all, these companies earn revenues by moving people, raw materials, and finished goods from point A to point B.
We all know people, raw materials, and finished goods move around a lot less during a recession. So there's less demand for transportation companies to meet, right?
In theory, this simple fact should hamper transportation stocks. But the data tell a different story.
The table below compares the average performance of the Fidelity Select Transportation Portfolio (FSRFX). This portfolio holds a basket of large transportation stocks.
You can see how it's compared to the S&P 500 after the last three Diamond Crosses.

Look at that!
For example, back in July 2000, the Diamond Cross was triggered for the first time in 11 years. A recession struck the US economy just nine months later.
The S&P 500 was dragged down 17% during the depths of that 2001 recession.
Yet the Fidelity Select Transportation Portfolio (FSRFX) was up 28% during that same time.
Two years later, the economy was recovering. But the S&P 500 still hadn't found its footing. The index was down as much as 31%. Yet transportation stocks took off again, with FSRFX up another 29%.
See for yourself: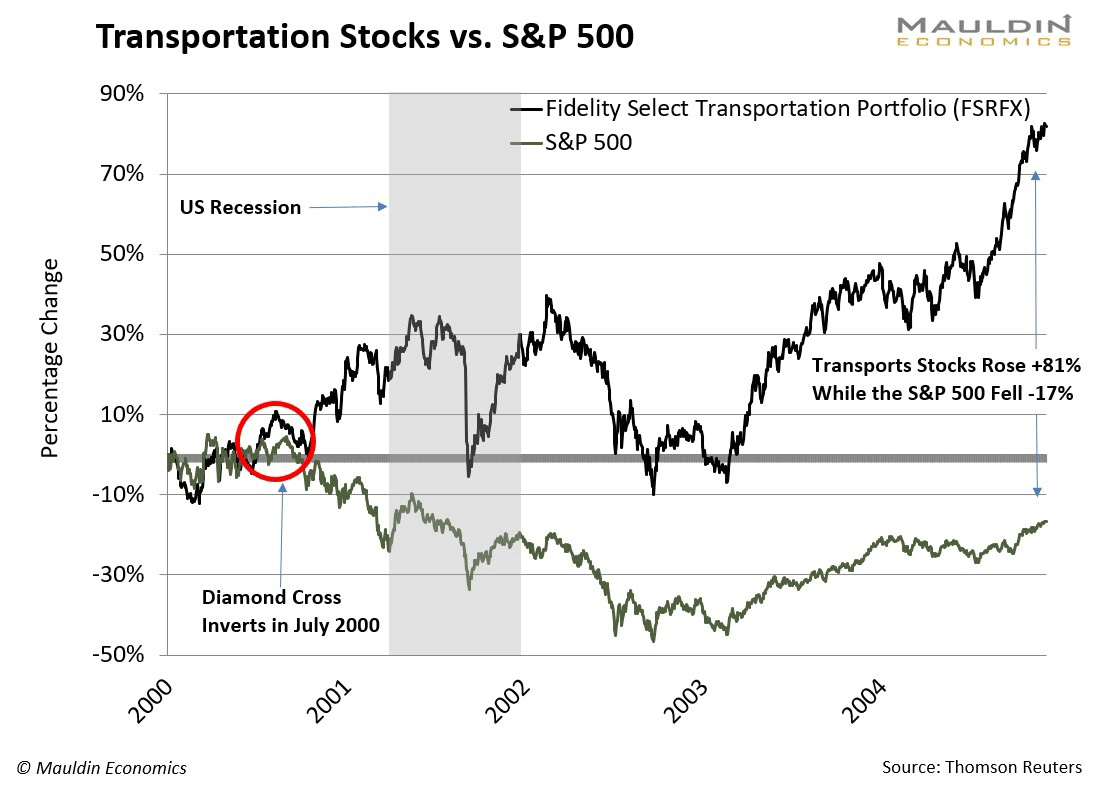 All told, transportation stocks rose over 81% in the four years after the July 2000 Diamond Cross. And they almost never dropped into negative territory.
This begs the question, "Why are transportation stocks so resilient?"
Well, the answer is that transportation stocks surge when oil is cheap.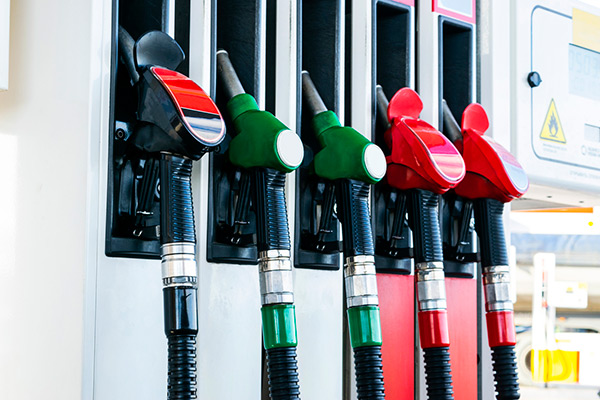 Transportation companies have one major cost: fuel.
For airlines, fuel made up 24% of all costs in 2018. For the shipping industry, it was 25%. For railroads, 12%.
That means when oil prices fall, one of the main costs for the transportation sector falls too. And you know what falls during a recession?
Oil prices.
The next table shows how oil prices dropped during the last three recessions:

Oil prices don't collapse immediately after a Diamond Cross, though.
In the period between the last five Crosses and subsequent recessions, there's always been a major spike in oil prices.
That oil price spike is another canary in the coal mine for a recession, by the way!
But oil prices falter after the spike. That's because companies demand less oil when economic activity slows.
Then lower oil prices act as a tailwind for transportation companies. So even though demand for transportation services slows, costs fall too.
This acts as a cushion for these oil-dependent companies' share prices. It makes them much more buoyant compared to other types of stocks. So the big gains transportation stocks enjoyed kept on coming while the S&P 500 kept on floundering through the 2001 recession.
I'm confident the stock market will follow a similar pattern this time around. It should continue to rise for the next 12–18 months.
Then things change...
What's coming in
12–18 months
Remember, history tells us we have about 12–18 months before the recession kicks off.
I'm NOT predicting a crash, by the way.
But I do expect the recession to be deep and prolonged. It should be like being squeezed by a great big boa constrictor.
Why? Because the Federal Reserve and US government are using all their monetary and fiscal bullets at the wrong time in the market cycle.
When unemployment and inflation are low, markets are at all-time highs, and the economy is strong...
...you typically want to raise interest rates.
You do that because when the economy hits the skids later, you want to be able to lower interest rates to spur economic activity.
But that's not happening.
While the Federal Reserve raised interest rates moderately between December 2015 and December 2018, rates are still below their long-term average.
Meanwhile, real interest rates—that's the nominal rate minus inflation—are barely above 0%.
Yet John Williams, president of the Federal Reserve Bank of San Francisco has said he wants to keep rates "lower for longer."
This gives the Fed very little ammunition to hold back the coming recession when it arrives.
So how about the government?
Well, it's not helping either.
Congress passed a major tax cut last year. This is another measure you would take when the economy is struggling to spur growth... not when corporate earnings and the stock market are at all-time highs.
It gets worse.
Congress is now toying with the idea of a $2-trillion infrastructure package. This is yet another measure responsible public servants would save for a slowing economy.
So all these things are being done at the wrong time.
And firing a bullet at the wrong time means it will miss the target. That means the next downturn will likely be a deep and prolonged one.
The Fed and the government should have enough ammunition to prevent a crash... but they won't be able to stop a long and deep recession.
That's not good news if you're not prepared.
So how should you get ready?
Well, there's no prospect of decent yields on CDs or bonds at any point in the foreseeable future. That's not a great situation if you're retiring within 10 years.
Here's the next step...
Revealed:

Your free
recession-proof stock pick

By this point, I don't think you'll be surprised to learn my pick is a transportation stock.

After all, I've already shown you that transportation is the best sector for enjoying above-average gains after a Diamond Cross and the resulting recession.

But not just any transportation stock will do.

For the absolute best Diamond Cross performance, we want a transportation stock that pays a good dividend too.

Dividend stocks often do well in recessions, of course.

Have you heard of a group of stocks called the Dividend Aristocrats? Probably... but just in case...

Dividend Aristocrats are companies which have increased their dividends for at least 25 years in row. They're basically the best of breed dividend-paying stocks.

These Aristocrats handed investors a 10.3% average annualized return from 2005 to 2015. Obviously, that includes the global financial crisis of 2007–2008.

That 10.3% is quite a bit better than the 7.3% from the S&P 500 during the same period.

And it came with less volatility too. The average volatility for Dividend Aristocrats was 13.9%, which compares favorably to the 15.1% for the S&P 500.

Higher returns with less risk is the unicorn of investing strategies. That's why I'm such a big fan of income investing.

And it's why "transportation + dividends" = one terrific combination after a Diamond Cross.

So with that all that background in place...

...let's talk about a company called CH Robinson Worldwide (CHRW).
CH Robinson Worldwide is a 3PL company. 3PL means third-party logistics. CHRW gets hired by other companies to manage distribution and transport. This includes truck, air, intermodal, and ocean transport—it's truly global.
It means CH Robinson Worldwide is a one stop shop for all types and facets of the transportation process. It benefits from a strong network effect—this makes it a hard company to compete with.
Remember what I said earlier about a wide economic moat?
When a company has an economic moat, it means it's extremely difficult for competitors to break into the business.
You can think of it as a literal moat that ensures the costs to compete are very high. So few, if any, new companies can afford to try.
CH Robinson Worldwide is an excellent example of this.
It's one of the reasons why the company is very stable.
It certainly performed well during the last two Diamond Crosses. (CHRW barely hit negative territory after the 2006 Cross, for example.)
And CH Robinson Worldwide shares beat other transportation stocks and the S&P 500 after the April 2000 Diamond Cross.
The company also has great fundamentals. It's trading cheap with a sub-16 forward P/E. It pays a solid 2.5% yield on a low payout ratio too.
Let's expand on that.
I've created two key models to provide rock-solid guidance on these fundamentals: the Equity Evaluation System (EES) and the Dividend Sustainability Index (DSI).
The EES uses 75+ criteria to find the best investment opportunities in US stocks. The system keeps you away from the dogs by creating an objective score for each company in a given industry. The score is based on fundamental, valuation, technical, and qualitative factors.
I take each figure and compare it to the industry average. Depending on whether the company has a higher, lower, or similar reading relative to its competition, it gains or loses a point on the EES scoring system.
Across all 75 metrics, I determine a final score for each company. Then the company with the highest score amongst all its competitors is the one I select.
See this chart of EES values?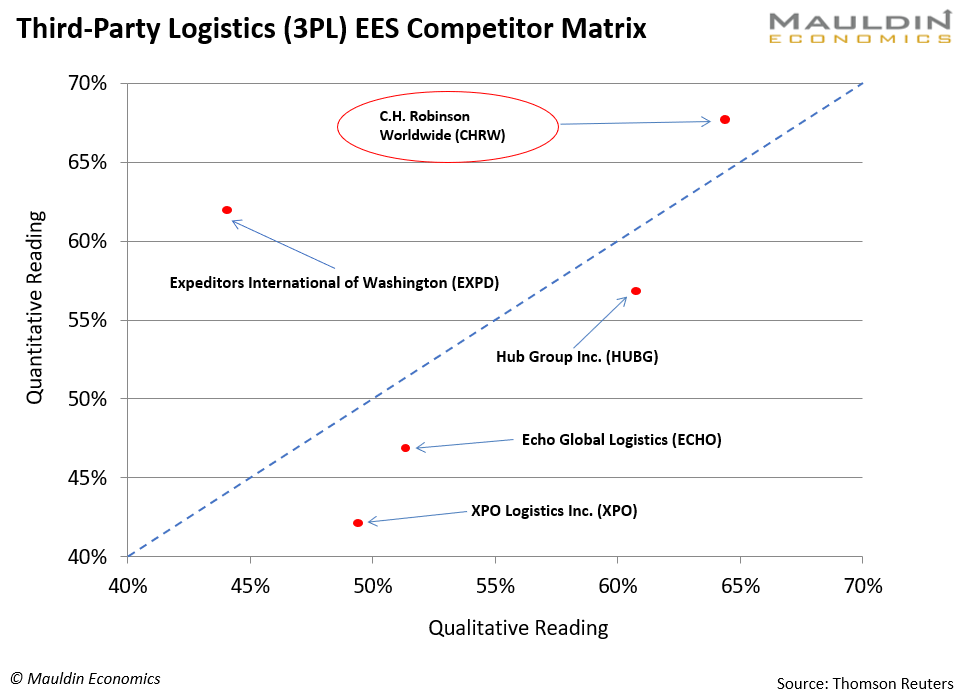 Now you can see why I like CH Robinson Worldwide so much. This is how EES works to ensure CHRW is the very best pick amongst its peers. It beats the competition handily.
But the Dividend Sustainability Index (DSI) is also very important.
The DSI looks at a basket of key metrics to evaluate the safety of a dividend. This includes the payout ratio, the number of years raising dividends, the debt-to-equity ratio, and free cash flow too.
Just like the EES, each data point is assigned a score in the DSI. This helps objectively measure a dividend's safety.
Here's how CH Robinson Worldwide scores on the DSI: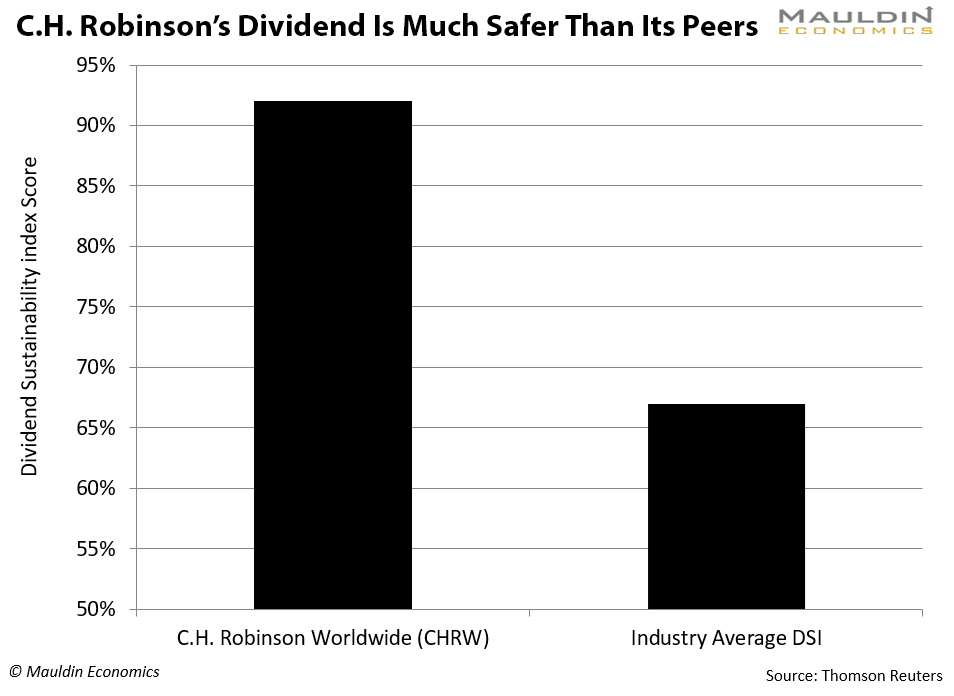 Again, you can see why CH Robinson Worldwide is an excellent prospect for making gains both before and during the coming recession.
And that's why CH Robinson Worldwide (CHRW) is my special pick for you.
It ticks all the right boxes as a top Diamond Cross stock pick. It combines transportation + dividends. It's got a wide economic moat, it's cheap, and it has great EES and DSI scores.
Now there's one more key point
I'd like to make here...
Outsized gains with less volatility and risk is why I've made income investing my specialty.
It's why income investing should be on YOUR radar too.
Income investing might not sound glamorous, but higher than average gains with less risk is a winning combination for any investor. Yet so many people simply aren't aware of the possibilities.
Look at the difference between settling for just 2% a year and aiming instead for 5%... 7%... even 9% a year: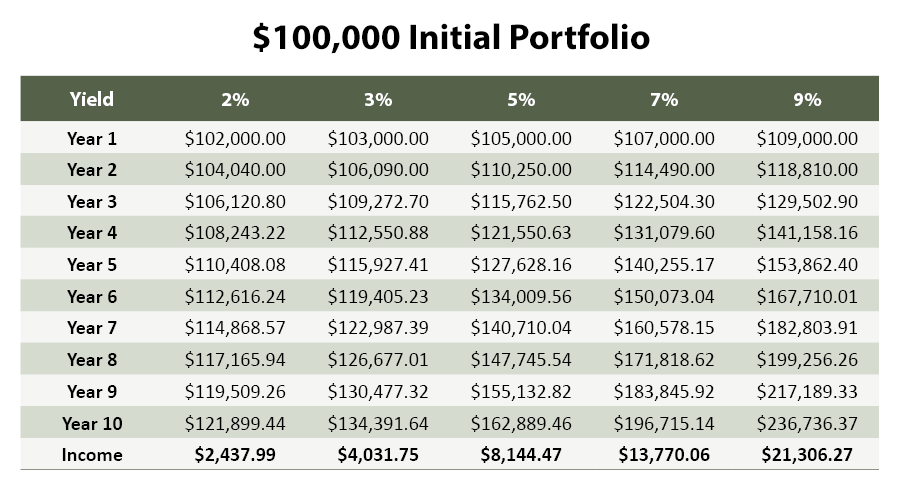 A few percentage points mean EVERYTHING when it comes to generating serious cashflow from your hard-earned money.
I hope you agree that what I've given you already is very valuable.
If so, you'll LOVE what I've got for you next.
---
Introducing My Elevated Income Collection:


A HIGH-performance, low-risk investing solution
to save your retirement and beat the market too

My Elevated Income Collection is designed to give you the biggest yield with the smallest risk.

I created it to help you beat the market in both good times and bad. It's an any-weather answer for anything the markets throw at us in the months and years to come.

The Collection consists of three interlocking publications and some very special extras too!

You might be wondering how you're going to get 7% or 9% a year—or even more!—as I've highlighted earlier.

That's where In the Money comes in.
In the Money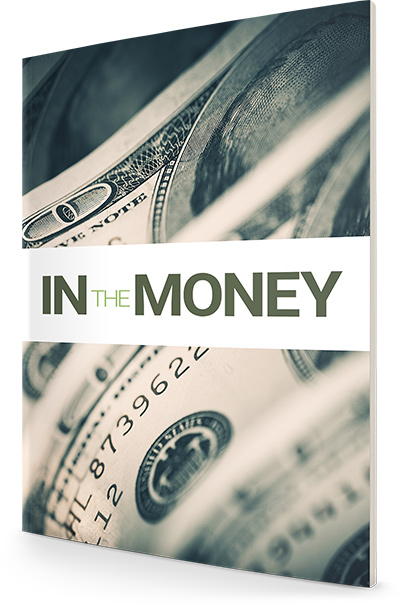 With In the Money, I apply a simple option-selling strategy to earn income and acquire solid companies we want to own. The strategy really is straightforward. Don't let the word options scare you off!
If you can buy or sell a stock, you can apply my In the Money options strategy... guaranteed.
Even better, we've enjoyed a 94% success rate since we started using it back in 2016. That's more accurate than the best passers in the NFL!
All you have to do is follow simple instructions, and in just a few minutes, you'll have a cash payout in your account like these....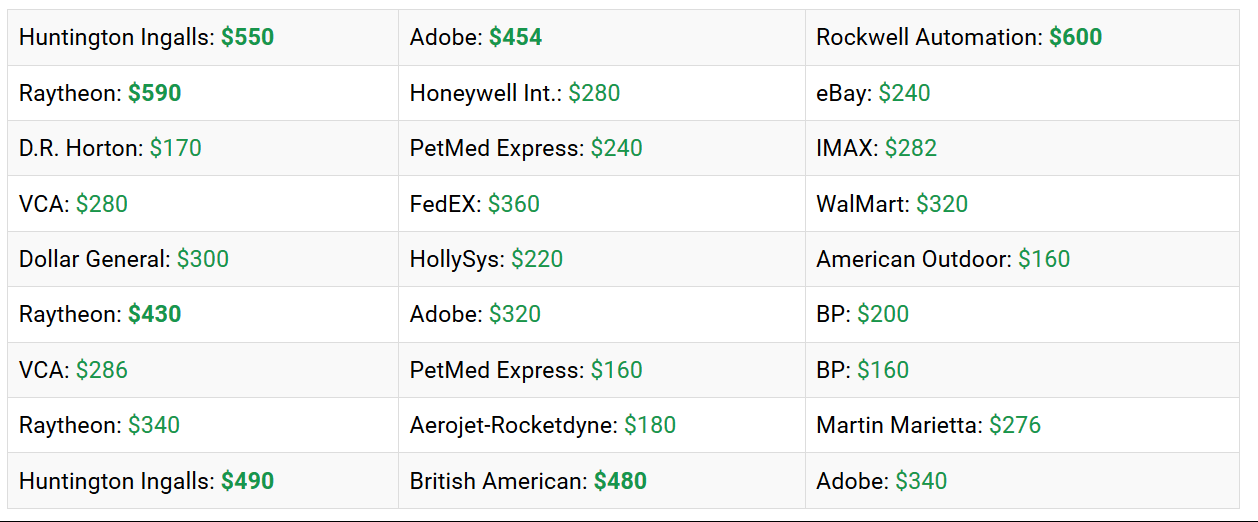 You only need to string a few of these payouts together each month and you'll have enough money to make life much more comfortable. And remember, these income streams are on top of the income you'll be making from Yield Shark.
For instance, in the last 60 days alone, this strategy has earned In the Money readers $1,400 in instant income.
Here are some thoughts from In the Money readers and colleagues:
Jiri K. from Myrtle Beach, SC says:
Alex W. from Overland Park, KS adds:
And David B. from Arlington, TX states:
My fellow analyst Jared Dillian: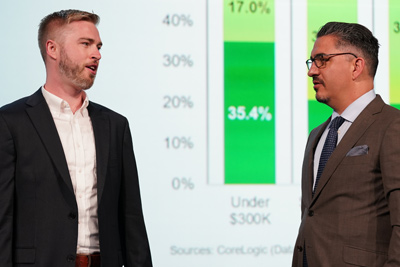 Robert and Jared
---
Popular newsletter writer and former colleague Grant Williams: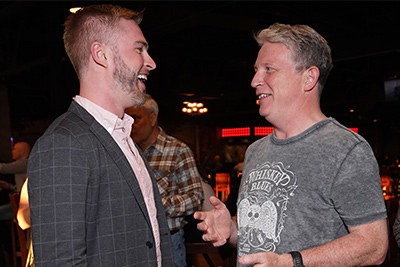 Robert and Grant
---
Even John Mauldin himself: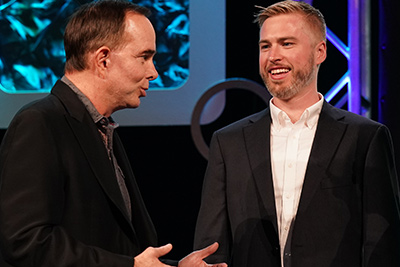 John and Robert
---
I hope it goes without saying that absolutely every stock in the Yield Shark and In the Money portfolios has the highest EES and DSI scores. That's one of the main reasons my portfolios have performed so well over the years.
Let me get even more specific about how I can help you...
The strategies I feature inside In the Money, add to my Yield Shark market-beating payouts with a completely different income approach. The two services complement one another like wine and cheese.
Yield Shark, has crushed the S&P 500 over the last 12 months. While the S&P is down, my low-risk dividend stocks have earned readers an average gain of 8%!
And when you factor in an average dividend yield of 4.2%, it's churning out steady income as well.
Yield Shark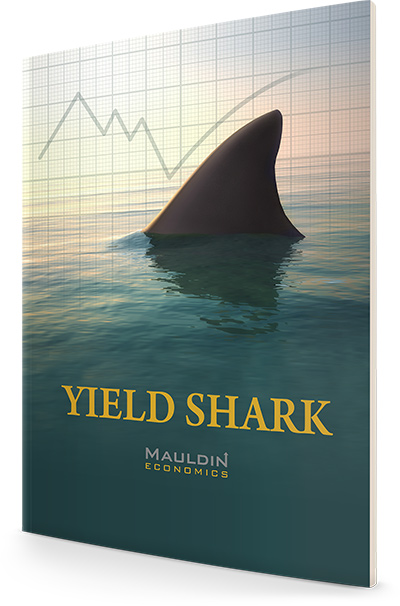 Yield Shark is all about the very best dividend stocks.
You'll receive cash every month with consistent, reliable payouts.
I bring you at least one new income stream every single month. You can keep growing your total income month after month.
Each stream could be as modest as $200 a month, or as big as you choose over the course of several years.
As long as each stream makes readers money—with as little risk and effort on your part as possible—I'll feature it in Yield Shark.
Thousands of people use Yield Shark to collect tens of thousands of dollars from lucrative income streams every year.
It doesn't matter if you're a mechanic or plumber... a techie or even a brain surgeon... my work can help you secure your golden years and get far richer with minimal effort.
Instead of chasing promises of risky payouts—and losing money, along with their retirement dreams—Yield Shark readers regularly enjoy big, reliable, and safe paydays.
Here are a few sentiments from my subscribers:
Steve L. from White Sulphur Springs, WV says:
Denise D. from Friant, CA adds:
And Robert S. from Thornton, CO is appreciative too:
Remember, you're getting 2.5% and 1.8% a year from CDs and 10-year Treasury notes, respectively. Yield Shark outperforms!
The Weekly Profit
You might already be familiar with The Weekly Profit. That's my free weekly letter where I cover the basics of topics like these:
Companies paying secret dividends that don't show up in regular financial data—which means they're overlooked by far too many investors
Stocks that pay safe +7% yields with the lowest chance of disastrous dividend cuts
Any-weather stocks that shrug off market crises, plus
Safety warnings about the latest investing traps waiting to hole your portfolio below the waterline
The Weekly Profit is a nice introductory feature of my Elevated Income Collection. Then, as I have showed you, I go much deeper into high-yield dividend stocks with my investing newsletter, Yield Shark. Then with In the Money, I apply that simple option- selling strategy to help my subscribers get that 94% win rate!
So, how much could you save by
sidestepping the coming recession?
One of Warren Buffett's famous maxims is "Step One: Don't Lose Money. Step Two: See Step One."
After all, a dollar saved is a dollar you don't need to earn to get back to where you started.
What happens if the market goes down 40% or 50% and you're unprepared? You could lose six figures if you have a large portfolio...
Now think of all the sleepless nights you'll avoid when you know you're in the absolute safest Diamond Cross Stocks set to outperform the market. Stocks that not only avoid a retirement-ruining disaster, but also pay you regular income streams.
That's why I could offer this entire suite for $4,000, probably even $5,000 a year. After all, my Elevated Income Collection could save you much more than $4,000 or $5,000 a year in avoided losses.
But I want my Collection to be more affordable than that.
Much more affordable!
That's why you'll pay significantly less today.
If you were to pay the full list price for Yield Shark and In the Money, it would cost you $2,694 for one year or $5,388 for two years.
That works out to $225 a month for a Collection that will make you many multiples of that if you're serious about "why" you're doing this.
But wait, I want to make you a MUCH better offer today.
3 More Diamond Cross Stocks!
PLUS a 44% discount!
I feel it's critical to have you with me over the next 18 months, and beyond!
I've already given you CH Robinson Worldwide (CHRW) as a very strong pick to outperform today and throughout the oncoming deep recession.
But before you buy CH Robinson Worldwide, I want you to know I have 3 even better Diamond Cross Stocks ready and waiting to help you prepare, protect, and profit.
Don't get me wrong. CH Robinson Worldwide is one of my favorite Diamond Cross Stocks. It has plenty of power to earn you solid income now and during the recession.
But Diamond Cross Stocks have so much potential right now... 18 months from now... and beyond... that I've researched three even better picks for my Elevated Income Collection subscribers.
And the sooner you get positioned, the more profit and cash income you could earn.
See for yourself just how strongly just ONE of these picks performed after the last three Diamond Crosses:

In 2000 and 2006, it outperformed the S&P 500, the transportation sector, and every one of its competitors too.
Get that stock plus two more just like it when you become a member today.
But that's not all.
I'm also cutting you a special deal on my Elevated Income Collection.
Join me for a year and you'll pay just $1,995 today. That works out to $166 a month and a 26% savings over the regular list price.
But join me for two years and you'll pay just $2,995. That's only $125 a month when you do the math. You'll save a huge 44% over the list price!
What's more, this is the absolutely lowest price you'll ever see for In the Money, Yield Shark, and The Weekly Profit bundled together. It's available only because you're reading this today.
Join right now if you want.
You can do that right now...
...or keep reading to see what else I'm adding to the pot. I really want you to overcome your inertia and take action. It's time to protect and enrich your future!
That's why when you sign up today, you're also going to get...
---
BONUS #1
Beat the Market with Recession-Proof Returns from Diamond Cross Stocks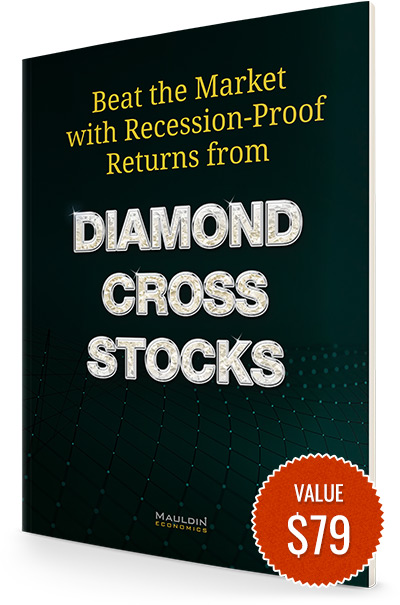 I've already given you the details of one of the four stocks in this report already: third-party logistics provider CH Robinson Worldwide (CHRW).
But my research has uncovered three more top picks in this sector for you. These stocks are the best of breed companies in a specific transportation specialty that should do even BETTER than CRHW.
They're undervalued, they've got formidable economic moats, and they're primed for the same market-beating success as CHRW. Not just now, but during the recession too.
In fact, they've absolutely killed the S&P's total return over the four years following each of the last three Diamond Crosses.
With this report, you'll have three extra Diamond Cross Stocks to add to your portfolio. You'll enjoy extra portfolio diversity, opportunity, and safety.
And that's just the start, because you'll also get:
---
BONUS #2
The Bank Heist: Make the Fat-Cats Pay YOU $11,000 Every Year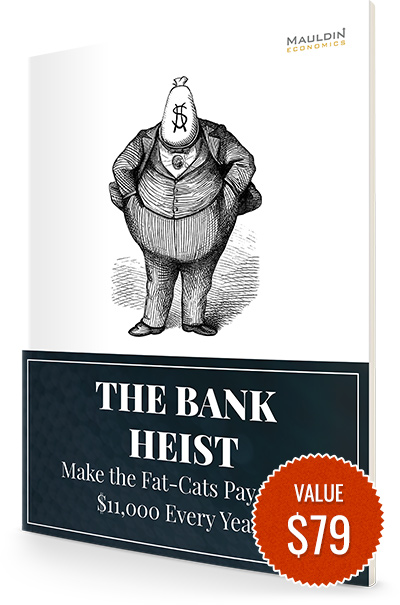 You may have heard of this investment, but you probably don't realize its potential. Let me ensure that you don't miss a thing and take full advantage of the possibilities!
In this Special Report for Elevated Income Collection members, you'll learn which simple tactic many investors ignore, even though you can use it to make the banks pay you an extra $11,000 every year.
I think you'll agree that an extra $11,000 a year isn't bad for about two minutes of work. It goes a long way toward helping you enjoy a financially secure retirement.
This one report could pay for your Elevated Income Collection membership. And yet it's a free bonus.
You can access it right away in the members-only section of the Mauldin Economics website.
But that's not all.
Join right now and you'll also receive...
---
BONUS #3
Tap Into the California Property Fund—How to Collect $2,600 Every Year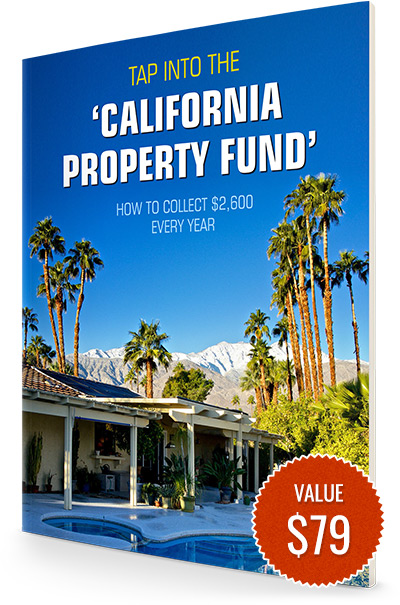 Like "The Bank Heist," this report gives you all the details on a lucrative income investment you've probably overlooked.
So let me alert you to what you're missing.
In this report, you'll discover how to profit from California's massive housing shortage, an issue so troubling that officials are calling it a state of crisis.
You'll also see how the California Property Fund gives you a backdoor opportunity to collect $2,600 in payments every year... even if you don't live in California!
This investment is legally required to pay out at least 90% of its income to investors like you and me. And you can buy it right now in your brokerage account.
If you collect the $2,600 like I suggest, you'll pay for your Elevated Income Collection membership with just one investment.
Do that and you'll get everything...
...including yet another way to start making serious income with my Collection:
---
BONUS #4
Piggyback on Angel Investors While Earning a +7% Dividend Yield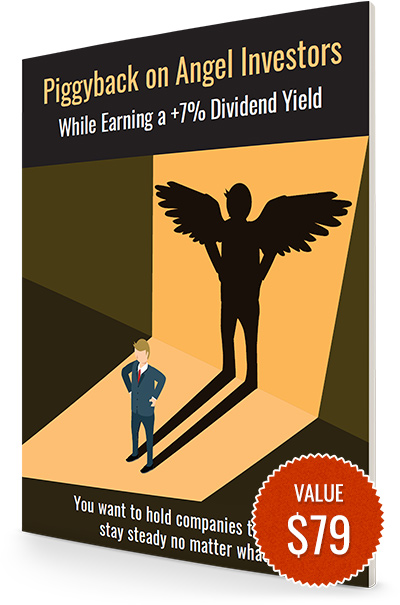 This is a shortcut to becoming an angel investor and diversifying your portfolio into what's known as "alternative assets." And no, this one isn't real estate, physical precious metals, or commodities.
Or even one of the lucrative Diamond Cross Stocks I've identified for you already.
In this report, you'll see how to diversify your risk with an alternative asset that most investors don't even know exists. That means you'll be even better insulated against market volatility and downturns.
Can you see just how valuable it is to be prepared with the right knowledge and the right stocks BEFORE a crisis hits?
That's why it pays to become an Elevated Income Collection member.
But I'm not done yet, because you also get...
---
BONUS #5
The 4 Best Stocks to Get Defensive in a Crazy Market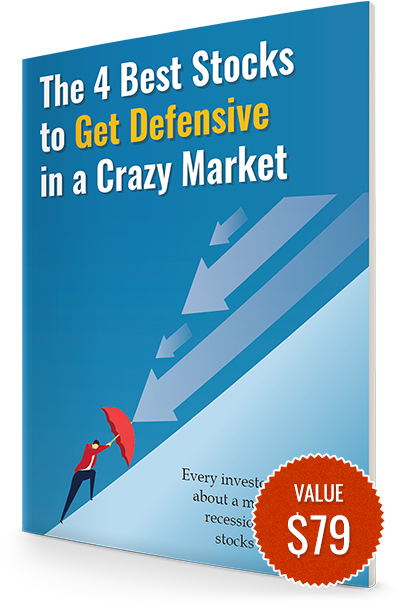 You get four picks in this report.
Yet they offer a different approach than Diamond Cross Stocks to ensure you're well-protected against market chaos.
In this comprehensive report, I tell you about...
Dangerous Stocks: Which companies to avoid when the economy stalls. Some of them will run into serious trouble. Some will be downgraded. A few will default! (If you hold any of these, you should be selling right away.)
Safest Assets: The safest asset classes during a recession—I include a complete breakdown of what's happened in prior events
Best Sectors: Which stock market sectors held up best during the past two financial crises, including the single-best sector
Best Picks: The three best stocks in that sector you can buy for your portfolio, and
Gold: Which gold stock I like best in a crisis too
These stocks are truly defensive stocks. They work a bit differently than Diamond Cross Stocks when there's trouble brewing.
The bottom line is that these picks will ensure you're absolutely ready—and generating a handsome dividend yield—with my four best picks for when danger threatens.
---
So are you ready to become a member of my Elevated Income Collection?
Or is something holding you on the fence right now?
Let me help you decide.
When you sign up, know this: whether it's 29 minutes from now or 29 days from now, if you aren't happy, I'm not happy either. For any reason—or for no reason whatsoever—you can get your money back within your first 30 days. I only want to keep your money if you're happy.
All you have to do is call our customer service team at Mauldin Economics and tell us, "I'd like my money back."
I guarantee you'll get it.
I'm sure you understand that I can only make such a promise when I'm confident I'm offering the real deal. That's why I'm positive that when you join me today, you're getting exactly what you need.
But you do need to make up your mind quickly. That's because I can't offer this special deal for long. It can be taken down at any time!
When you click that button, it will take you to a simple order form. It's easy to fill out and submit.
Then you'll get a receipt and a welcome email in your inbox in just a few minutes. It's super easy!
Do you have more questions
about becoming a member?
From my personal experience, I suspect your first and biggest question is around the investment. I get it.
This is a serious investment for a serious person, because my Elevated Income Collection is a serious offer to change your life.
So if you're sitting there and saying to yourself, "I would buy it if only I could afford it..." you need to listen closely. You can get started today for just $1,995 for one year or $2,995 for two years.
Of course, that's nothing to sneeze at.
But weigh the pros and cons. Look at your portfolio right now.
I bet there are at least one or two, maybe even several positions in your portfolio that are worth more than what I'm asking for two years of Elevated Income Collection membership.
I also bet you bought those stocks or ETFs with less thought than you're giving an Elevated Income Collection membership right now. Am I right?
So that means you're worried more about the price of bear-proof portfolio insurance—a whole one or two years' worth—than the at-risk cost of what you're protecting.
Does that make any sense?
If you own a vehicle, you don't let the cost of car insurance stop you from driving... do you?
Of course not.
So let's get rid of the myth of whether you can or can't afford it.
The real question is, are you willing to do what it takes to make, protect, and grow your savings... or not?
What happens if and when the market grinds its way down to a 40% or 50% loss... and you're unprepared?
That means you have three options right now. Option one is to do nothing.
Doing nothing doesn't just leave you with the problem, it makes the problem worse the longer you do nothing. The long, deep, dark recession is coming. Sticking your head in the sand isn't going to make it go away.
That's why doing nothing is a poor option.
You can do something else, of course. Something that doesn't involve my advice and expertise, but why?
You know and I know that what's right in front of you is the thing to do.
And that's option number three—just do it. Yes, you need some help.
That's where I come in. I've done all the heavy lifting for you.
Join me now and get not just one but all four of the very best Diamond Cross Stocks for today and the next four years.
Get every bonus I've shown you in this letter.
Get up to two years of Yield Shark and In the Money newsletters, updates, and alerts to guide you every step of the way.
Now maybe you're short on spare hours... or even spare minutes.
My Elevated Income Collection not only saves you money, but also time.
In fact, the less time you have, the more you'll love my approach to generating higher income with the highest levels of safety.
That's because it takes only a few minutes a week to act on my research. The Elevated Income time commitment for making profitable recession-proof investments is minimal.