John Mauldin: What will inflation do to portfolios and the broad economy in the year ahead?
When will the Fed take action on interest rates?
What happens if supply chain issues persist deep into next year?
Hi, I'm John Mauldin, thanks for tuning in.
These are some of the fundamental questions facing every portfolio right now.
In just a moment I'm going to hand this over to Thompson Clark, a talented analyst and researcher who just joined our Mauldin Economics team.
I'm happy to have Thompson on board.
He brings new energy, ideas, and abilities to the Mauldin Economics roster of research talent.
If there's one thing I've learned over the years, it's that you have to expose yourself to new ideas... new thinking... and new strategies...
...to stay ahead of the curve.
Today, that's more true than ever before.
Which makes what Thompson has to show you today even more timely.
I urge you to closely review what Thompson has to discuss today... and once again, thanks for joining us.
Ladies and gentlemen, here's Thompson Clark.
Thompson Clark: Research reveals a major shift set to drastically affect the largest stocks in the market…
And potentially devastate some investors' portfolios…
Today I will show you indisputable evidence that the market safe havens we have relied on for years to grow our portfolios and protect our retirements…
…aren't as safe or reliable as we once believed.
I'll lay out evidence of a brand-new mass movement of capital into a growing group of new retirement havens I call "Wealth Accelerators."
I'll also present undeniable evidence that over the next 3–10 years, one overlooked sub-niche of "Wealth Accelerators" is set to potentially dominate the returns of the greater stock market.
I'm talking about returns like those from Luna Innovations.
I alerted my readers about Luna when it was just $1 a share.
Offering a shot to multiply their investment over 11X in peak gains...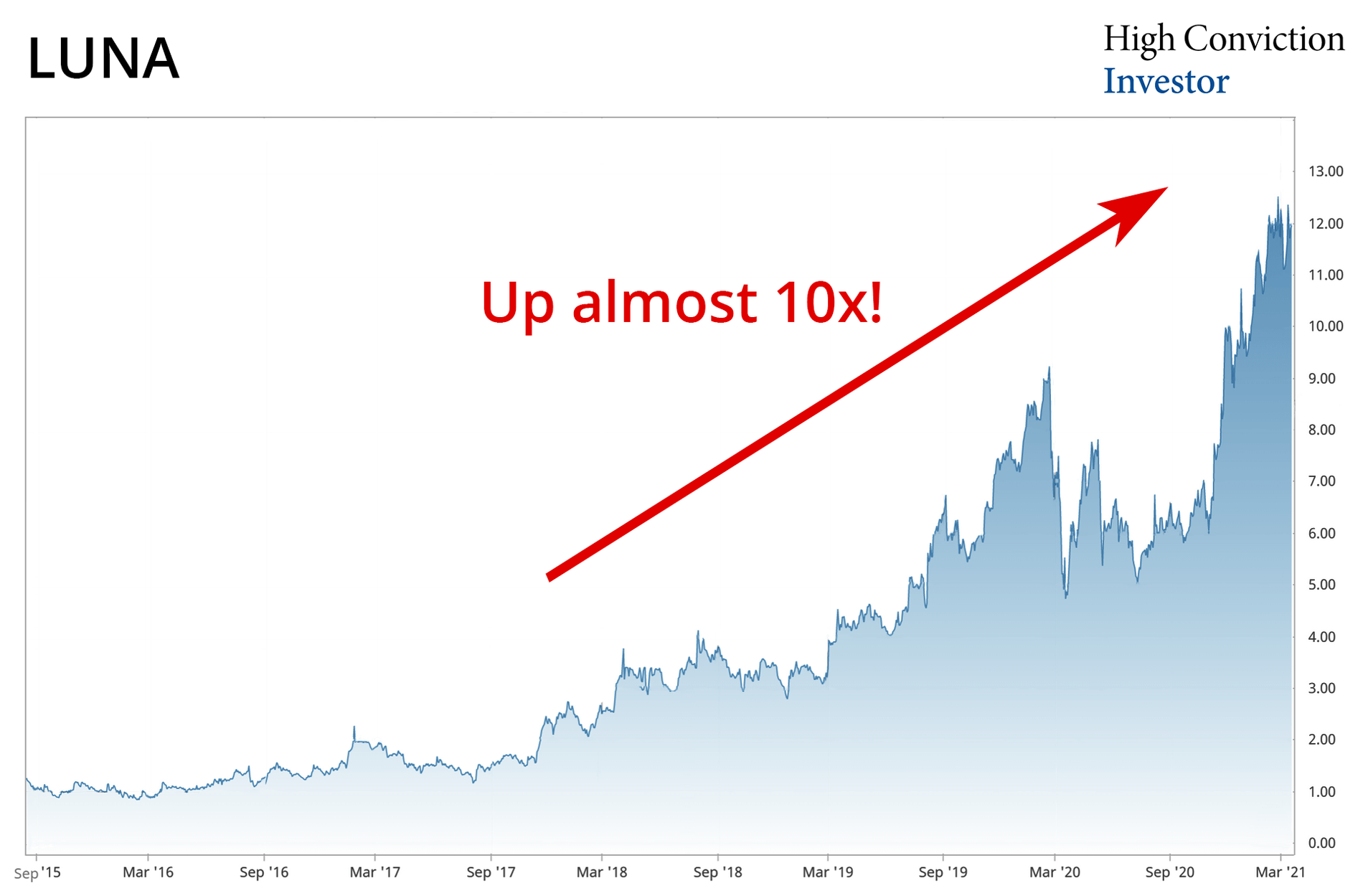 I also discovered…
Tucows BEFORE it accelerated up more than 500%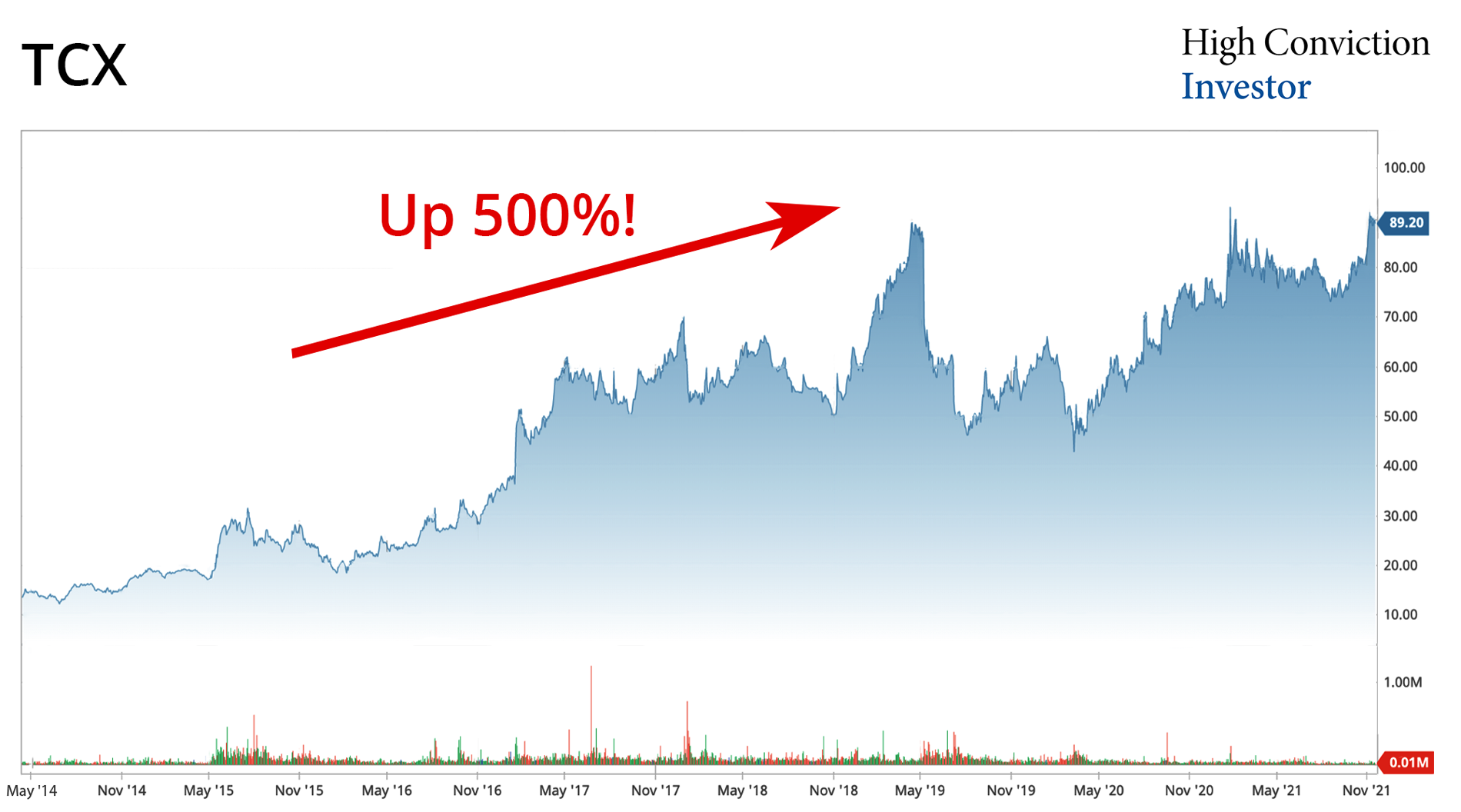 Green Brick Partners BEFORE it charged over 420% since mid-2020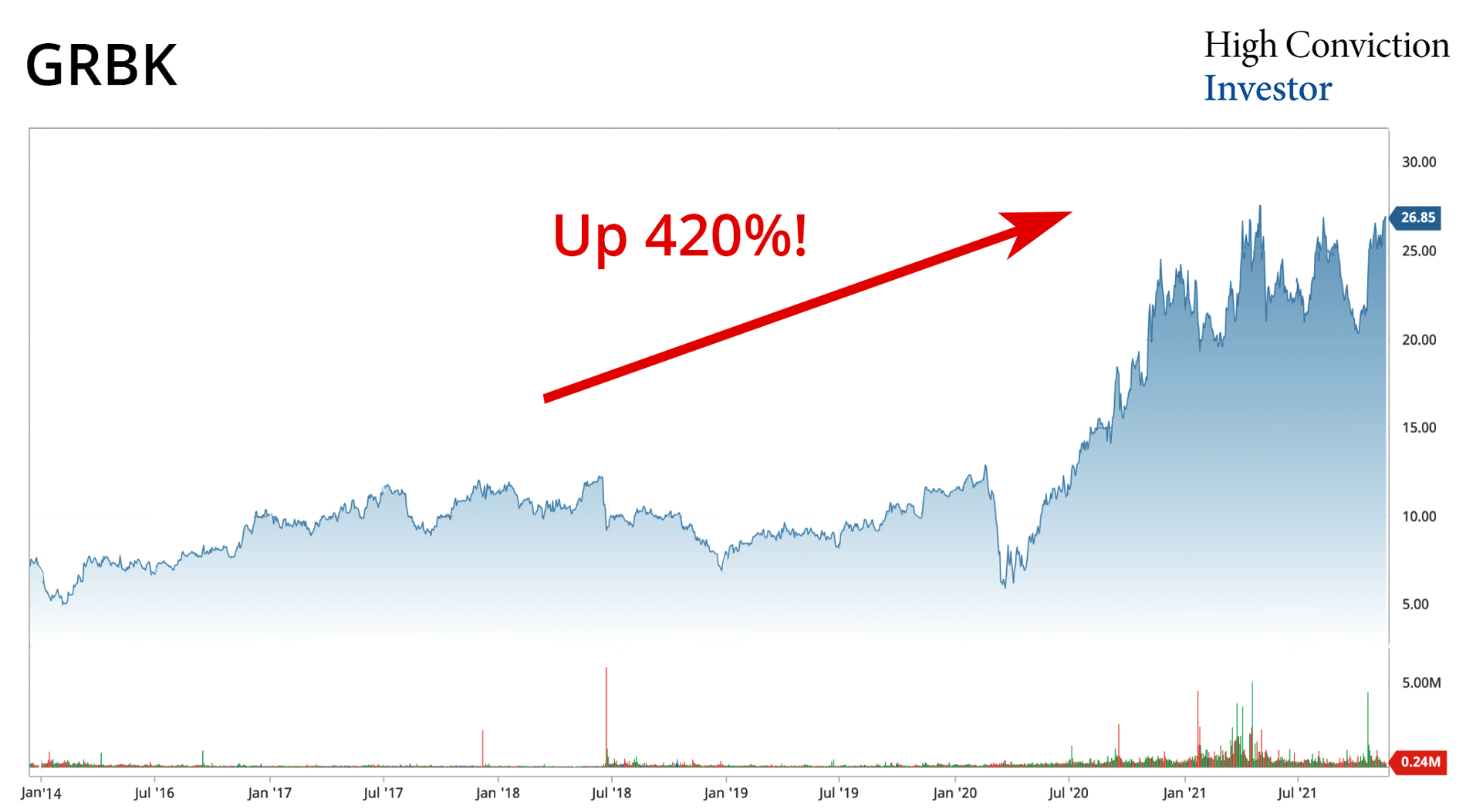 And software company Mitek BEFORE it shot up almost 600%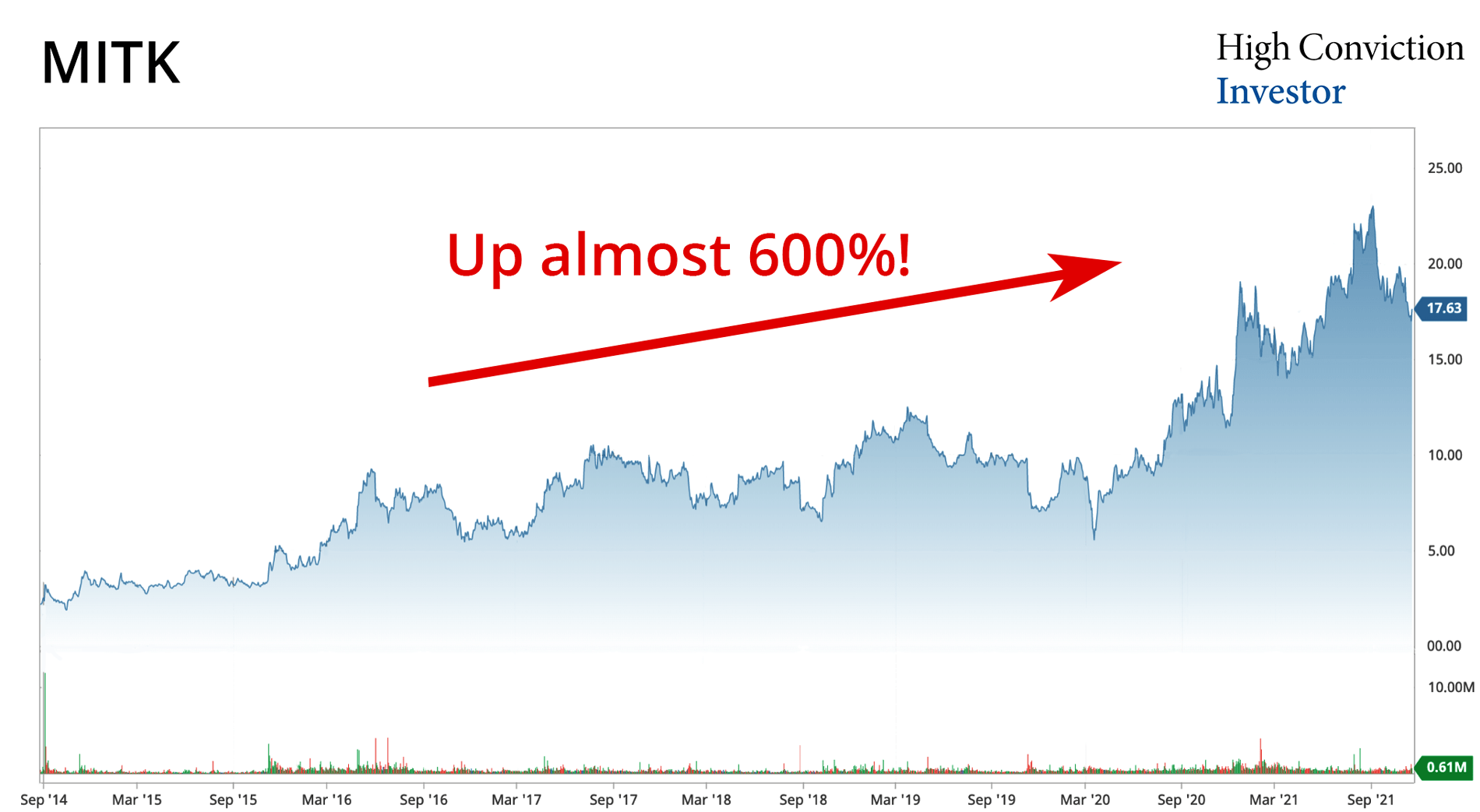 I've built my career finding these kinds of opportunities BEFORE anyone else...
Today I'm going to reveal exactly HOW I do it...
And why a brand-new shift on Wall Street is opening the floodgates for more of these plays than at any other time in history.
Plus, I'm going to share the ticker symbol and name of my #1 Wealth Accelerator pick in today's presentation.
Hello everyone. I'm Thompson Clark.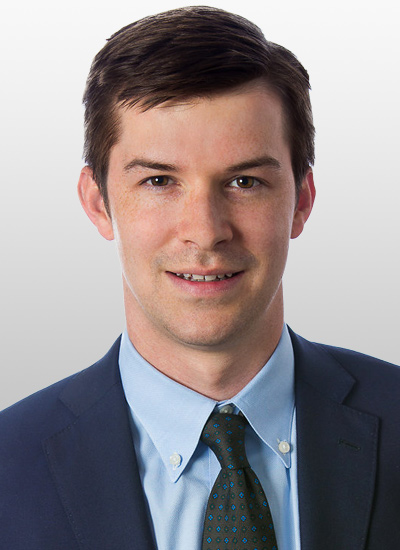 Thanks for joining me for this special presentation.
Today, I'm going to be your personal guide into the overlooked but growing world of stocks I call Wealth Accelerators.
A world which is growing at a rate unlike anything we've ever seen before.
Since 2017, the number of these accelerator opportunities has exploded by 1,934%.
This explosive growth can be credited to a new and deliberate "staffing model shift" happening on Wall Street.
As Wall Street's strategies have evolved, the knock-on effects have flooded the market with these incredible plays…
Representing one of the best investment opportunities I've seen during my years in the field.
Compared to the red-hot real estate market…
Wealth Accelerators would've handed you 38X more money…
And compared to bonds or cash…
It's not even close.
In fact, commodities, bonds, and even energy all DROPPED while these Wealth Accelerators continued their skyward climb…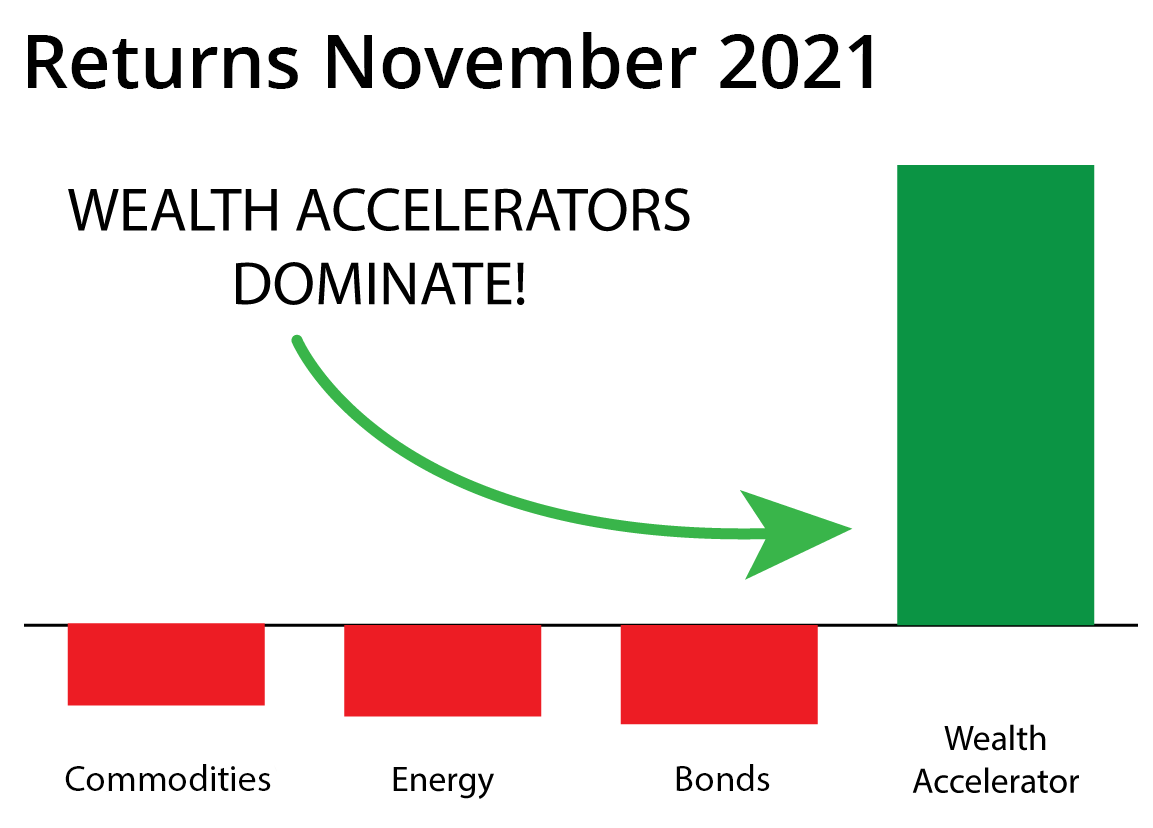 With this new megatrend now taking hold, Barron's reported that next year Wealth Accelerators are:

Even though all of these opportunities won't be winners, Barron's must see the writing on the wall…
And before I show you some examples, I want to be clear on an important point…
All investing comes with risks. You may have some losses along the way if you choose to act on the opportunities I'll show you.
What my research has revealed works best is adding Wealth Accelerators as a supplement to your current portfolio. In other words, I would never recommend you go "all-in" on any single idea.
Many of the gains you will see below come from my research, and some are actual gains made from stocks I recommended to my readers… I'll tell you clearly which plays are which…
Over the past year alone...
This new breed of stocks has been on an absolute tear...
Just check out this Wealth Accelerator in the internet technology space…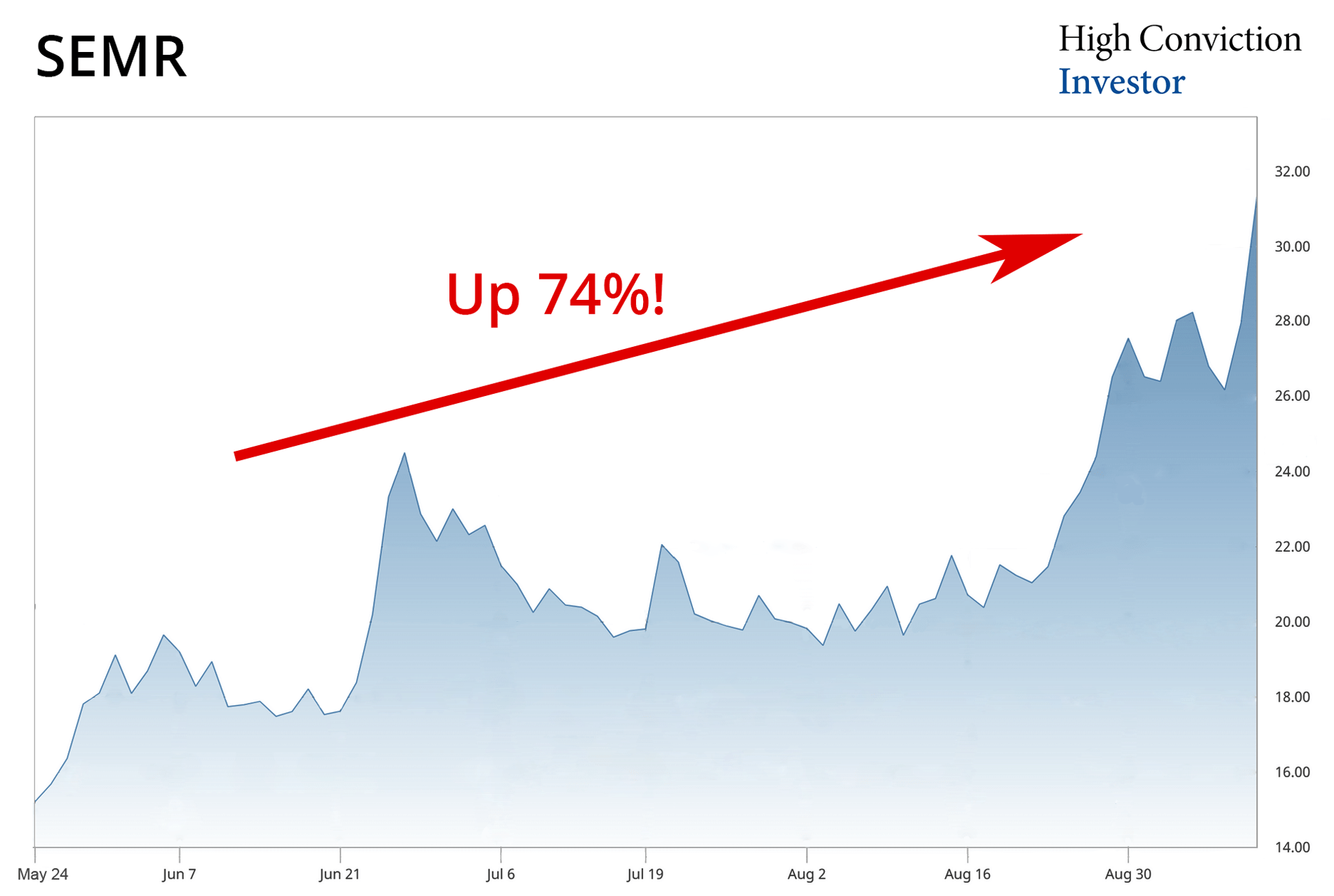 A $10,000 investment in this stock turned into $17,400 in just 4 months...
You can't get these kinds of returns from FAANG stocks anymore.
Apple is up 27% on the year, Facebook is up 24%, and Amazon is only up 12%.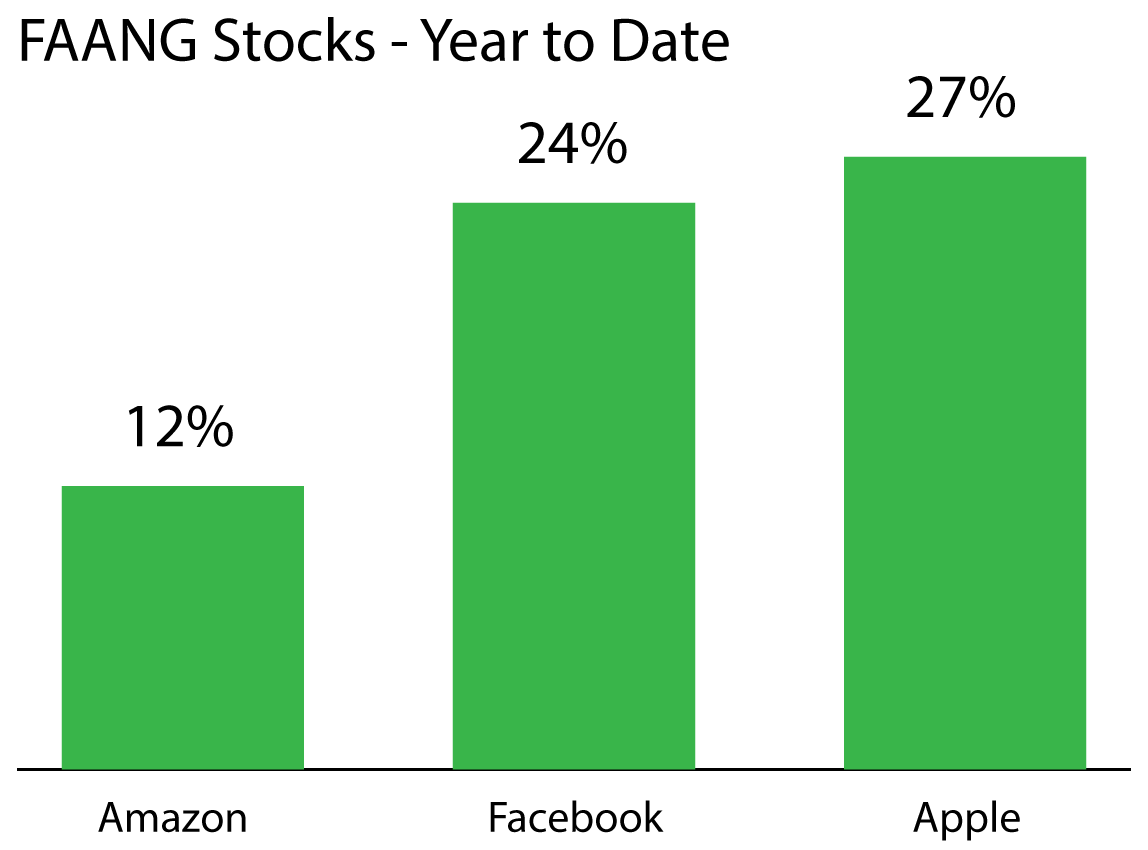 But that internet technology Wealth Accelerator delivered over 70% in just a couple months!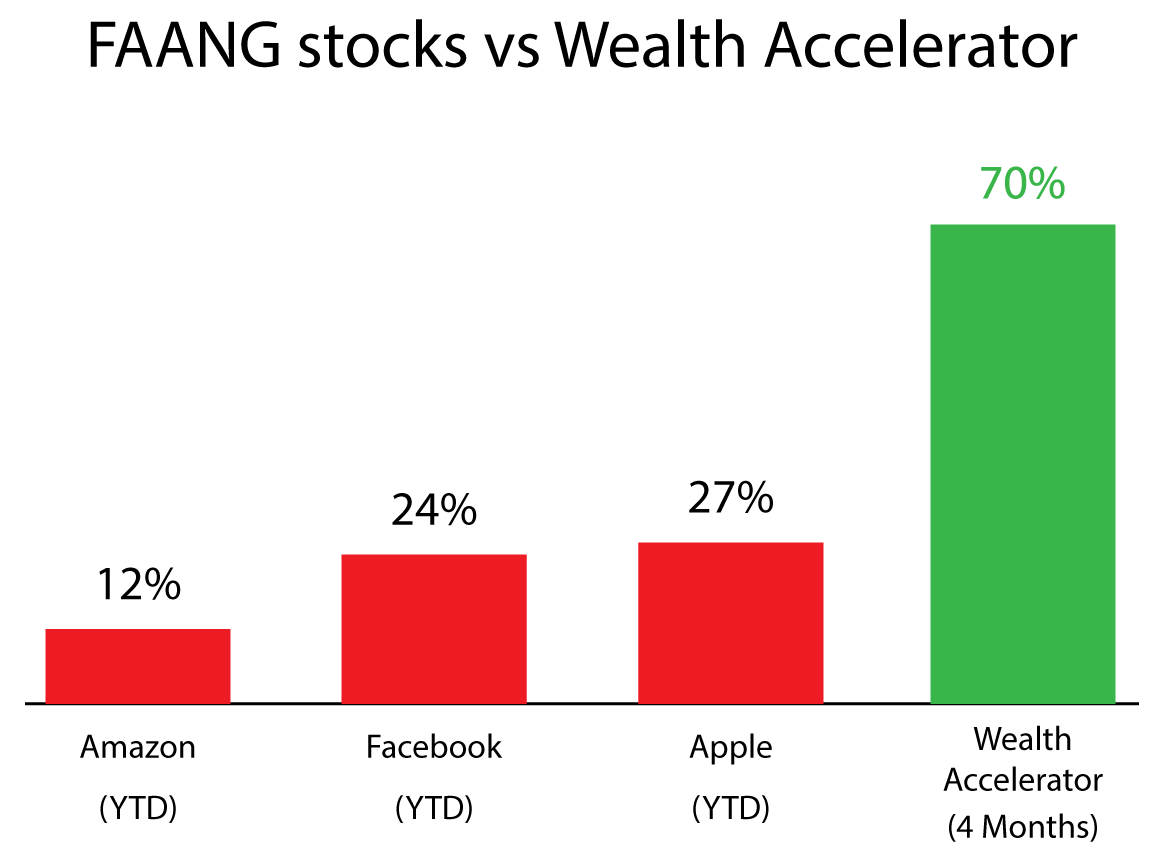 Now check out this play, in the Energy space… a few months ago it was trading for less than $4 a share.
Just the other week, shares closed over $14.40.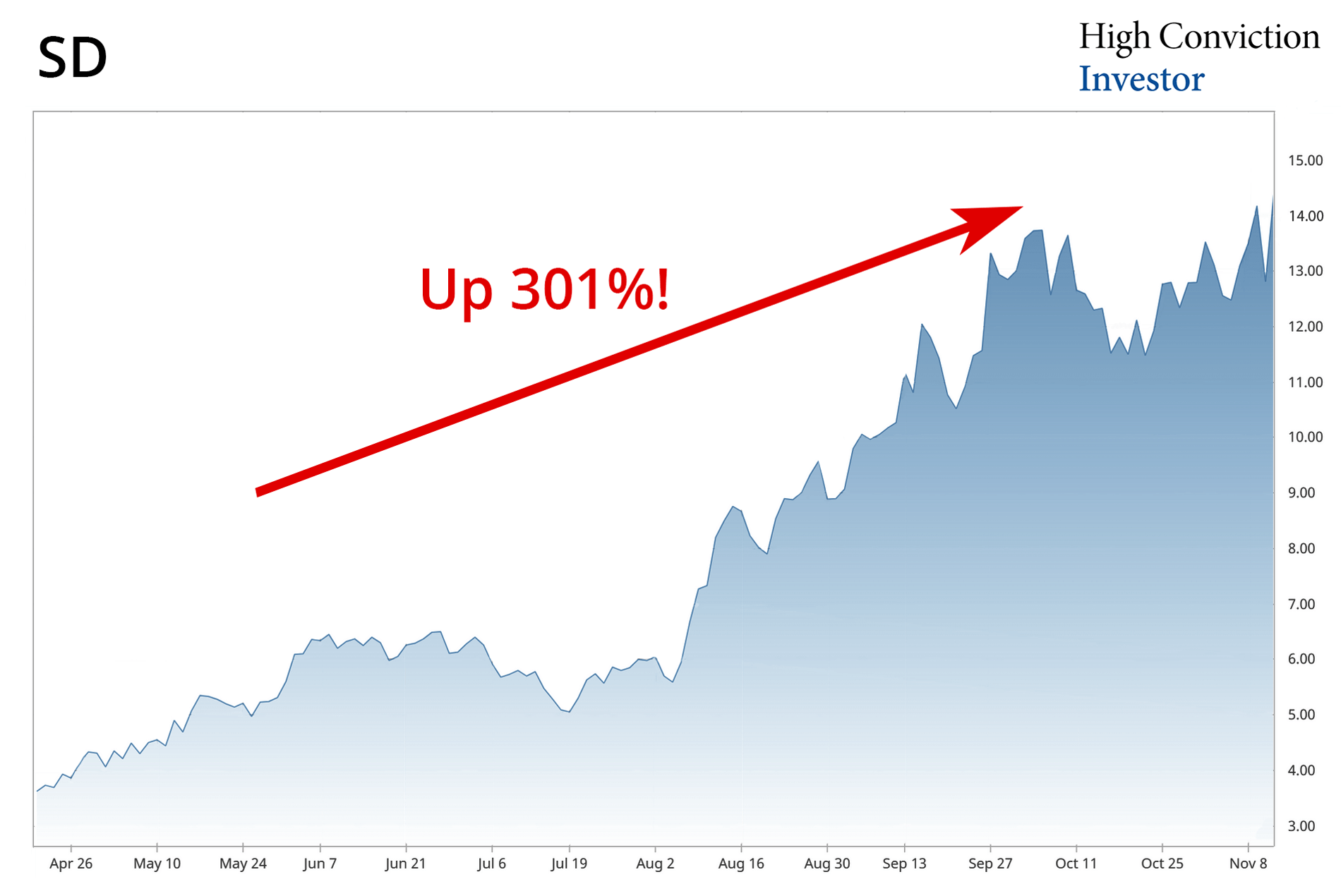 That would've been good enough for a 301% gain in just 7 months.
Compare that to Shell, only up 14% in the same time...
Exxon, only up 16%...
And BP is only up 10%...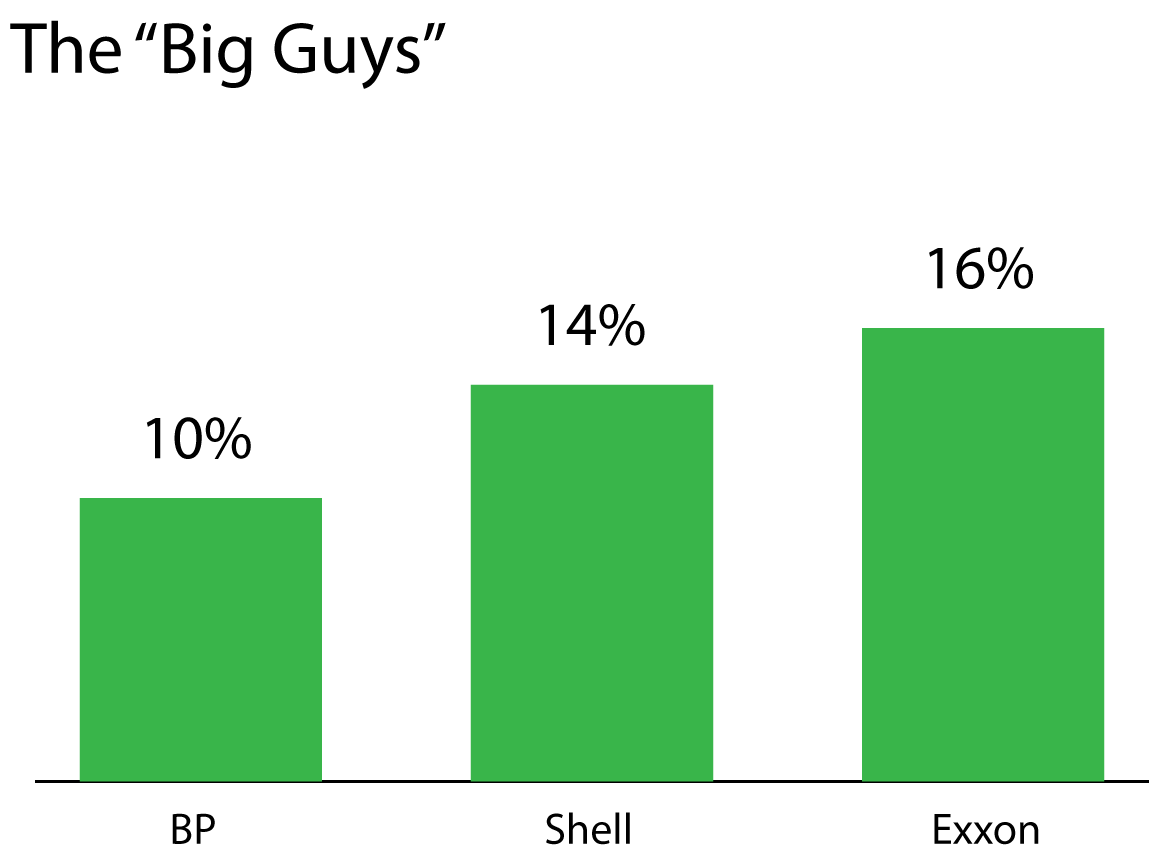 We're talking about 16X… 18X… even 24X more in returns.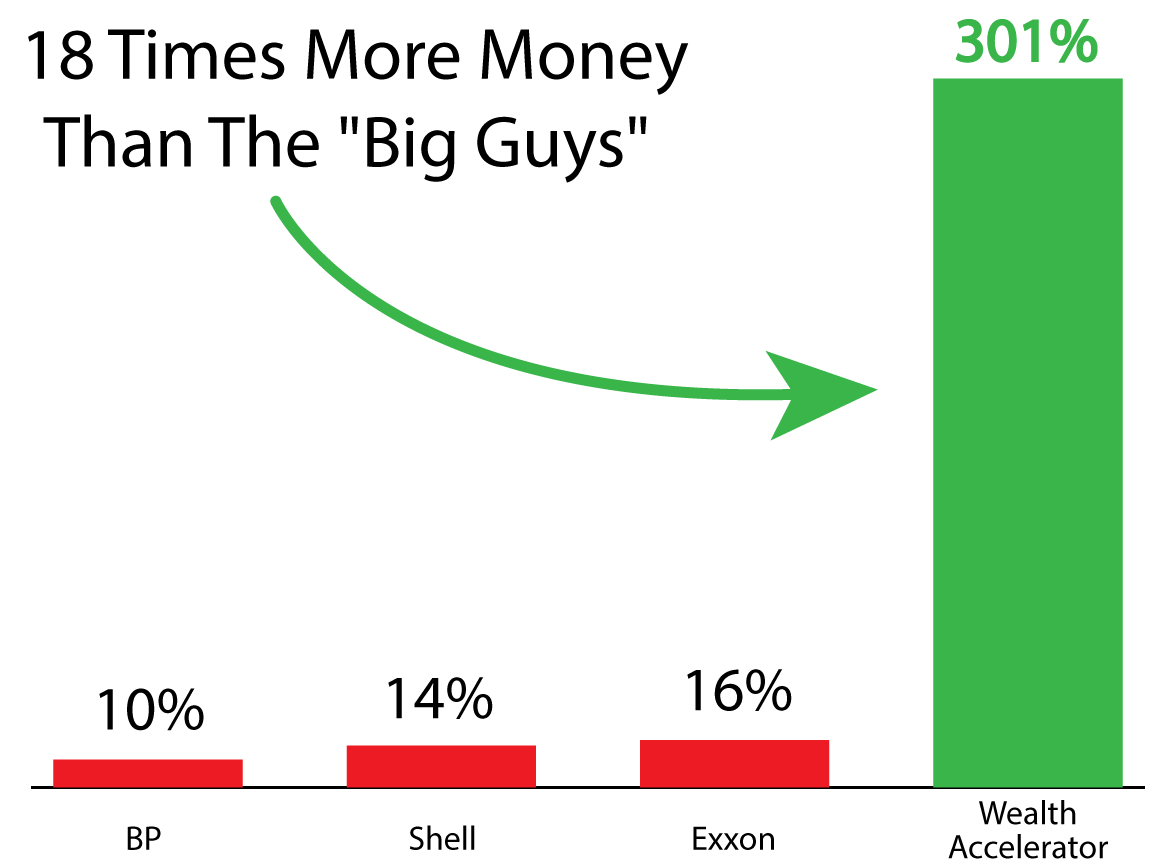 Or how about another Wealth Accelerator in the energy space?
Around the same time as the above examples, the shares of this company were trading for $3.50…
Nobody was talking about it… Nobody was even looking at it.
That's why most folks missed out, while this overlooked company rocketed an amazing 428% in about 6 months.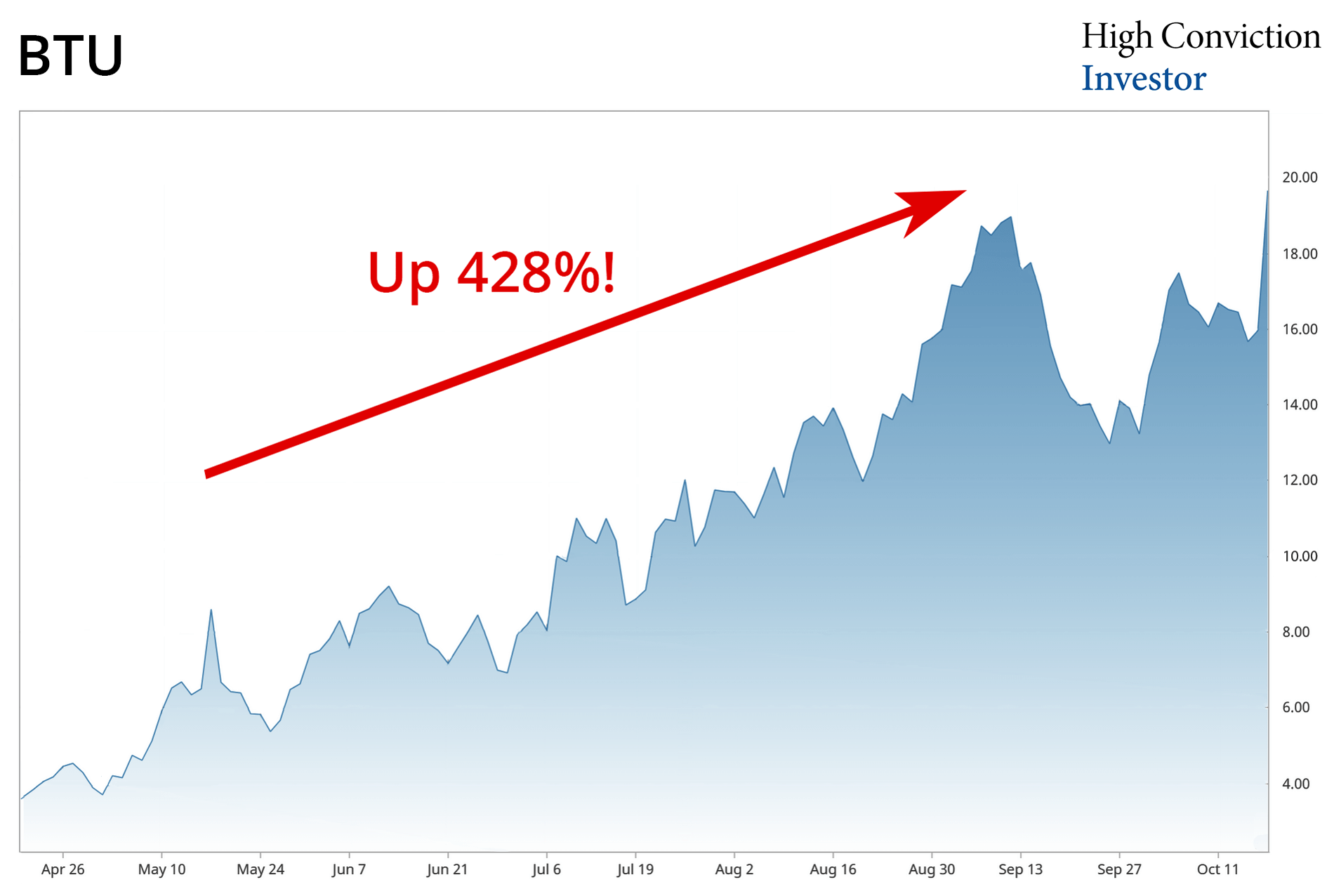 40 times more than BP!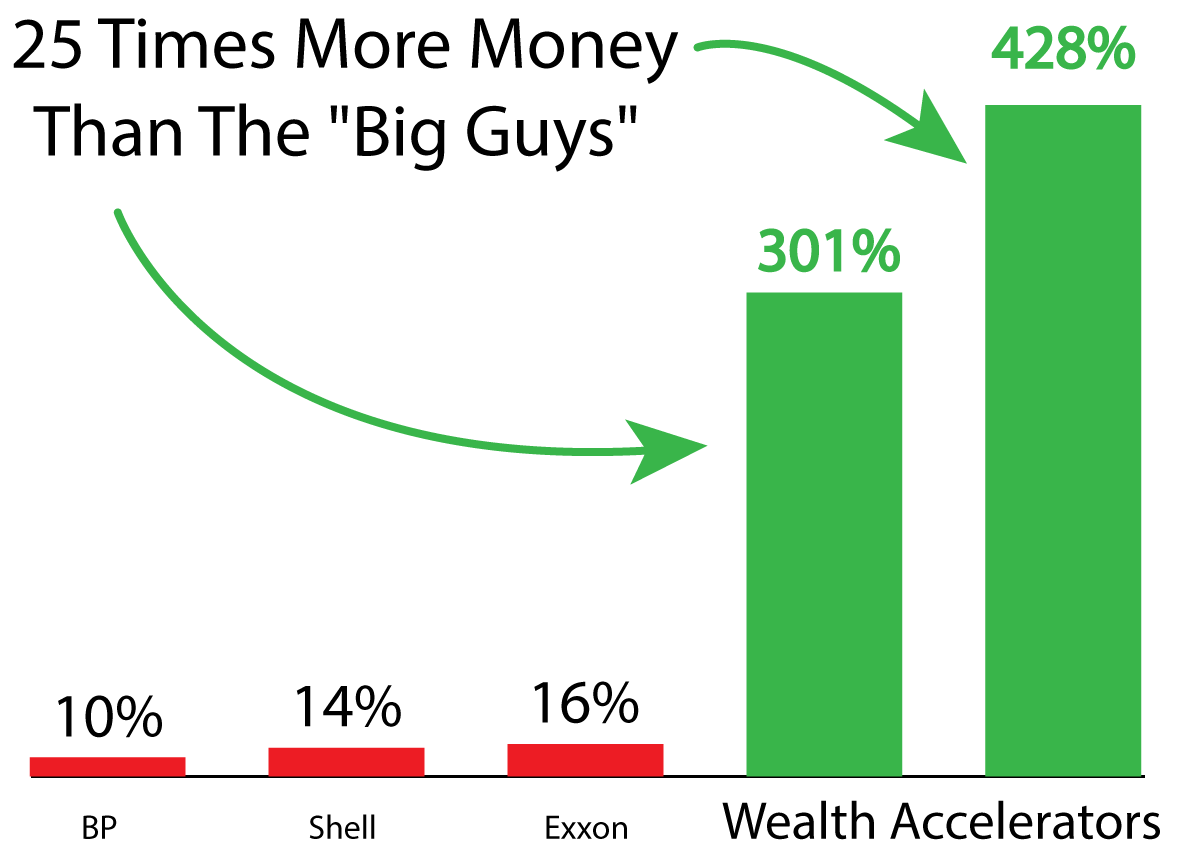 Wealth accelerators are absolutely dominating the big S&P 500 names.
After digging through countless examples like this, and compiling a research folder with analyses of over 1,600 companies…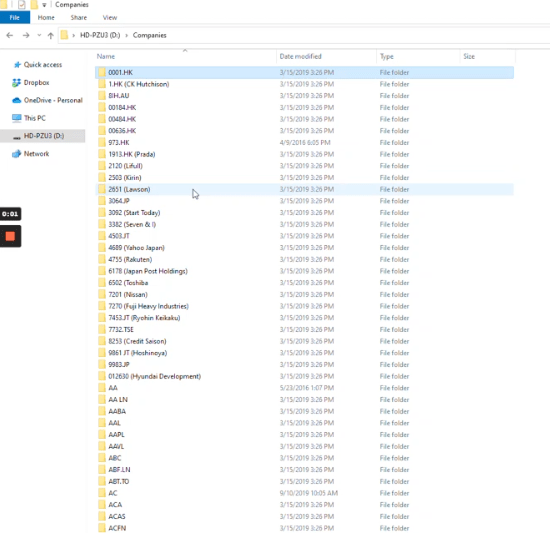 I've found all Wealth Accelerators had one thing in common…
And this one thing is the same reason NOBODY talked about them before their big moves.
In fact, in just a moment I'll explain exactly why all these extremely valuable companies are being totally ignored… ON PURPOSE.
And how that deliberate move to "ignore" these companies has set the stage for a monster wealth transfer in the markets…
And opened the doors to one of the greatest investment opportunities of our lifetimes.
Today I'm going to introduce you to a brand-new breed of regular, profitable... STOCKS.
Not highly leveraged instruments like options...
Not even risky penny stocks...
In a way, these are just like any regular stock.
Of course, nothing is guaranteed in the markets. Some stocks will be duds. Others will be winners.
Again, that's why I strongly urge you to consider the risks of investing before you take action. No one can predict the future, and you must enter every trade with your eyes wide open.
However, the very best ideas: well researched, with solid financials, and simple to understand…
…have far greater upside potential than anything we've ever seen before.
Have a look at these other Wealth Accelerators…
Here's one for 312% in 9 months...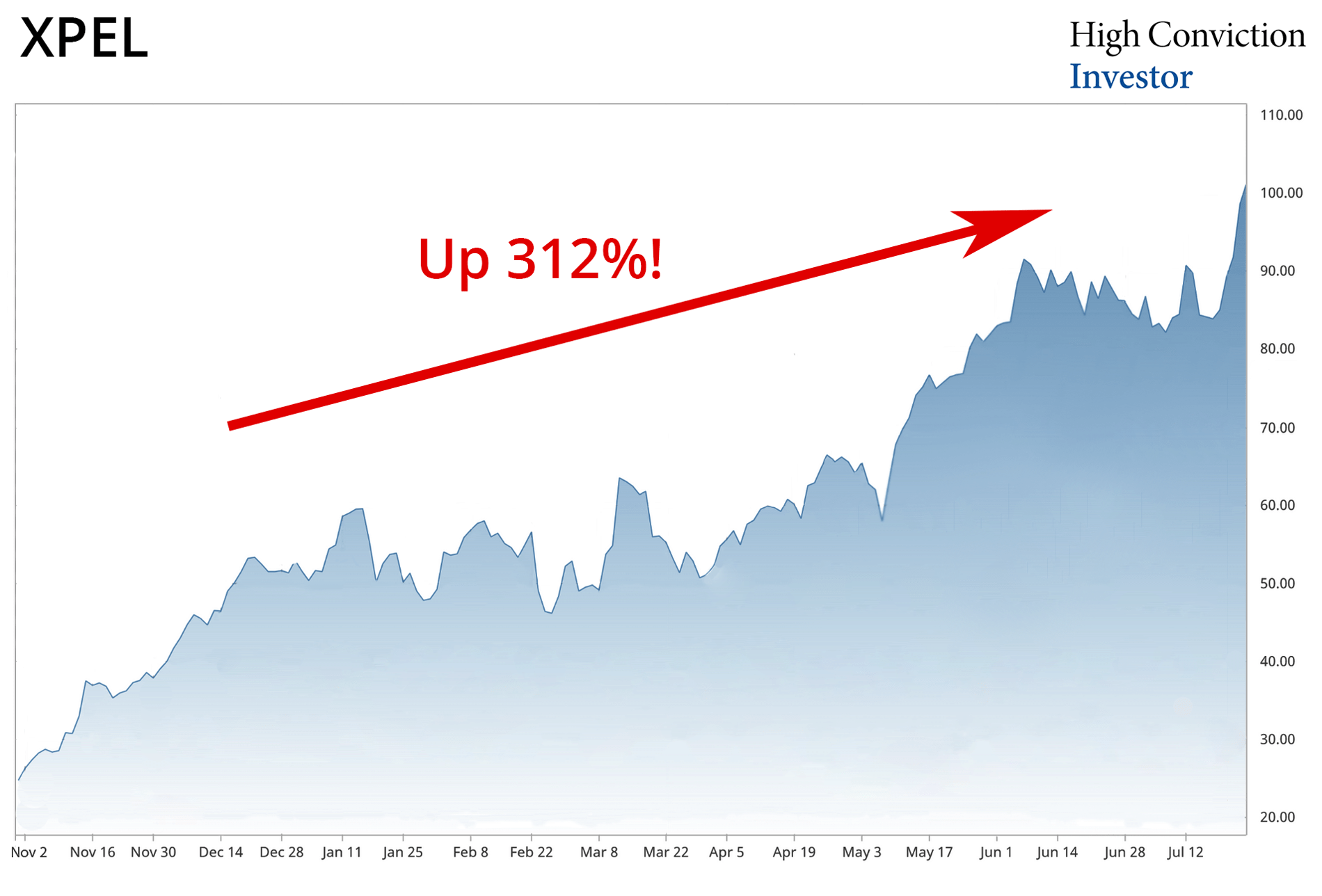 216% in 7 months...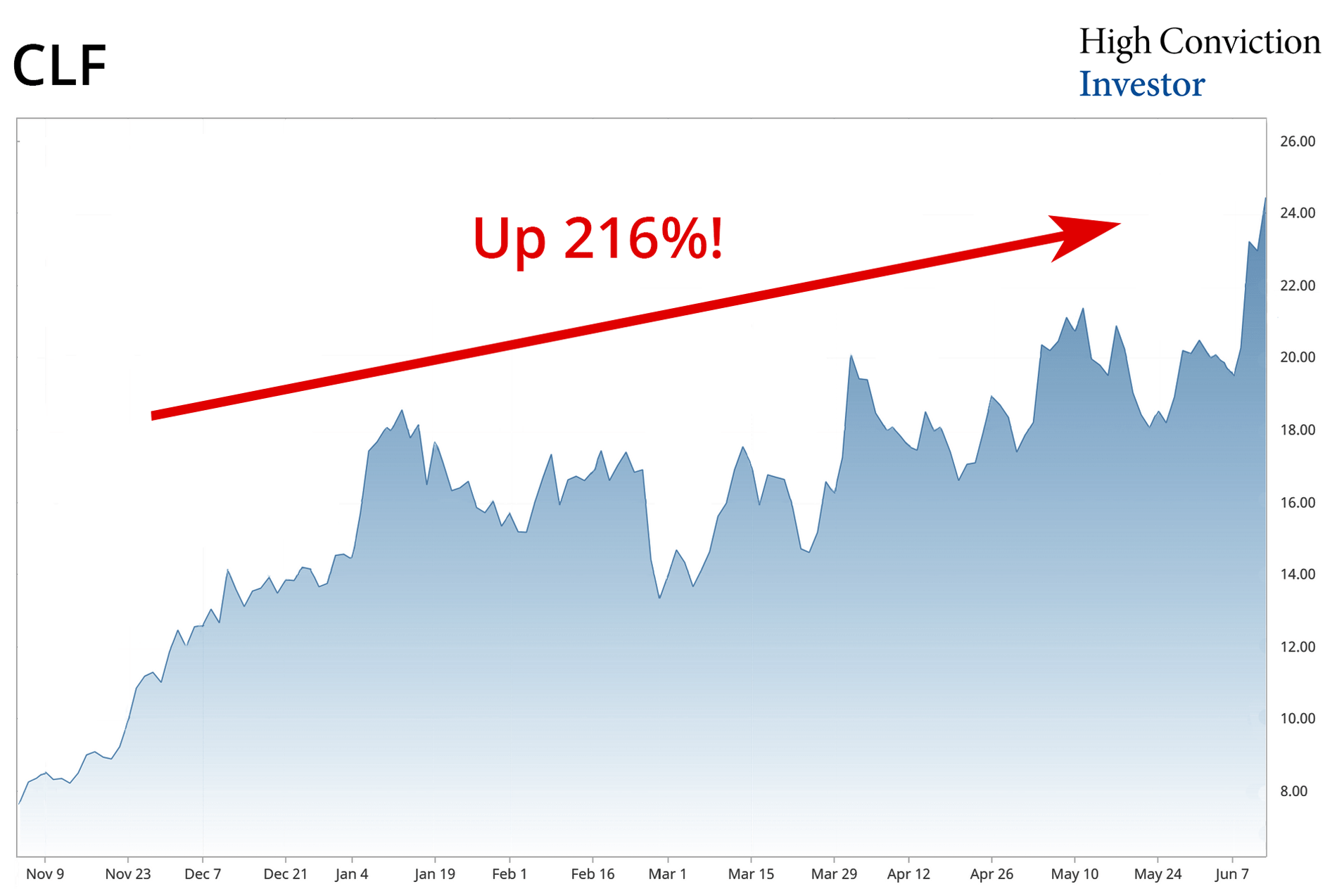 375% in one year.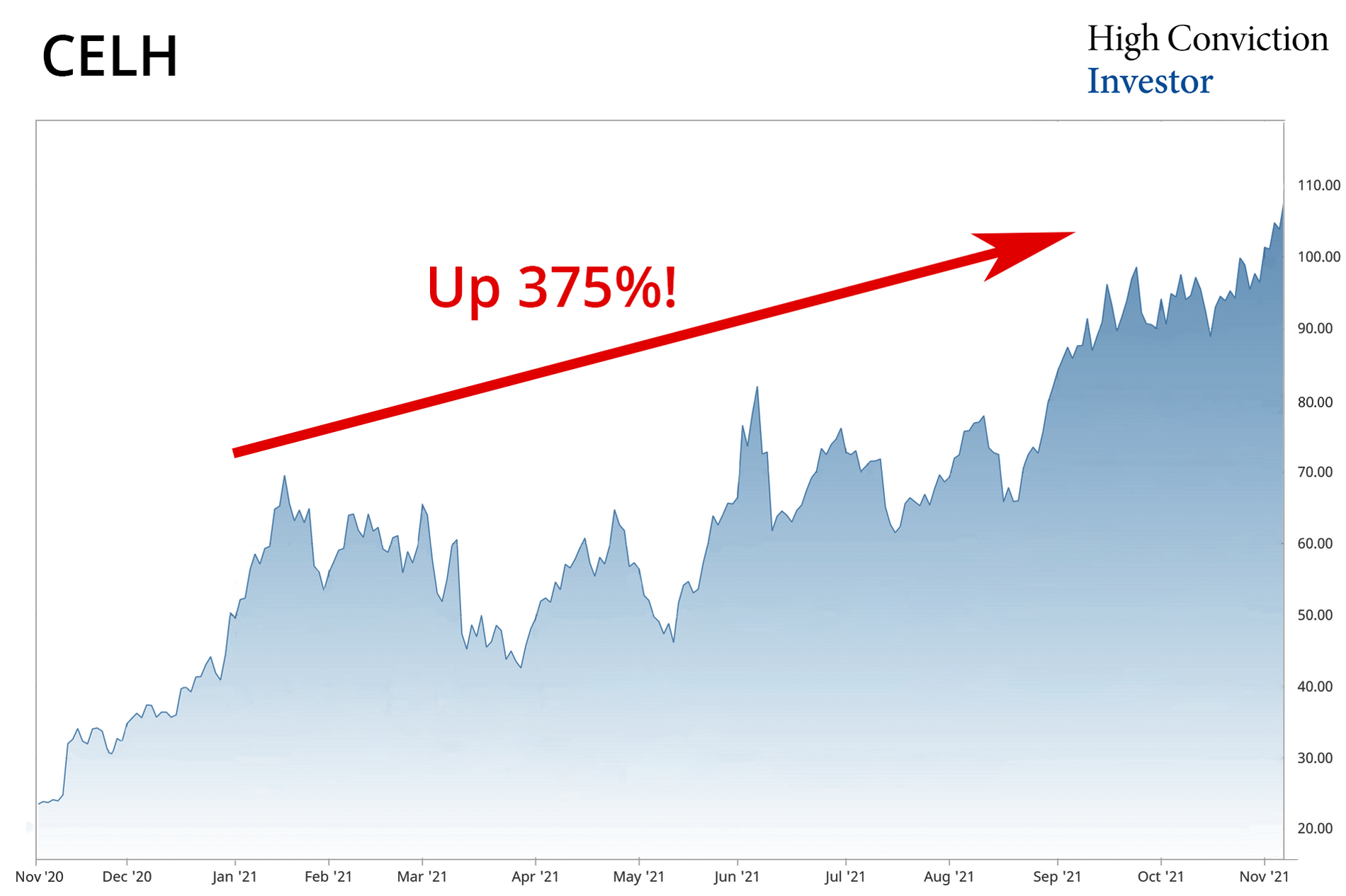 Today I'm going to pull back the curtain on exactly how these incredible gains have become possible…
How you can track them down with a very simple and straightforward research process…
And I'll even give you my favorite Wealth Accelerator that you can invest in TODAY.
I recommend you get into this pick right away...
While most folks still don't know about this opportunity yet…
Some of the savviest investors on earth are beginning to take notice and are jumping in with both feet...
Carl Icahn has bet $30 million on this trend…
One of Warren Buffett's deputies has put in over $100 million…
Vanguard is in just ONE Wealth Accelerator for over $300 million.
And Blackrock is in for over half a billion!
Even celebrities like Jay-Z, Michael Jordan, and Shaq are finding ways to get involved.
Every day, the knock-on effects of Wall Street's new decision is reaching smart investors' radars.
But before we get into the details of what Wall Street is doing and how it is blowing the doors wide open for these new Wealth Accelerator opportunities, let me fully introduce myself.
My name is Thompson Clark.
I developed a passion for the stock market at a young age.
When I was only 12 years old, I asked for my first stock: Ebay.
My grandfather bought some for me and himself and over the next few years, that stock DOUBLED.
Over the next 20 years, it became the first big winner I ever picked and returned 2,089%. In fact, getting into Ebay also granted us early access into PayPal…
Which has gained as much as 789% since it IPO'd!
And just by being insanely curious about new trends that most people aren't talking about…
For example, I picked Green Brick Partners when it was just $5 a share.
Today, it's up more than 420%!
I also got in on software company Mitek when it was just $3.23 a share.
Now it's up almost 600% as it closed over $17 bucks a share.
And I even spotted Luna Innovations before it shot up 1,000% in peak gains...
I was also early to Bitcoin… Pounding the table when it was just over a hundred bucks!
Folks could have ridden that for an outrageous 39,900% return.
I don't say all of this to brag.
I show it to demonstrate a point.
The key to profiting in the market is all about being there EARLY.
I think everyone sort of "knows that" at some level... But very few people understand "how."
I was able to do it for a long time, simply by just being "curious."
But when working at Deloitte 11 years ago, I fell in love with analyzing companies.
One of my most prized possessions isn't a possession at all…
It's a file on my computer.
It has over 1,600 folders inside… One for each company I've personally dissected.
I wanted to know everything there is to know about dissecting businesses. So I joined a boutique Wall Street research shop in New York.
And after two decades and thousands of projects... I had recognized the patterns…
The real secret to being early. The real switch for outsized returns.
And the secret to getting in early is knowing the power behind a simple number that 99% of investors never even consider.
It's not Ebitda…
It's not market cap…
It's not even debt…
You won't find it on any financial statement...
It's analyst count.
You see, for 50 years there's been a swelling $45 trillion trend that the Financial Times called "breathtaking..."
And it finally reached its unintended climax.
Because 50 years ago, John Bogle helped birth the index fund...
And since then, more and more investors have ditched active investing for passive investments like ETFs, index funds, and mutual funds.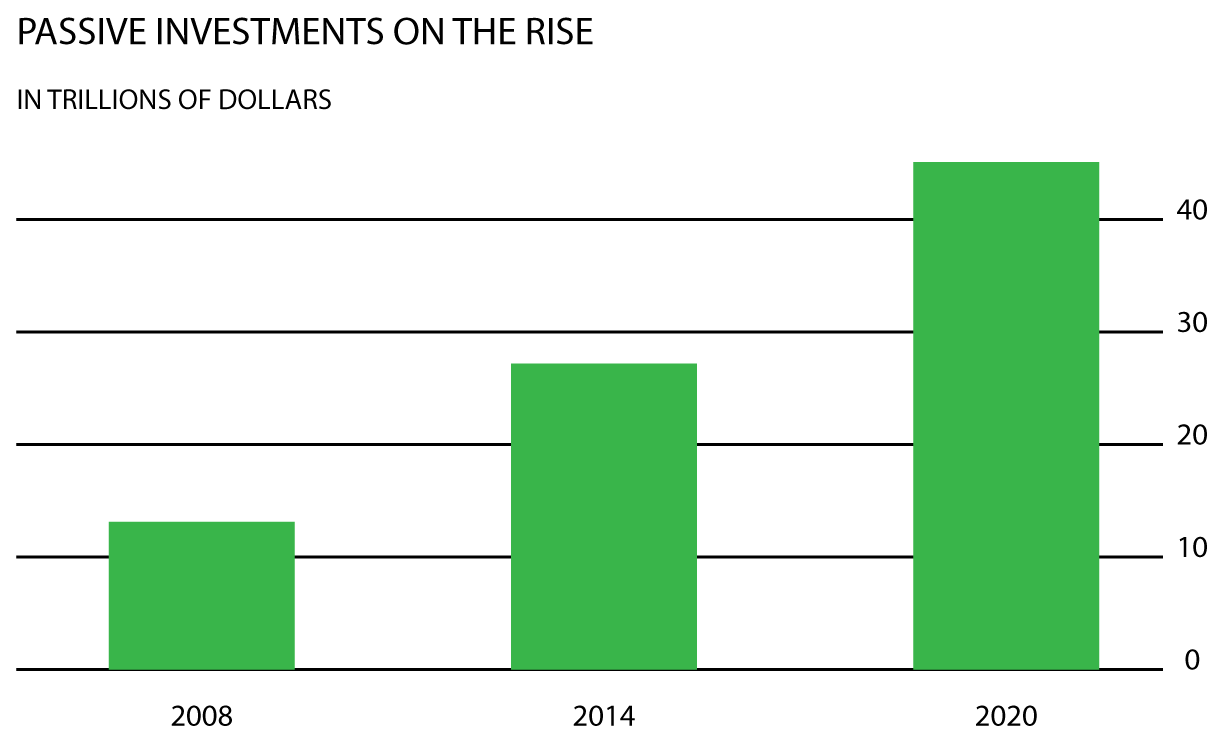 During that same time, S&P 500 indices EXPLODED, growing a whopping 493%!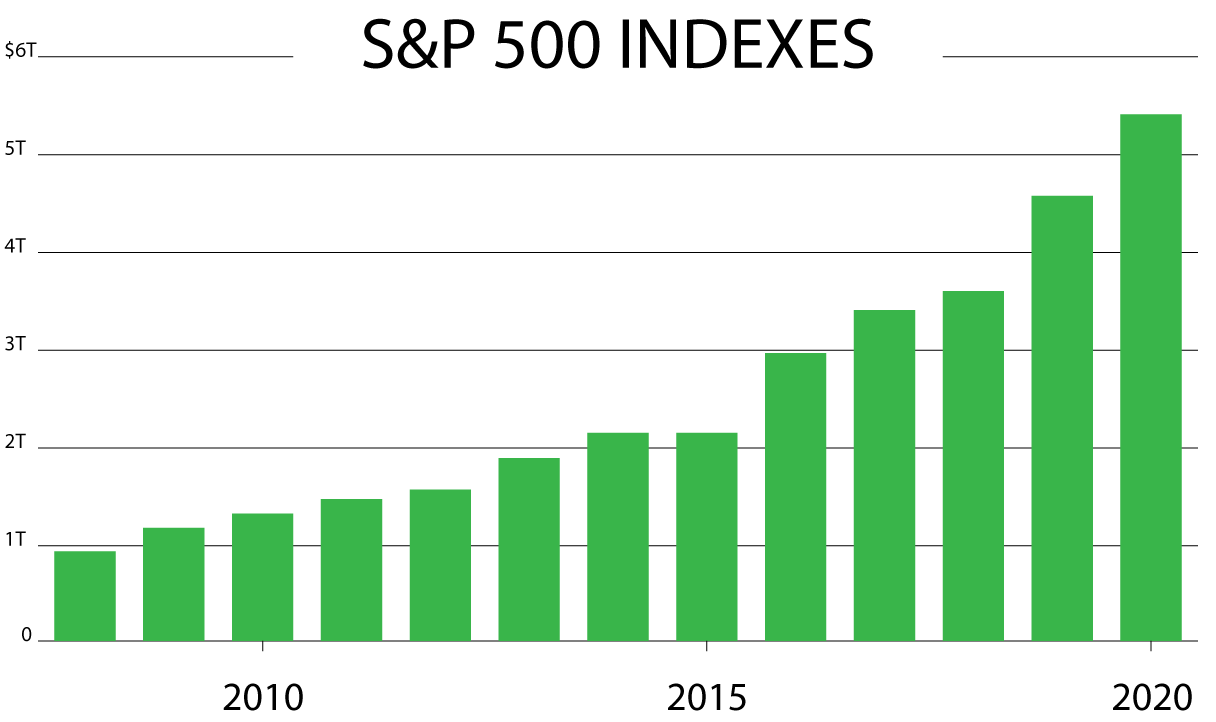 Eventually, fewer and fewer investors leaned on professional investment coverage for individual stocks...
And set in motion the steady decline of the Wall Street analyst class…
Since 2012, analyst headcount across the 12 biggest investment banks dropped 30%, per the latest data available from Coalition Greenwich.
And now, according to Reuters, the number of companies in the Russell 2000 with no attention from Wall Street has jumped 30% over the last 3 years.
FactSet reports roughly 19% of companies in the Nasdaq Composite (stripping out SPACs) have NO coverage at all.
As the number of analysts shrinks, the information they provide to investors goes with it.
And that's the opportunity that most folks miss…
While most investors get their stock information from the analysts…
The opportunity is actually right where the analysts AREN'T.
Unfortunately, most folks never consider analyst coverage as part of their research process…
...but maybe they should.
Take a look at what happened to PowerSecure International (POWR).
Before I alerted my followers to this company…
There were only 4 news reports ever written on this stock.
And just so you know, PowerSecure wasn't some new company...
At that point, they had been public for years!
Even with annual revenues of $270 million, PowerSecure had virtually almost no analyst coverage.
On June 15, 2014, I sent out a special buy report on this stock.
Not more than one week later…

Analysts put out a report on the stock…
And POWR shot up for more than a 100% gain in one year flat.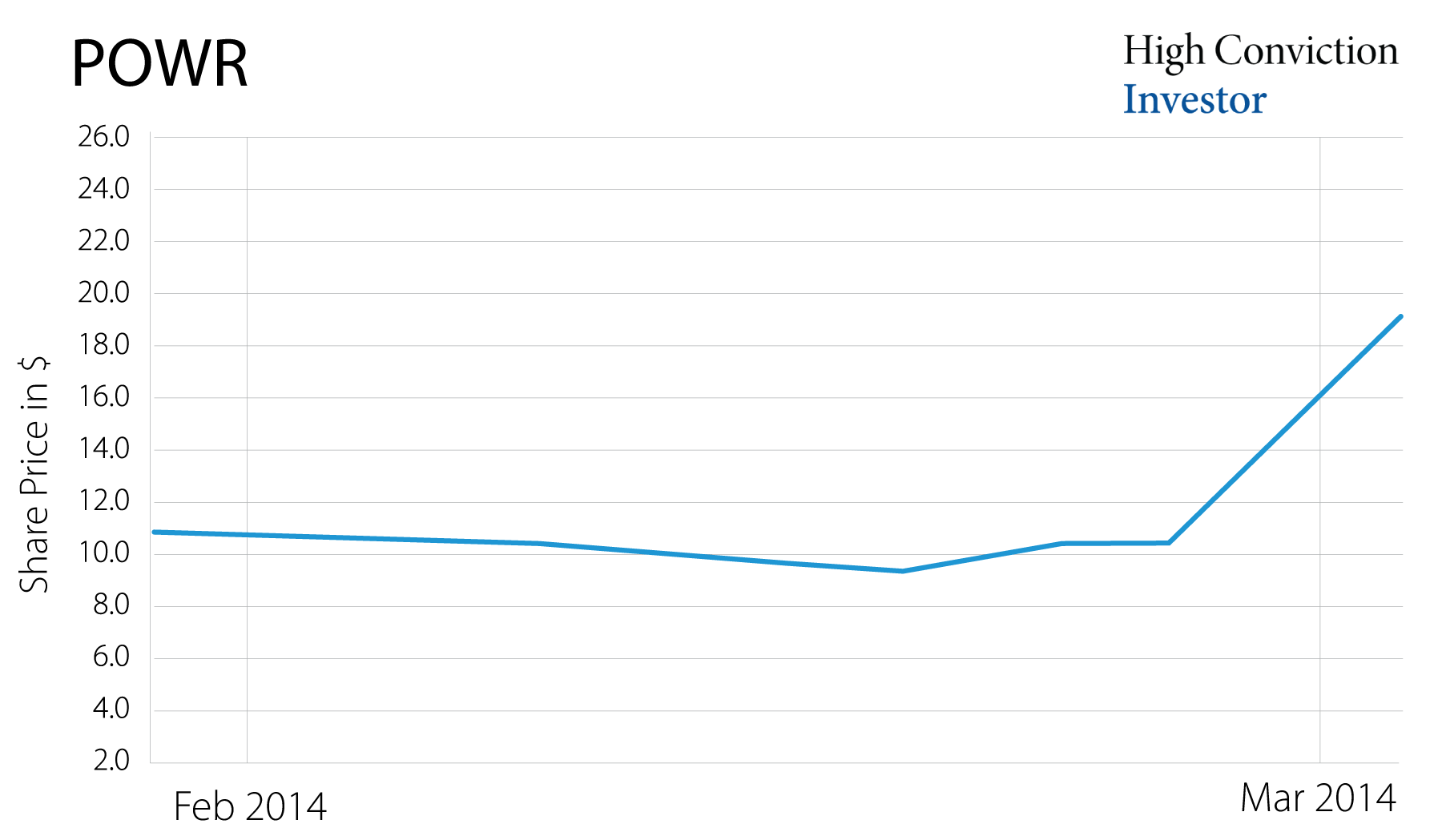 Compared to the S&P 500 during that time, that's an 11X outperformance.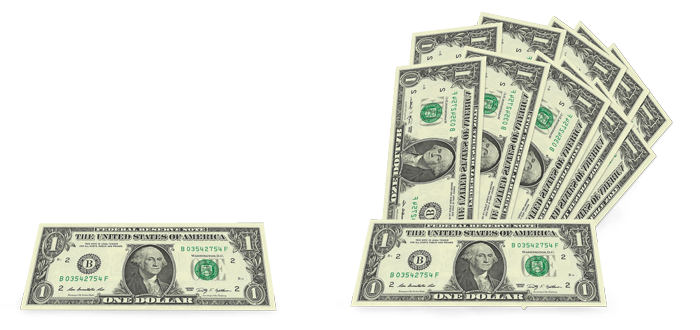 Incredible, right?
Once again, this is a time I want to be perfectly clear: ALL investing carries risk. You should never invest money you can't afford to lose or invest in an idea you don't understand.
You should do your own due diligence, and come to your own conclusions on ANY idea you find—just like my readers did when I first alerted them to Tucows.
After 18 years in business, offering reliable cellular service at ultra-low rates…
Guess how many headlines they had: only seven.
That's less than half a headline a year!
After finding this hidden gem, I ran it through my usual research process, which I'll share in just a second...
And while no one on Wall Street was even paying attention…
I sent out the alert on April 14, 2014…
What happened next was typical: Analysts dedicated 22 major news stories to Tucows in the following three years.
And anyone who got in alongside me could've made a 500% return.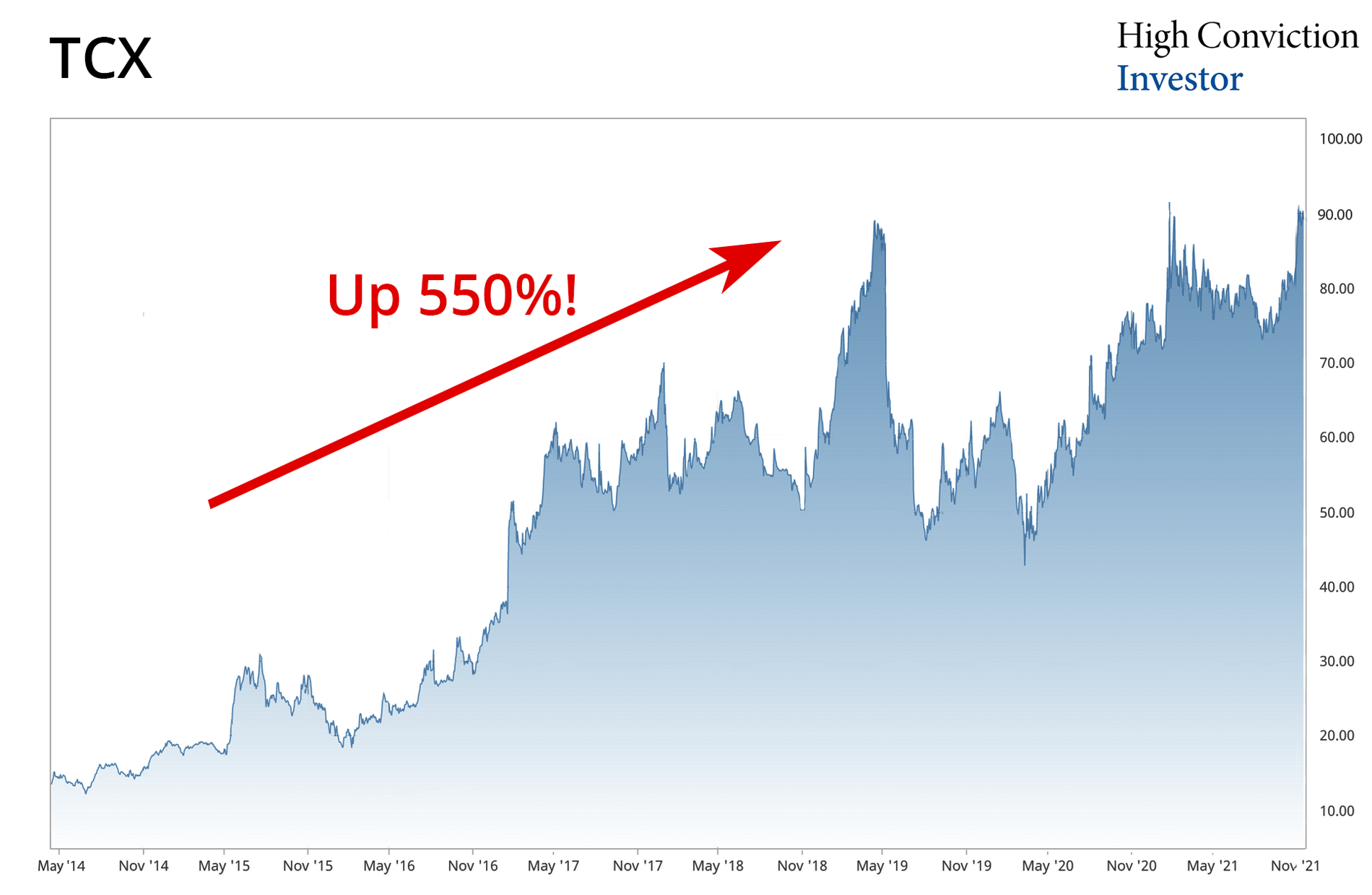 Now compare those results to Verizon Wireless... It's a solid company.
Since I made the recommendation on Tucows—and speaking hypothetically, anyone could have held on to it for 500% returns—Verizon has moved less than 12%...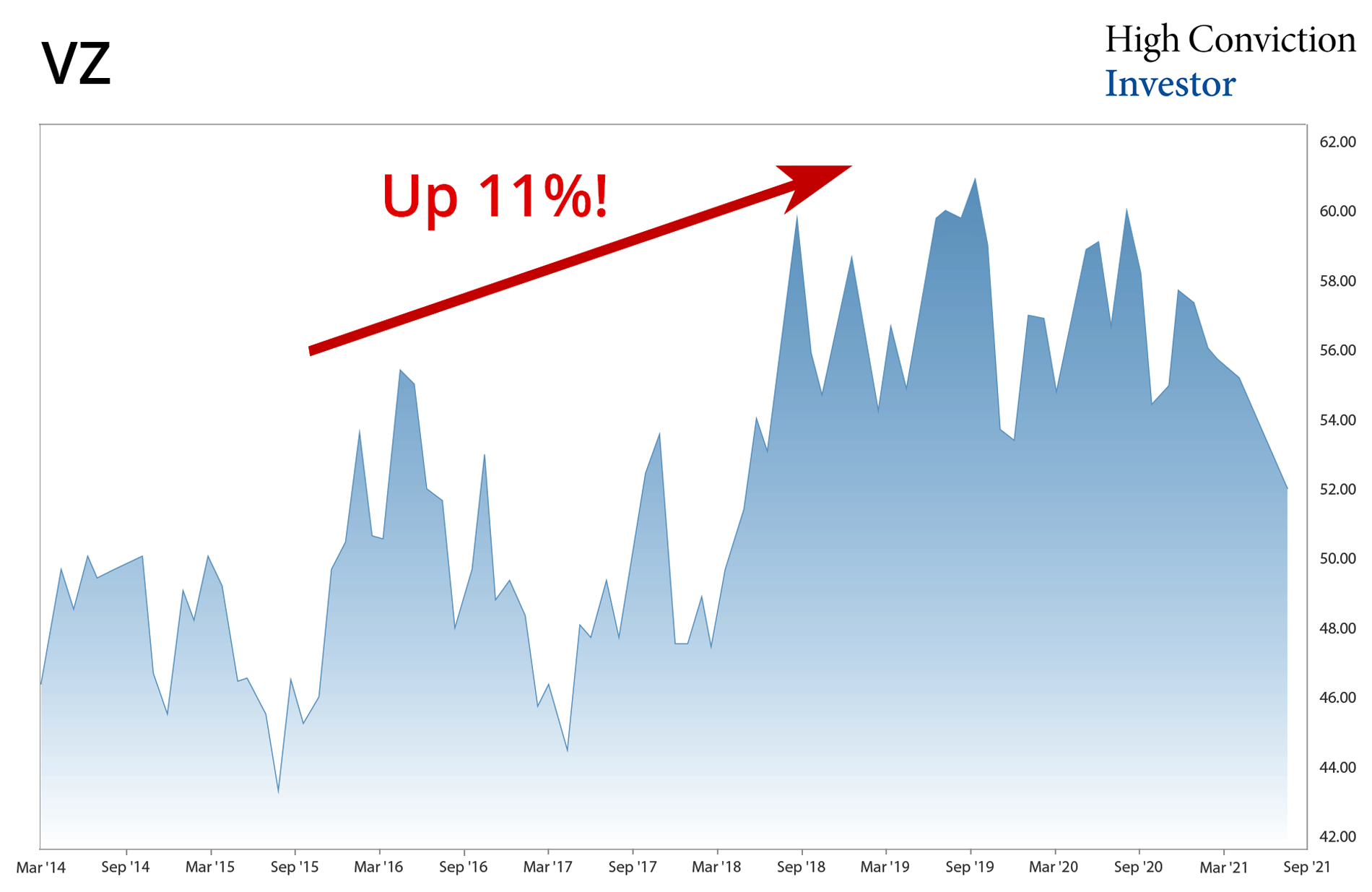 At 41X the returns, this is another clear win for stocks with no Wall Street coverage.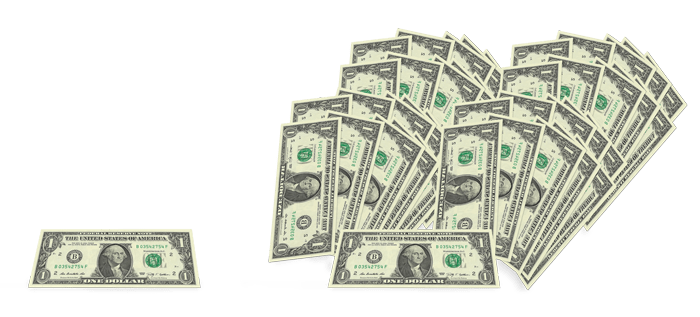 But our next Wealth Accelerator—Luna Innovations—truly takes the cake.
See, when I first discovered this tiny $1.26 stock, it had ZERO analyst coverage.
Not a soul on Wall Street was reporting on this fiber optics company to the general public.
But when I dug into this business, I saw it had everything going for it.
This tiny company had virtually no debt...
They had grown their revenue by almost 50% in less than a year...
But nobody anywhere was talking about this business!
Which meant when I sent out the buy signal on August 17th, 2015, we were literally first to the party.
By the time it had decent analyst coverage, this tiny $1.26 stock accelerated as high as $12.33…
Good enough for almost a 10X return in just 6 years flat.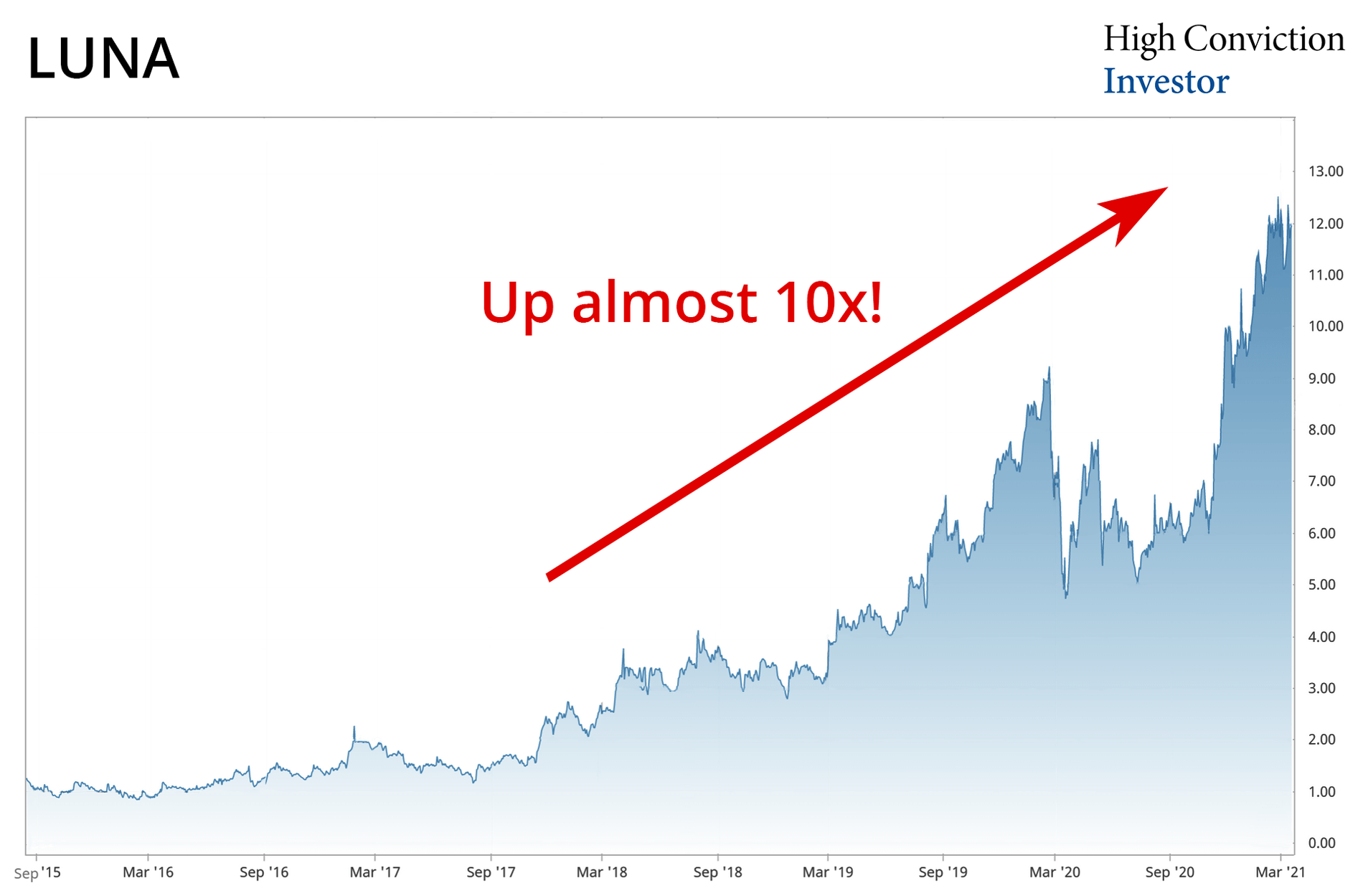 10K turns into 100K…
20K turns into 200K...
And 30K… Well, you get the picture.
You know who else has a fiber optic presence? Comcast.
Since I recommended Luna in 2015 for a 10-bagger…
Comcast, an S&P 500 company...
Hasn't even doubled.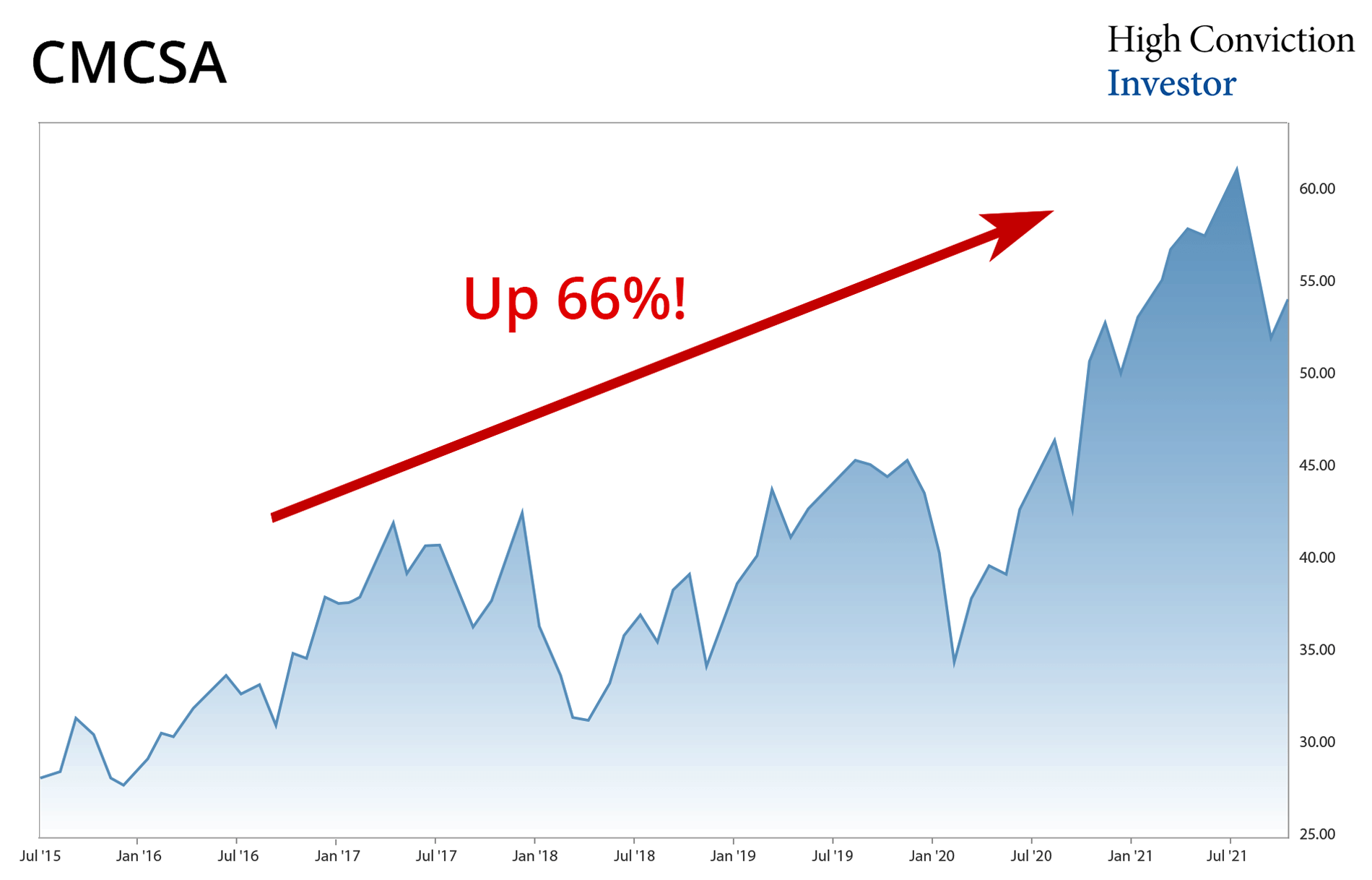 Again, most folks never talk about the number of analysts when doing their due diligence.
And not all stocks with zero analyst coverage make everyone rich…
But this one insight swings the doors wide open for you to get more bang for your buck…
Without adding any enhanced risk when compared to investing in many other stocks.
One study published in Financial Management found: "Stocks with weak analyst coverage earn higher future returns."
And Paul Sonkin, a portfolio manager at Gabelli Funds, says: "If there are fewer analysts covering a stock there's a greater chance that it will be mispriced."
Thanks to the rise of passive investing over the past decade, fewer investors are buying and selling individual stocks...
And so brokerage firms have been forced to cut research staff…
Over the last 12 months, brokers like BB&T, Nomura, and Avondale have shut down whole research divisions...
Creating the biggest opportunity to discover Wealth Accelerators in history.
This new breed of stocks I target simply aren't found anywhere most folks would look.
They aren't on analysts' radars…
And they definitely aren't in the S&P 500.
It's highly unlikely for a large-cap stock to grow this much in virtually any amount of time.
Look at AEHR—with only ONE analyst covering the stock—it has shot up 818% since the beginning of the year.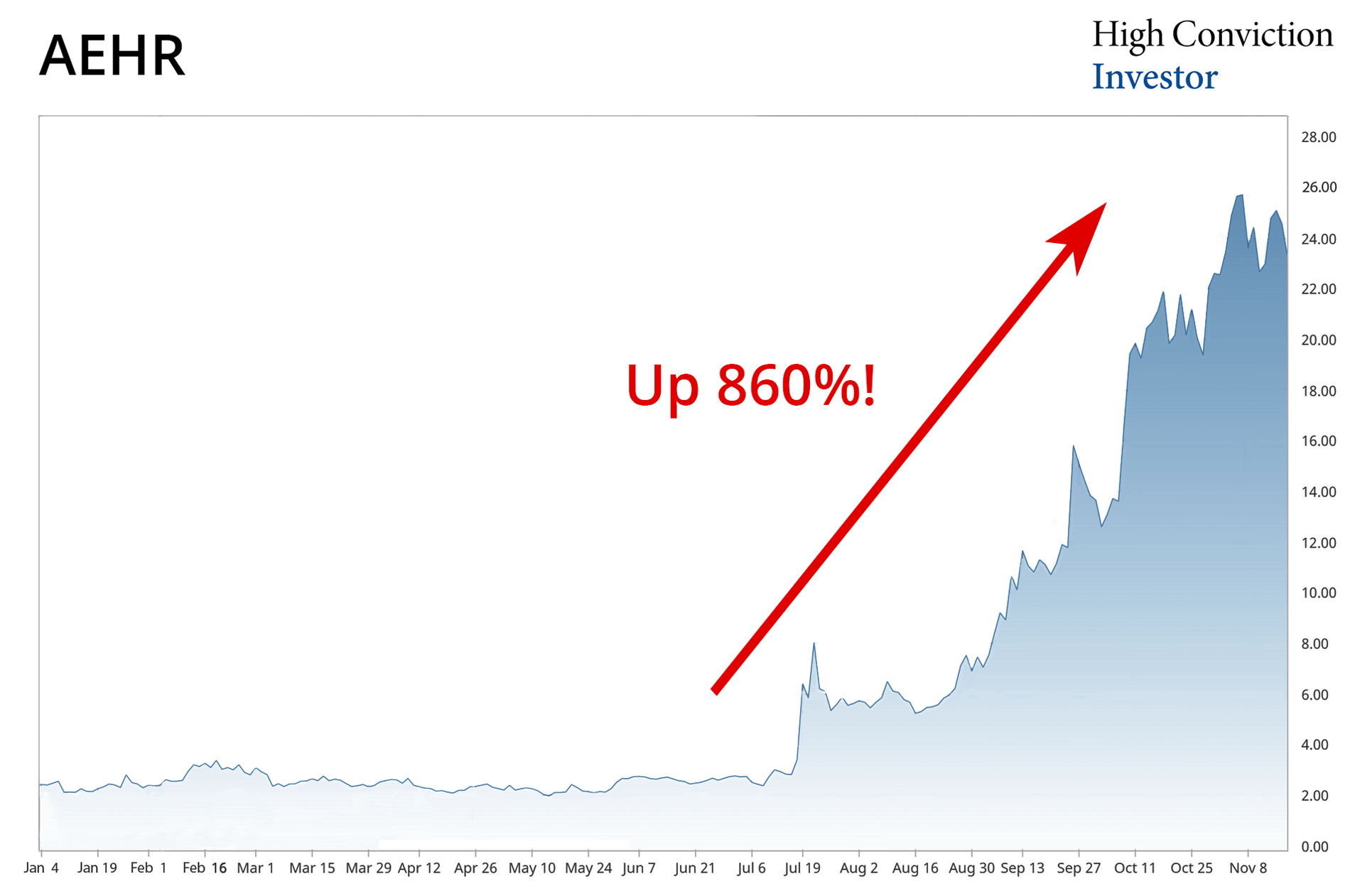 Let's really put that into perspective…
Since 1957, the average S&P 500 stock has grown around 8% per year.
So it would take something like 120 years—until 2077—for an average S&P 500 stock to do what AEHR did in just one.
But that's not even the best Wealth Accelerator out there...
Out of the many out there, not all are winners. But here are some of the very best ones my research could find.
Look at LWLG—with ZERO analyst coverage—it has shot up 1,413% since January.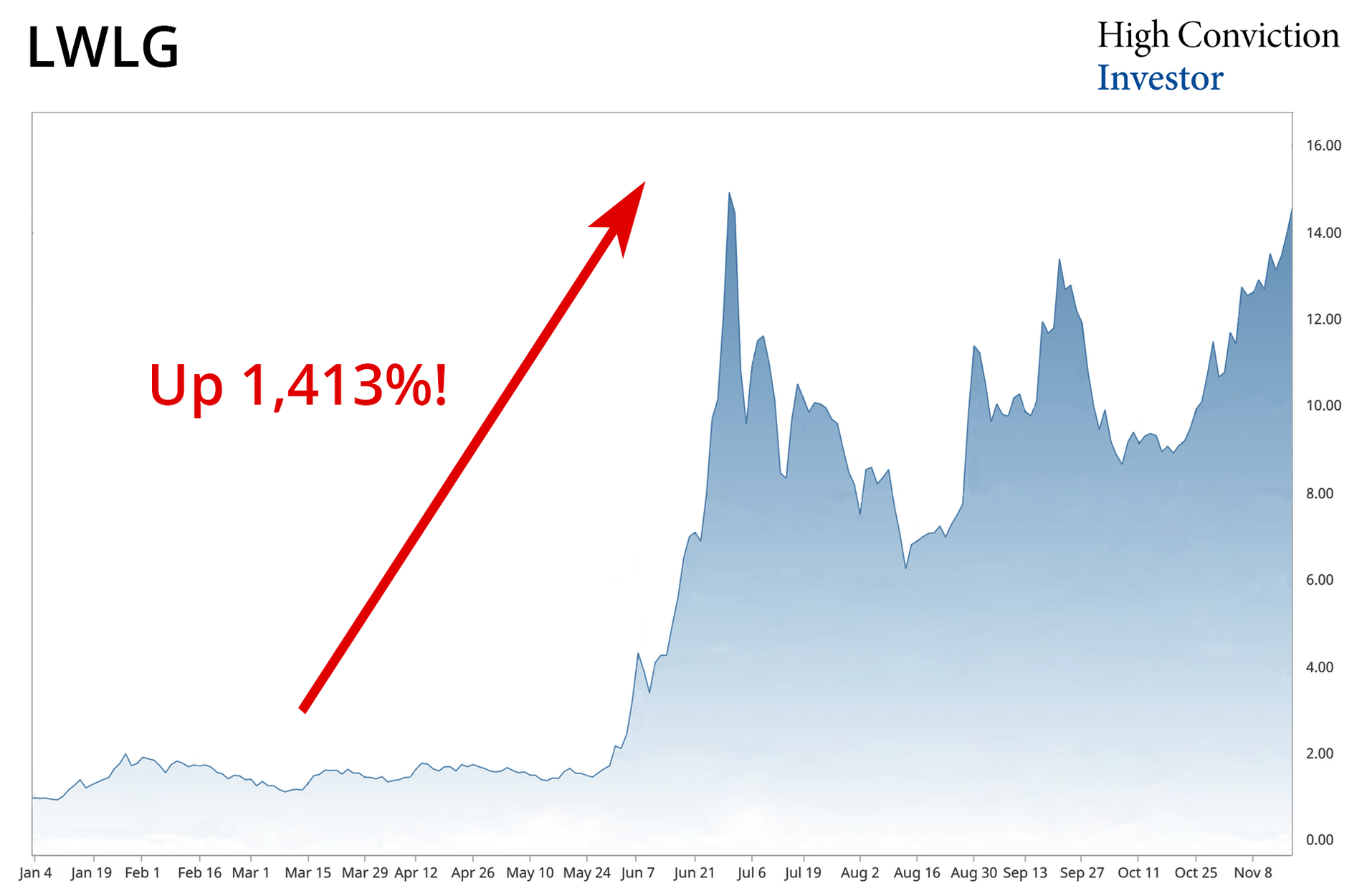 Or even Destination XL Group—with only two analysts covering the stock full-time—it has shot up an insane 3,177% this year alone!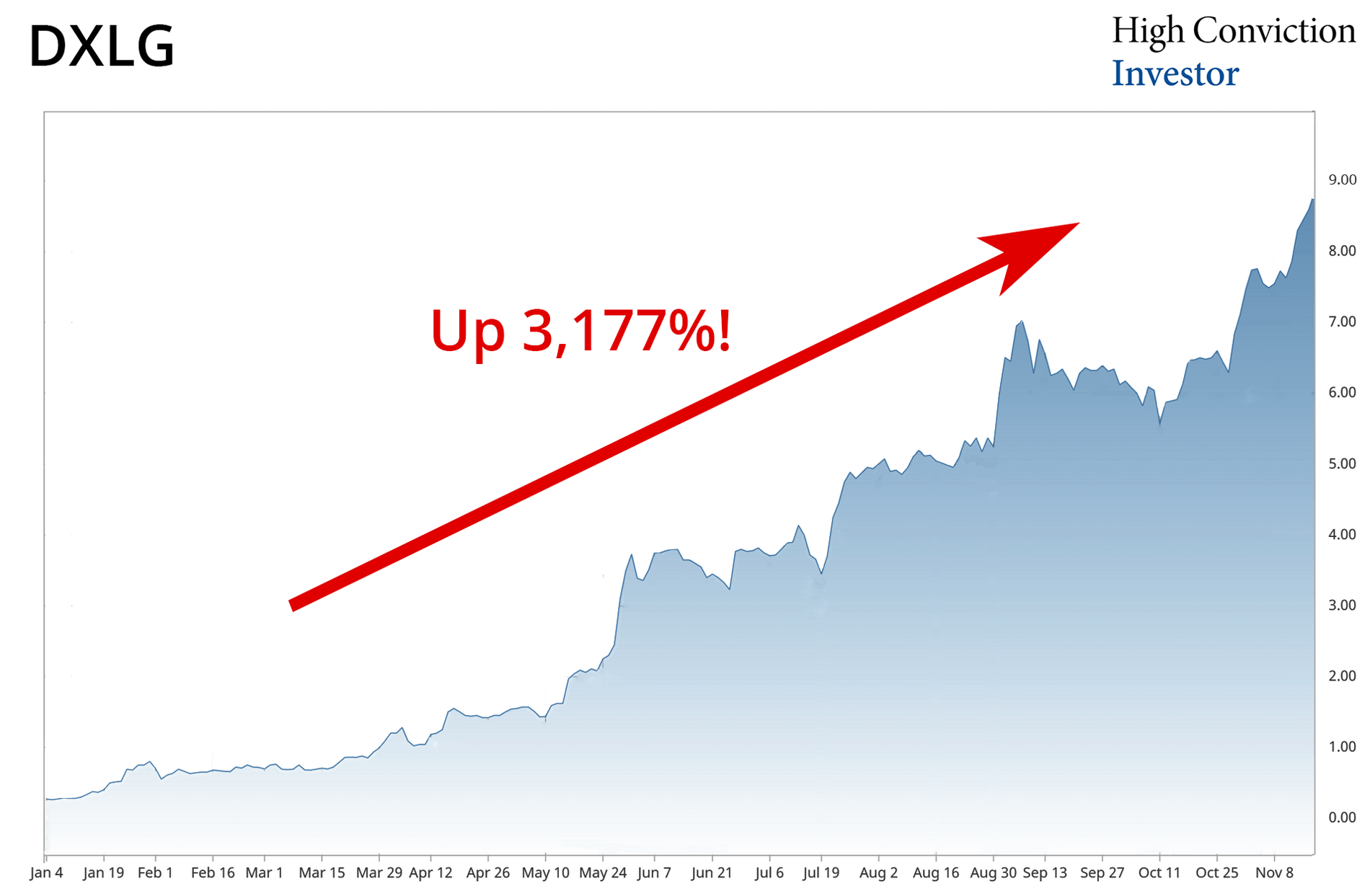 Of course nobody invests in blue chip stocks expecting a 3,177% return in just one year…
But should they expect any returns at all?
In its recent investing outlook, asset management firm GMO published a dismal outlook for large-cap stocks: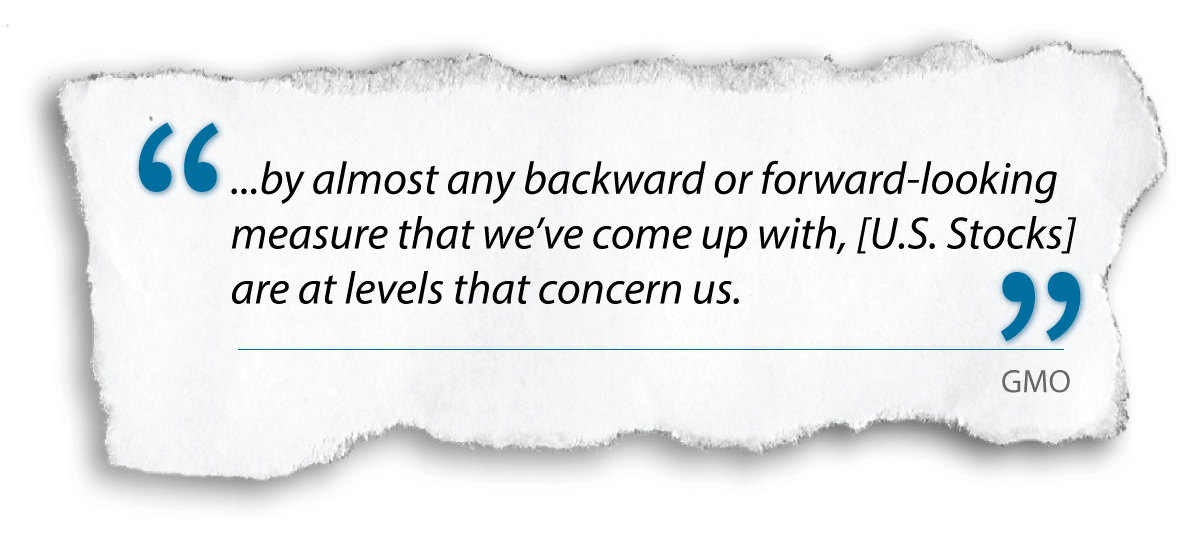 Its research indicates the big-name stocks are at risk of falling 8% over the next 7 years!
Deutsche Bank warned that our largest US stocks:

Going on to declare that on virtually every metric, these stocks are:

Fact is, large-cap stocks haven't been this overvalued since the dot-com bubble.
By any indicator you use to measure them, large caps look like they are peaking at best...
And in grave jeopardy at worst.
Looking at the total market cap of stocks with price-to-sales ratio greater than 20X...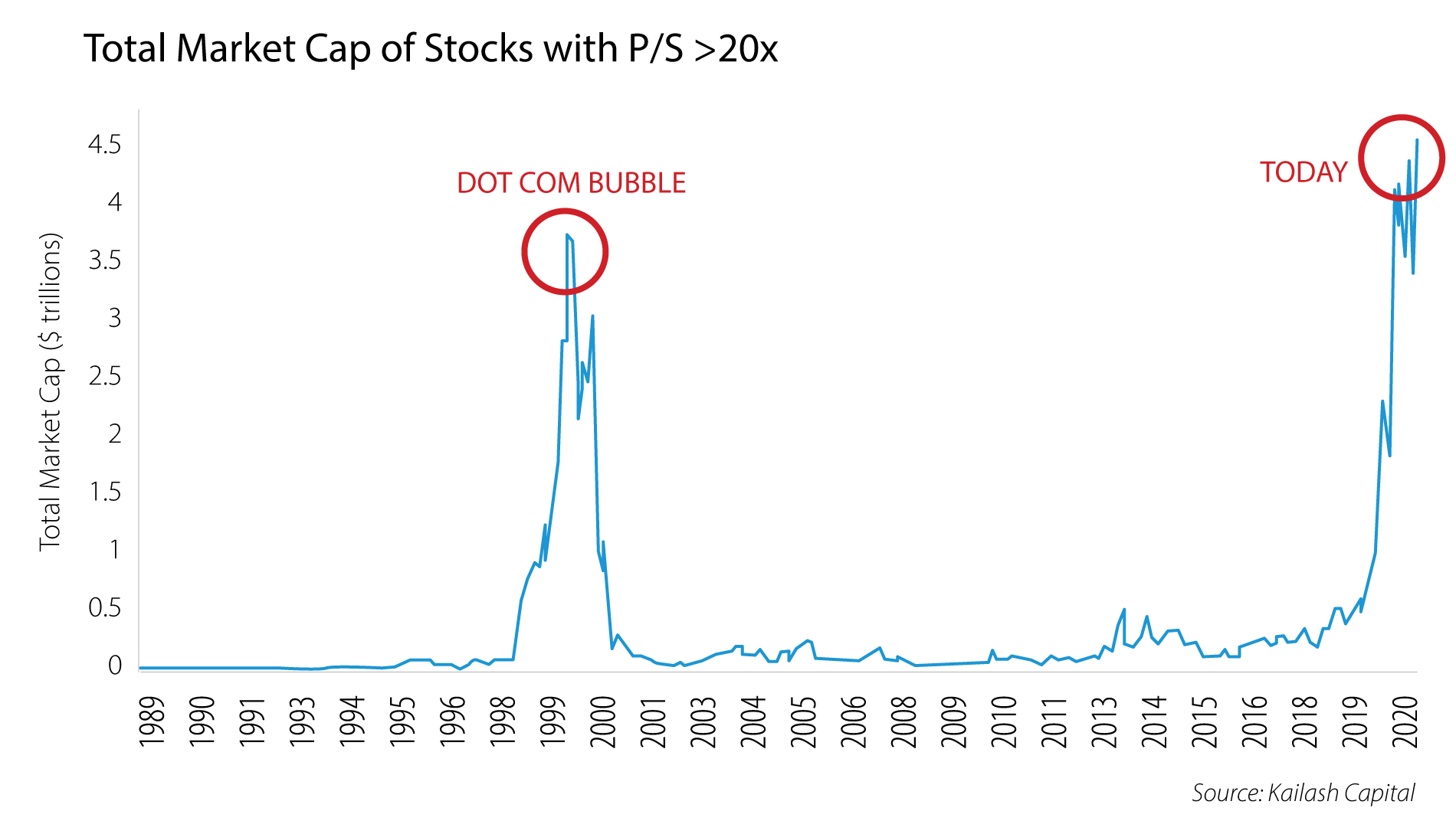 Stock prices are even WORSE than at the height of the dot-com bubble.
Some economists use what is known as the CAPE ratio to gauge if the market is overvalued...
Just looking at the CAPE ratio for the S&P 500, it looks like it is entering dangerous territory...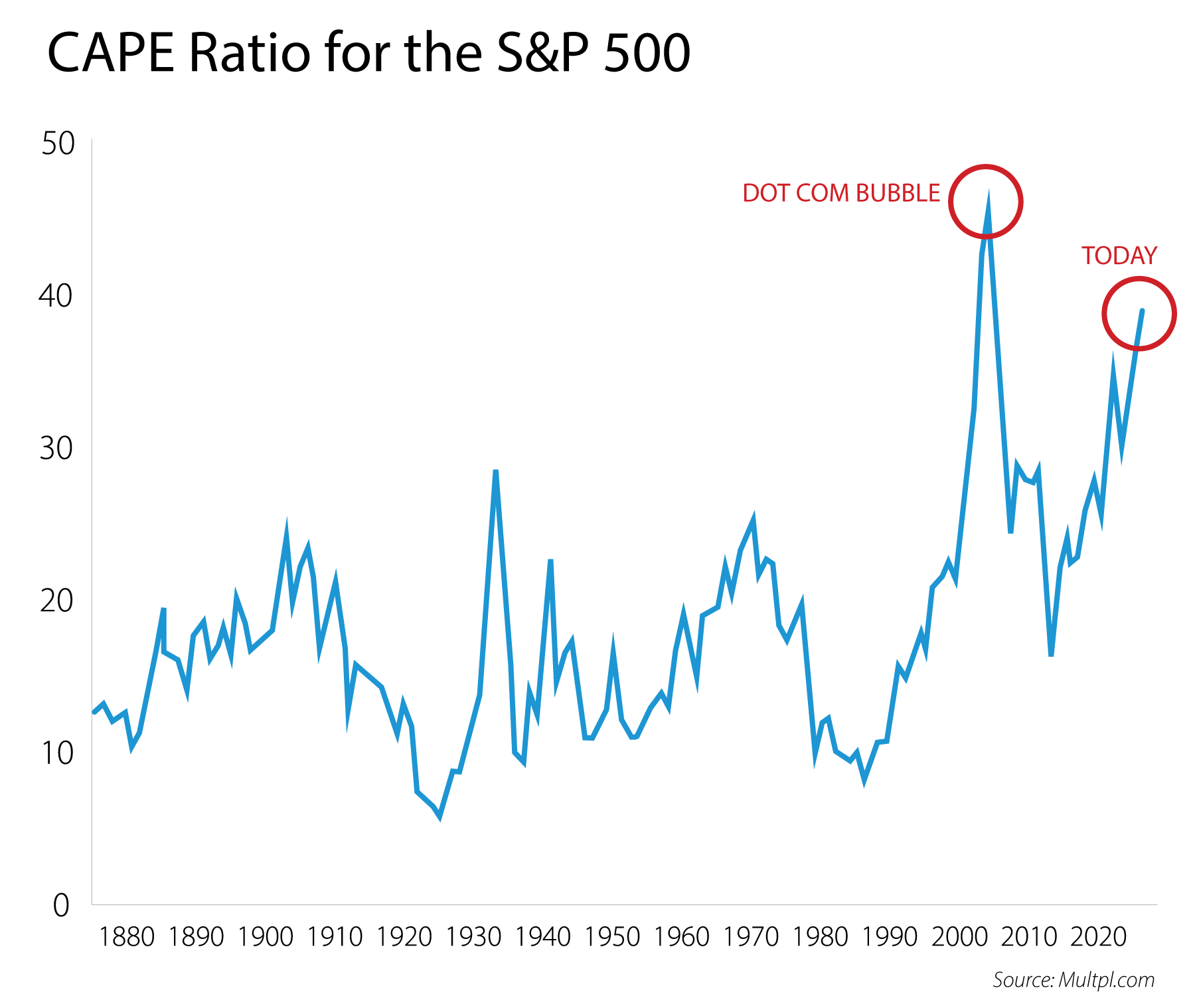 You may have picked up on this—but I am a longtime student of Warren Buffett.
So I had to check out his unique "Buffett Indicator"… and what it revealed was telling.
This is only the second time in history we've gone two standard deviations above our historic trendline.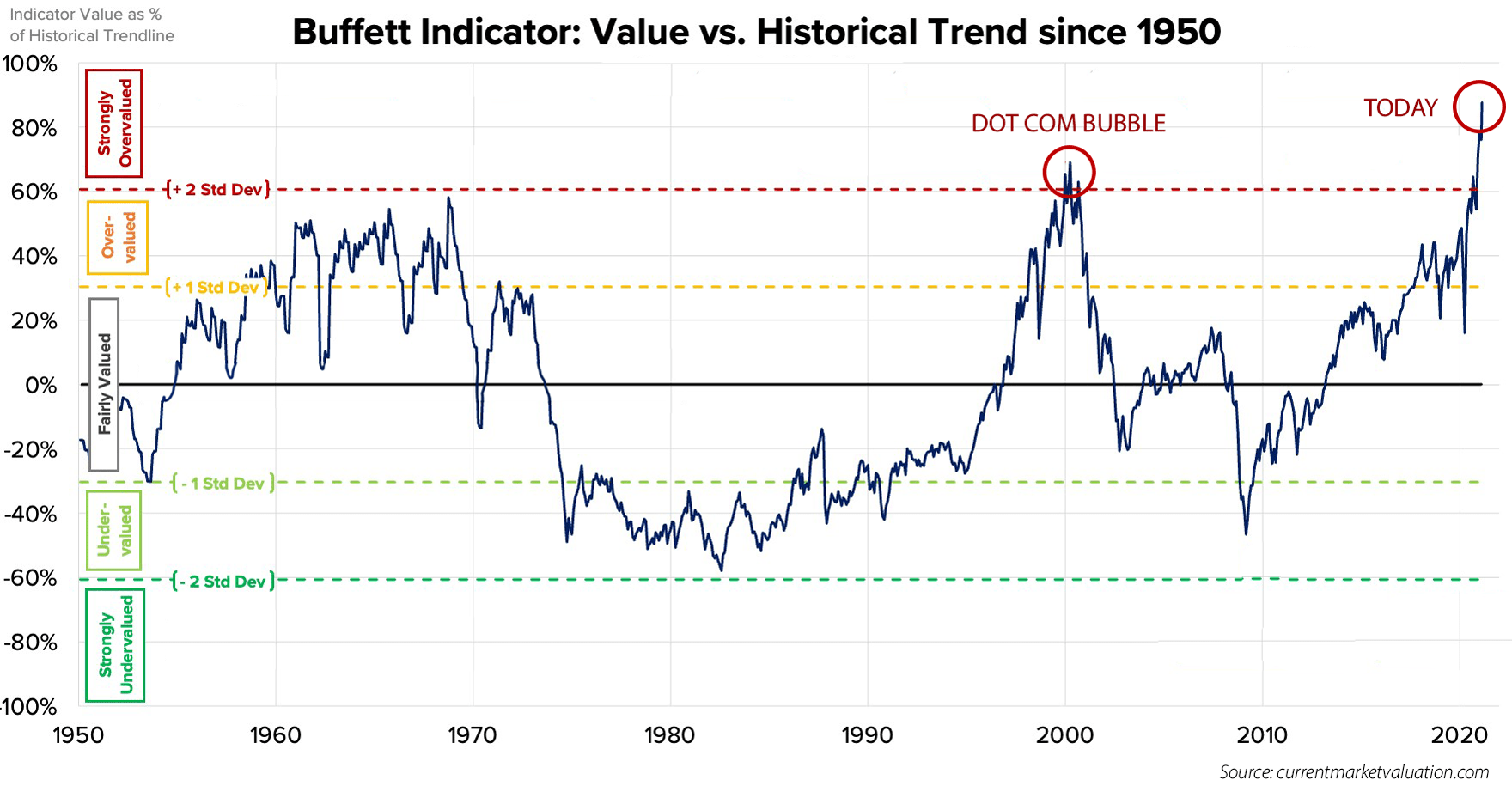 The one other time? The dot-com bubble.
Is it any wonder why Bank of America reports for the first time in 20 years…
Large caps are expected to return next to NOTHING over the next decade.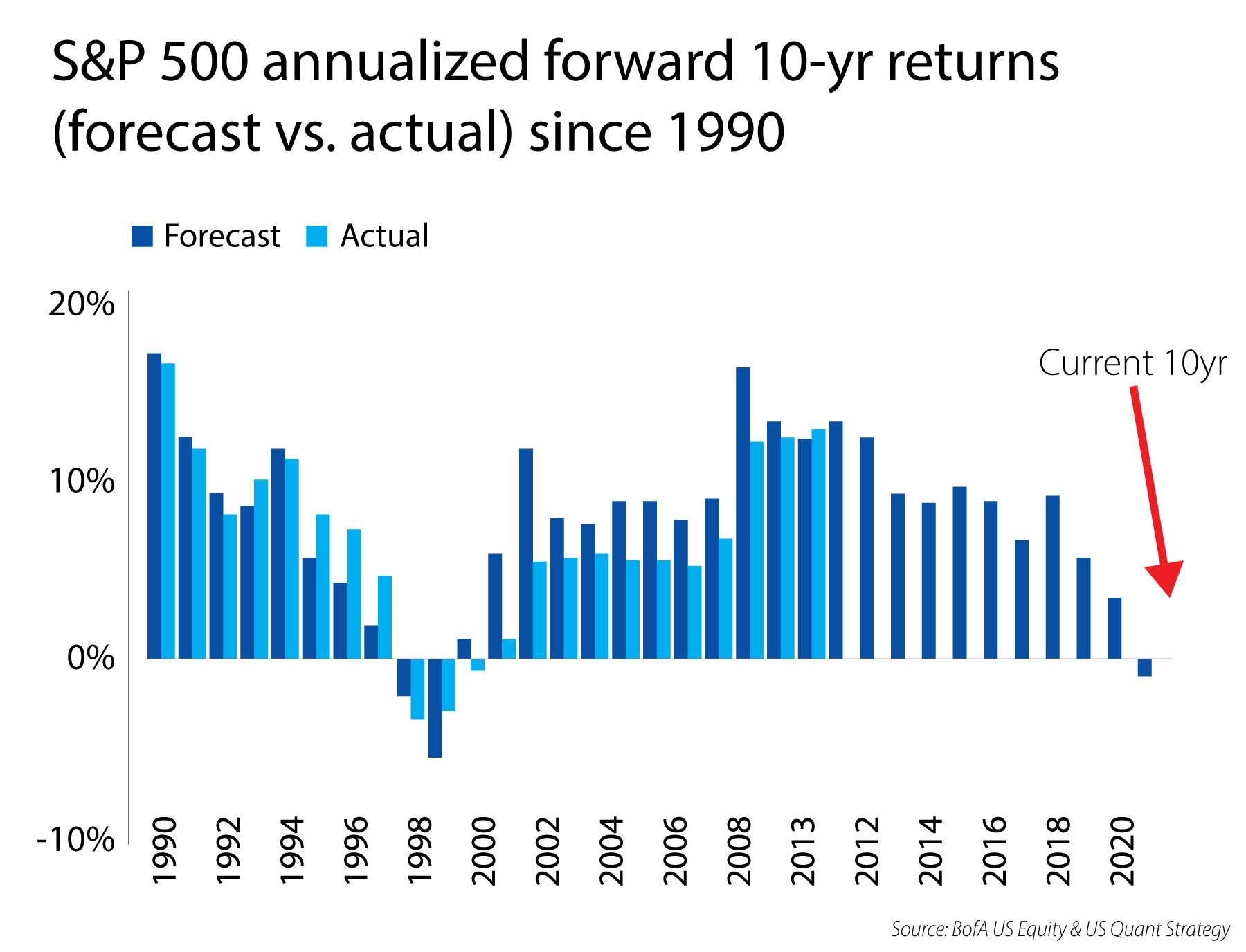 I don't say this to panic you.
I don't know that we will see an entire market crash as some perma-bears predict…
But I hope you can see that there isn't much room left for the big-name stocks to move much higher...
And you should at least see why it's so important you divert at least a small portion of your portfolio into these Wealth Accelerators.
And why wouldn't you at least put SOME money into Wealth Accelerators...
With the rise of passive investing, more people are simply kicking their money into indices…
Banks are cutting entire research teams and closing down departments…
With fewer analysts than ever before…
The flood gates are flying open and there are more overlooked opportunities every single day.
Which is why I want to share with you my #1 Wealth Accelerator you must consider investing in right now.
A small investment into this play could be a difference-maker for your retirement.
These opportunities aren't much different from when I recommended Bitcoin.
At the time, it wasn't even a blip on anyone's radar.
No analyst coverage. No media hype.
It was still only around $100.
For anyone who listened to me while this play was still being overlooked...
They definitely experienced the full force of what a Wealth Accelerator can do…
Just $2,500 would've been all anyone needed to add 7 figures to their nest egg.
And now, I'd like to share my next Wealth Accelerator pick with you.
By now you've probably asked yourself…
"So if nobody is looking at these companies or talking about them, how do you know a good pick from a bad one?"
Every stock that I investigate gets put through a 4-step filter that I personally built.
Each play I research goes into my folder...
I personally invest in any pick I recommend, so I do not take this process lightly.
There is risk in investing after all.
Nothing is guaranteed.
But this system allows me, and more important, my readers to get the very best Wealth Accelerator opportunities. Even better, my readers get in first BEFORE I do.
They get ample time to buy or sell ahead of me.
But I'm getting ahead of myself. First, let me cover...
Wealth Accelerator Filter #1:
A company must "ride the wave"
Any investor worth his salt knows how powerful it is to get in early into a growing industry.
I want to see buying interest from investors…
I want to see growing sales in the marketplace…
And I want to see the company perfectly positioned to benefit from this rise in profits.
Tucows is a perfect example of what happens when you "ride the wave."
Tucows jumped into the booming cellular data market, positioning itself as "the Dollar Tree" of data plans...
Just by riding this wave with a little differentiation, Tucows grew from 0 users in 2012... to 227,000 users in 2016.
And in August of that same year, earnings per share shot up 74%!
Since then, the stock has exploded over 500%.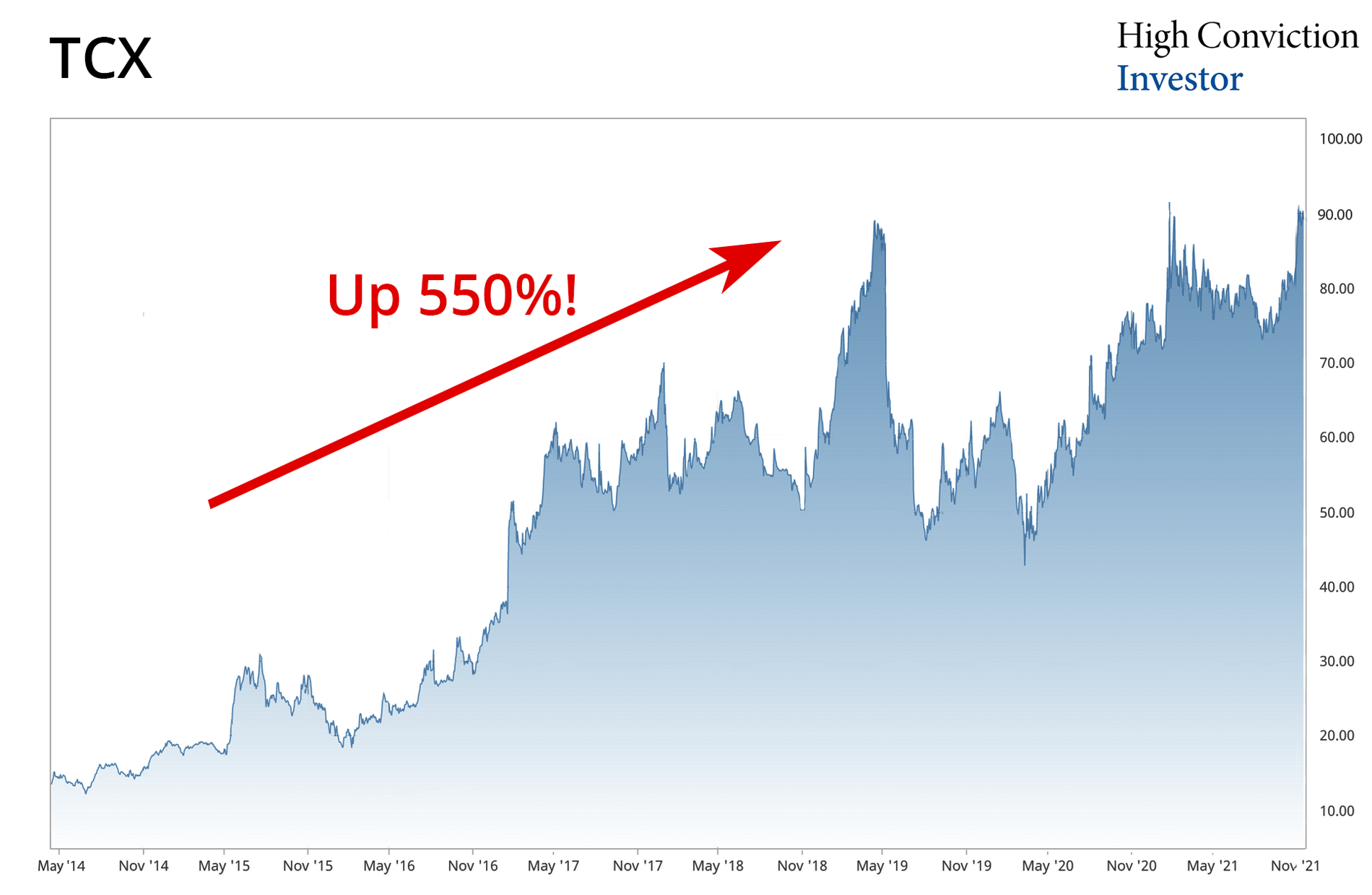 And it's still shooting for more gains to this day.
Wealth Accelerator Filter #2:
A company must be undervalued or experiencing a "Chipotle moment"
From 2015 to 2018, Chipotle kept getting hit with health violations left and right…
Along with a widely publicized E. coli outbreak.
Even though the stock was depressed for nearly 3 years with bad press, the underlying business continued to expand.
And that's what I call a "Chipotle moment."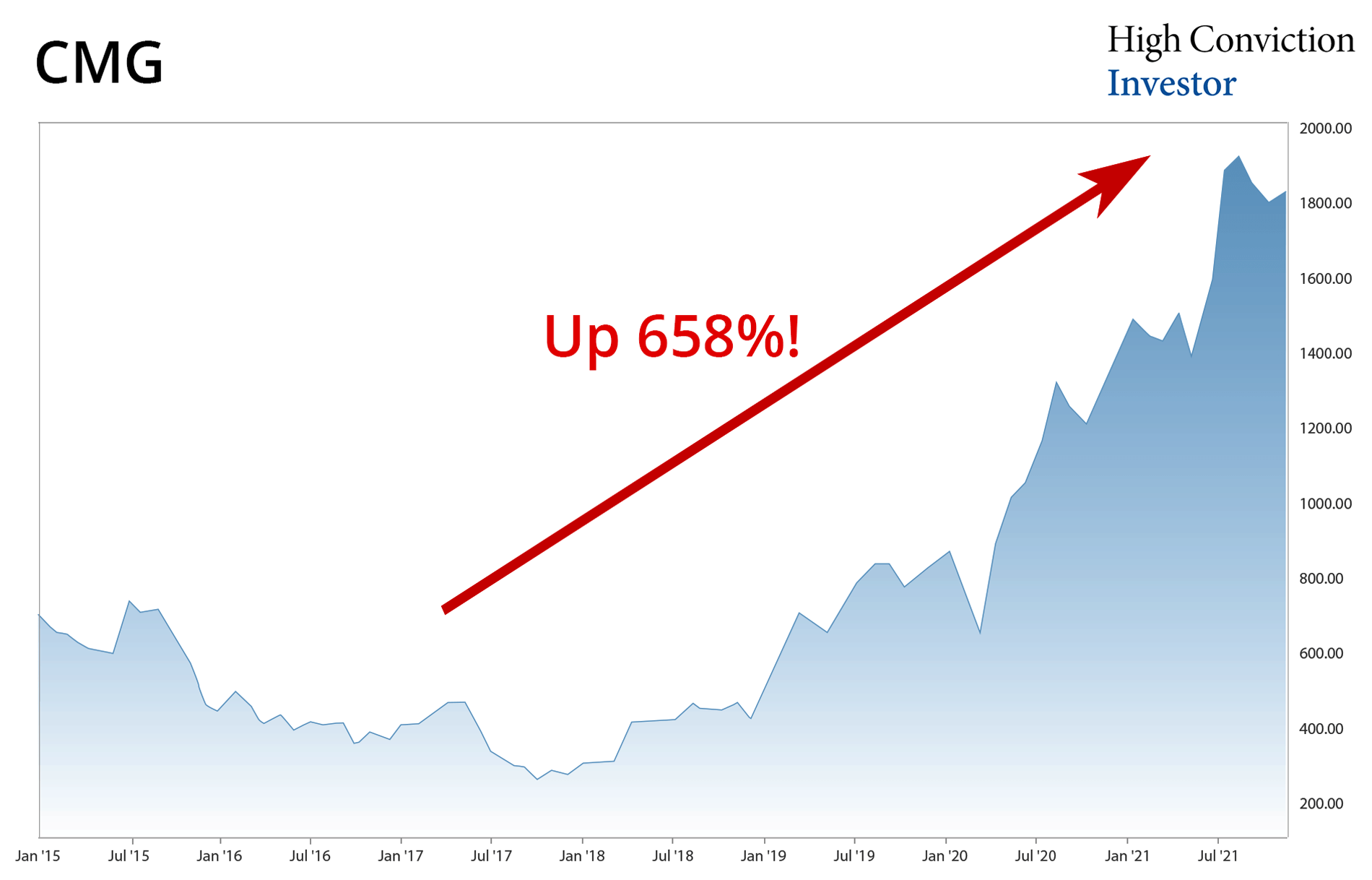 The stock was held down by temporary issues, but the actual business upside remained strong.
Anyone who recognized this at the time could have seen their investment grow 6-fold.
Wealth Accelerator Filter #3:
A company with minimal or zero debt
Companies with too much debt have to first pay their lenders before their shareholders.
That creates a hurdle. It requires the company to make EVEN more revenue just to break even—let alone generate a profit for their business.
But if there is zero or minimal debt, that money can go directly toward building the business, growing profits, and making its investors very wealthy in the process.
Luna Innovations is a great example.
The company was only $1 per share and had very little debt.
The upside was already tremendous and it was nearly doubling revenue when I first recommended it.
And the results speak for themselves…
Luna was an easy 10-bagger.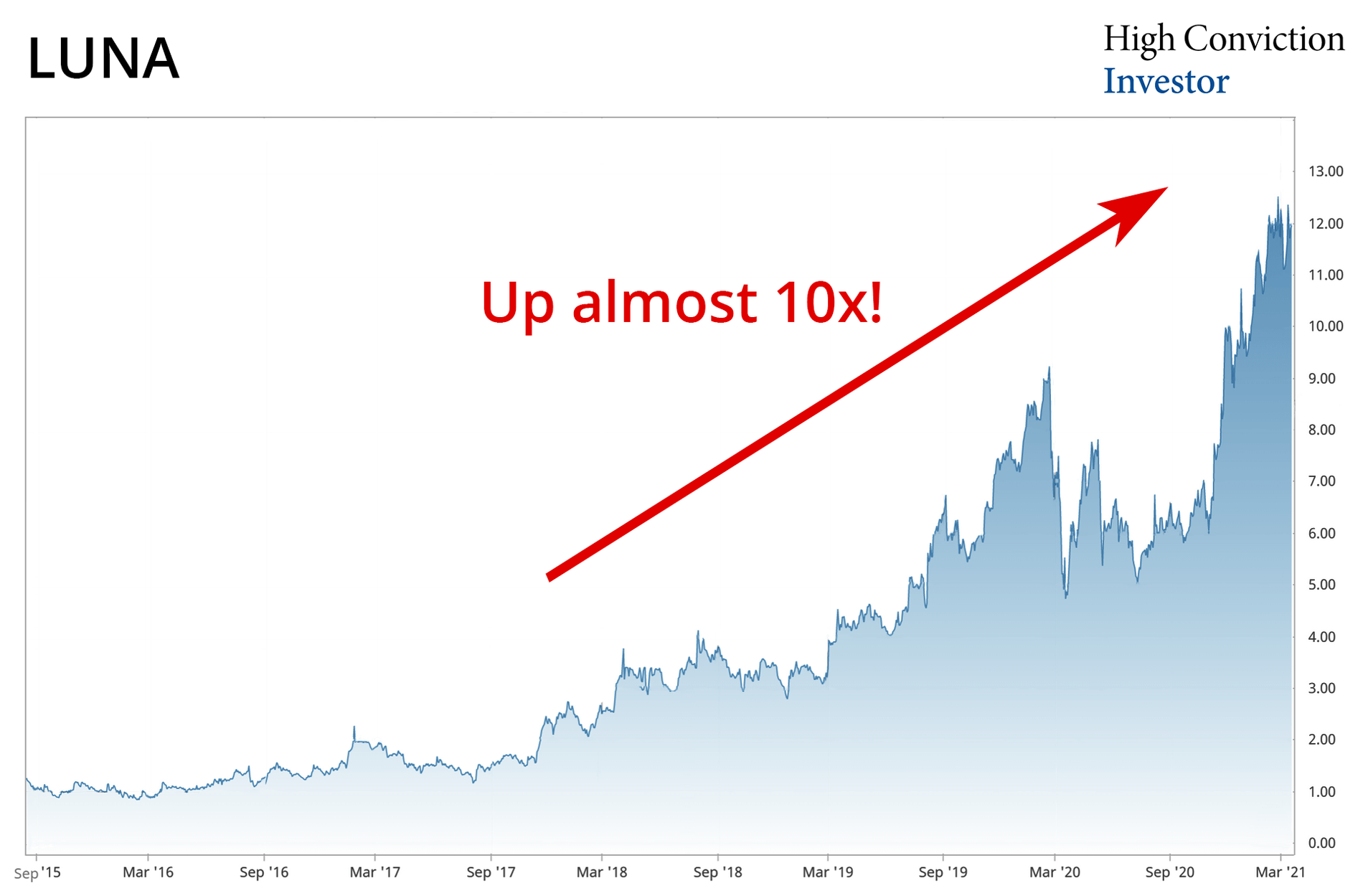 Textbook Wealth Accelerator.
And last but not least…
Wealth Accelerator Filter #4:
A company where insiders go "all-in"
I believe in betting on the jockey.
A bevy of research finds that leadership performance can be a catalyst for success or failure in an organization. Including financial outcomes like share performance.
When insiders are all-in on their company, they will have a real and significant monetary stake in the business.
And what's really important here is not just skin in the game…
But the RIGHT people putting skin in the game.
The Wealth Accelerator I'll share with you in a minute is a great example of that…
They manage and operate a group of companies and investments.
And their billionaire chairman is a value generating machine for investors.
But before we dive into that, let's review the other traits of a Wealth Accelerator.
A quick check online reveals only ONE analyst is currently paying any attention to this company…
It has approximately $700 million in cash and liquidity…
Insiders are actively buying the stock, and currently hold about $180 million already…
And then there's the chairman himself.
Now the owner of a professional sports team, this man has been in the value creation game for over 33 years.
He's led FOUR separate, multi-BILLION-dollar public market platforms with over 100 acquisitions…
He's built the largest title insurance company and grown equity from $3 million to $13 BILLION...
And does all this with his own proprietary value-creation playbook.
This is a jockey you should bet on.
Because last but definitely not least…
This company is riding not one, not two, but three explosive markets…
First is the financial payment processing industry. According to Research and Markets, this industry is set to explode by 29 BILLION…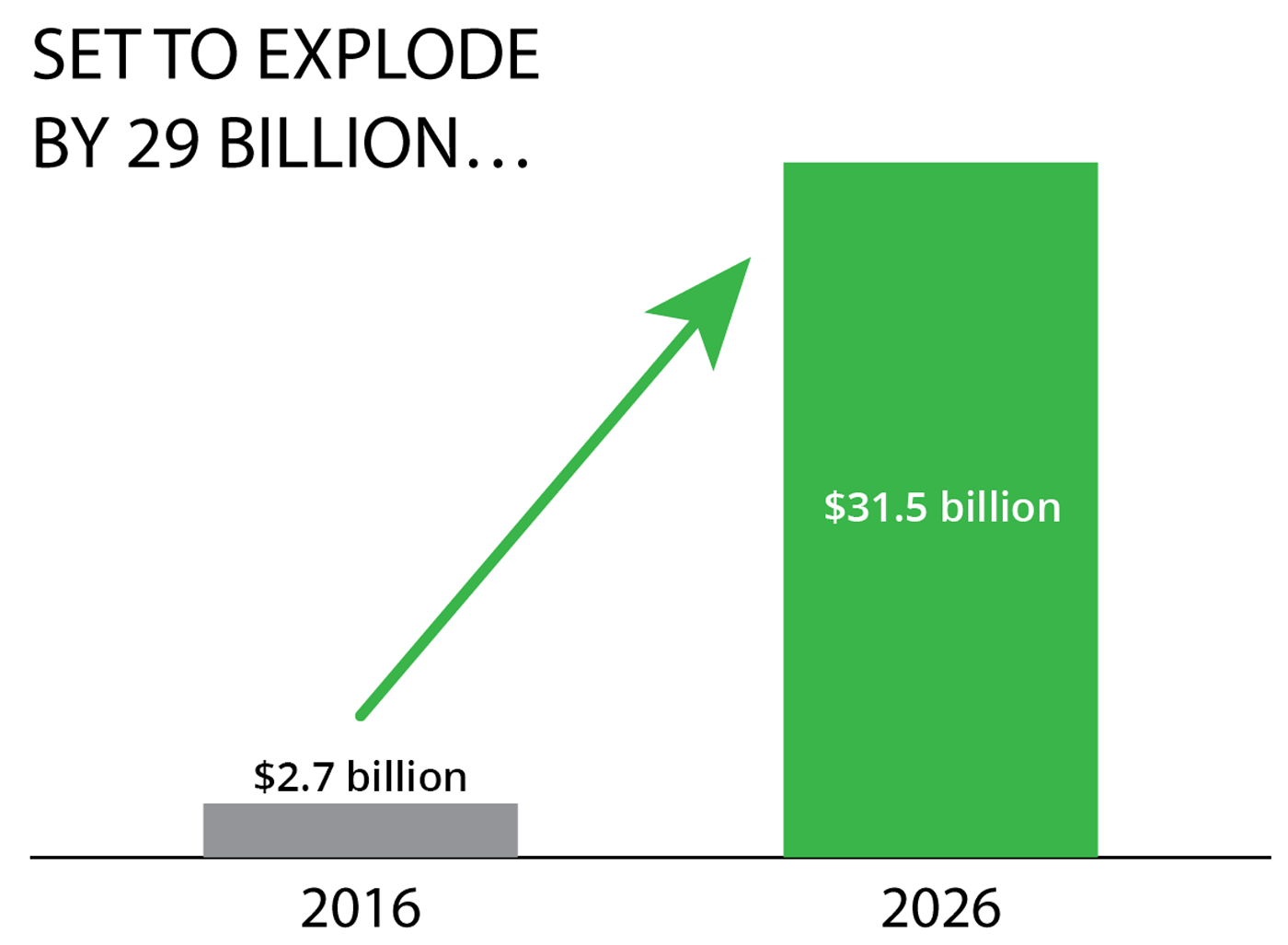 Next is the red-hot real estate market which, according to the National Association of Realtors, is showing no signs of slowing down…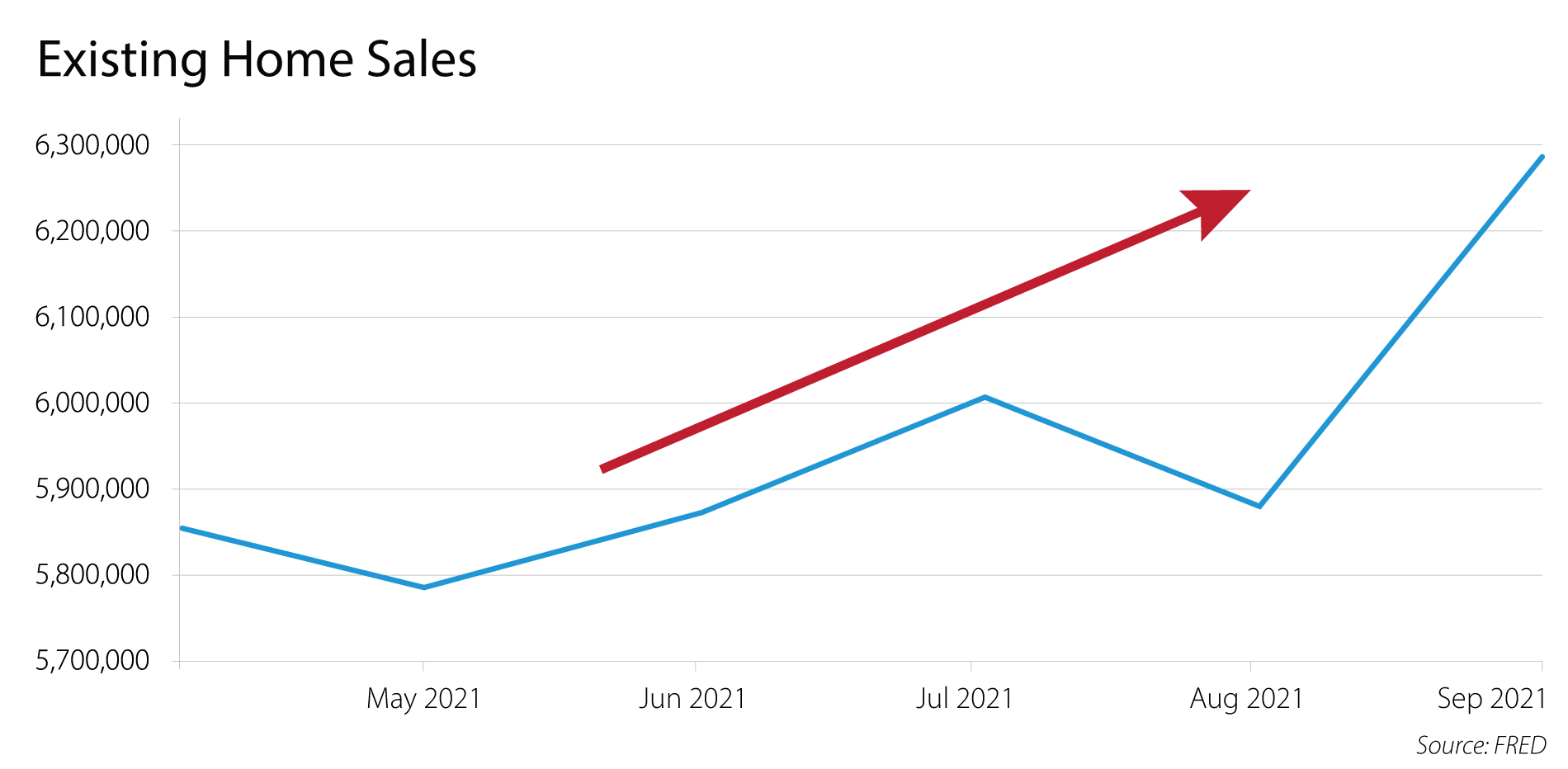 And last but not least…
The US corporate data management market which is set to boom up to $131 BILLION in the coming years.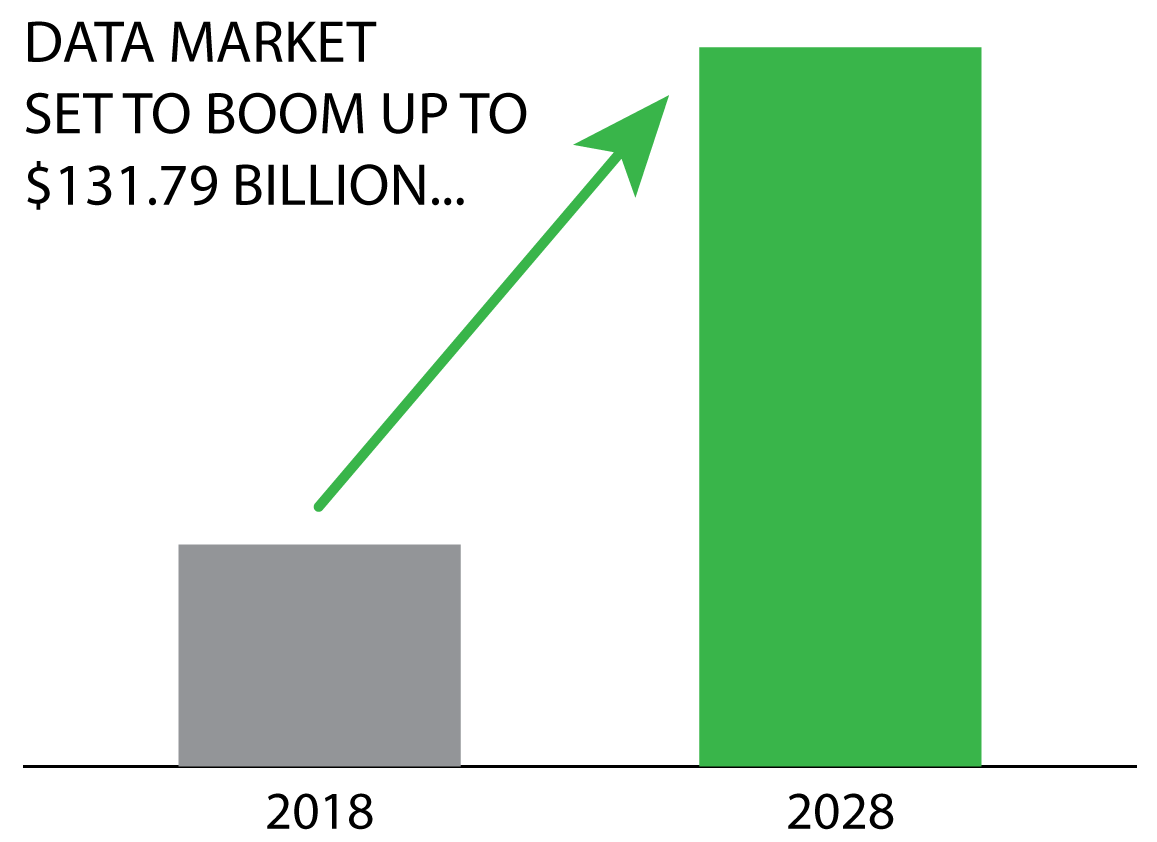 And that's not even the best part...
See, years ago, I could find at least one Wealth Accelerator each quarter.
And I wouldn't care if the next month they went down a couple percent—or jumped up a few percent either.
Because these picks are as serious as marriage to me.
I not only commit to Wealth Accelerators for the long haul…
But I swing for the fences, making sure they have all the traits of absolute home runs...
And based on my research, this stock is at a severe discount to its fair value.
With all the potential upside that I've seen, this investment is a no-brainer for anyone who wants to get started with Wealth Accelerators today.
I'll give you the ticker symbol in just a moment.
First, I want to let you know that I've put all the details on this company and its upside in a special report I've named: Bet on the Jockey: The Wealth Accelerator that Wrote the Playbook.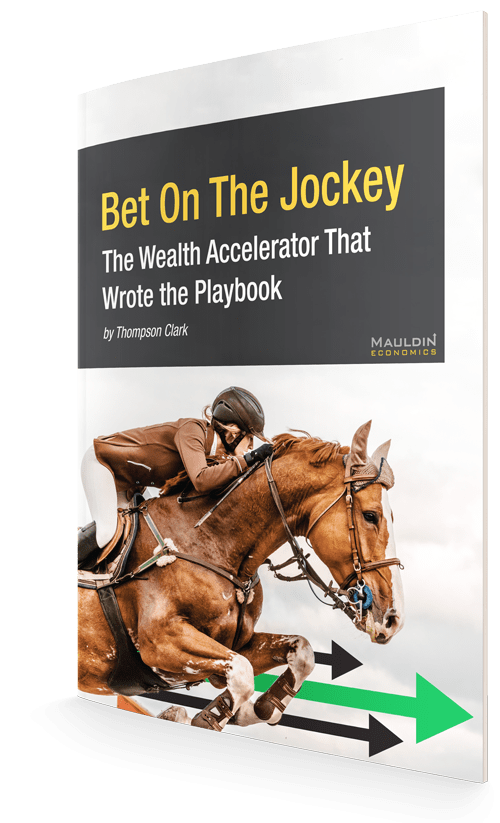 I'd like to send this to you right now.
Because while this company is an incredible start for anyone's first Wealth Accelerator, it's certainly not the only one I'm excited about today…
You see, back in January 2017, I recommended another deal-making conglomerate to my readers, calling it "The Next Berkshire Hathaway..."
And I meant it.
This company is run by a Wall Street legend, with a MONSTER 25% stake in the company…
That's a lot of skin in the game.
Now listen to this: In my first report a couple years ago, I laid out the case for this Wealth Accelerator's path to becoming a 100-bagger.
Here's exactly what was published, word for word:
"…Berkshire Hathaway took 13 years to multiply 10-fold from 1964. By the end of its 19th year, it was a 100-bagger. Think about that. Thirteen years gets you 10X. But if you waited just 6 more years, 10X becomes 100X. The big returns are really back-end loaded. You have to hold on to these stocks and go for a long ride."
Well... Over the last 10 years, this stock has grown from just over $2 to over $80. Resulting in a 35-fold increase!
Its chart demonstrates exactly the pattern I predicted all those years ago.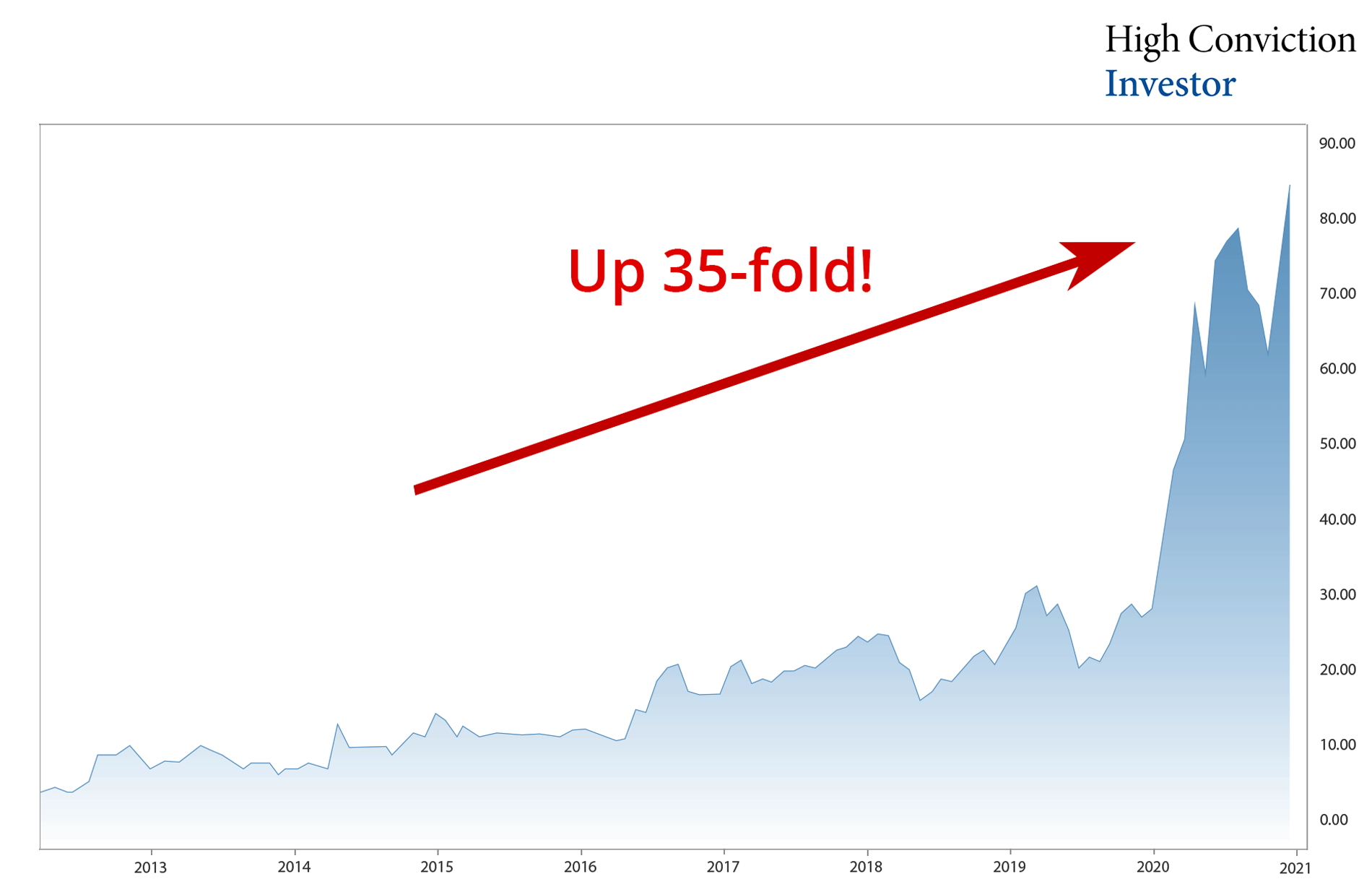 Anyone jumping in now is in the opportunity of a lifetime.
Because the timing simply couldn't be more perfect.
According to Bloomberg, thanks to the insane record year of $170 billion in investment banking…
This company has made it to the top of the Fortune's 100 fastest-growing companies.
And there's no signs of it slowing down.
In fact, one of the newest members of its leadership team just helped a similar company grow its revenue by 89X! Already, his impact is starting to be felt.
In the latest quarterly report alone, its revenue has grown nearly 70% year over year!
For years I've patiently waited for this stock to hit this crucial tipping point, because I KNEW it was coming.
And I want you to jump on this rocket with me—BEFORE it enters the stratosphere.
I put all the details about this company…
Its ticker, my analysis of how high this stock can go, my buy-up-to price…
And step-by-step instructions on how to get in position with just a few clicks of your mouse.
It's all in a report I'm calling "Buy This $2 Billion Deal-making Machine."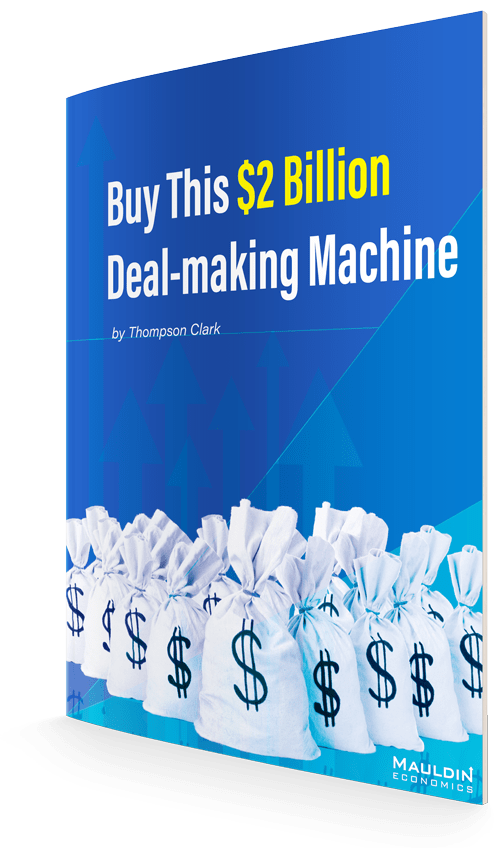 With these reports in hand, you'll have everything you need to take advantage of this potential 100-bagger yourself.
No prior skill or experience required on your part.
Obviously, I can't predict the future, but my research has given me the confidence to expect this one will go up and up.
So by getting in now, my research suggests this is the best shot to reap maximum gains.
You just want to act fast…
With a simple Google search, I was able to see there isn't a SINGLE analyst covering this stock right now!
As more and more people get hold of my special write-up, the secret is bound to get out...
I'm sure some of my readers are actually analysts themselves...
And once word gets out about this Wealth Accelerator and they start issuing opinions, it's off to the races.
To make sure my readers get the best chance to be first in line for this opportunity, I've decided to protect this special report inside a brand-new research service I'm calling High Conviction Investor.

This is the only place in the world for folks to get my highest-conviction plays. The Wealth Accelerators that I personally invest in. Even better, all my readers will get the chance to get into my recommendations BEFORE I do.
Of course, company ethics policy requires me to wait after I publish a recommendation so readers can act ahead of me.
But I am absolutely buying the Wealth Accelerators I recommend.
Until now, I've kept my Wealth Accelerator strategy between me and some of my closest associates…
But with the dramatic reduction of Wall Street analysts, we have an unprecedented opportunity to profit from more Wealth Accelerators than ever before!
And while anybody is allowed to join High Conviction Investor today…
I still have to keep this group very small.
Based on the market cap and trading volume of these picks…
Plus the research we've gathered on my readers' portfolio size and trading habits…
I have decided to limit access to this service to a maximum of 1,000 new members.
Once the room is full, I'll have to close the doors.
If someone does decide to give up their access to this priceless information for any reason, I will grant access to one person from our waiting list.
I wish EVERYONE could join and profit off Wealth Accelerators, but this is the nature of the markets and liquidity.
Plus, these plays are all about "conviction."
And I know that with only 1,000 new members, I will always have the highest-conviction investors inside my circle at all times.
Here's How High Conviction Investor Works…
Every day I will scour the market for Wealth Accelerators hiding in analyst blind spots…
When I spot a stock that has 10-bagger upside or more, that's when the real work begins.
If it passes through my rigorous Wealth Accelerator criteria, I will craft a High Conviction Alert and send it straight to you.
I'll deliver my research in a simple format that you can consume in a single sitting…
Within minutes of receiving my email you'll know:
What it's worth…
Who's involved…
And how compelling is the upside—REALLY.
You'll be able to enter the trade right away if you want.
If there isn't room for 10X growth, it won't even make it to your inbox.
Now a quick note… all investing comes with the risk of loss.
You should never speculate on any stocks with money you can't afford to lose.
If you are not financially able to absorb losses, my research is NOT right for you.
If you are looking for "overnight gains," my research is NOT right for you.
What I do is look for the best of class, under-followed gems… the true Wealth Accelerators.
And remember, these picks are almost completely unknown to most of Wall Street…
And with 1,000 readers all over the world reading my research, word may spread fast.
So I recommend you do not let your latest issues collect any dust before opening them.
Otherwise, you may be late to the party.
In the past I've been able to track down about 1 Wealth Accelerator each quarter.
That's a shot at 10X gains 4 times a year.
However, with the changing times, I've been finding amazing plays, on average, once a MONTH.
And that will only get better with time.
In the past year, there have been over 585 wealth accelerators that ran for more than 100%!
In fact, there are too many to name so I'll just leave them for you to scroll through below.
Point is, once you're a member of High Conviction Investor, I'll send you AT LEAST one new Wealth Accelerator every month.
With that many life-changing opportunities coming your way, I wouldn't be surprised if your retirement was radically boosted after just the first couple months.
I don't want you to settle for 7% returns over decades.
And if you join today, I'm going to throw in a couple things to help you get started.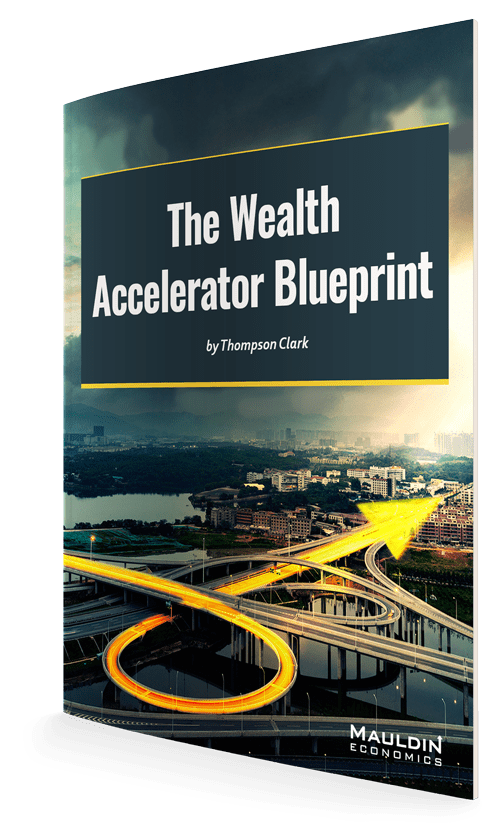 The Wealth Accelerator Blueprint
Most folks plow through piles of information to find the true value of an investment.
But after reviewing thousands of companies in detail, I've narrowed down some powerful profit predictors.
Inside my proprietary blueprint, I'll reveal:
The Wealth Accelerator Flash Screen. I'll pull the curtain all the way back and reveal how to quickly eliminate 85% of the market, and narrow your sights to just the very highest performers—FAST.
3 Tricks to Discover How Much an Investment Is REALLY Worth. If you have a basic calculator and 5 minutes, you could know how big the profit potential of a stock REALLY is. You'll be shocked what these simple numbers can reveal.
Three Factors to Understand an Entire Business. When talking 10- or even 100-baggers, there's only 3 variables to consider. Do this right, and your money will be safer than ever—and with immense upside!
And much more!
I want this service to be accessible for all skill levels…
That's why this blueprint is designed to show you exactly how I personally approach opportunities that I would put my own money into.
I'm sure I could sell this guide for a couple hundred dollars—call it $199.
But today, it could be yours free.
I'm also going to include Quarterly Wealth Accelerator Strategy Sessions.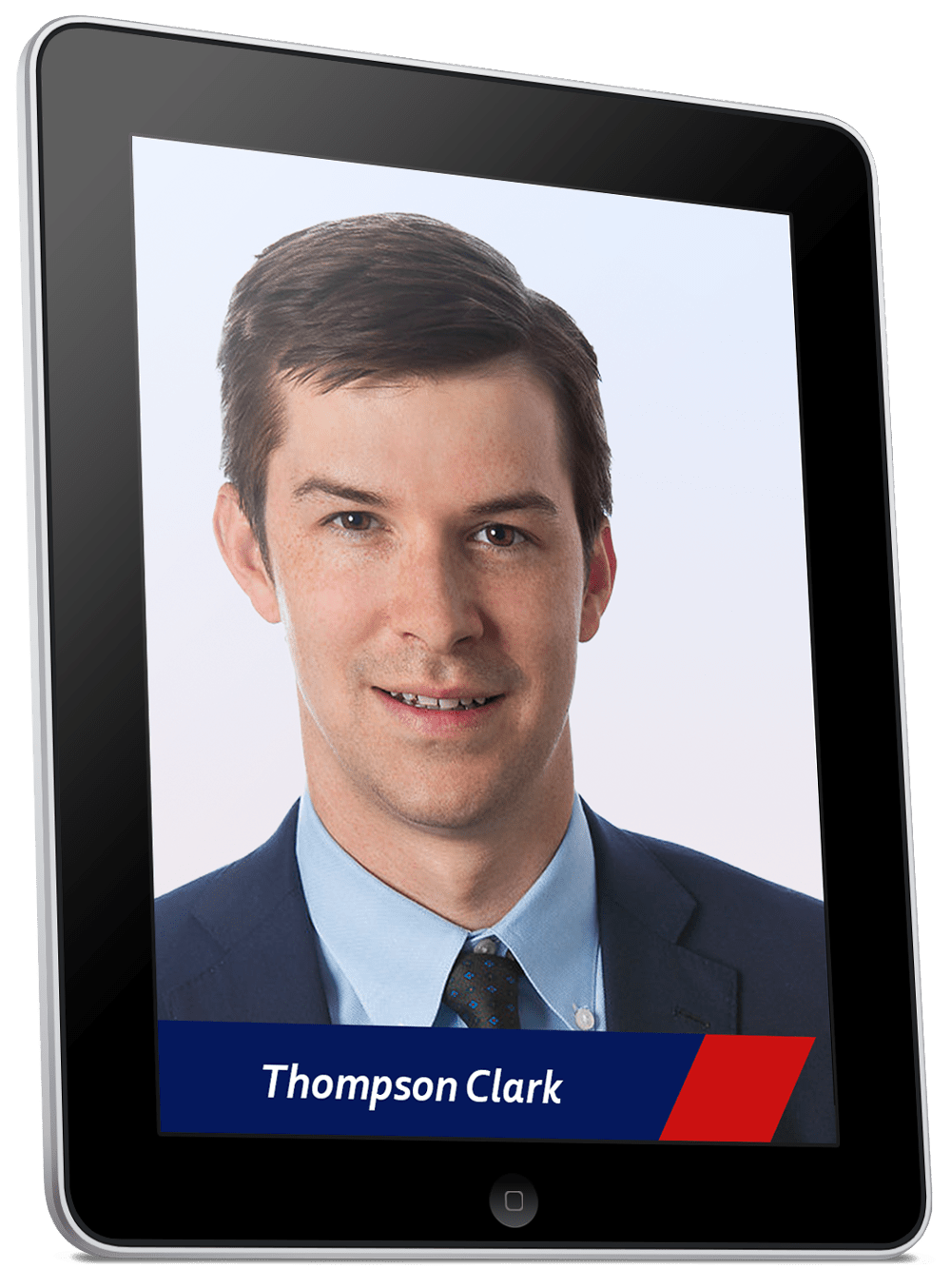 These are really exciting.
In the very best companies in the world, they have quarterly strategy sessions to dig into the changes in their market, their business, and where they are heading as an organization.
Well, these calls are when I and my 1,000 members will join together and discuss those very same things for our investing outlook.
What happened in the market last quarter?
What has changed that we need to be in front of next quarter?
How will we maximize our positions for the largest profits?
And the best part: We will be asking for your questions in advance.
So I'll be engaging with my members fully and making sure we leave no stone unturned.
High Conviction Investor is designed for a small, but tight-knit group of dedicated investors who want to accelerate their wealth faster than anyone else in the game.
And this meeting will reflect those values.
This won't be personalized investing advice for each member—it WILL be years of market experience focused on driving all our portfolios toward an even brighter, more profitable future!
It's hard to put a price on these videos, but I would easily charge thousands of dollars for the hours I put into this type of work…
Not to mention the direct access to me to ask any question you want!
Of course, when you join High Conviction Investor today, these exclusive events are open to you totally free of charge.
And if you need to make it work around your schedule, I've got you covered.
I've asked my team to set up a 24-hour, password-protected portal for members to access all their content and reports at any time, anywhere on the planet.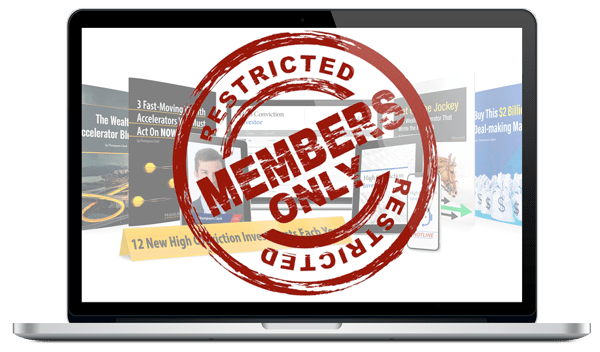 You won't have to keep up with any of your past High Conviction Alerts, I do all that for you inside the portal.
I wanted this to be so simple, and so easy, that anybody could enjoy this service with just a few minutes of free time.
But if for any reason you have any questions about your members-only portal…
Or any question about your benefits at all…
I want you to call our HCI Hotline.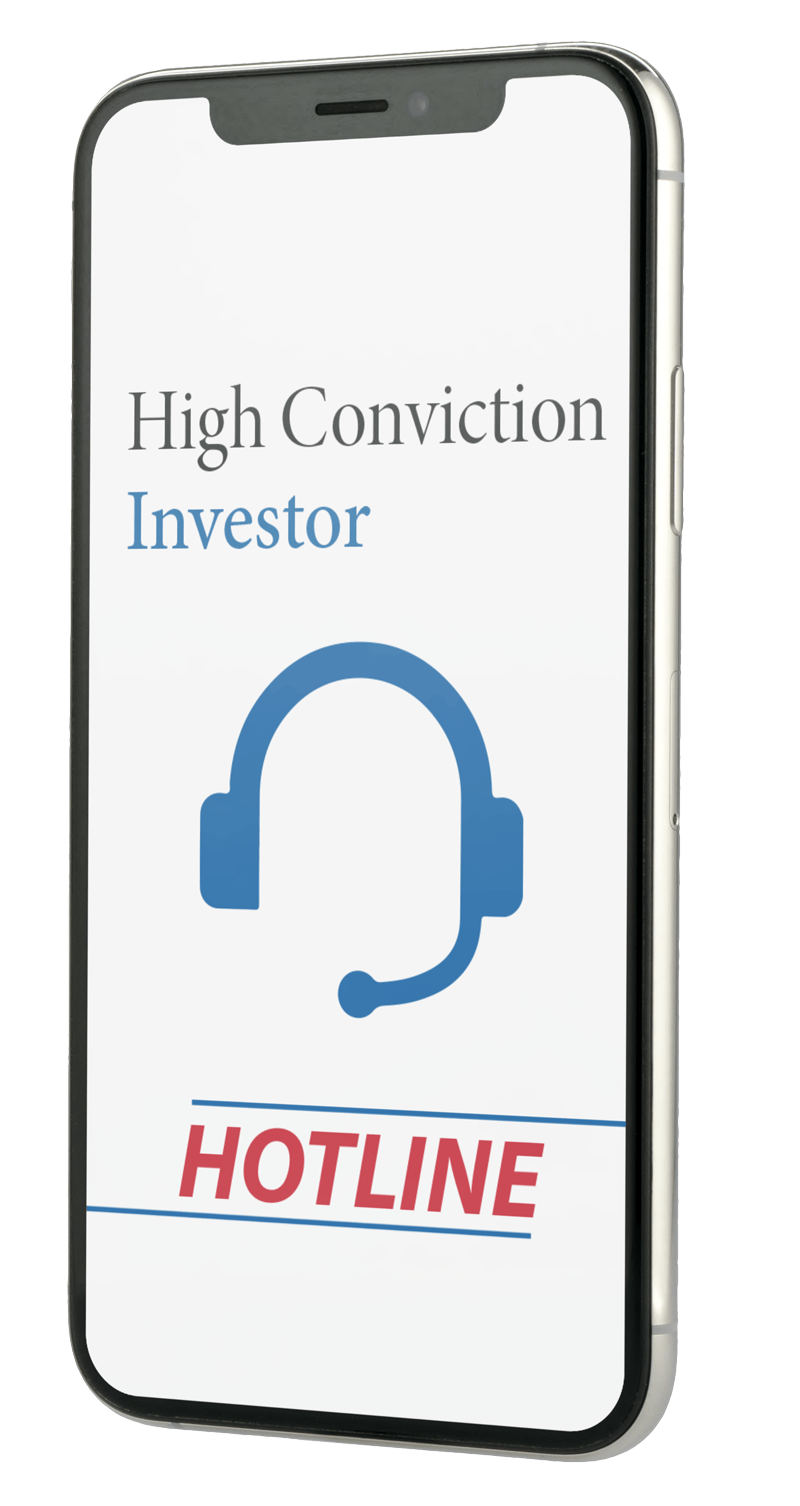 Think of it as direct access to me and my team. Never hesitate to use it.
Your portal and access to the HCI Hotline are included complimentary when you join High Conviction Investor today.
Listen, I expect Wealth Accelerators will make you very wealthy. And keep your money safer than the biggest names currently dominating the S&P.
Now remember, I want you to follow my suggestions for managing risk. Don't EVER go "all-in" on any one stock because you like the idea. Remember, safety first!
But I know there are some folks who would like to see proof of results right away…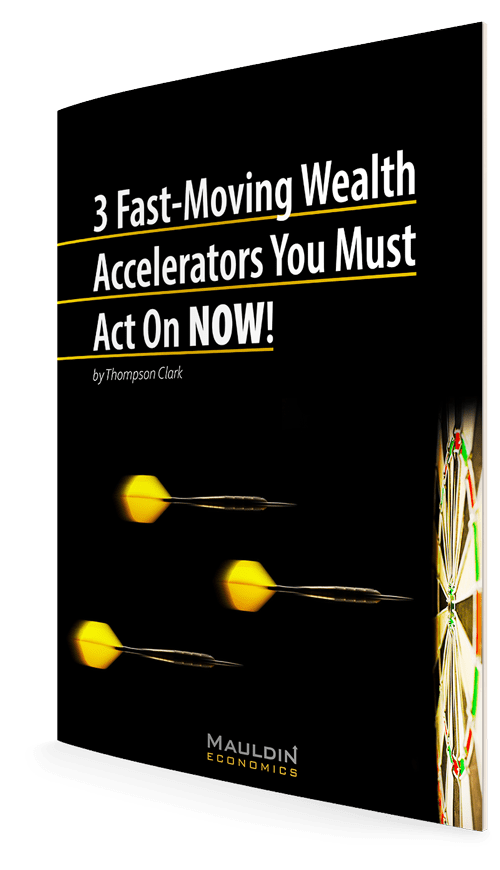 That's why I compiled THREE specific Wealth Accelerators for a special write-up called: 3 Fast-Moving Wealth Accelerators You Must Act On NOW!
As a minimum criterion to even be considered, all Wealth Accelerators must be undervalued…
And I really want to see at least 10X upside…
And these three plays are entering a stage of hypergrowth right now.
Have a look at this first chart…
Even though this first play has already seen over 40% growth, I believe this is just the start of an incredible run and most folks haven't picked up on it yet.
This pop kicked off on the day Bank of America analysts started looking at this stock!
It's only a matter of time before more attention from analysts hits this name.
For folks who move now, I believe this one could deliver a fast double, maybe even TRIPLE of your money…
With even more upside for folks willing to buckle in and hold for longer.
I considered placing this pick in my next issue of HCI, but I knew that would mean leaving some profits on the table.
That's why I created a special report, available for readers today. You just have to act now…
I don't want to say too much about this opportunity that may give it away…
But this exact situation is true with my other two special Wealth Accelerators as well.
They are all high-conviction plays that I would gladly hold for years. But have all the markings of a massive and imminent run-up now.
Just look at how similar all their charts are...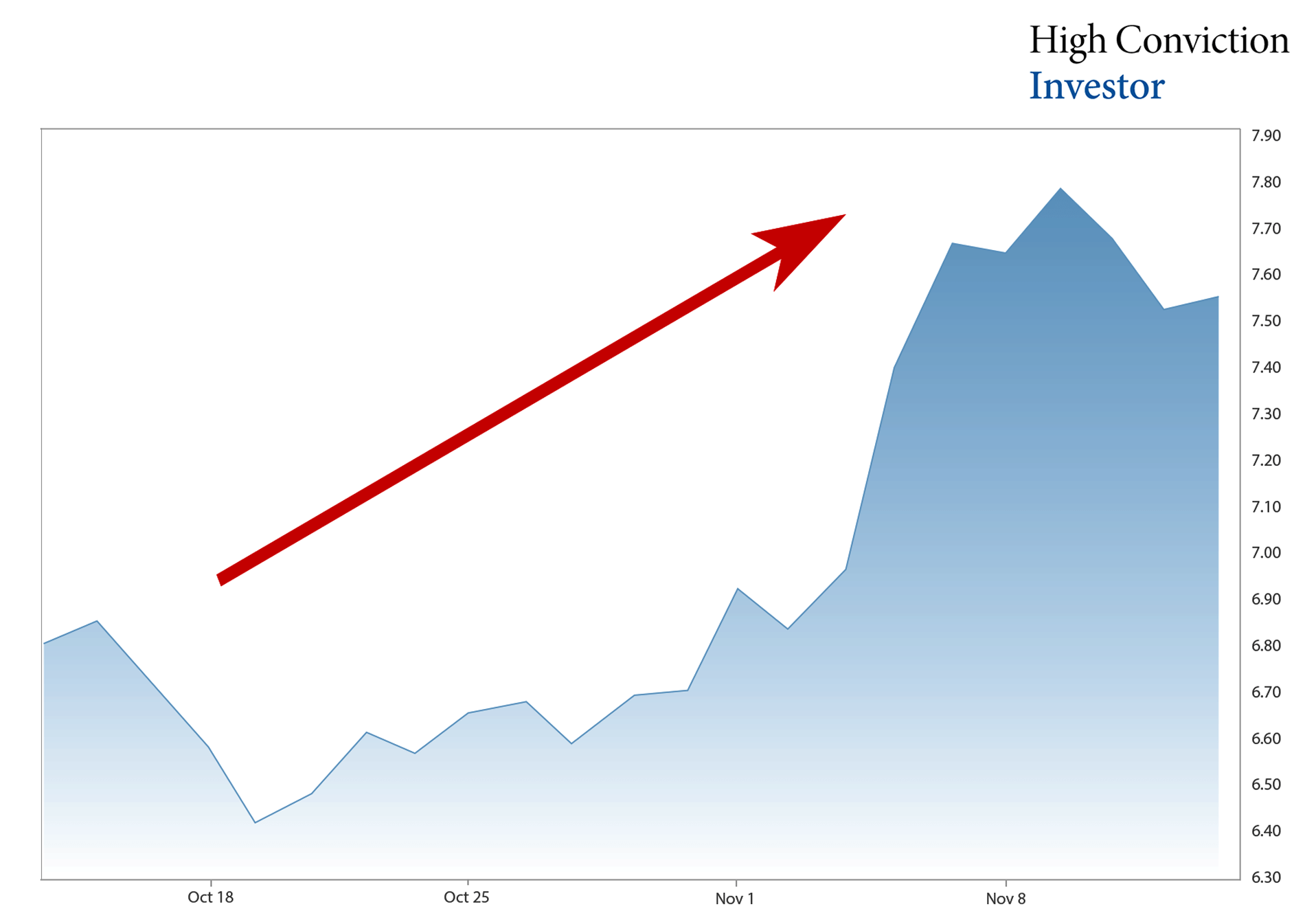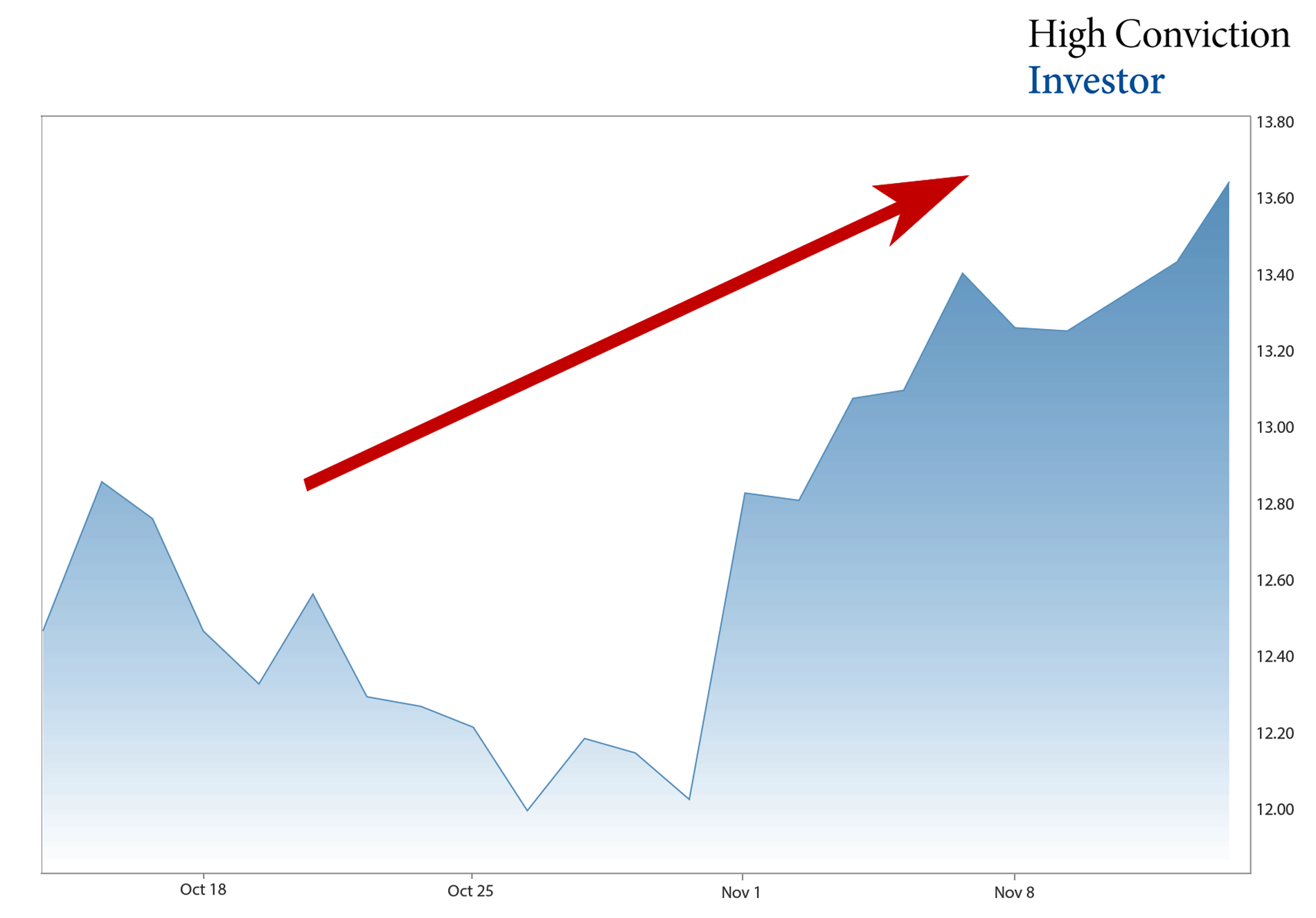 The most important part is we are NOT too late to capture the bulk of the gains here. Especially over the long run.
This is just the beginning.
And if you're one of the first 1,000 new members to join today—this special report with the three bonus tickers will be waiting for you in your private portal, free of charge.
Okay, we just covered a lot—so let's quickly recap.
When you join High Conviction Investor today here's what you get.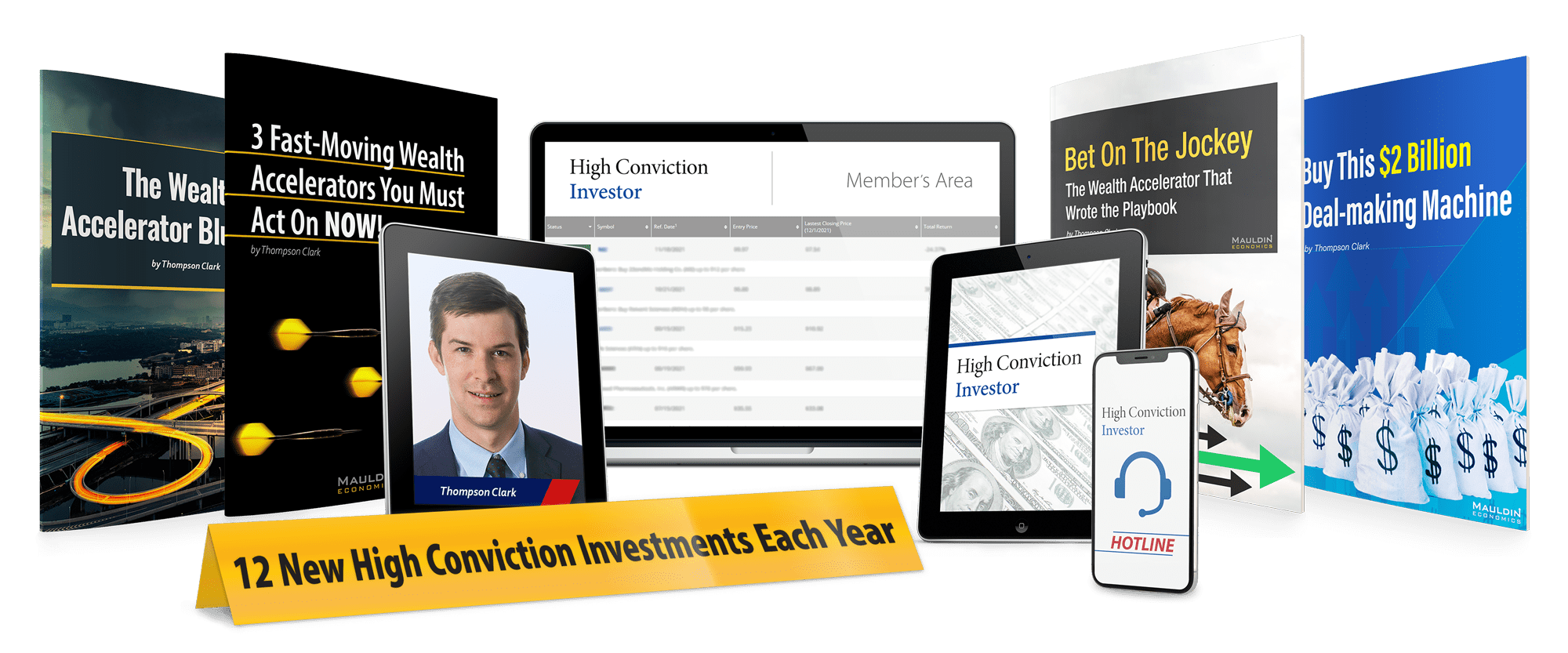 FREE REPORT: Bet On The Jockey: The Wealth Accelerator That Wrote the Playbook. This is my report on my #1 Wealth Accelerator, run by a billionaire stud.
FREE REPORT: Buy This $2 Billion Deal-Making Machine – This is the definition of a High Conviction play. This play has already grown 35x and I'm certain there is nothing but blue sky for folks who get in today.
12 New High Conviction Investments Each Year – If a stock doesn't have a clear case for at least 10x returns, minimum, it doesn't even get considered for this service.
BONUS #1: The Wealth Accelerator Blueprint
BONUS #2: 4 Quarterly Strategy Sessions With Me
BONUS #3: 3 Fast-Moving Wealth Accelerators You Must Act On NOW!
Private Members-Only Portal
HCI Hotline
As you can see from this monster value, I could easily charge $25,000 for access to High Conviction Investor.
And because spots are limited to just 1,000 new people, I would probably have no shortage of takers.
But I'm not going to charge anywhere NEAR $25,000…
At that price, members would be mostly the Wall Street analysts themselves…
Then I'd be doing all their homework for them!
So the price won't be $25,000…
Or $15,000…
And today I won't even ask you for the retail rate of $5,000…
In fact, for the first 1,000 new members who sign up on THIS page…
They can get everything listed here, the entire $25,000 value, at a very affordable rate that we priced specifically for the Main Street Investor.
It's so low, in fact, and I'm so confident in what my research projects, I believe you could pay for this rate several times over if you simply invest in the $2 Billion Deal-Making Machine.
You just have to click the link...
Which should appear as a big orange button at the bottom of this page...
Click that and you'll see all the details of our special offer.
Simply review the details and if you're ready, enter your information.
Listen, if you don't have 7 figures in your retirement portfolio yet, I want THIS to be the service that gets you there.
I want High Conviction Investor to restore your faith in simple, smart, highly profitable stock investing.
No gimmicky or confusing options plays…
No endless strings of "rollover" after "rollover…"
And no balloons or confetti for placing a new trade every day.
That's just how I do business.
And while I can never guarantee our investments will definitely hit 10X or more, because nothing is ever guaranteed in investing,
You can still see why my past readers have enjoyed my work so much.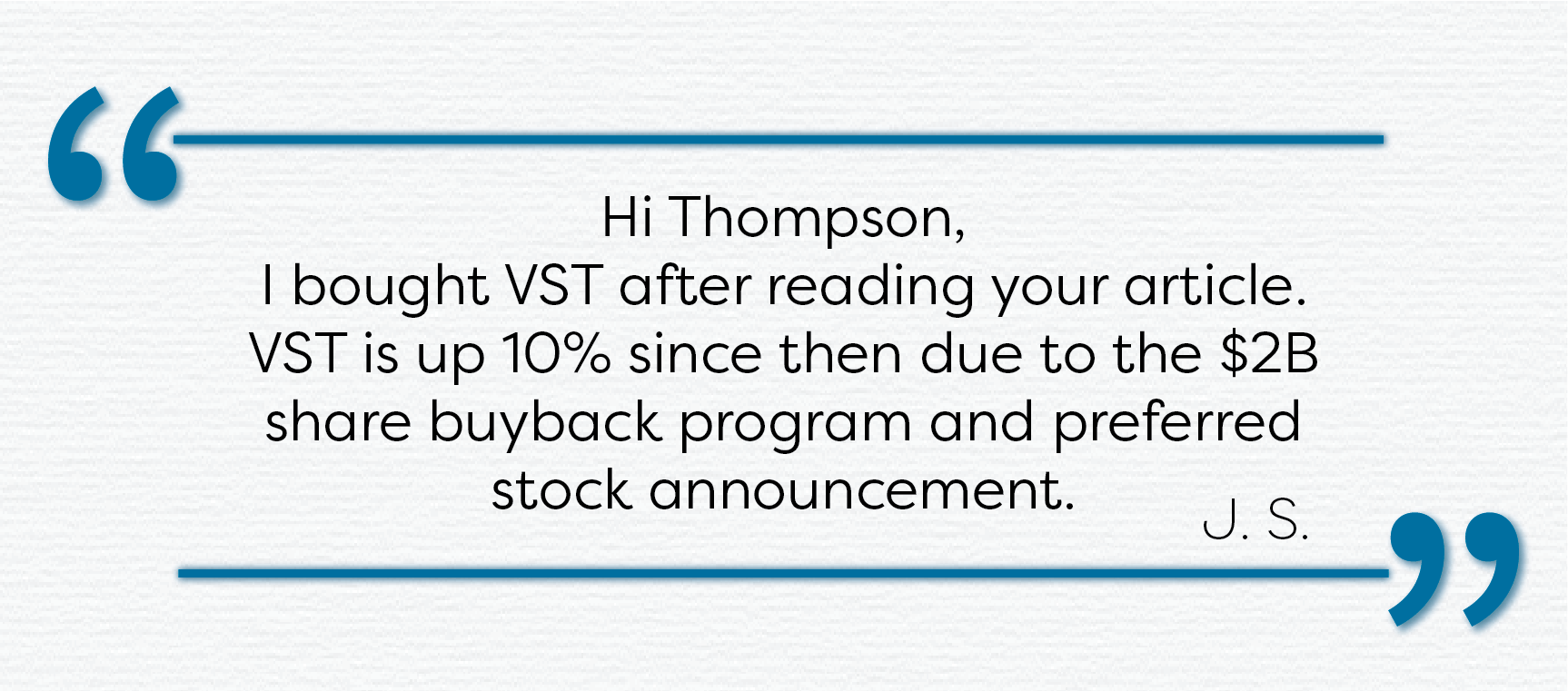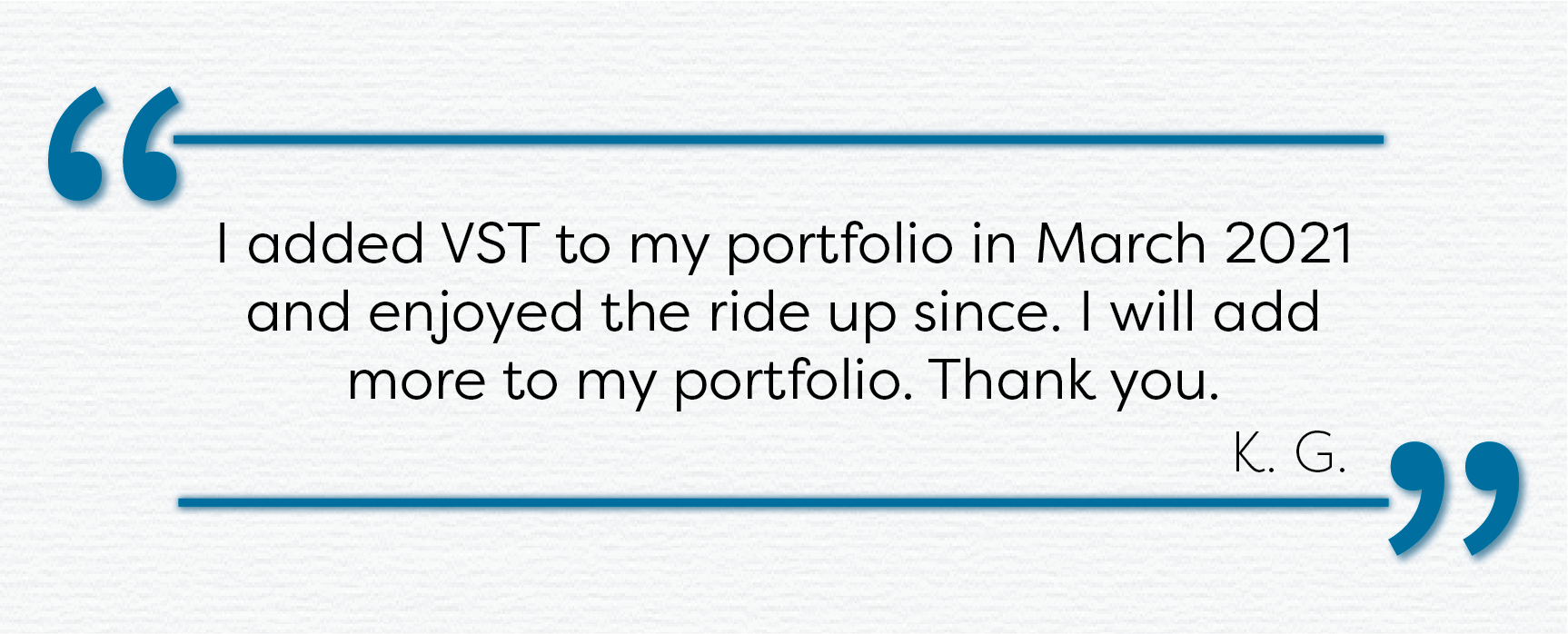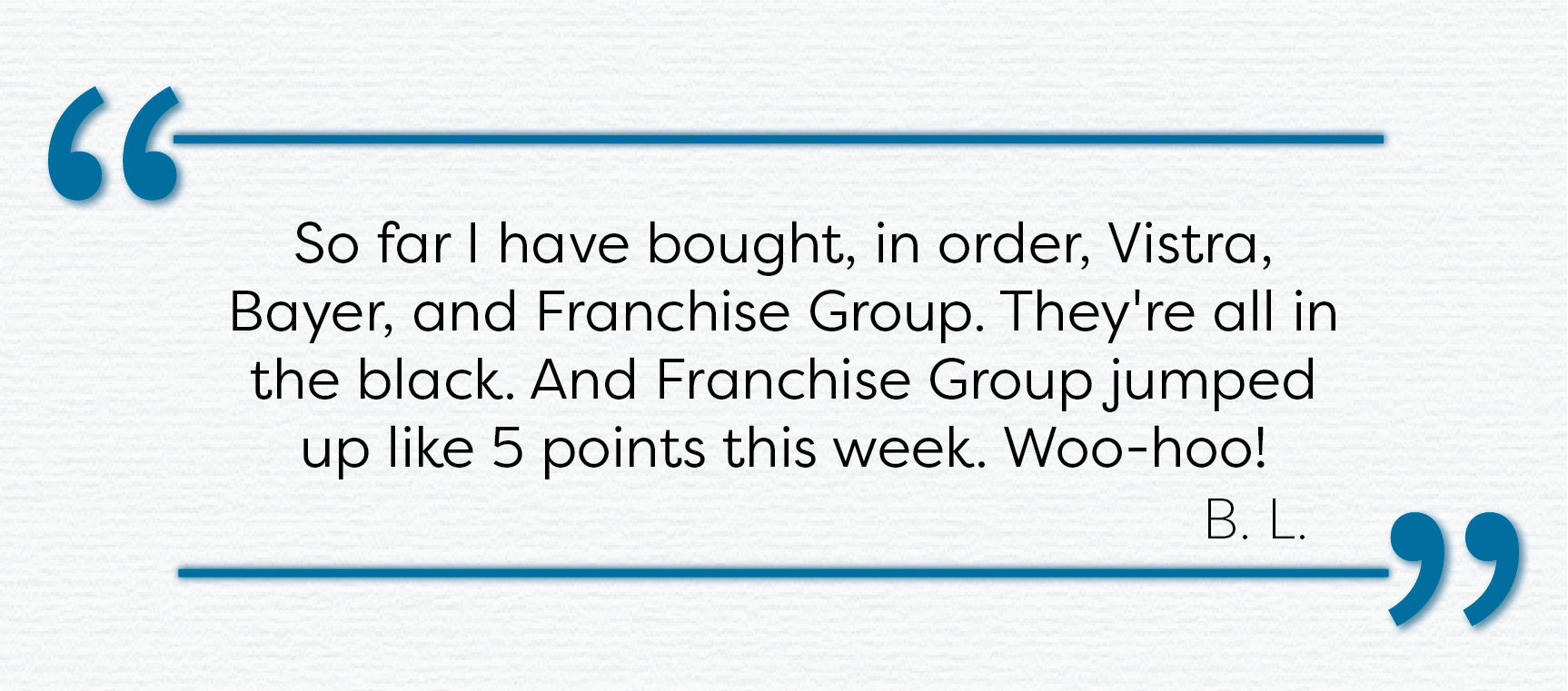 These are not Wall Street fat cats. They are regular readers of my research.
I want you to enjoy investing profits alongside them.
Just please remember, because of the undiscovered nature of these opportunities, I can only open High Conviction Investor to 1,000 new founding members.
After that, members can only be allowed in on a 1-in-1-out basis.
And since memberships are only offered in 12-month and 24-month packages, this may be your only shot to get in for a long time.
That's also why we cannot offer any refunds on this service.
These plays are not get-rich-quick.
It wouldn't be fair for folks to have to wait their turn for a spot to open up…
While others take early advantage of the long-term potential of these rare opportunities and simply take their money back.
No matter what, you can still get started with my #1 Wealth Accelerator today.
As I promised, that company is: Cannae Holdings.
Ticker symbol: CNNE
And if you want more Wealth Accelerator picks like these...
All that's left to do now is make a decision.
The way I see it, you have two choices.
Choice one is to go about your life as if you never saw this presentation…
As if you never learned about the death of the Wall Street analyst and how it is creating a brand-new and profitable class of investment opportunities…
As if you never learned about your chance to invest in the growing stockpile of undiscovered stocks that research suggests are a safer bet than the big S&P 500 names...
And offer multiples of their returns.
Go back to investing how you always have and ignore that the market is permanently shifting at this very moment.
Choice number two is to use Wealth Accelerators to tap into a growing gap of analyst blind spots and start collecting long-term returns that dwarf the markets.
The choice is yours and yours alone.
I can only lead a horse to water… But I can't make it drink.
With an offer as incredible as this—I'm sure the first 1,000 new memberships will vanish fast.
I'm glad they will go to folks who are decisive.
The kind of people who will commit to the potential of the picks we will discover inside High Conviction Investor.
Listen, if Wealth Accelerators have taught me anything, it's this:
When the writing is on the wall and the data is all pointing to one conclusion: Do not question it.
Do not hesitate.
Don't be left behind as this trend takes hold and the investing landscape changes forever… Right before our very eyes.
If you click the link below and spots are full, I offer my sincerest apologies.
I'm Thompson Clark.
Thanks so much for watching.