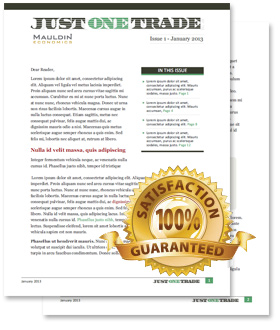 Introducing… Just One Trade
Exclusive, unprecedented access to the world's best investment minds... from Mauldin Economics
John's close friends – some of the biggest investment geniuses in the world – make their customers tens of, even hundreds of millions of dollars a year, year in and year out.
In up markets and down markets ... in blue-chip stocks, in tech stocks, biotech stocks… in commodities, bonds, currencies – in just about every asset class you can imagine. You know many of his contacts. Many are quoted nearly every week in John's free e-zines – because they're the best in the world.
But now, because the next phase of the ENDGAME of the debt SuperCycle is hitting now … and because old economic theories and trading methods won't work in the months and years ahead ...
It's time to develop new strategies... new ways to invest, new ways to look at the investment world... and most importantly, new ways to protect and grow your money.
And now – for the first time ever – John's billion-dollar Rolodex of world-class economists and fund managers will regularly share their top investment themes with YOU – via the Mauldin Economics research team.
Mind you, they won't always be able to disclose what they're buying or selling; sometimes they simply can't; they manage money, and doing so would sometimes be a conflict of interest for them.
But when they can't, they will offer my team exceptional macro-economic guidance, right down to a particular country, sector, and even a specific industry.
That way my analysts will always be able to convert my hedge fund friends' ideas into specific, actionable buy and sell recommendations for you.
Investment recommendations to capitalize on what my friends see happening in the markets – and where the biggest profit opportunities are.
World-class economists. Billion-dollar hedge fund managers who make money for their clients year in and year out. Investment gurus all over the globe. All friends of John Mauldin.
The perfect solution to the new game of investing. At a perfect time – when the ENDGAME of Western governments' crushing debt loads are impacting the markets from the ground up and turning them upside down.
That's what this very special new service from Mauldin Economics is all about.
Yes! Sign me up for Just One Trade
With Just One Trade, John's billion-dollar Rolodex becomes your billion-dollar Rolodex.
Call it your personal hedge fund. Call it your ticket to the new game of investing. Either way, Just One Trade is unlike any financial publication you have ever seen.
You get all the details of every investment, the reasons why the team is making the recommendation ... how to buy the investment ... and suggestions on how to reduce your risk by using specific timing methods, buy prices, protective stops, and other risk-management techniques.
Naturally, when it comes time to sell the investment, you will get equally in-depth analysis.
You get exposure and recommendations in every asset class, from stocks and commodities to bonds, currency ETFs, and real estate.

You get diversification, both domestically and internationally. All recommendations will be easy to act on, using US-based exchanges.
In addition, as a subscriber to Just One Trade…
You receive special reports or webinars whenever market conditions warrant. Exclusive briefings at key market turning points, featuring members of the research team and even some of the experts we rely on.
We don't think it's a stretch if we were to say that a service like this, if you could find one, is priceless.
But you get to try Just One Trade completely risk-free. If you're not satisfied with Just One Trade at anytime during the first 90 days, simply cancel your subscription for a 100%, no-questions-asked refund.
When you sign up today, you will receive:
Just One Trade for the introductory rate of only $2,495 a year.
Every buy, hold, and sell signal the research team issues – all based on timely macro-economic insights from John's inner circle of world-class economists and top global hedge fund managers.
Exclusive special reports or webinars whenever market conditions warrant.
12 fully packed issues, plus continuous updates and full access to our website.
90 days to decide if Just One Trade is right for you, with a 100% refund if you decide to cancel during that period… or a prorated refund for the balance of your subscription if you should decide to cancel after the first 90 days.
PLUS, with Mauldin Economics' Auto-Renew Service, your subscription will automatically renew at the retail price of $2,495/year, and it won't run out until you say stop! Don't worry, we'll always notify you before renewing your subscription, and you can cancel at any time.