This is a one-time-only offer: Get it now
For New Subscribers Only:
Everything you need to get started with ETF 20/20 is on its way to your inbox right now. It should just take a couple of minutes.
Thank you for joining ETF 20/20. If you took all your opinions from the Internet, you would think all people care about right now are cryptocurrencies.
So, it's nice to know there are sensible people who want to "get rich slow."
Unlike my 8th grade girlfriend, who asked me a while back if she should buy some bitcoin...
Uh oh.
If you're the go-to guy on investing among people you know, you probably have a similar story.
Anyway, the ups and downs of bitcoin and other cryptocurrencies are causing chaos and confusion.
Some interesting headlines which kind of sum up the mania:
"CRYPTO CARNAGE" —CNBC.
And better again...
"Is bitcoin's Black Tuesday just another reason to buy?" —Vanity Fair
"Bitcoin Christmas presents are now underwater." —Quartz
I append no comment.
Q. What does all this have to do with ETFs?
A. ETFs for the Long Run
Look, if you're one of the people who made a ton of money on cryptocurrency... great!
Me...
I prefer being able to sleep at night, get rich in a sustainable manner, be the ant rather than the grasshopper.
I've lived and traded through a few bubbles at this point. And I can tell you, people will always find something new to speculate on. This time around, it is bitcoin. That is at least partially fueled by the ability to check crazy swings on an app 50 times a day—gotta have that adrenalin rush!
But before that it was dot-com stocks and tulips and so on.
A decade or two from now, as we go back and look at financial history, we will look at 2017–2018 as the crypto bubble.
Here's a reason this is important, even if you'd rather buy a Beanie Baby than a bitcoin right now:
Speculative mania is everywhere, not just in crypto. I said on Bloomberg recently: "The ETF world is a bit like ice skating, where everyone was satisfied with triple-leveraged ETFs for years, but now quadruple-leveraged ETFs have appeared on the scene."
So, as an ETF investor right now, you have to avoid the more... maniacal ETF products. You also have to make sure you're ready for a big market event—an event that would make the recent correction look like a tiny tremor.
In ETF 20/20, we don't muck around with leveraged ETFs, and the portfolio is constructed to hold up pretty well even in the worst bear market (remember those?)
But if you think that February's correction was only the beginning of a new, more turbulent phase in the markets (I do), and you want to be as prepared as you can possibly be, there's something else you want in your arsenal...
Fast Track Your ETF Knowledge with
My ETF Master Class
With their low fees, diversification potential, tax efficiency, and other benefits, ETFs are a powerful weapon for investors to have. But there are also hidden risks, so being able to deploy them sensibly is important.
That's why last year, Mauldin Economics asked me to hold a special ETF Master Class for readers. I said "yes" because I'm a teacher—my high school teacher would probably be surprised by this, but I'm a teaching associate in the graduate business program at Coastal Carolina University.
The Master Class was filmed in front of a live audience who traveled to New York City to take part. They were happy they did—here's what one attendee had to say:
"With this class, Jared took me inside the building. For years I've been outside the building. I thought I knew enough about ETFs. But with this class, I now know so much more, and I know how to move forward with a strategy for successful investing."
You don't have to travel to New York City to get this Master Class. You can access all of the recordings from the course, all four modules, and all of the other materials that come with it right now. It's your fast-track way to really understanding ETFs, what they can do for you, and what you need to duck from.
Here's exactly what you'll get...
Replay of my live Q&A call on ETFs
This 29-minute long Q&A session covered ETF stuff that was keeping Mauldin Economics readers up at night, including the pros and cons of various ETF trading strategies, what happens if ETF companies go bankrupt, and lots more.

Module 1: Introduction to Index-Based Investing
An easy-to-absorb, 17-minute trip through the fundamental concepts of indexes and index investing.

Module 2: Nuts and Bolts
This 17-minute module covers different types of funds, the explosive growth in the ETF industry, how ETFs are created, liquidity issues, outperformance trades, hedging, and more.

Module 3: Behind the Scenes
Here, we take 24 minutes to go underground: You'll learn all about ETF market making, the guts behind the whole system, exactly what happens when you hit the "buy" button, and more.

Module 4: Advanced Concepts
Time to get out into the weeds on derivatives, swaps, volatility ETFs, short selling, and more. In other words, the things that most ETF investors should probably stay away from (but you need to know exactly what to stay away from).

Bonus Report: 3 Red Flags to Watch for When Picking an ETF
In this report, you'll immediately learn three key criteria that could determine whether your particular ETF is a money-making machine or a drain on your portfolio, so you can start to "fish" for ETFs yourself.

Bonus Report: The 5 ETF Trading Strategies You Should Know About Before Investing
One of the most important things an investor can learn is how to switch strategies when a strategy you're using just stops working. But you can only do this if you're comfortable with other strategies. Here, I break down the mechanics of how five key ETF trading strategies actually work, and lay out the potential benefit and pitfalls of each.
The knowledge you gain from this course gives you a bird's-eye view of the entire sprawling city that is the ETF industry.
ETF 20/20 gives you access to a hardworking portfolio, and you will be learning every month. But I have no doubt that you will have a macro idea you want to express with an ETF that we don't cover in the newsletter.
And that's where the Master Class is invaluable, because you'll have learned what way you should go about it. Kind of the difference between giving a man a fish and teaching him how to fish.
The Master Class is also an ideal companion to new, more volatile market conditions. Plenty of opportunities are going to start appearing, and soon.
Now, the list price for the ETF Master Class is $299, and it's great value at that. There are few people in the industry with the breadth of ETF experience I have.
But you won't pay $299. If you want to see your exact offer right now, just click the button below. But I think you should read on...
Here's the thing. If you're going to spend the time to go through my ETF Master Class (and this is what smart investors should be doing, not hitting refresh on Cryptomaps), it tells me that:
You're curious and keen to learn

You're tuned in to what ETFs can do for your portfolio

You don't get your head turned by every burgeoning bubble.
All of which means:
I'm pleased you're a subscriber to ETF 20/20
Which is why, if you take this offer today, you'll also...
Become a Lifetime Subscriber to ETF 20/20
That's right—lifetime access to ETF 20/20, for as long as it's published.
No maintenance fees...
No renewal charges, ever...
No hidden "gotcha" fees...
Just a one-off payment.
And a money-back guarantee, which means you can try the Master Class and ETF 20/20 out for 90 days... risk-free.
Giving you the option to get every issue of ETF 20/20 for as long as it's published was a no-brainer because, as I said, the portfolio is built for the long term.
A snapshot of our goals:
Maximize returns (for obvious reasons)

Minimize volatility (to reduce the risk of panic-selling)

Minimize drawdowns (so the portfolio functions well even in a bear market)
We're not going for get rich quick ideas here.
That doesn't mean we don't get big, double-digit wins. You'll see those when you log in. But those ETFs are a smaller part of the portfolio.
What we are going for are ideas that get us rich in a sustainable way.
That's not going to garner any headlines on CNBC, but it is probably going to be good for your stress levels.
Your Secret Price for Lifetime ETF 20/20 Membership
and the ETF Master Class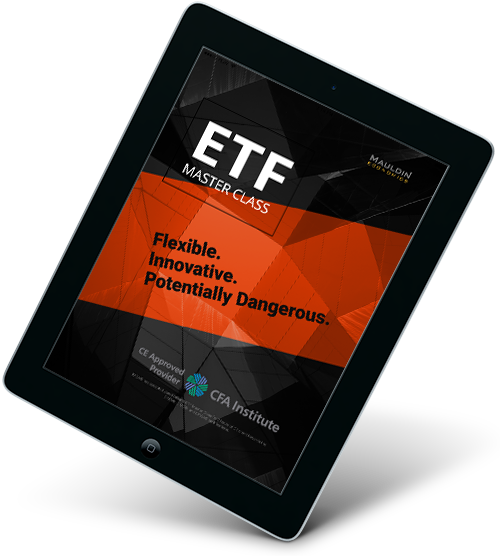 You won't see this offer anywhere else on the Mauldin Economics website, anywhere on the Internet, anywhere in an email I send you... actually, you won't see it anywhere but this page. And you'll only see it once.
How do I put a price on you getting ETF 20/20 for as long as it's published?
It's hard, but let's take five years as a "medium-term" example
Five years of ETF 20/20 at list price equals $395...
10 years is $790...
Etc.
And of course, you're getting the hugely successful ETF Master Class (listed at $299) too.
So if you take me up on this offer, and get instant access to the ETF Master Class and a lifetime subscription to ETF 20/20:
You'll get immediate access to a portfolio that aims to deliver 6–8% above Fed funds in a safe, sustainable manner... while learning what you need to know to invest in ETFs that express your own ideas.

You'll have an industry veteran who's traded through several bear markets at your side... and become an old hand at separating the ETF wheat from the chaff.

You'll learn how to use market sentiment and investor psychology to your advantage... and expand your horizons as we hunt down the very few things left at home and abroad that are undervalued.

And you'll have fun doing it, with a new and entertaining issue of ETF 20/20 sent straight to your inbox every month for as long as it is published.
All for a one-off payment of just... $249.
Let's go back to just the five-year example again. Five years of ETF 20/20, plus the Master Class, would cost you $694. So $249 is a 64% discount! (And remember, it's membership to ETF 20/20 for as long as it's published.)
And what do you think is going to happen within the next five years? Because I gotta tell you, I'm certain it's going to be a lot more exciting than the last few years have been. Time to get ready.
Sound like a good deal? Sounds like a good deal to me. I look forward to welcoming you on board.
Just one caveat—we don't accept bitcoin.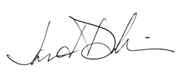 Jared Dillian


Join my ETF Master Class Today and
Get Lifetime Access to ETF 20/20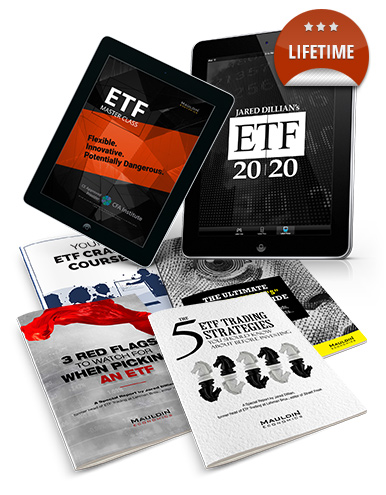 You're a step away from joining my ETF Master Class and getting ETF 20/20 for as long as it's published. One payment, no messing about with hidden charges. Honestly, it's a small price to pay for peace of mind as we hit peak mania and (soon) hit a downturn.
And I want to emphasize once more... this is a one-time offer, and won't be popping up anywhere else.
Opt-in for just $249 now and you'll get:
Instant Access to my ETF Master Class (valued at $299)

A lifetime subscription to ETF 20/20 (usually $79 per year)

Special report 1: Your ETF Crash Course (valued at $29)

Special report 2: The Ultimate "Street Freak's" Guide to Picking Trends, Trading Trends, and Mastering Your Inner Instincts (valued at $29)

Special Report 3: 3 Red Flags to Watch for When Picking an ETF (valued at $29)

Special Report 4: The 5 ETF Trading Strategies You Should Know About Before Investing (valued at $29)

A 90-Day Money Back Guarantee, so you can try it out with no risk
Simply enter your 3-digit CVV code below.