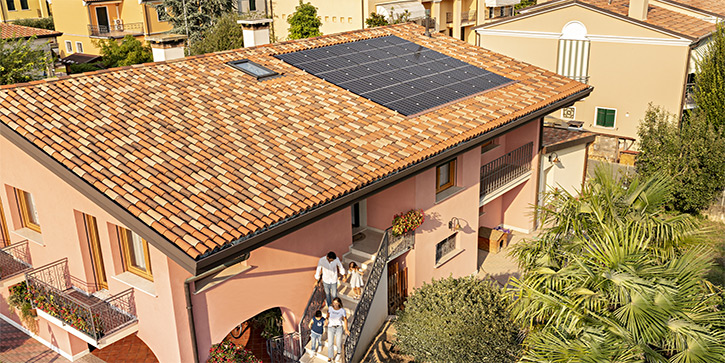 A Moonshot Moment for Solar
---
Residential solar installations saw a record first quarter. But then the coronavirus pumped the brakes on customers seeking cheaper energy solutions like solar, with one company even giving it away for free.
But the sun is set to shine on the solar sector again, with new solar installations set to rise 33% this year. Tesla (TSLA) wants in on that action. It announced last week that it's "introducing the lowest-ever cost to go solar."
Elon Musk isn't the only entrepreneur who sees a moonshot in the sun.
Warren Buffett, via Berkshire Hathaway (BRK.A) subsidiary NV Energy, signed a 25-year power purchase agreement for the energy generated by the soon-to-be-built Gemini Solar Plant, a $1 billion solar farm just outside of Las Vegas that is set to become the nation's largest.
Those are just some of the reasons why the solar revolution is starting to heat back up. Another is that a key piece of technology is here that can help solar eclipse other forms of energy.
And the company that makes it may not be trading in the shadows for much longer…
Don't Get Left in the Dark
The cost of solar-produced electricity has dropped 90% over the past decade. And the fact is, it's much more dependable than electricity delivered by overhead and underground power lines.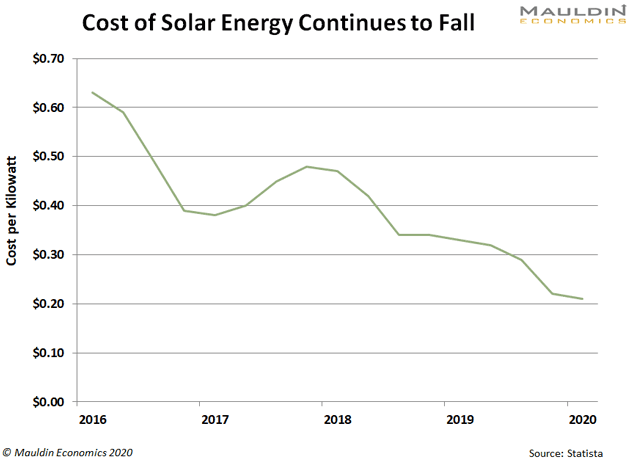 Our power grids are increasingly unstable. In 2017, over 36 million people were affected by more than 3,500 outages, just in the US. As the grid ages and climate events like hurricanes and wildfires become more extreme, outages are becoming more frequent.
The solution is collecting and using solar energy from solar panels—known as photovoltaic (PV) panels—that turn sunlight into electricity. These have been around since the 1950s, but they weren't very popular due to high costs… and they weren't much help at night.
Plus, most PV panels aren't plug-and-play. PV panels produce direct current (DC) power, and all the things we power in our homes require alternating current (AC).
So, you need another device to convert DC from the panels into the AC you need to power your home.
This device—called an inverter—could change the game for solar energy.
This Solution Could Help Solar Eclipse Fossil Fuel Energy
Traditional inverters require solar panels to be connected in series. The entire solar array then connects to a single inverter.
Sounds simple until you realize that, if one of the panels malfunctions, the whole system stops working. It's just like an old-fashioned string of holiday lights. If one bulb burns out, the whole tree goes dark.
California-based Enphase Energy (ENPH) has developed a device called a microinverter. These are small inverters that can be attached to an individual solar panel.
And the advantages of using a microinverter are huge…
The threat of a total system shutdown gets eliminated. You maintain power from your functioning panels while you solve the problem.
You don't have to worry about the system that delivers power to us—the grid—going out. In the US, parts of the grid are over 100 years old. If any part of this system fails, or gets upgraded or replaced, you won't be left completely in the dark.
The system operates more efficiently. Microinverters work to squeeze as much power out of your solar panels as possible, even on cloudy days.
That last part is important. Huge leaps in the energy density of batteries now enables homeowners to store power generated during the day for use at night. Energy density just indicates how much energy can be stored per unit of volume. Today's lithium batteries can store a lot of energy in a relatively small battery.
Solar panels and batteries are a great combination that will power your home 24/7 and even recharge your electric vehicle (EV) while you sleep.
But it's the second part that we're excited about…
A Grid-agnostic System: The Next Step for Solar Technology
Today, most solar users must make a choice about the grid.
Do you keep your solar system integrated with the grid?
Or, do you isolate it and go off-grid?
An integrated system offers the best of both worlds. It lets you tap the grid for power when you need or want to. But if there's a power outage, your panels cannot operate.
This is a safety feature that protects a downed and damaged grid from receiving electricity from solar-powered homes. One that leaves the owner with only the power in a battery, which typically holds just a couple days' worth of electricity.
Enphase is set to roll out its newest technology called Ensemble that solves this dilemma. Ensemble enables the microinverters to isolate themselves from the grid and maintain solar production during a power failure.
Combined with batteries, this backup system could solar-power a house indefinitely.
Enphase calls this a grid-agnostic system. We think it will make believers out of many who are on the fence about switching to solar power. We also see Enphase as being integral to the next phase of the solar revolution.
Ensemble will hit the market sometime this year, and pre-sales have already started. This is the type of catalyst that could significantly boost Enphase's sales… and its stock price.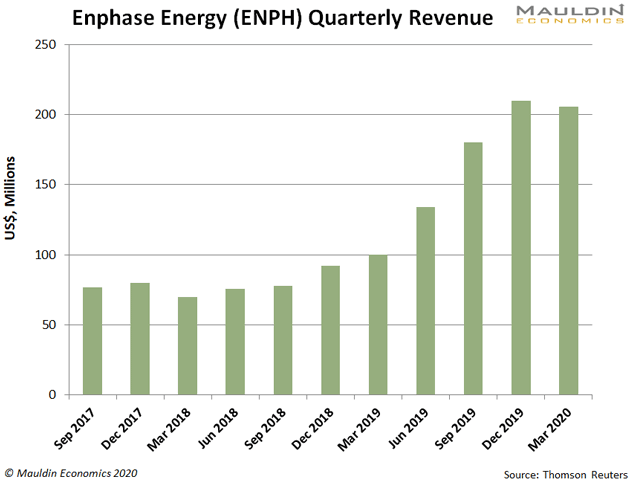 The stock now trades just above the $50 mark, and with a P/E of 32. We believe that the coming growth in solar can drive ENPH to $70 over the next couple of years, even if we assume a more average P/E of 20. And with solar costs set to drop by another third by 2022, that could give an even bigger boost to this potential 40% gain.
Have you made the switch to solar?
Parting Thoughts
There's a whole "battery" of news this week. Let's get right to it.
Our roads are about to look a lot different: EV pioneer Tesla (TSLA) just surpassed Toyota (TM) as the world's most valuable car company by market cap. Piper Sandler just raised its TSLA price target to $2,322.
A battery that outlasts your car: Elon Musk & Co. are set to reveal an EV battery that can be driven for one million miles. Tesla will reveal this at its Sept. 22 investor event, which it's calling "Battery Day."
Battery-powered bullet trains: On July 1, Japan's N700S bullet trains became the first in the world to run on battery backup. The upgrade will help passengers ride to safety in the event of a natural disaster that causes power failure on the island nation.
Solar jobs still hot? Pre-coronavirus, the Bureau of Labor Statistics predicted solar panel installation would be the fastest-growing job market over the next eight years.
Warming up to the post-ICE age: EV startup Rivian counts Ford (F), Amazon (AMZN), and Cox Automotive among the backers for its all-electric SUV and pickup truck launch in 2021.