The COVID-19 crisis has left us in an unfamiliar landscape, searching for answers. More than 40 prominent experts in economics, finance, and politics participated in a virtual conference to provide those answers.
Watch it NOW with your Virtual SIC 2020 Pass!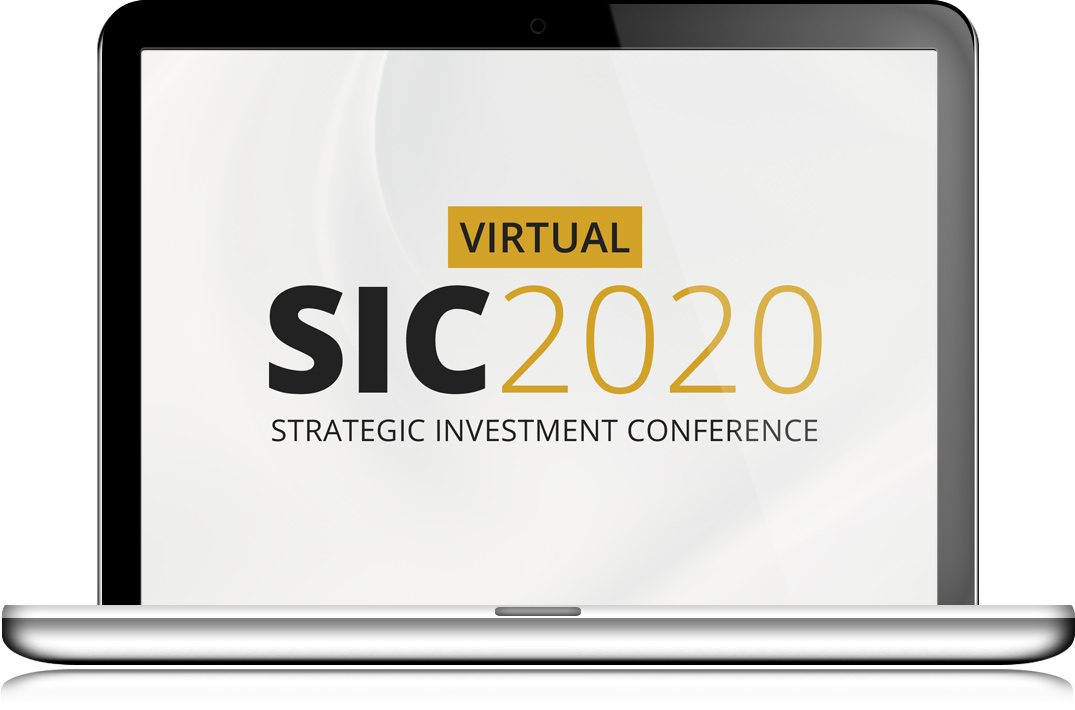 40+ world-class presenters and panelists, including Leon Cooperman, Ian Bremmer, Peter Diamandis, Neil Howe, Doug Kass, Niall Ferguson, Matt Ridley, David McWilliams, and Jeff Saut

35+ hours of gripping presentations and virtual panel discussions: What are the economic and (geo)political challenges we'll face in 2020, 2021, and beyond? And what profit opportunities will arise from the crisis?

Your Virtual SIC 2020 Pass gives you videos and MP3s of the entire conference so you can watch and listen at your leisure—over and over again

Skim the most important facts: No need to take notes—get full transcripts of every presentation.

Graphic knowledge: See the speakers' charts and images for at-a-glance information on key trends and data.
"As a first-time attendee, I would rate Day 1 as excellent, much of it superb. As to the technology: This feels like the future. This is how we will do things from now on. ... Kudos on a fine start and great show!"
—Paul V., Virtual SIC 2020 attendee, on May 12
Future generations may look back on the COVID-19 pandemic and its global economic impact as one of the greatest global disasters of our time.
They may also know where we went wrong, what we did right, and how we could have handled the situation better.
At the moment, we don't have the benefit of 20/20 hindsight yet. We are still in the midst of the crisis. Confusion reigns, and the need for clarity is paramount.
That's why we asked for answers from world-class experts with the knowledge to shed light on the most pressing issues:
How deep a shock is the current recession going to be, and what does the recovery look like in the near term?

What is the longer-term fallout on the economy, the markets, and society?

What profit opportunities will emerge from the rubble, and how do we seize them?
This conference was not about hunkering down... it was about getting a realistic picture of the carnage and then finding the bright spots and moving forward.
Order your Virtual SIC 2020 Pass today and don't miss a minute of what this year's attendees have called "the best SIC ever"—because it was also the most important one to date.
Watch 35+ hours of online presentations and panel discussions from the comfort of your home and on any device... your laptop, tablet, or smartphone.
See our world-class faculty—including big names like Leon Cooperman, Niall Ferguson, Matt Ridley, Neil Howe, Jeff Saut, Barry Ritholtz, Ian Bremmer, Doug Kass, Felix Zulauf, and many more—present valuable data and analysis. (Click here for the full faculty list.)
As a Virtual SIC 2020 Pass holder, you'll have access to professionally prepared videos and MP3 files, plus full transcripts and the complete slide shows our speakers used.
The middle of a crisis is not a comfortable place to be. Don't miss the opportunity to get expert guidance on what to expect, how to protect your assets, and how to prosper in the months and years ahead.