Bull's Eye Investor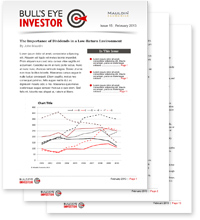 Introducing… Bull's Eye Investor
From Mauldin Economics
"Every hunter knows you don't shoot where the duck is; you shoot where the duck is going to be. You've got to "lead the duck." If you aim where the duck is at the moment you shoot, you'll miss it.
Bull's Eye Investing simply attempts to apply that same principle to the markets."
These words, penned by John Mauldin in The Little Book of Bull's Eye Investing, form the basis for our latest publication, Bull's Eye Investor.
In his easy writing style, author Grant Williams explores one promising sector each month, diving deeply into the macroeconomic forces that are shaping its direction. Drawing upon his own vast experience as a trader and hedge fund manager – as well as that of the Mauldin team of analysts – he selects the one company in that sector that's best positioned to profit from its upward trend. He backs his selection up with detailed analysis of the company, so that readers thoroughly understand why the recommendation is being made – and can then decide whether it makes sense for them. Then he makes specific buy-price recommendations and provides an upside target price.
Bull's Eye Investor isn't wed to any particular sectors or market. If there's unusual opportunity, it's fair game.
In Bull's Eye Investor, you'll also find…
Charts That Make You Go Hmmm… Each month, we'll show you three or four charts that are especially interesting, along with commentary about their implications for investors. It's a valuable window on new possibilities for independent investors.
Under the Radar A few of the most interesting stories we find in the news each month. They could be about economies, investment markets, science, technology… anything that we think investors might really want to know about.
Portfolio Updates A monthly review of the Bull's Eye Investor portfolio, including a recap of important news and any changes in buy or sell recommendations.
Bull's Eye Investor author Grant Williams is well known to readers of Outside the Box as a frequent contributor. He is also the author of Things That Make You Go Hmmm…, the wildly popular, free e-letter. He observes the world from Singapore, where he works with the hedge fund group Vulpes Investment Management.
Subscribing to Bull's Eye Investor is like having your own team of analysts to find you a prime investment every month – one with an unusually good balance of safety versus reward.
And your subscription is completely risk-free with our 90-day total satisfaction guarantee. You'll get 3 full issues to try it out, and if you decide within 90 days that Bull's Eye Investor isn't right for you, simply cancel and receive a 100% refund.