What You Need to Know About Patrick Cox's Tech Digest...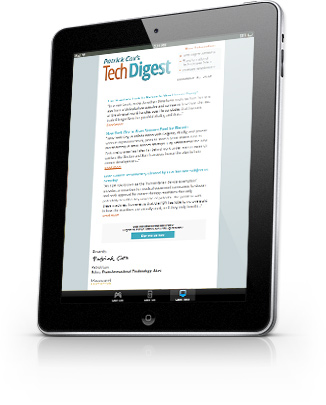 Each week, Patrick Cox and his research team send you an original article on one tech or biotech story which could affect the markets and your understanding of the future…
Patrick Cox's Tech Digest is 100% free. You can sign up and start receiving Patrick's weekly articles with NO future obligation.
Patrick and his research team scour journals and peer-reviewed data, then independently investigate each new idea and analyze what matters for your investing decisions in the articles they send to you.
If you're looking for a unique, informed view of the biotech, science, and technology stories that could impact your health and your portfolio, sign up for Patrick Cox's Tech Digest below.
Once again, Patrick Cox's Tech Digest is 100% free and independent research offered by Patrick and his team at Transformational Technologies, a sister site to the widely known and respected Mauldin Economics.
Stay Up to Date!
Simply enter your email below and click SIGN UP!