Lift Weights, Get Smart
Stay Up to Date!
Simply enter your email below and click SIGN UP!
July 9, 2018
Dear Reader,
Last week, I put forth the proposition that anti-aging and age-reversal breakthroughs ought to change the way you think about your own healthcare. The simple reason is that there will be a cutoff point in the not-so-distant future.
Those who live long enough will get access to regenerative biotechnologies that will reverse the symptoms of aging and extend healthspans far beyond what is currently feasible. Those who die before that date will, unfortunately, not.
That means the healthcare algorithm has changed. The payoff for making intelligent choices about our own lifestyles and healthcare strategies is greater than it has ever been before.
It's more important than ever before for older people to keep their wits about them. First because we will need to navigate the emergence of age-reversal therapies intelligently—and second because the global debt crisis is going to pose an enormous threat to personal savings and investments.
Therefore, I'm going to violate one of the great taboos and honestly discuss a topic no one wants to talk about.
The Unpleasant Reality of Age-Related Cognitive Decline (ARCD)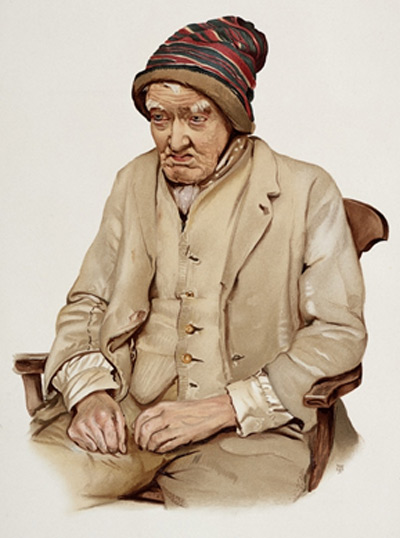 Source: Wikimedia Commons
Put bluntly, a significant percentage of older people tend to lose their mental edge. If you're part of that cohort, you've undoubtedly seen it happen in some of your friends. If you haven't noticed, it might be happening to you.
Regardless, it's time to fight ARCD. I'm not talking about severe cases of Alzheimer's and other types of dementia with clear genetic roots. I'm talking about a general reduction in various measures of intelligence in relatively healthy adults. Those measures include short-term memory, reasoning, learning capacity, ability to focus, spatial orientation, and reasoning.
In any other era, we might accept gradual intellectual diminishment as an inevitable part of aging—simply because it tends to happen about the time when people begin to retire. I don't think we should be so sanguine.
There's lots of evidence that you can reduce ARCD and increase the neurological complexity of your brain. In fact, some people's IQs increase throughout their entire lives.
I've previously covered some of the most promising biochemical strategies for fighting aging and the onset of age-related disease, but for most people, lifestyle choices will play a comparable role in their future health.
Today, I'd like to discuss the growing body of research indicating that ARCD can be overcome through strength training.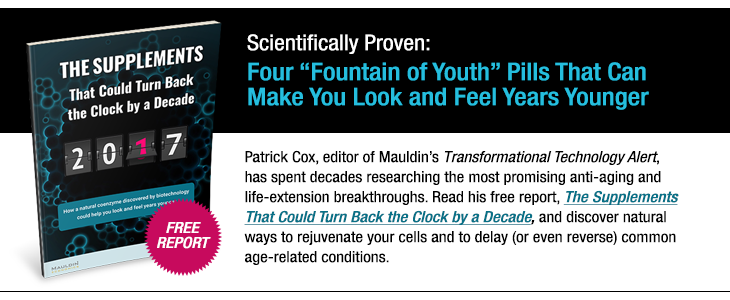 It appears that cognitive and physical decline tends to accelerate around retirement age not simply because people get old but because they become less active as they age. Fortunately, it's clear that these interconnected declines are not inevitable. Sarcopenia, the age-related loss of muscle mass, strength, and functionality, can be reversed in most people.
Barbells Are Powerful Medicine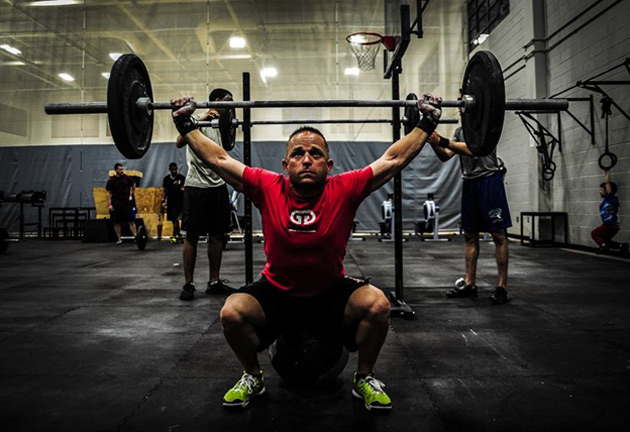 Source: Air Mobility Command
Most people begin to lose strength and muscle mass long before they retire, usually in their forties. That too, however, is linked to reduced physical activity. More than three-quarters of Americans don't exercise, and even fewer engage in strength training. And the numbers keep falling with age.
Fortunately, research shows that older people respond to strength training almost as well as young people. This is important because strength—especially leg strength—correlates with the neurological health of the brain as well as lifespans.
A particularly compelling study was published in the November 9, 2015 issue of Gerontology. It involved 324 healthy female identical twins, aged 43 to 73, in the UK. Over the course of 10 years, one twin engaged in leg-strength training and the other did not. At the end of the 10-year period, the twins who trained had significantly better brain health and cognition than the non-training twins. The great thing about this study, obviously, is that the use of identical twins eliminates most genetic components in cognitive health.
That physical training has intellectual benefits is not a new idea. The ancient Greeks invented strength training, and Aristotle believed that improving the body improves mental abilities and society at large.
I'm writing about this now because a recent Frontiers in Neuroscience article has shed light on why it's true.
Essentially, Italian scientists found that neurogenesis (he growth of new nerve cells and connections in the entire body) is impaired when animals aren't engaged in load-bearing exercise. They showed this by replicating conditions astronauts encounter in space, preventing mice from using their hind legs.
What the researchers found matched NASA's human data on the effects of a microgravity environment. Though they try to replicate the effects of exercise under gravity, astronauts working for extended periods on the space station experience multiple health problems. Telomeres, the "clock of aging," shorten and a variety of neurological problems occur, including vision disorders.
We now know a lot more about why this happens. The researchers found that load-bearing exercise provokes mitochondria in the large muscles of the legs to send specific proteins to the brain. When those proteins aren't being generated in sufficient quantities, neurological growth and function suffer.
Leg strength has already been linked both to life expectancy and cognition, as this Frontiers Blog story explains. It also sheds more light on mitochondria, the immortal, symbiotic pseudo-bacteria we inherit from our matrilineal ancestors. Cutting-edge research from several aging research groups has recently pointed to mitochondria as the master regulators of aging.
This is a fascinating discovery. It's almost as if mitochondria react to inactivity by initiating a shut-down procedure. But if you're active and engaging in load-bearing exercise, your mitochondria send signals to the brain provoking the neurogenesis needed for continued learning and mental function.
Obviously, these results should provide more reason for you to work out regularly. To review, there are three basic forms of exercise: low-intensity aerobic exercise, high-intensity interval training (HIIT), and strength training.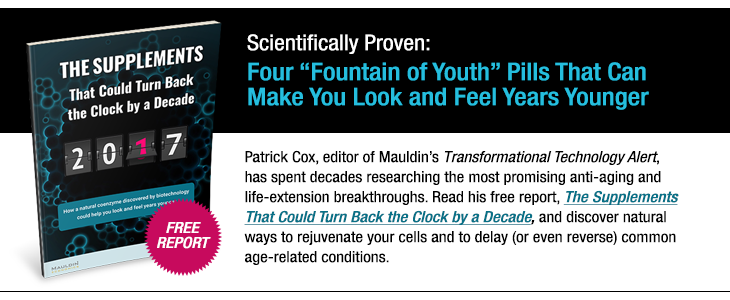 Walking is the most common form of low-intensity aerobic exercise, and it seems to be what most doctors recommend for their patients. Clearly, walking is better than getting no exercise at all, but if your goal is to fight sarcopenia, strength training elicits much better results. Weightlifting, when you're lifting heavy, also entails HIIT.
For that reason, I believe weight training should be a part of everybody's program to overcome age-related cognitive decline. Though it's statistically safer than most sports, especially biking, most people would benefit from a good coach.
If you're interested, a good place to start is Dr. Jonathon Sullivan's book, The Barbell Prescription: Strength Training for Life After 40.
This book does what I can't do in the space of this article—it delves into the scientific justifications for pumping iron. The foreword is written by Nassim Nicholas Taleb who wrote the best-selling book, The Black Swan.
There are days, by the way, that the loaded barbell fills me with dread. I won't pretend that it's always easy, but my wife and I are both stronger today than we were 30 years ago when we were in our thirties.
There's so much at stake today due to the imminent arrival of radical regenerative medicine, it's the smart thing to do.
One thing before I go...
A Historical Moment That Deserves Our Attention
We're on the verge of a historical moment: By next month, the current bull market in stocks will set the record as the longest in history. El jefe John Mauldin and the rest of the editors have prepared reports and video presentations to discuss things like: How much longer can this bull run last? What can you do to take advantage of the current action? And how can you prepare yourself for the inevitable (but maybe not imminent) collapse?
Keep an eye on your inbox for our "Bull or Bust" emails for some valuable information.
Sincerely,



Patrick Cox
Editor, Transformational Technology Alert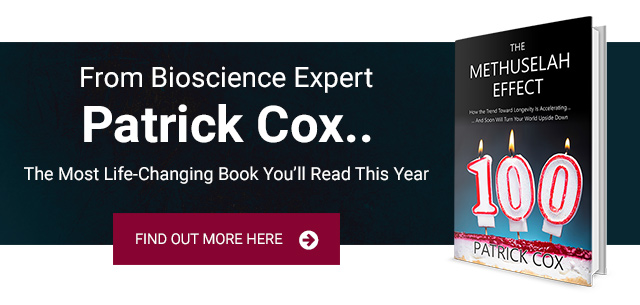 Discuss This
0 comments
We welcome your comments. Please comply with our Community Rules.