New Study Found Oxaloacetate Could Fight Cancer and Give Calorie Restriction Benefits
Stay Up to Date!
Simply enter your email below and click SIGN UP!
March 28, 2016
Dear Reader,
I hope you'll forgive me for being brief this week. Despite the help of an incredibly talented team, I'm a little overwhelmed by the many last minute tasks associated with finishing my book, The Methuselah Effect.
I've been researching next-generation antidepressants lately, so my impulse was to write about the statistical connection between slow economic growth and depression… the psychological type, not economic depression. These two types of depression are, however, intimately related.
Bad economic times can cause clinical depression, and vice versa. Psychological depression is a major cause of disability and lost productivity, contributing to slower economic growth. Not only does disability reduce economic growth, it increases healthcare costs.
This is a big problem. The World Health Organization reports that depression is the leading cause of disability worldwide, and in the West, it ranks as the top cause of disease burden—a combined measure of financial costs, morbidity, and mortality.
I don't think I've ever looked at major depressive disorders (MDD) as having such huge macroeconomic impacts. Disease burden, however, is the largest single drag on the economy. Just look at the healthcare business. It's the largest industrial sector in history, which makes up the lion's share of government spending.
You wouldn't know this, unfortunately, if you were only listening to the presidential campaign rhetoric or the media coverage. Most but not all politicians are completely ignorant of that fact that it is possible to create enormous wealth by increasing health spans.
We could accomplish that in large part by lessening the burdens on scientists working on anti-aging medications. But I'll ignore the inept political establishment and update you on a recent study about one of the most interesting compounds with potentially powerful anti-aging benefits: oxaloacetate (OAA).
Hopefully, OAA will extend your health span and help solve your financial problems. We'll worry about the rest of the world another day.
More Evidence of Oxaloacetate's Anti-Aging Benefits
Oxaloacetate is a compound our bodies use to carry out many important functions. That includes the formation of the molecules that form proteins and fatty acids. Most relevant to this article, it plays a critical role in converting food to usable cellular energy (adenosine phosphate or ATP).
It has long been known that the addition of OAA to cells dramatically increased ATP production. It wasn't, however, practical to supplement with the compound because it quickly degraded at room temperature. Until recently.
This problem was solved by an engineer who figured out how to "heat stabilize" the molecule. Since then, many scientists have begun investigating the use of oxaloacetate for a variety of conditions.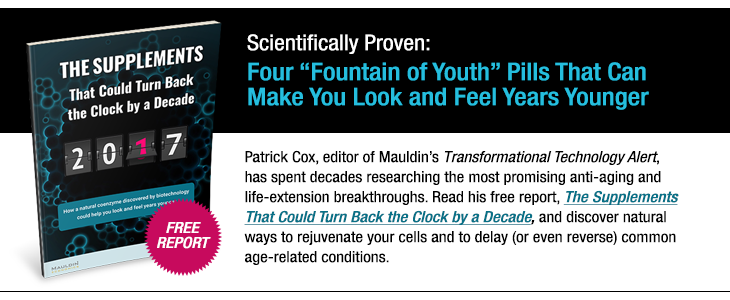 One of the resultant studies published in March 2016 has helped nail down exactly how oxaloacetate affects cellular function—as well as providing more evidence that OAA can help maintain youthful cellular function.
The lead investigator in the study is Russell Swerdlow, MD, Director of the University of Kansas Alzheimer's Disease Center and the KUMC Neurodegenerative Disorders Program.
Swerdlow's primary work with oxaloacetate has been in Alzheimer's disease (AD) and Parkinson's disease. With funding from the Alzheimer's Association, he studied the effects of OAA on brain metabolism in Alzheimer's patients. I believe he's still enrolling patients, but some are already being dosed, so we could see data by the end of this year.
Previous animal studies of OAA in Alzheimer's mouse models showed significant increases in short-term memory and decreases in beta-amyloids (amino acids found at high levels in the brains of Alzheimer's patients).
(Here's a good article from Stanford Medicine about beta-amyloids if you'd like more information.)
Two Takeaways from the Study
1. Oxaloacetate could help fight cancer
This is kind of complicated, but I'll keep it simple. Your mitochondria, the energy dynamos found in your cells, convert food into usable biological energy (adenosine triphosphate or ATP) in two ways.
One way is to utilize oxygen. It is called oxidative phosphorylation, and most of your ATP comes from this process. But your mitochondria also produce some ATP without oxygen through the process of glycolysis. It's the process of breaking down glucose to make ATP chemically.
(The Khan Academy has a brilliant tutorial on cellular respiration for those of you who would like to understand these processes more completely.)
Normally, glycolysis is fine, but excess glucose can increase glycolysis in cells. This is called the Crabtree effect, which is temporary. The problem is that cancers suppress oxygen utilization and rely on glycolysis permanently.
This is called the Warburg effect.
For this reason, scientists have speculated that we could fight cancers by inhibiting the processes that cause both the Crabtree and Warburg effects.
(A 2011 paper from BBA Bioenergetics discussing this possibility is available online at no cost. It is titled, "The Warburg and Crabtree effects: On the origin of cancer cell energy metabolism and of yeast glucose repression.")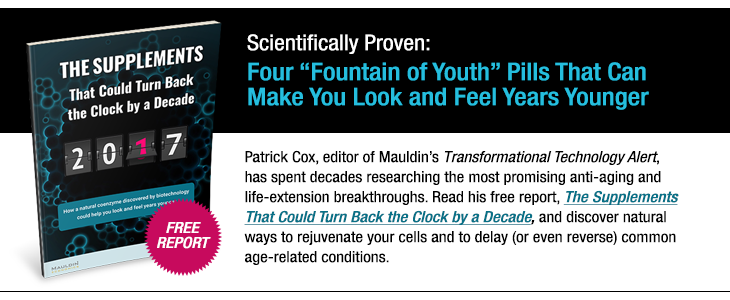 The point is relatively simple, however. The Swerdlow paper shows that oxaloacetate suppresses the temporary Crabtree effect in cells, so it may help prevent the Warburg effect and cancer. This is really interesting.
2. The compound could deliver many of the benefits of the calorie restriction diet
Another bit of important data from Swerdlow is that oxaloacetate increases the amount of activated (phosphorylated) SIRT1 protein in the cell. Scientists believe this protein is one of the most important life-extending gene proteins.
Calorie restriction (CR) also activates SIRT1. In fact, the Swerdlow paper seems to show that oxaloacetate's SIRT1 activation is similar to that seen in calorie restriction.
This may be linked to Swerdlow's conclusion that oxaloacetate increases both NAD+ levels and the NAD+/NADH ratio. I won't go again into the NAD stuff here because I've written extensively about it in the past.
However, it's clear that increasing both forms of nicotinamide adenine dinucleotide (NAD) is a good thing. There is evidence that the NAD+/NADH ratio specifically activates SIRT1 production, which may be a primary signal for activating SIRT1.
Another finding reported in the study is that oxaloacetate increases the amount of malate dehydrogenase, an important enzyme, which normally decreases with age. Without it, cells can become senescent. That means they stop dividing normally and just hang around causing problems.
The paper also reports that oxaloacetate doesn't change a number of important compounds that we don't want changed. It also increases compounds associated with the healthy production of mitochondria (COX2, PGC1alpha, PGC1beta, and PRC protein).
Mitochondrial dysfunction is one of the main causes of aging. So anything that encourages mitochondrial biogenesis (or the creation of new mitochondria) contributes to health.
Other Anti-Aging Compounds
There are, of course, other important anti-aging compounds out there.
Anatabine, for example, is also known to reduce beta-amyloids in AD animals like oxaloacetate. Unfortunately, this compound is no longer available over the counter, though Rock Creek Pharmaceuticals is taking it through human trials in Europe.
The compound has the potential to treat many age-related diseases, but the first indication, I believe, is psoriasis. Several hundred thousand people took anatabine when it was available, but I am hearing from some former users that OAA provides similar benefits.
The mechanisms of action for these two compounds are very different, however, so I wouldn't presume that one is a substitute for the other. Hopefully, we will find out that they are synergistic in their anti-aging impacts.
Other potentially revolutionary compounds are coming… some soon. And that once again confirms this fact: we really need bioinformatics solutions to help tailor individual regimens based on genomics and current health markers.
For the record, I have no financial connection to the company that owns the rights to the heat-stabilized version of OAA, which makes it a practical supplement. The company is private so you can't buy stock in Terra Biological, which markets OAA as benaGene.
Sincerely,



Patrick Cox
Editor, Transformational Technology Alert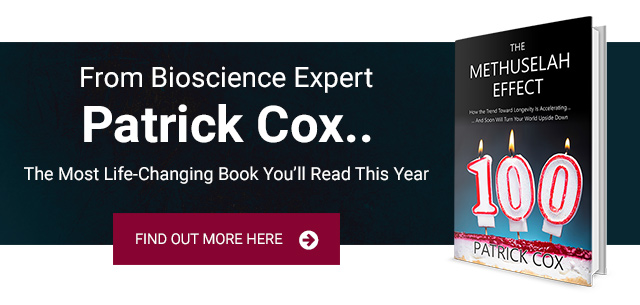 Discuss This
We welcome your comments. Please comply with our Community Rules.