The Cleanest Dirty Word in Energy
May 2013 | Issue 2.5
Download PDF: The Cleanest Dirty Word in Energy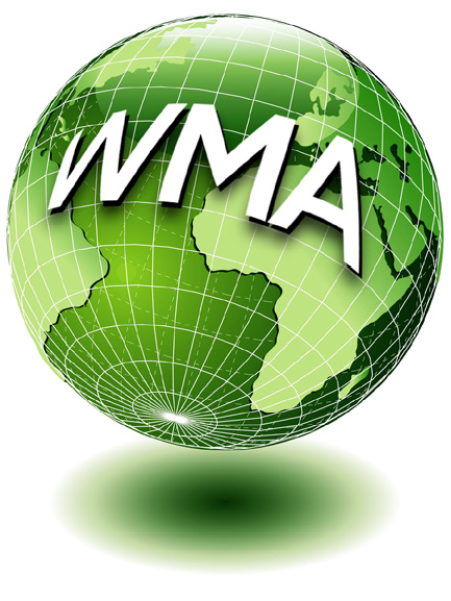 Dear Globalphiles,
IN THIS ISSUE:

 

Japan, the EU, and the US: don't fight their central banks ......................................................................3

 

Uranium giant Cameco has the "cake" and will munch on profits, too ..............................................6

 

A telecom with growth, a big dividend, and limited downside ..............................................................12

 

FCX & FNV: down but very far from out ...............15

 

How to temper volatility in a dollar-bearish strategy ...............................................................................19

 

Fracking doesn't alter the long-term outlook for oil .................................................................................22

 

Moscow and Beijing throw a wrench into the FATCA scheme .................................................................27
As most readers know, I live in Switzerland, although for the past few months I've been in Southern California. Having grown up here, the return to my youthful 'hood has stirred the gray cells, with some amusing and dusty memories randomly invading my frontal lobe.
One recollection in particular – I promise not to get all mushy, there's a point to this – was about my days as a paperboy. I was 12 when I took over the route from the college-bound teenager that delivered to our suburban ranch house and darn lucky to get it. My circulation (customers) was around 150, and I earned about 85 cents per customer per month. That's $127 a month at a time when my parent's monthly mortgage was $151. As I said, I was lucky. The kids I hung out with were squeaking by on a few bucks a week allowance.
Numbers seem to be compatible with my brain, and math has always been a snap for me. And soon after my new career started, I discovered the business section of the newspaper. Wow! All those rows and columns of numbers in the stock pages. I was hooked. I started reading the section while I folded and banded the papers.
One day I read about a local company, Cubic Corp., that was awarded a contract to supply voting machines to the county, a new concept at the time. The article said that these machines would sell like hot cakes around the country.
I had my dad buy four shares at $12.50 (we held the stock certificate as no broker would hold such few shares), sales of voting machines took off, as did the stock, and I sold my shares for $50. The following summer I used my windfall to fly to Iowa and see my relatives that were all farmers. It was one of the best experiences of my youth.
I learned an important lesson: hard work and information is rewarded. And the monetary reward meant freedom. I've been researching, buying, and selling stocks since. Our service here at World Money Analyst is a continuation of that theme. We work hard to give you the right information so that you can make great investments. Because freedom is what it's all about.
Yellowcake, Please, Hold the Frosting
The Tōhoku earthquake and the tsunami it triggered, although tragic, have faded from memory, but Japan continues to grapple with the consequences of the nuclear disaster it caused. With Japan readying itself for a restart of its nuclear reactors, Robert Ross looks at the uranium market and the impact on a major uranium miner this decision will have.
Alexei Medved shows us a telecom company that operates in the former Soviet republics with good growth potential and a healthy dividend. Then Adrian Day updates his gold and copper recommendations in light of the recent meltdown in gold, and concludes that the only thing that has changed is share prices, not the fundamentals.
Next, Axel Merk explains how using a currency component in your portfolio can lower investment volatility while still capturing the gains of a gold-only strategy. And Stephen Belmont debunks claims that new fracking technology will bring energy independence to America, and how to get positioned in options for the inevitable rise in crude oil prices. Plus, Nick Giambruno brings us up to speed on the state of FATCA implementation, and how two countries may alter the direction that financial privacy is currently headed.
First, I will turn it over to the steady and capable hands of Kiron Sarkar and his insights on Japan, the EU, and the US, and he reminds us of some often overlooked advice: don't fight central banks.
I'm running a bit long today, but want to mention the upcoming webinar The Myth of American Energy Independence that will air Monday, May 21. This Casey Research presentation will examine the future of nuclear energy and America's energy security. We touch on both of these issues this month, and this free video event offers an in-depth analysis of an important slice of the energy sector. You can sign-up here.
I must sign off, and want to thank you for being a World Money Analyst subscriber.


Kevin Brekke
Managing Editor
Fribourg, Switzerland

 

Central Banks and Being Long Equities
Several trends that were building in March seem to have continued in April. Essentially, the US is performing far better than the other major economies, China looks to be slowing a lot faster than most believe, the QE-squared experiment in Japan continues with the outcome uncertain, and the Eurozone (EZ) remains a mess.
So let's scoot a little closer and see what's going on.
Reality Bites
China's central bank is attempting to appreciate the yuan to curb inflationary pressures and stimulate a slowing domestic economy. If you believe the official figures, Q1 GDP rose by 7.7%, lower than the 8.0% forecast and slower than the 7.9% gain in Q4 2012. I continue to believe that China inflates its data.
The latest PMI data reveals that both the manufacturing and services sectors have weakened, with evidence of somewhat lower employment levels, though surprisingly, the property sector has not been affected.
Concerns continue to mount about the financial sector, and the authorities are trying to shrink the growing importance of the shadow banking market. However, curbs on this market will reduce lending, which in turn will reduce growth. The level of bad loans is rising, particularly by the provinces that borrowed excessively to embark on fixed-asset investment programs, with a great deal spent on uneconomic projects. Today, these loans are being refinanced, but this game cannot string along indefinitely.
Most importantly, the new regime is trying to reform the economy without (as yet) kowtowing to undoubted pressure from vested interests to stimulate the economy. Overall, the necessary correction of previous imbalances will reduce Chinese GDP growth much further, with a consequential impact both regionally and globally.
Will Inflation Obey Abe?
The latest Japanese economic experiment dubbed Q-squared is just that, an experiment. The proposed doubling of the monetary base will, I believe, create the inflation that the Bank of Japan (BoJ) seeks, though my fear is that the BoJ may well lose control of inflation and/or sovereign bond yields. After all, even a small increase in borrowing costs will slam the Japanese budget, given the country's excessive debt-to-GDP ratio of about 235%.
For the moment, the Nikkei has responded positively, though I remain skeptical of the whole experiment. That Japan will create the growth and inflation it is targeting in a generally weak global economy while it struggles with an ageing and declining population is far from certain.
Further, Japanese employers are not raising wages – to date, they have preferred to increase one-off bonus payments. Stagflation could be the undesired outcome. Japanese exports might increase by virtue of a weaker yen, though at the expense of other countries. There are clear signs of tensions with neighbors such as South Korea and, importantly, China. An outbreak of regional problems, provoked by a weaker yen, could easily impact the global economy. I just don't see how this will work.
Crumbling Core
The Eurozone continues to bumble along, though external factors, most notably Japan's monetary policy, have come to the rescue, with bond yields of the peripheral countries sharply lower. But the cancer of economic crisis has metastasized to Europe's core countries, including France and the Netherlands, with economic data in chronic decline.
Even Germany is being affected. Fresh data suggests its manufacturing, export, and services sectors are suffering, as is the domestic economy, with signs that unemployment is creeping up.
The European Central Bank (ECB) is the only game in town, and cries from ECB President Draghi for politicians to confront pressing issues such as banking union are being ignored, particularly by Germany. The ECB finally cut interest rates, lowering its main rate a quarter point to 0.5%, as inflation declined to just 1.2% in April, down from 1.7% in March. However, the cut will have little impact on the Eurozone, whether at the periphery or the core.
New PMI data suggests that a further decline in Eurozone GDP could be in store for Q2 2013. Several countries have opted to nix their austerity policies in an attempt to stimulate the economy, which could help somewhat. While the EU has granted such countries more time to meet their budget deficit targets, debt to GDP is rising to levels that are arguably unsustainable. There is nothing on the horizon that suggests the Eurozone will confront its problems – certainly nothing ahead of the German September elections. The euro looks destined to weaken under the circumstances.
Although the Eurozone is a complete mess, there are some signs that the UK may have finally turned around. Besting forecasts, Q1 GDP came in at 0.3%. And some forward-looking data suggests that the services sector (over 75% of the economy) is improving.
A Bit Shaky, But Recovering
Of the three, the US economy remains the most robust, though there have been some signs of weakness. The imposition of the budget sequester will continue to be felt through the year, though 2013 US GDP is forecast to grow between 2.0% and 2.5%. First-quarter GDP was 2.5%, lower than the 3% expected, with a weaker forecast for Q2.
However, the residential property sector continues to improve, apparently supported by limited inventory available for sale. The US financial sector is in much better shape than Europe's, the benefit of actions taken at the outset of the crisis. Essentially, the US economy is improving, with jobs being created, though at a limited pace. Inflationary pressures are well under control, with the Fed's key metric, the core personal consumption expenditures price index, down to just 0.9% in Q1 and well below the 2.0% target.
Speculation is swirling that the Fed will taper and/or close its QE program towards the end of the year. Personally, I believe that the Fed will continue with its monthly US$85 billion asset purchase program throughout the year. The US economy is improving, but the Fed will likely need confirmation that it is self-sustaining, in particular given the weak economic outlook globally.
Liquidity Prevails
Based on the above, you'd expect the equity markets would be crashing. But to the contrary, US markets are at record highs, with European markets following. Liquidity remains the name of the game. With the BoJ joining the Fed and pumping in vast sums, investors are being forced to buy risk assets.
We all know the drill: don't fight the central banks. That advice will hold as long as they maintain their credibility, which is so far the case for the Fed and the BoJ. On the other hand, the ECB seems to be struggling, though German press reports suggest that it is considering a US-style TALF program. In particular, keep an eye on Asia, as the BoJ policy may trigger a regional and possibly an international problem.
I continue to favor the US dollar and US dollar assets, and remain bearish the yen, euro, Australian dollar, and longer-term Japanese debt. The outlook for Eurozone bonds is more uncertain, with possible Japanese buying lowering yields, though a move away from austerity implies higher yields.
It's certainly not comfortable being long equity markets, but there are few alternatives at this point.
Kiron Sarkar attended university in London, where he studied chemistry and geology. After qualifying as a UK chartered accountant, he joined Rothschild in London and was appointed head of M&A, based in Hong Kong, with responsibility for the region. On his return to London, he was a founding member of the No. 1 rated Rothschild international privatization and head of the Central and Eastern Europe (CEE) team. He then worked for the UK Foreign Office, in particular, advising senior members of CEE governments on economic, financial, policy, privatization, banking, and utilities. Appointed head of Media, Telecoms, and Technology for CIBC World Markets, Kiron continued to advise on privatizations, M&A transactions, and financings. During his career, Kiron has been involved in over US$150 billion of transactions. For the past few years, Kiron has written a Global Macro newsletter, www.sarkargm.com.

 

How I Learned to Stop Worrying and Love Nuclear Energy
In the wake of the Fukushima Daiichi nuclear accident in Japan, many skeptics have questioned how much faith the world should place in nuclear energy. Apart from its many benefits – which include large accessible uranium reserves, low-cost energy generation, and low greenhouse gas emissions – critics of nuclear energy often hone in on one facet of the equation: safety.
The Fukushima disaster reminded us how volatile these power plants can be when they aren't maintained properly. The root cause of the Fukushima accident turned out to be a lack of diversified power and cooling systems, which went against international standards and recommendations. When the post-earthquake tsunami hit, the lone backup power station was flooded, causing the systems used to cool nuclear reactors during a shutdown to malfunction. If the Tokyo Electric Power Company – which later claimed responsibility for the lax safety standards – had simply followed the recommendations of international authorities, the entire debacle could have been avoided.
Even so, relative to other energy sources, how safe is nuclear energy really? Though any needless loss of life should be avoided, even the worst nuclear disasters in history – including Chernobyl, Three Mile Island, and SL-1 in Idaho – have had a combined death toll of 34… in over 50 years!
For comparison, take a look at an often-cited renewable energy source: hydroelectric power. Even though water-generated electricity is regularly touted as one of the safest and cleanest forms of alternative energy, a single incident in 1975 at the Banqiao Reservoir Dam in China killed an estimated 171,000 people and displaced another 11 million. More recently, the 2009 failure at a Russian hydroelectric power station killed 75 people.
A comprehensive study of the relationship between energy generation and safety came from the World Health Organization. Their data calculated the number of deaths per terawatt hour generated for every major energy source, and the results would stun any anti-nuclear activist. The study showed nuclear energy had the safest record of the bunch – and by a very wide margin – including everything from wind and solar to natural gas and coal.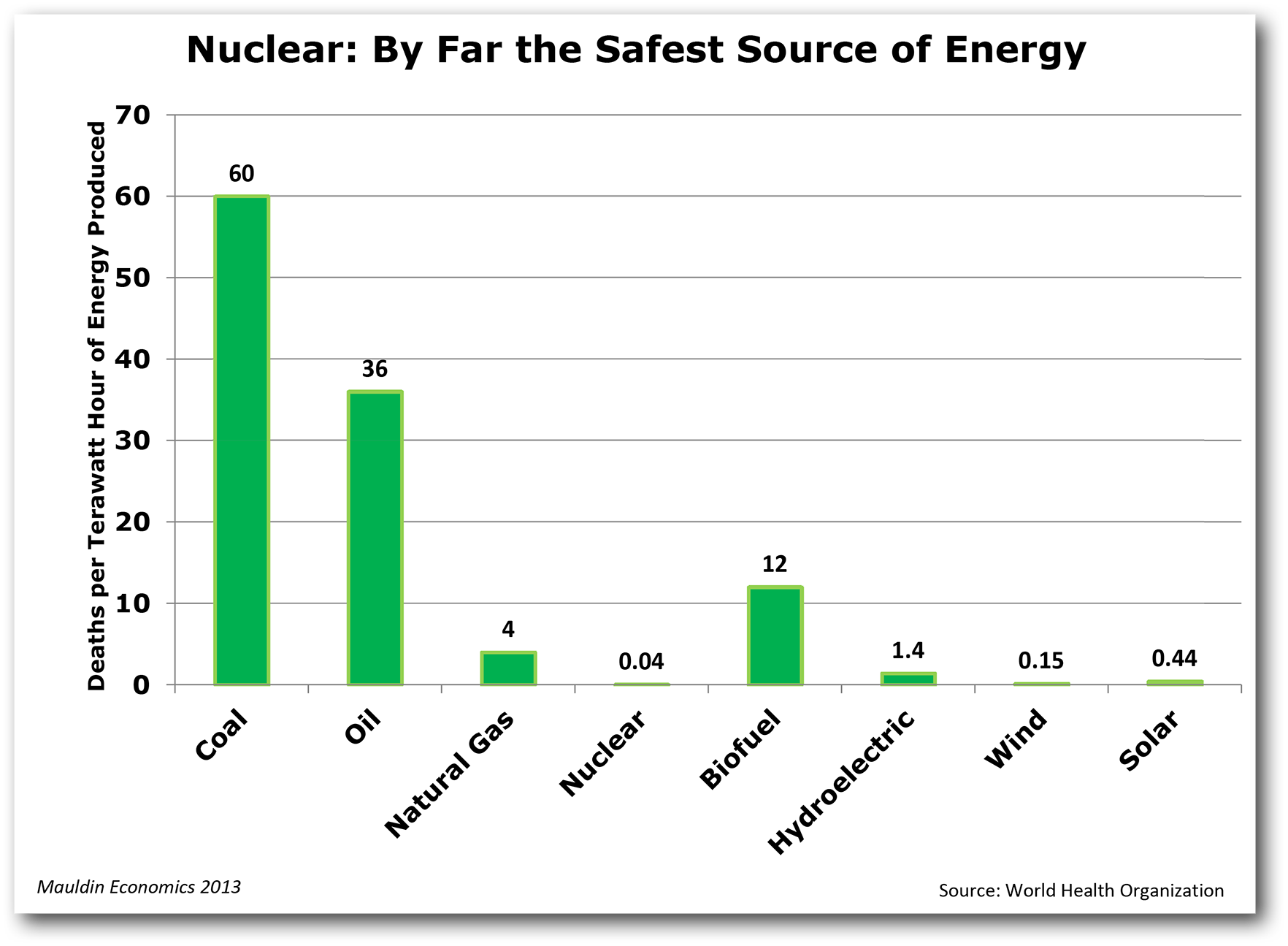 The safety of nuclear power recently received another feather in its cap when two famed scientists published a paper in Environmental Science and Technology claiming that up to 1.8 million lives have been saved by the use of nuclear power since the 1970s.
And the authors aren't some run-of-the-mill scientists shilling for the nuclear industry. Au contraire. The paper was co-authored by James Hansen, a professor at Columbia University whom many credit as being one of the founders of modern global-warming science, and by Pushker A. Kharecha, a climate scientist at NASA's Goddard Institute for Space Studies.
These two masters of their field further concluded that nuclear energy could prevent the deaths of up to 7 million people over the next four decades – along with substantial reductions in carbon emissions – if uranium were to replace fossil fuel as an energy source on a large scale.
A Market in Limbo
Even though nuclear energy has the best balance of safety, efficiency, and environmental friendliness relative to all other energy sources, the market for uranium – the main fuel in nuclear reactors – has yet to recover since Fukushima.
Much of the fall in price was due to Japan deactivating 52 of its 54 nuclear reactors after the accident, and Germany vowing to end its nuclear programs in response to public backlash. Japan has gone from generating 30% of its electricity from nuclear power plants (and previous plans to increase that level to 40%) to nearly 10% in under two years.
But this shift hasn't been without consequences. In fact, Japan has had to fill this gap by importing oil en masse to feed its oil-fired power plants. This, in turn, has raised the country's daily energy import bill by about US$100 million and pushed the country into running a trade deficit for the first time since the 2008 recession. With a government debt-to-GDP ratio of over 200%, that trade deficit will only add to Japan's borrowing.
Enter new Prime Minister Shinzo Abe. Best known for his inflationary economic policy, dubbed Abenomics, Abe understands that importing oil and gas is only a temporary solution that, if fully implemented, would cost the nation billions of dollars per year. In step, he has been very vocal about the need to restart Japan's nuclear reactors.
Since his election, polls have shown that the Japanese have begun to warm to the idea of nuclear power recapturing its prominent role in the country's energy security, as long as the government can guarantee that the power plants can be operated safely. The new safety guidelines coming down the pipeline this July should further appease an apprehensive public.
The Nuclear Juggernaut
With 435 nuclear power plants operating in 31 countries and over 65 currently under construction, the demand for uranium has a strong base from which it can grow. By 2035, the International Energy Agency (IEA) predicts that the world will increase its nuclear capacity by 60%. China alone plans to quadruple its nuclear capacity by 2020. And when you consider that Japan may soon revert back to a nuclear energy model, you have compelling long- and short-term catalysts for rising uranium demand.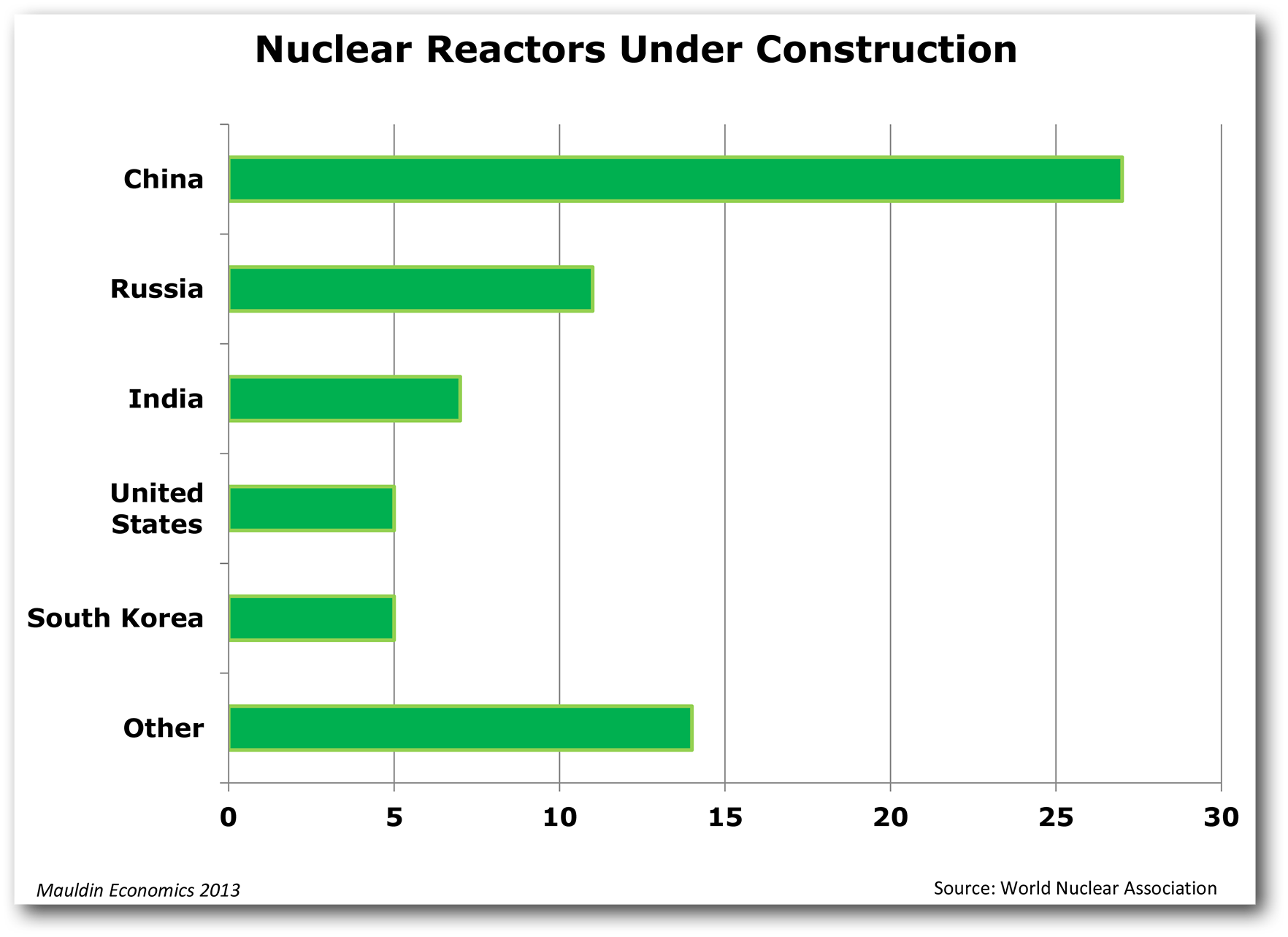 That's where Cameco (TSX: CCO; NYSE: CCJ) comes into play.
Cameco, headquartered in Saskatoon, Saskatchewan, Canada, is the second-largest uranium producer in the world, and the world's largest producer of U308, a mineral whose only commercial use is to fuel nuclear power plants.
After uranium ore is harvested, it's crushed, allowing engineers to extract uranium from the ore. This process produces U308 or "yellowcake," which is one of the most stable forms of uranium concentrate. The yellowcake is then shipped to a uranium conversion plant, where it's converted into a compound called UF6, also known as uranium hexafluoride. UF6 is then converted into uranium metal, which is subsequently compressed and heated into the pellets used in the fuel rods that power nuclear reactors.
Cameco generates over half of its revenues from uranium mining and another 12% from the conversion processes, making it an ideal vehicle to ride uranium prices higher as Japan switches its reactors on once again. And in the long run, as more countries start exploiting cheap, clean, and safe nuclear energy, Cameco will be ready to harvest its large reserves and supply these countries' reactors with uranium.
And it's not just the size of its reserves – which are among the world's largest – it's the quality that counts. Cameco's McArthur River mine in Saskatchewan boasts ore grade concentrations 100 times higher than the industry average, giving Cameco and its investors an extra bang for their buck.
Other than its high-quality reserves, Cameco is also one of three conversion suppliers in the Western Hemisphere, controlling roughly 25% of world production capacity of uranium hexafluoride (UF6).
In the meantime, the company has commitments for the sale of more than 300 million pounds of U308 under long-term contracts with about 50 customers worldwide, with the five biggest customers accounting for 47% of those commitments. CCO's sales are also geographically diversified, with 49% of their output shipped to North American utilities, 30% to European customers, and 21% to utilities in Asia.
Plan of Action
Cameco's fundamental picture is exceptional relative to its peers. High gross, EBITDA, and net margins (which are extremely rare in the post-Fukushima world), healthy revenue growth of 9.8% since 2010, and a rock-solid balance sheet are a few of CCO's financial metrics that make it stand out from the pack. Cameco is also the only uranium producer that pays a dividend, with a current yield of 1.92%. As demand from Japan and other countries heats up, and the uranium price trends back towards its mean, I'd expect sales to advance at an even faster clip.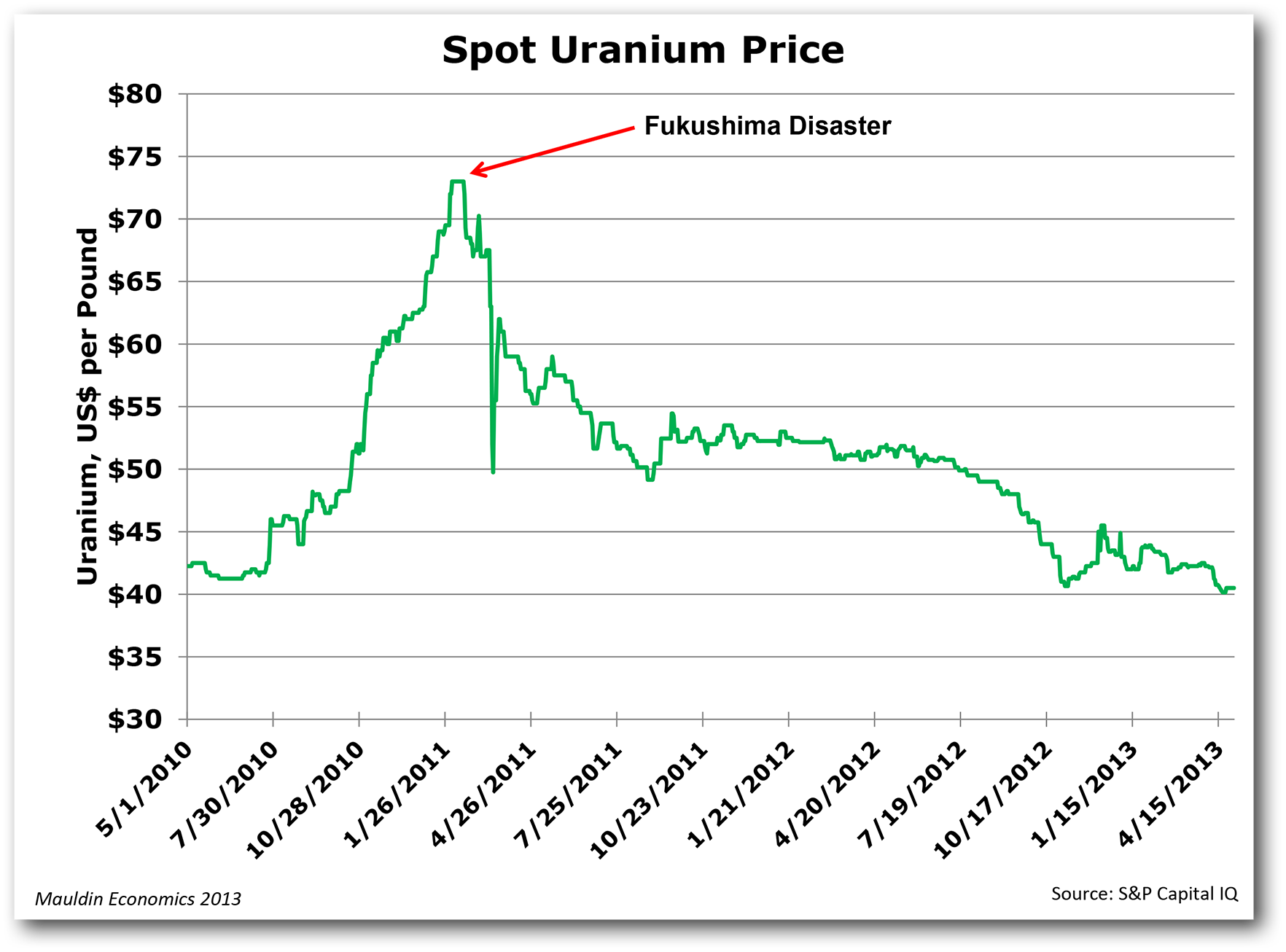 Cameco has one of the most – if not the most – efficient and cost-effective uranium mining operations in the world, with a cash cost per pound of US$22.84, well below the industry average of US$35/lb and the current world market price of US$40/lb.
Even though the company is the biggest player in the field, you wouldn't know it by its valuation, which is right in line with the industry. As of this writing, it's trading at 14.8x forward earnings, below the industry average of 19x, along with relatively low price-to-sales (3.54), TEV/EBITDA (13.28), and TEV/Revenue (3.80) ratios, all of which are below the industry average.
Cameco's ability to not only stay profitable but also grow sales in the face of a challenging operating environment speaks volumes about the firm's management and overall business model. Shares have been trading on the TSX in the C$18 to C$22 range in the past five months, with a lot of support around C$18. With the TSX Composite Index and US markets sitting at all-time highs, I'd wait to pick up CCO or CCJ on a pullback, preferably below $19.00 on either market.
Robert Ross is a senior analyst at Mauldin Economics. A native of Cleveland, OH, he graduated top of his class at Loyola University New Orleans College of Business with a degree in economics. While at Loyola, Robert studied under the tutelage of Dr. Walter Block, with whom he subsequently published a paper in the Journal of Social, Political and Economic Studies. After stints as a policy analyst for the Pelican Institute for Public Policy and in the financial advisory division at Merrill Lynch, Robert found his way to Mauldin Economics. Robert also worked as an analyst for Casey Research, where he conducted economic and equity research for The Casey Report and other publications.

 

Dialing for Rubles
As usual, I will start with an old Soviet joke.
In the 1970s, a delegation from the USSR is visiting the United States. When touring a car factory, one of the Soviet delegates asks, "Who owns this factory?"
"Henry Ford."
"Whose cars are those in the parking lot?"
"They are the employees' cars."
During a similar visit by a US delegation to the USSR, a member of the US mission asks, "Who owns this factory?"
"It belongs to the working class, including those who work here."
"Whose car is that in the parking lot?"
"It belongs to the general director."
Closing the Gap
Since my last column in March, Russian economic growth has slowed, with 1Q13 GDP at only 1.1% vs. almost 5% for the same quarter in 2012. It seems clear that the output gap in Russia has been closed, and the country is running in full employment mode – while investment growth is simply not there.
The main policy response is likely to be monetary via a reduction in interest rates. Indeed, the easing cycle has already begun. Last month, the newly appointed Chairman of the Central Bank of Russia, Elvira Nabiullina, observed: "Russia's economic growth is running below its potential, and a 3%-4% annual growth pace is affordable even under the current institutional framework."
There is a lot of talk about structural reforms, but execution remains very weak and elusive. On a positive front, the government debt level is very low (unlike most OECD countries), with the debt-to-GDP ratio still under 10% (the US is about 100%). This leaves a lot of room to maneuver for the government.
Slowing growth coupled with a few cases of questionable corporate governance (of which the Rosneft/TNK-BP story has perhaps been the noisiest), the Cyprus banking crisis, the damage from its aftermath, and the cooling of Russia's relationships with the West have led to severe underperformance of Russian stocks vis-a-vis US indices or even some of its EM peers. Despite a strong start in January and February, the RTS index is now down for the year, while some stocks of state-controlled companies are near or at four-year lows.
Is this a buying opportunity? Maybe, but I am not convinced. I think there is indeed value in Russian stocks, but one has to be selective.
Dialing for Profits
This month, we will look at the shares of the leading Russian telecom company Mobile TeleSystems (NYSE: MBT; ADR). In short, this is a growing business with very limited downside and a dividend yield of 6.5%-7%.
Mobile TeleSystems (MTS) is the largest telecommunications operator (by revenue) in the Commonwealth of Independent States (CIS). It provides all major telecom services, including wireless and fixed-line, based on the GSM standard (3G and most recently 4G services).
Its licences encompass a population base of some 210 million in Russia, Ukraine, Armenia, Turkmenistan, and (through a 49% JV) Belarus. MTS reported 2012 revenues of more than US$12.4 billion, while OIBDA was US$5.3 billion and net income reached US$1.95 billion. In October 2009, MTS acquired a 51% stake in Comstar UTS (fully consolidating the company in April 2011), one of the biggest fixed-line operators in Russia, in order to gain exposure to the fixed-line market (including broadband and pay-TV).
MTS ended 2012 with a mobile customer base of 103 million, plus 2.2 million fixed-line broadband subscribers, 2.9 million pay-TV subscribers, and over 200,000 corporate fixed-line subscribers.
Stoking the Top Line
The present consensus is that there is little growth potential in voice services. Voice revenues are still the core business of MTS, contributing 71% of mobile-service revenues. MTS is moving to bucket pricing (fixed monthly charge for a set allowance) and stimulating traffic, as voice becomes increasingly commoditized.
The major top-line growth driver is data, stoked by an increase in smartphone penetration (23% of the MTS network at year-end 2012). In mid-2012, MTS, along with competitors VimpelCom, MegaFon, and Rostelecom, received licenses for the 4G frequencies. MTS has already launched 4G services in Moscow, but expectations are that substantial revenues over the next 18 months are unlikely, given the low penetration of 4G devices.
MTS retail remains an important complementary business. The retail division allows the company to be independent in terms of distribution, lowering the risks involved and helping it realize its own distribution strategy. MTS had almost 4,500 retail outlets at the end of 2012, including franchise stores.
The competitive and regulatory environment in the Russian mobile market is benign. Some important regulatory decisions will be made shortly, including the potential abolition of intra-network roaming, expected to begin December 2013. However, it is not anticipated to lead to a significant redistribution of market share among the current players.
New Era for Margins
MTS is focused on generating cash flow. The company has implemented a change in its dealer-commission structure from a combination of upfront bonuses to pure revenue sharing, which significantly reduced distribution costs. The company also stimulates on-net traffic, thereby improving gross margins by reducing interconnect costs and increasing subscriber loyalty.
The era of major EBITDA margin gains is probably over, and the next important step would be capex reduction. Given that the 3G network is almost in place (both in terms of base stations and transport network), and that 4G will not require significant investment, MTS will reduce its capex-to-sales ratio to 18%-19% over the next three years.
MTS remains a solid dividend story, which is central to its investment case: the latest commitment of at least US$1.3 billion in dividends per year translates into a 6.5%-7.0% dividend yield for 2012, payable this year. By contrast, the seven-year, US dollar-denominated MTS Eurobond has a yield to maturity of only 4.2%, which confirms the company's strong credit profile. We believe that Sistema – MTS's controlling shareholder – will continue to upstream healthy dividends in order to support its other investments.
The major triggers for the stock are fundamental in nature: free cash flow expansion, continued rationalization of competition with a focus on profitability, decrease in capex, and growth in disposable incomes in Russia feeding through to increased telecom spending. The major downside risks for MTS are challenges to the telecom services business model, an economic slowdown, depreciation of the ruble and Ukrainian hryvnia, a tighter regulatory and competitive environment, lower profitability at MTS retail, and possible corporate governance issues.
In summary, MTS represents an attractive combination of decent growth prospects, a healthy dividend, limited downside, and an easy way to participate using NYSE-listed shares. I recommend buying these shares at the current market price (closed at $20.05 on May 14).
Alexei Medved was born and raised in Russia and later moved to the West. He received an MBA from Wharton Business School and worked for a major investment bank, where from 1989 he developed the East European business. Since 1992, he has been running an independent business that concentrates on investments in Russia and the CIS. Contact: amvic@mail.com

 

Quality Resource Companies in a Tough Market
Resources had a tough month, headlined by gold's dramatic mid-April, two-day $250 plunge. Other resources also fell, led by copper. And the short, sharp declines came in the midst of ongoing weakness in the sector. The stocks fared even worse than the commodities themselves, with most gold and silver indices down more than 50% from their mid-2011 highs. The XAU index of major gold and silver stocks is down over 44% year to date.
Since the April turmoil, however, the physical metals have exhibited strong recoveries. Gold recouped half of its decline on the back of continued global monetary stimulus and a global surge in physical buying. Copper, which fell less than gold, is up 9%, recovering almost all its decline. This stems from renewed optimism on the global economy, particularly signs of reduced inventories, new copper imports into China, and a recovering US housing market.
But the stocks remain well down. In fact, for the most part, the gold, silver, PGM, and many other resource stocks have hardly moved off their lows, and with very few exceptions remain well below early-April levels.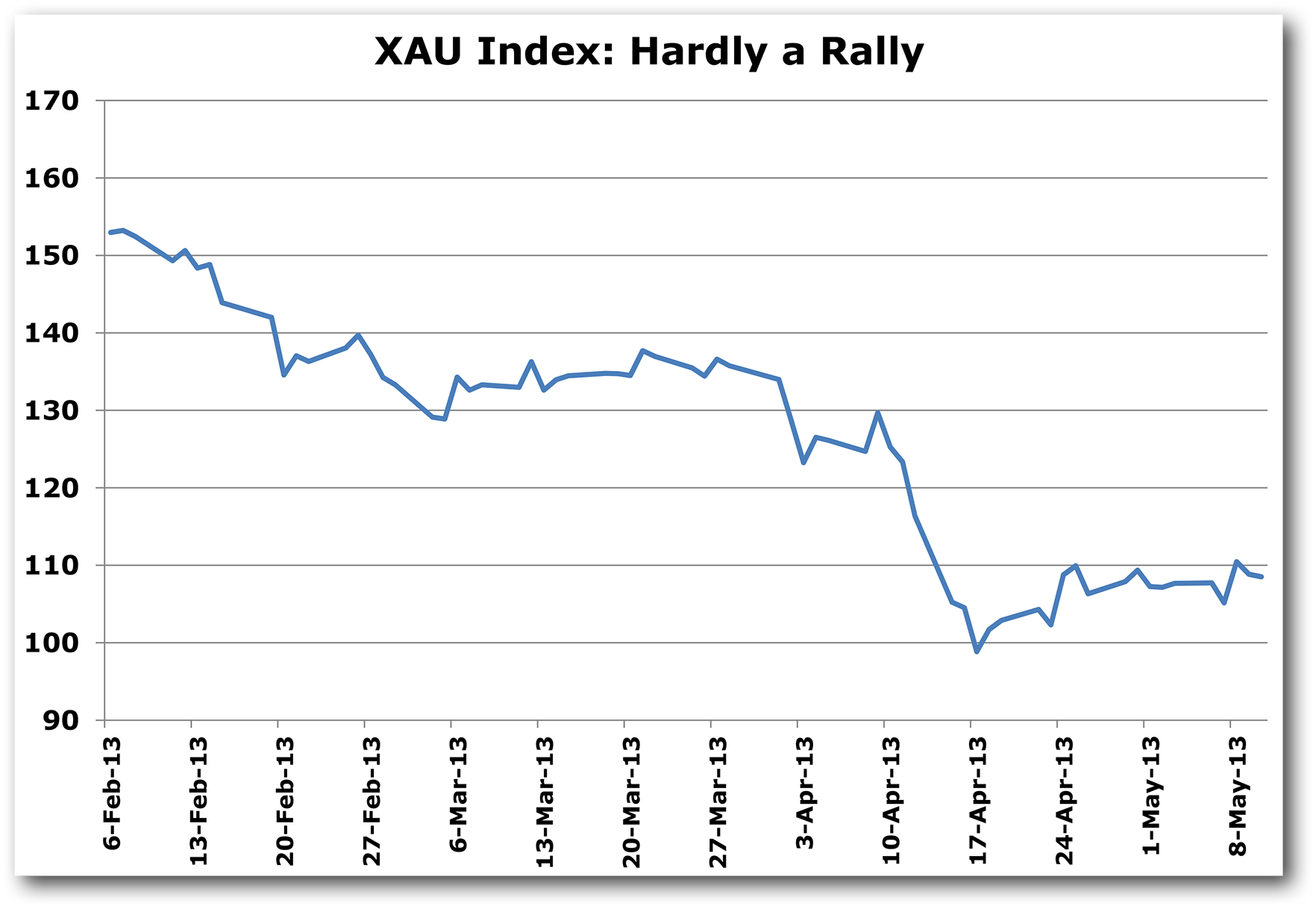 Are the metals right? Or do the stocks have a better handle on economic expectations and monetary conditions?
Monetary Outlook Still Positive
Certainly, the fundamentals for the metals remain strong. For gold, the most important factor has been and continues to be global monetary stimulus. There have been concerns that the US Federal Reserve might rein in its bond-buying program this year. Yet, the Fed's Open Market Committee (FOMC) continues to emphasize that the program will continue so long as economic conditions dictate and, specifically, if unemployment remains above 6.5%. Indeed, the latest FOMC minutes suggested that the program could be expanded if conditions do not improve.
And monetary accommodation continues elsewhere around the world. The Bank of Japan has pledged to double the money supply, and the Bank of England's new Governor Mark Carney suggested that even more stimulus is needed. Meanwhile, the European Central Bank cut its main refinancing rate to 0.5%, a record low, and threatened to impose negative rates, finally taking action a year after chief Mario Draghi said the bank would do "whatever it takes." Central banks that are not expanding the money supply like mad counterfeiters are cutting rates to artificially low levels.
In all, we've seen 511 interest rate cuts since mid-2007, according to the Bank of America, pushing 36 countries into negative real interest rates territory. So the monetary environment remains very supportive of gold. The only significant change between now and a month or two ago is the price.
Copper Inventories Fall, Growth Outlook Positive
As for the base metals, though monetary policy is supportive, they respond more to economic conditions, particularly in China, which has been the driver of the base metals for most of the last decade. Concern about slower growth in China earlier in the year weighed on the metals. However, more recent reports, particularly on imports and Chinese stockpiles (down to an eight-month low), have buttressed the metals. More importantly, as we discussed before, growth in the 7%-8% range remains very strong and supportive of the metals.
Copper was also hurt by analysts' expectations of 2013 supply growth in the 6% range, led by production from the new Oyu Tolgoi mine in Mongolia. This is the first truly major new copper mine since the middle of the 1990s, so it is clearly significant both on sentiment as well as in actuality.
However, the mine's opening has been delayed by a dispute between operator Rio Tinto and the government after the latter made new demands for a larger stake as the mine neared completion. At the same time, analysts' production forecasts are based on a best-case scenario, and in mining, the best case rarely becomes the actual case.
Look past Oyu Tolgoi and copper production starts to struggle again, with ongoing declines in output from existing large producers due to lower ore grades and depletion. The multi-year outlook remains very promising, absent a sharp slowdown in China.
Gold Royalty Company Grows in Weak Market
What about our two stock picks, Franco-Nevada (NYSE: FNV; $42.17 on May 14) and Freeport-McMoRan Copper & Gold (NYSE: FCX; $31.96 on May 14)? They are, in my view, the prime companies in gold and copper, respectively. Though Franco-Nevada has been weak most of the year – down from $56 – it has nonetheless been one of the year's stronger performers in the gold sector. It quickly recovered all of its mid-April losses and has held steady since.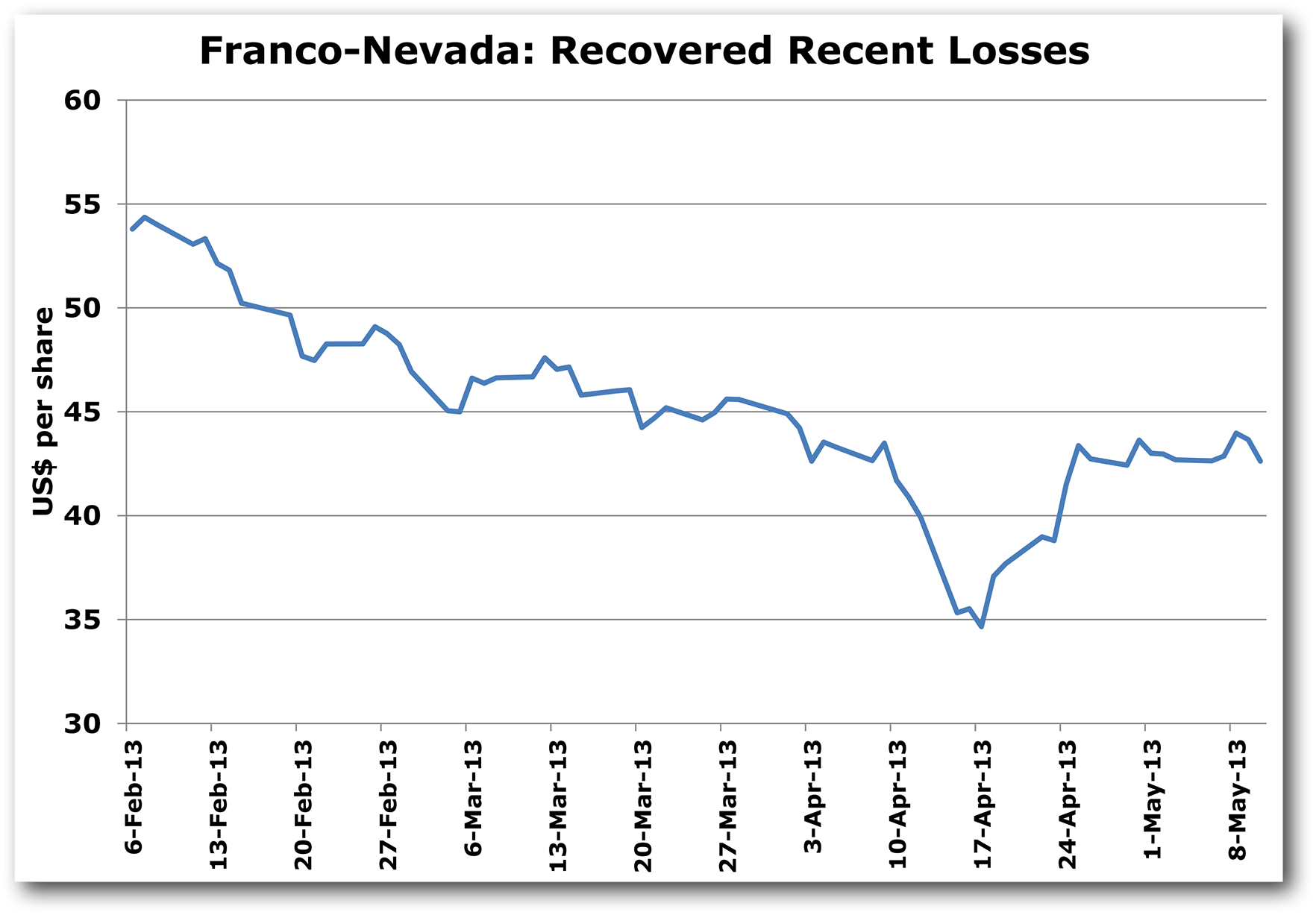 The news has been mixed for Franco-Nevada. The new owner of El Cobre, a copper-gold project in Panama on which FNV is buying a royalty, is undertaking a complete review of the project. So, we may see a smaller-size mine with initial production pushed back. At worst, Franco-Nevada could decide not to proceed with further staged payments (we don't expect that).
Elsewhere, the news is better. The Tasiast mine in Mauritania is looking at a possible expansion, while the major Detour Lake mine generated its first royalty revenue for Franco-Nevada last quarter. In all, revenue was up year on year, despite lower gold prices. Two new smaller royalties, on Midas's Golden Meadows and Pretium's huge and high-grade Brucejack project, are examples of the ongoing additions to the already strong pipeline. With nearly $900 million in cash and no debt, Franco-Nevada continues in a very strong position to make new royalty financing deals. And with top management (and an 82% profit margin), it remains my top pick and a core holding in this sector.
Freeport's Oil Expansion to Proceed
Freeport-McMoRan, weak because of its controversial bid for two oil and gas companies – the reason we were able to buy the stock at our target price when we did – also has recovered from its mid-April plunge, riding improved copper prices and favorable developments on its oil acquisitions. Just last week, a judge tossed out somewhat opportunistic challenges to the company's acquisition of Plains Exploration; the shareholder vote is on May 20, and with financing already in place, the deal could proceed quickly from then if approved.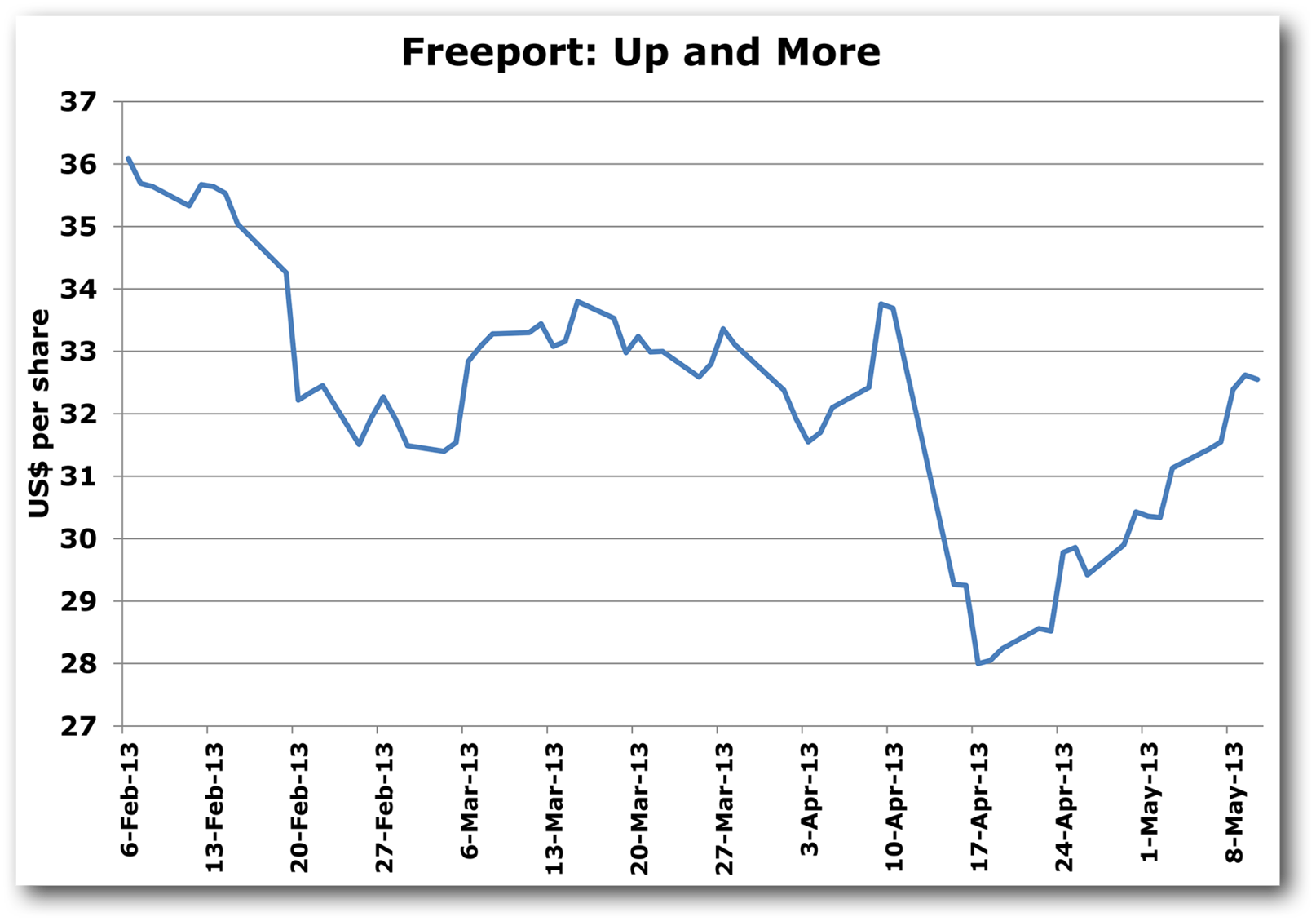 At $31.96, Freeport remains inexpensive, selling at a forward P/E under 9 and yielding 3.8%, with a very strong balance sheet that can support the debt to acquire the two oil and gas companies.
We recommend holding both Franco-Nevada and Freeport-McMoRan Copper & Gold, and for readers who do not own them, buy. In this market environment, there is no need to be aggressive, but buy here or on any weakness. Each is a great company in its own right, able to take advantage of soft markets, and well exposed to higher resource prices.
Adrian Day is a British-born money manager and pioneer in promoting the benefits of global investing with two books on the subject: the ground-breaking Investing Without Borders and his latest Investing in Resources: How to gain the Outsized Potential and Avoid the Risks. A graduate of the London School of Economics, he is a frequent speaker at investment seminars, and has been interviewed by numerous world media, including CNBC, BBC, Bloomberg, Wall Street Journal radio, The Cape Town Argus, La Vie Francais, and The Straits Times. www.AdrianDayAssetmanagement.com

 

Downside Resilience, Anyone?
Bearish on the US dollar? Hiding out in gold? Given the sharp drop in the gold price that took place a few weeks ago, it may be worth looking at how investors can achieve downside resilience while maintaining the upside potential to gold, and to a bearish view on the dollar more generally.
We have long argued there may be no such thing as a safe asset anymore. Investors may want to consider taking a diversified approach to something as mundane as cash. In this context, we consider gold a form of cash1 , a currency – indeed, the ultimate currency. In an environment of unprecedented "money printing" on the part of the Federal Reserve, the full consequences of which have yet to surface, gold provides a certain amount of security. It is not, however, a perfectly safe asset.
Gold – Capricious Yet Alluring
One of gold's primary drawbacks is its relatively high volatility when priced in US dollars. That volatility may be wisely tempered by diversification within the currency asset class. Further, adding non-dollar currencies to a gold component in your portfolio may provide a lower-volatility way to hedge against a falling US dollar.
Gold can have exaggerated price swings as was demonstrated by the 13.7% drop from April 11 to April 15. There are several theories as to what exactly caused this sudden price collapse. In our view, it was primarily a technically driven move that became self-reinforcing as stop-loss orders and margin calls were triggered. The futures market "tail" oftentimes wags the physical market "dog" in the short term. Since the steep decline, there has been a plethora of anecdotal evidence that buyers from India, China, the UK, and the US, among others, have been taking advantage of the sale in gold and clearing out inventories.
Positively for the market, gold is moving from weaker hands to stronger hands as leveraged traders get shaken out and long-term, real-money investors step in. The yellow metal's 12-year winning streak has brought on board a number of "me too" buyers who do not necessarily understand the reasons to own gold other than that the price always seems to go up.
Today's physical buyers will more likely understand the core reasons for holding gold over the longer term and be less prone to panic selling. However, we expect gold's recent price action did some technical damage to the market, in the sense that some buyers are now sitting on paper losses and would-be buyers may look at an updated price chart and think twice about coming into the market. As a result, the uptrend in gold may redevelop somewhat slowly for the time being.
1From a regulatory perspective, gold is not considered cash or a cash equivalent.
Taming Gold with Currencies
Gold may well have a down year this year, but may still serve an important function in investor portfolios. Importantly, the underlying fundamentals have not materially changed; the main thing that has changed about gold is the price. With the fundamentals intact, the price drop may provide a particularly attractive buying opportunity for confident investors. Nevertheless, going forward it can be expected that gold will continue to have its fair share of pronounced ups and downs should the secular bull market carry on in the coming years. Some investors may wish to reduce the volatility of their gold component in order to address this potential dilemma.
Putting gold into a broader currency basket may allow investors to enhance their downside resilience while still achieving the desired short dollar exposure. Traditional currencies such as the Canadian dollar and even the beleaguered euro typically display relatively low levels of volatility compared to gold. The annualized standard deviation of returns of G10 currencies, gold, and a basket of major global currencies (the Inverse US Dollar Index) is shown in the table below. As illustrated, gold is typically at or near the top of the range of volatility and the currency basket is at or near the bottom.
The below table ranks the annualized standard deviation of returns by year. Higher values are more volatile, lower less volatile.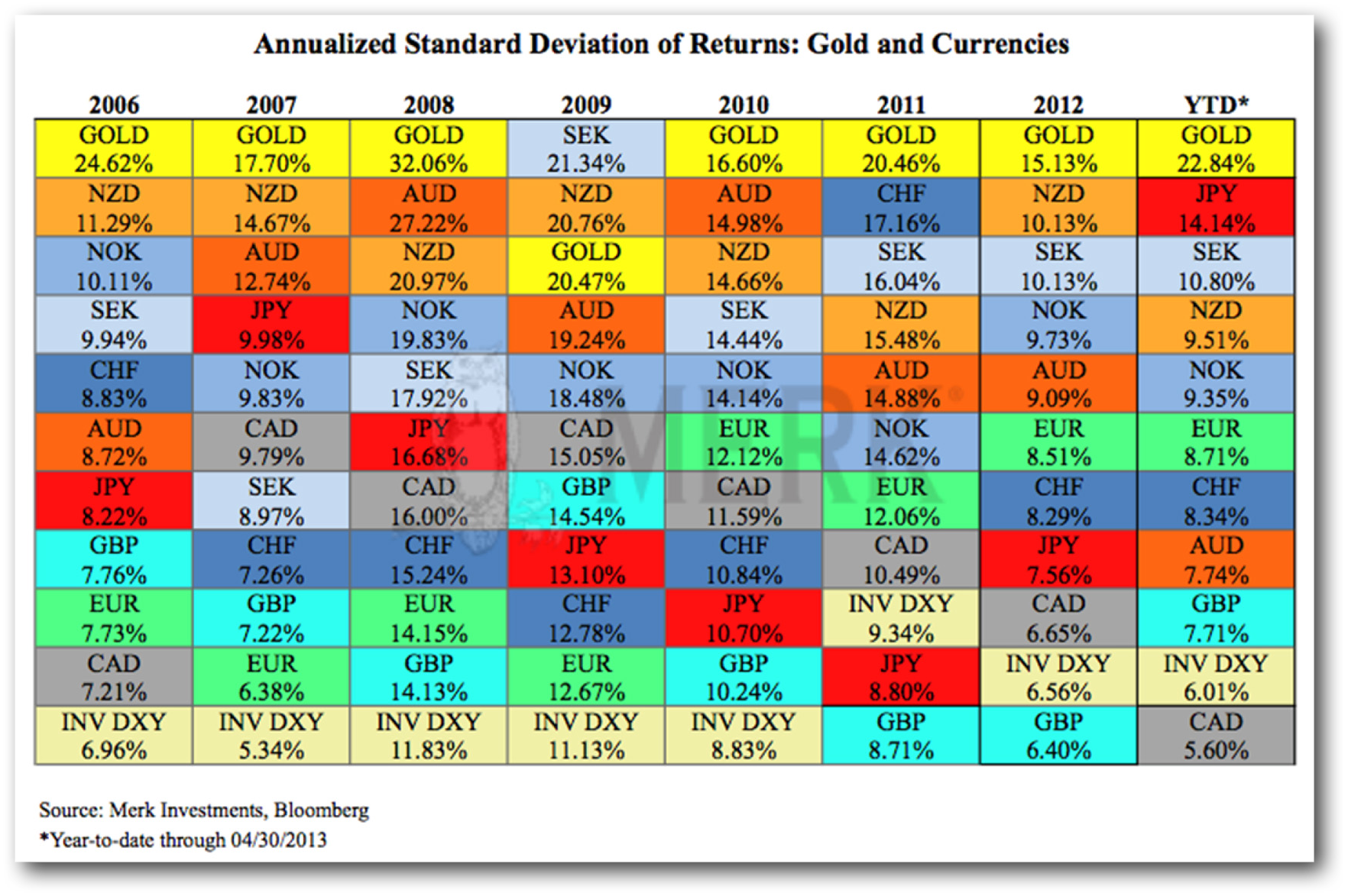 Notably, combining gold with more traditional currencies may significantly reduce downside volatility while still capturing most of the upside. In addition to lower volatility, currencies tend to exhibit relatively low levels of correlation with each other, and with other asset classes generally.
The combination of low volatility and low correlation lends significant diversification benefits. Taken together, a basket of currencies that includes gold can provide a lower-volatility way to benefit from the underlying appreciation of the ultimate currency and from a protracted decline in the exchange value of the dollar.
The Golden Frontier
The chart below graphs the efficient frontier between gold and a basket of currencies (represented by the Inverse US Dollar Index2 ) over the past 10 years. Each point on the curve represents a different allocation mix between gold and other currencies.
Simply for the purpose of illustration, the blue square on the line represents the optimal mix as defined by the highest return-vs.-risk ratio over the period analyzed. As noted in the movement along the horizontal axis, the optimal mix had lower annualized standard deviation (volatility): roughly half of the volatility of holding gold alone (10.09% vs. 19.80%) and yet realized the bulk of the upside from returns (10.10% vs. 15.87%). This is achieved through the well-established benefits of diversification – combining relatively low volatility and relatively low correlated currencies with gold – in this case using an asset class that also expresses a negative dollar view.
While the example here uses a widely known passive currency index, it may be possible to achieve superior performance using an actively managed basket with a more discerning approach to respective monetary policies.
In summary, combining gold with a basket of currencies may improve a portfolio's overall risk profile relative to an investment in gold alone. Using the above historical analysis, one can see that returns were largely preserved while volatility was largely contained. Lower volatility translates into shallower declines in times of market stress. In the simplest terms, one would lose less in a period where gold fell as dramatically as it did in April.
2The Inverse US Dollar Index is comprised of: euro, 56.7%; Japanese yen, 13.6%; British pound, 11.9%; Canadian dollar, 9.1%; Swedish krona, 4.2%; Swiss franc, 3.6%.
Axel Merk is an authority on currencies and a pioneer in the use of strategic currency investing to seek diversification. A graduate of Brown University, Axel is the President and CIO of Merk Investments, manager of the Merk Funds, a firm he founded to make his investment philosophy accessible to retail investors. Axel is an expert speaker and author on topics ranging from the global economy, gold and currencies to sustainable wealth and personal finance. He is a regular guest and contributor to the business media around the world including the Wall Street Journal, Barron's, Financial Times, Bloomberg, and CNBC. Axel Merk and the Merk Research Team publish their views and analysis in Merk Insights, a free newsletter, and Merk White Papers. Contact: www.merkinvestments.com

 

Forget Fracking: Cheap Oil Is Still "History"
Remember Peak Oil? It seems so quaint, doesn't it? The notion that the world might run out of oil is almost laughable in today's post-hydraulic fracturing environment. The fear that the world is running out of oil has been replaced by the possibility that the United States – still the world's largest consumer of crude oil – could actually begin exporting oil within the next few years. "Fracking" opened up millions of barrels of reserves that were previously inaccessible – especially in North America – and changed the playing field in the process.
The Organization of the Petroleum Exporting Countries (OPEC) used to call the tune in the oil market. But according to its own estimates, "non-OPEC supply is projected to increase by almost 1 million barrels a day this year, largely due to a boom in production in the US…" (Wall Street Journal, 2-12-13). This is mostly due to hydraulic fracturing that releases oil previously trapped in shale.
OPEC expects demand for its crude to fall by 300,000 barrels per day. America's Energy Information Agency (EIA) expects non-OPEC crude output to rise by 1.58 million barrel per day in 2014. And the IEA forecasts that US oil production will overtake Saudi production as early as 2020, given current rates of growth.
Does this mean the era of expensive oil is over? Not by a long shot. It won't be long before we are looking back at today's headlines predicting "energy independence" with the same jaundiced eye with which we currently view past predictions of "peak oil."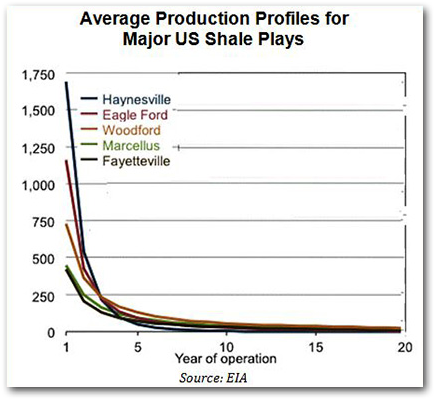 Newly fracked wells deplete far more rapidly than conventional wells, at times losing 70% of initial production in just the first year. That means the new shale oil discoveries trumpeted by those predicting energy independence will struggle just to keep pace with dropping production in current ones.
"Fracking" Covers Just a Small Fraction of Daily Demand
America burns roughly 19 million barrels of crude per day. Hydraulic fracturing produces roughly 1 million barrels. That means 18 million barrels per day (mbpd) still need to come from somewhere else. Fracking is expensive and getting more so by the day as its popularity and drilling lease acquisition costs grow. Consequently, we expect new shale drilling to decline dramatically on any significant crude oil price decline. For this reason we don't expect declines below $80-per-barrel crude oil to last very long.
North American hydraulic fracturing may have moderated price increases, but it is not even close to putting a stake in the heart of the crude oil bull – especially not with OPEC still responsible for the lion's share of global production and war in the Middle East threatening to escalate dramatically in the next few months. Global oil demand is expected to grow by 1 mbpd in 2013 to 90 mbpd. Even assuming that all of the growth in EIA's non-OPEC production estimate comes from North American shale, fracking barely keeps pace with this year's anemic growth in global demand for crude oil.
The North American shale oil phenomenon has not solved America's dependence on foreign oil and probably never will. What it has done is caused OPEC to sit up and take notice. OPEC has been threatening production slowdowns in response to reduced demand from the US and begun to implement them.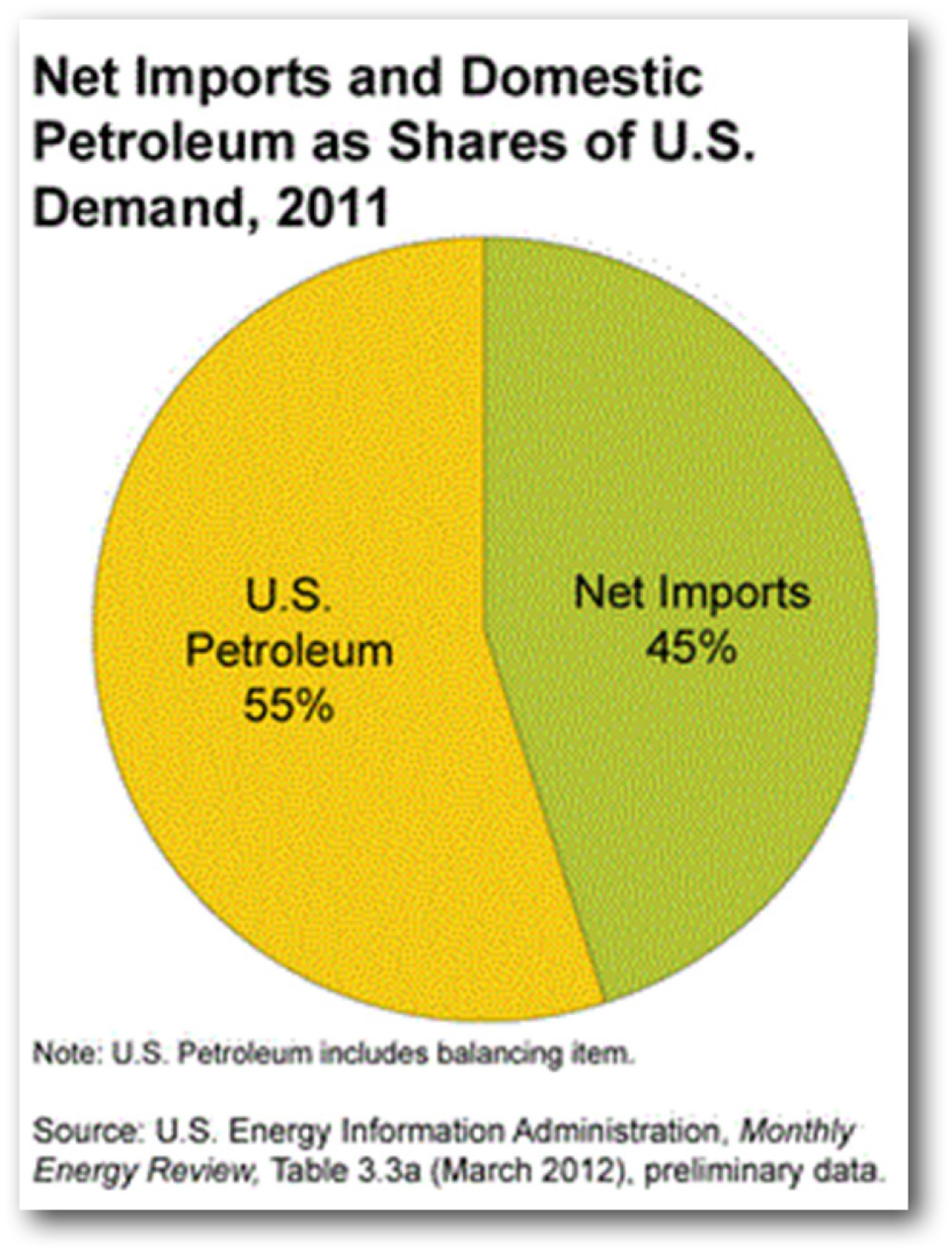 Crude oil is still very much a global commodity notwithstanding all the excitement over shale oil. With supply and demand in relative balance, relatively small disruptions in supply could still have outsized effects on price – shale oil or no shale oil.
Nigerian, Iranian, and Libyan production all fell in March due to turmoil. With the Sunni/Shiite unrest in Iraq threatening to break out into civil war, America ever closer to intervening in Syria, and nuclear Iran ticking away, the Middle East could be a particularly dangerous place over the next few months. Israel bombed Syria three times in as many days, because it was worried about a few longer-range conventional missiles falling into Hezbollah's hands. What do you think they will do if and when a nuclear Iran crosses a similar "red line"?
Even if events in the Middle East do not boil over, a new era of cheap crude is not ensured. China could overtake the US as the world's largest oil importer as early as 2014 with demand of 11 mbpd and imports topping 6 mbpd. China must keep growing its oil supply to accommodate growth; it will likely greet any price decline with a flood of buy orders.
Big Populations Trigger Growing Demand
China is home to 1.4 billion people. India to nearly as many. That means small changes in energy consumption in these two nations alone can have outsized effects. In today's world of raised expectations, such large populations cannot be ignored.
In one decade (1995 to 2005), US oil demand grew from 17.7 to 20.7 mbpd – a gain of 17%. Chinese demand rose from 3.4 to 7 mbpd – an increase of 106%.
India's oil imports are expected to triple by 2020, rising to 5 mbpd. China, India, and the rest of Asia currently account for 60% of the globe's new oil demand. Expect this percentage to grow, despite the European debt crisis roiling the markets.
America, with a population of a little over 300 million, consumes roughly 20 barrels of oil per person per year. Europe, with roughly the same population, burns 10 barrels per person per year. China's per capita consumption is minuscule – approximately 2.5 barrels per person per year. India consumes even less. It doesn't take a math degree to figure out what small increases in consumption in these nations will do to global oil demand.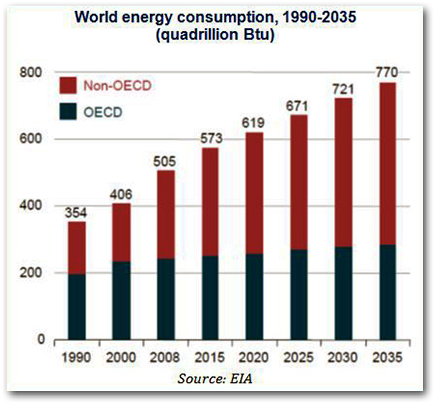 Indian and Chinese economies are suffering post-crash global slowdowns like everyone else. But both nations are growing at rates almost unimaginable for the developed world. China's growth rate has slowed to 7.5%, pretty darn impressive seen through the lens of the West. India's growth is roughly 6%. Both China and India will need to mechanize more and more of their food production to feed their growing populations. This will require more energy. So will millions of their newly acquired appliances and automobiles.

The petrodollars that poured into oil-producing nations during the run-up in crude have increased living standards to the point where these nations are using more and more of their own oil, leaving less for export. Both infrastructure and electricity are in short supply in China and India, and in the Middle East as well. Resolving these shortages will require energy. The nations of the Persian Gulf and Northern Africa already use nearly as much oil as China. Since most of this oil is subsidized, Middle East demand for its own oil is practically guaranteed to increase, leaving even less for export.
The genie of raised expectations in both the developing world and oil-producing nations is not going back in the bottle any time soon – especially since the developing world has grown accustomed to Western lifestyles. Chinese drivers are not going to trade in their new cars and hop back onto bicycles. Neither are their Indian neighbors. Property developers in Dubai have no plans to ditch their brand-new, air-conditioned skyscrapers for Bedouin tents.
Crude Is Consolidating Gains
Crude is in the process of consolidating gains from the 2009 washout. (See chart below.) A couple of month-end closes above the upper down-sloping boundary of its three-year trading range could propel it much higher. Crude's $147 per barrel high turned out to be unsupportable. In our opinion, emerging market demand and political necessity make prices below $80 per barrel equally unsupportable.
Many OPEC nations have a critical stake in keeping prices as high as they can so they can continue to "buy off" ever-more-restless populations. This is true in Saudi Arabia and Venezuela, both of which have some of the world's largest proven reserves and are among the biggest suppliers of crude to the US.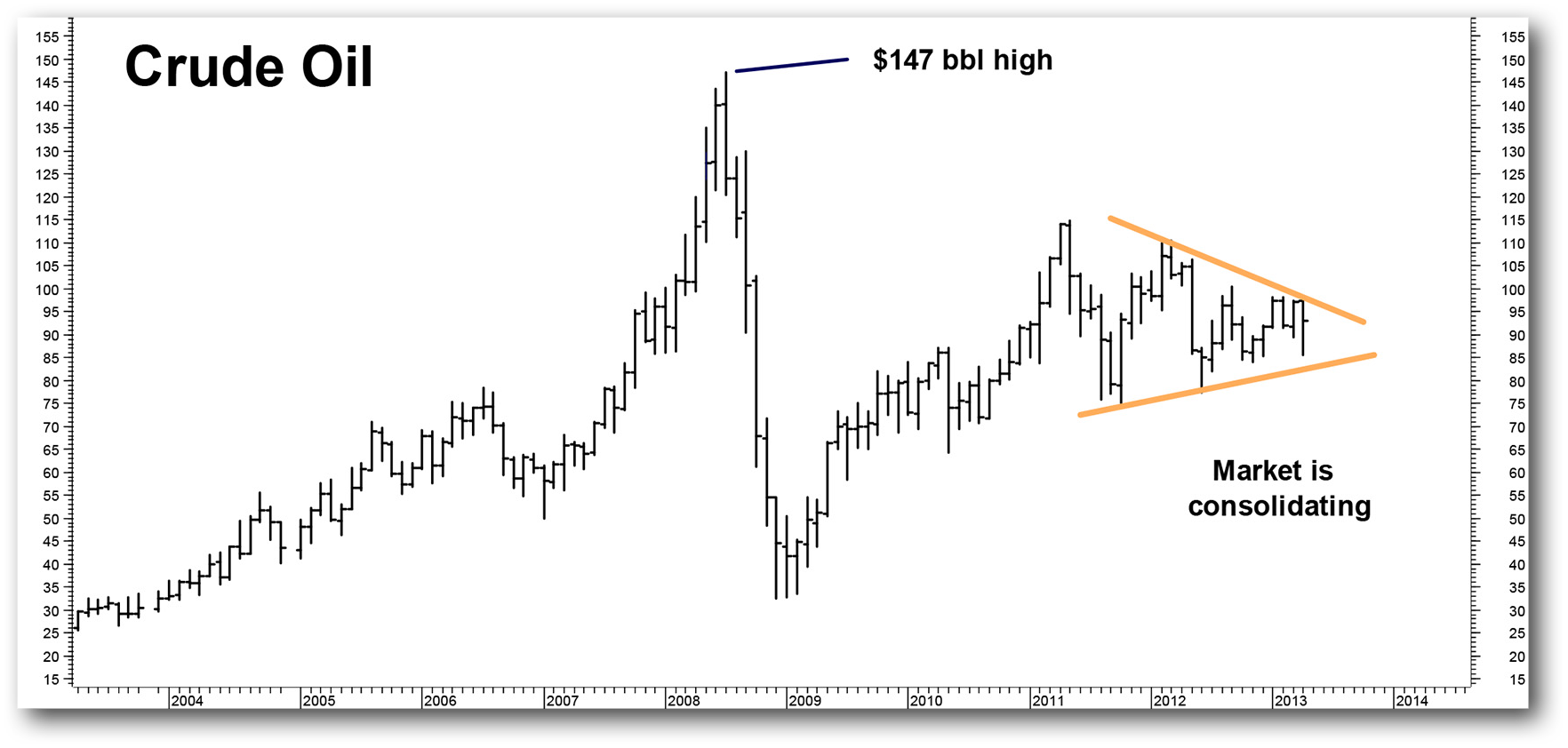 Data Source: Reuters/Datastream
Given the deteriorating situation in the Middle East, we think this market could provide some big surprises to the upside. The question is… how do we play it? Big volatile swings mean we do not want to tie up a lot of capital in energy stocks or ETFs – both of which have a long history of underperforming crude oil. Big volatile swings in nearly all markets means we do not want to tie up a lot of capital, long or short. Instead of buying crude oil, we'd rather "rent" it. Especially since we expect crude to climb well above $100 per barrel again soon.
One of the nice things about trading crude oil itself (rather than ETFs or energy companies) is the availability of long-term options. Right now we are looking at a professional option strategy that will keep us long through late November 2015 with a maximum cost and risk of $2,000 (plus transaction cost) and a gross profit potential of $20,000. This is in expectation that crude will rise back above $110 per barrel and perhaps as high as $130 per barrel in the next two years. Call or e-mail us at the RMB Group to learn more. Contact info is below.
Stephen Belmont is chief market strategist and senior partner with the Rutsen Meier Belmont Group (RMB), a futures and futures options brokerage firm in Chicago specializing in commodities, currencies, and interest rates since 1984. For more info about these 2013 plays, call 800-345-7026 (toll free) 312-373-4970 (direct), e-mail suerutsen@rmbgroup.com or visit www.rmbgroup.com.
The risk of loss in trading futures and/or options is substantial and each investor and/or trader must consider whether this is a suitable investment. Past performance, whether actual or indicated by simulated historical tests of strategies, is not indicative of future results. Trading advice is based on information taken from trades and statistical services and other sources that R.J. O'Brien believes are reliable. We do not guarantee that such information is accurate or complete and it should not be relied upon as such. Trading advice reflects our good faith judgment at a specific time and is subject to change without notice. There is no guarantee that the advice we give will result in profitable trades.
DISTRIBUTION IN SOME JURISDICTIONS MAY BE PROHIBITED OR RESTRICTED BY LAW. PERSONS IN POSSESSION OF THIS COMMUNICATION INDIRECTLY SHOULD INFORM THEMSELVES ABOUT AND OBSERVE ANY SUCH PROHIBITION OR RESTRICTIONS. TO THE EXTENT THAT YOU HAVE RECEIVED THIS COMMUNICATION INDIRECTLY AND SOLICITATIONS ARE PROHIBITED IN YOUR JURISDICTION WITHOUT REGISTRATION, THE MARKET COMMENTARY IN THIS COMMUNICATION SHOULD NOT BE CONSIDERED A SOLICITATION.
This material has been prepared by a sales or trading employee or agent of R.J. O'Brien and is, or is in the nature of, a solicitation. This material is not a research report prepared by R.J. O'Brien's Research Department. By accepting this communication, you agree that you are an experienced user of the futures markets, capable of making independent trading decisions, and agree that you are not, and will not, rely solely on this communication in making trading decisions.

 

The Devolution of Financial Privacy
It's no surprise to anyone paying attention that the pace in which financial privacy is evolving worldwide is accelerating. And unfortunately for the worse. Financial privacy is often viewed in a negative light, though it shouldn't be. Globally, tax authorities and the media have framed the issue into a "financial privacy means tax evasion or money laundering" message. The Swiss view it as a fundamental right to preserve human dignity, similar to medical privacy. Think about it. Should your government snoop into your medical records and automatically share them with foreign governments?
Governments, particularly Western governments, increasingly demand to know, under the threat of wealth-crushing penalties and criminal prosecution, the details of every penny you earn, spend, and save. Combine this information with the power to tax, and the motive is clear: you can't tax what you don't know about.
The assault on financial privacy is especially true for those who have assets abroad, beyond the immediate grasp of their home country's tax authorities. This is a predictable reaction as governments become more desperate for revenue to plug the holes in their wide and growing deficits.
The rapid decay of financial privacy is an unfortunate fact of life, but don't let that discourage you from diversifying your assets internationally. On the contrary, this trend supports a strong case for relocating your savings (and yourself) abroad – while it's still legal. Just keep reminding yourself that in order to achieve financial security through international diversification, you must, regrettably, sacrifice some of your financial privacy (in most cases).
Acrimonious Acronym
Yet, while you may think you are sacrificing some of your financial privacy, the reality is that you are not. You can't lose what is already lost. Thanks to the (so-called) Patriot Act and an avalanche of other laws and regulations, Americans and the citizens of many other Western countries have no financial privacy to begin with.
It is not coincidental that the United States, the world's largest debtor nation, is spearheading the charge to nearly eliminate financial privacy. The starkest example of this is the odious Foreign Account Tax Compliance Act (FATCA), which will require every foreign financial institution in the world to identify their American clients and report their holdings and activities to the IRS. It is an audacious maneuver to impose an American law upon every sovereign country the world over.
FATCA is at the vanguard of the global trend for the automatic reciprocal exchange of financial information between governments. The UK and the EU have followed suit and launched their own versions of FATCA. And at the latest G-20 meeting, there was a strong push for establishing a new global standard of automatic inter-governmental exchange of financial information.
Compliance Is Not Free
There is significant momentum behind FATCA and its offspring; yet, claiming the death of financial privacy may be premature. Perhaps the largest impediment is that financial privacy is a legal guarantee in many countries. In such places, a financial institution that shares client information with a foreign government without evidence of illegal activity would violate the laws of its own jurisdiction.
The US has been able to work around this by giving foreign financial institutions alternative methods of information reporting that keep them in legal territory.
It's not just the violation of sovereignty and the extra-territorial application of American law that has led foreign governments and financial institutions to object to FATCA. They also oppose the massive costs that they will be forced to incur to be FATCA-compliant. One of the more conservative estimates puts compliance costs, on average, at between $30 and $80 million per bank, and the top 30 foreign banks will shoulder $7.5 billion in costs. Of course, the paper pushers and compliance professionals won't complain about the extra business that FATCA creates for them.
Cost of Non-Compliance
What will happen if a country elects not to comply? It unfortunately has little recourse to resist. The US government wields immense political leverage and can pick and choose whom it will cut off from the US financial system – and by extension a vast chunk of international trade.
Any foreign financial institution that fails to comply with FATCA – a "recalcitrant" institution in IRS parlance – will incur a 30% withholding tax on every financial transaction that originates or terminates in the US, effectively shutting them out of the US financial system.
This is a powerful incentive, and it is hard to overemphasize its importance. Many countries with a long tradition of strong privacy rights have buckled under this pressure, like Switzerland, for example. The bottom line is that no country or city-state can afford to lose access to US financial markets, the world's largest.
So that raises the question: which countries that have been critical of FATCA would the US balk at cutting off from the US financial system? The answer: Russia and China.
The Sino-Russo Stalemate
It's been no secret that Russia and China view FATCA very unfavorably and negotiations towards compliance are going nowhere. Well, at least public negotiations. There are rumors of closed-door discussions taking place.
Liu Xiangmin, deputy director general of legal affairs at the People's Bank of China, remarked that, "It [FATCA] creates unreasonable costs for foreign financial institutions and directly contravenes many countries' privacy and data protection laws." Likewise, the Russian government has come out strongly against FATCA, saying that it would be illegal in the country as it would go against Russian and international laws.
It seems unlikely that the US would hit China with the 30% withholding tax for non-compliance. With China holding roughly $1.2 trillion in US Treasuries, it's not as if it lacks its own leverage over the US government. And unless the US intends to scuttle its touted "reset" in US-Russian relations, punishing Moscow is probably not on the table. There also are many very real ways that Putin could retaliate.
This leaves the FATCA juggernaut stuck in a Sino-Russo-US standoff. It appears the US will have to either make serious concessions to win them over, or back down on the 30% non-compliance tax. Backing down would punch two massive holes in global compliance, embolden other countries to resist, and could render the whole FATCA project impotent. How this impasse plays out remains to be seen. But we should know soon, as the January 1, 2014 compliance deadline fast approaches.
US: Ground Zero
In the US, there hasn't been any significant political support to change the direction we are heading with regards to financial privacy. Under FATCA, every US person must annually report their foreign-held assets and foreign accounts to the IRS and US Treasury. Senator Rand Paul has introduced a bill to repeal some of the more egregious parts of FATCA, but it has yet to gain traction. Realistically, the bill will likely die a symbolic gesture.
In short, it is only prudent to expect that the trend of eroding financial privacy will continue. Trying to illegally hide your assets offshore and skirt reporting requirements is a fool's errand. The draconian penalties make a cost/benefit analysis easy… don't even think about it. Always comply with the law.
The reporting mandates for US persons that hold assets offshore means your financial life will be laid bare before US tax authorities. But that is still a far better trade-off than the alternative of keeping all of your savings in your home country and losing both your financial privacy (at least in most Western countries) and your financial security.
There are a number of steps you can take to protect yourself and your savings through internationalization that are completely legal. Whether you're looking to stash some cash or precious metals in another country, invest in foreign real estate and stocks, looking to set up an offshore LLC, or considering a second passport or residency, you will need accurate information to get started. The comprehensive Going Global 2013 report from Casey Research will arm you with sound strategies and trusted options for securing your financial future. You can find out more here.
[As we were inking the presses, it was reported that Singapore has signed-on to FATCA. As one of the world's premier financial hubs, this does not bode well for other Asian countries to resist compliance. But with or without reporting requirements, we will continue to uncover great opportunities for the international investor. —Ed.]
Nick Giambruno has a long-held passion for internationalization. He has lived in Europe and worked in the Middle East. Most recently in Beirut and Dubai, where he worked as a research analyst covering Middle East and North Africa equities for an investment bank. Nick is a CFA charterholder and holds a Bachelor's Degree in Finance, summa cum laude, from the Carlson School of Management at the University of Minnesota. He is a contributor to and investment analyst for The Casey Report and editor at International Man.

WMA Roster of International Brokers
WMA Recap - May 2013

| | |
| --- | --- |
|   | Cameco (TSX: CCO; NYSE: CCJ) is the world's second-largest uranium producer and largest producer of U308, the fuel used in nuclear power plants. The post-Fukushima shutdown of Japan's nuclear reactors is costing the country billions to fill the energy gap with imported-oil-fired power plants. Prime Minister Abe intends to restart the country's nuclear power facilities, and polls show that anti-nuclear public sentiment is receding. A return to nuclear would raise demand for uranium and push up its price. With high gross net margins and revenue growth, a solid balance sheet, a nice dividend, and market dominance, consider taking a position in CCO ahead of Japan's U-turn on nuclear. Shares on the TSX have been trading in a C$18-C$22 range. With both the TSX Composite Index and US exchanges at record highs, we recommend waiting for a pullback, preferably below $19 on either market. Click Here » |
|   | Mobile TeleSystems (NYSE: MBT; ADR) is the largest telecom operator (by revenue) in the CIS. The company has expanded its market penetration through acquisitions, the latest giving it a foot in the fixed-line segment that includes broadband and pay-TV. It is focused on cash flow generation through, among other things, reductions in distribution costs and capex; its capex-to-sales ratio will fall to 18%-19% over the next three years. Mobile TeleSystems is a solid dividend story, committing US$1.3 billion to dividends, which equates to a 2012 yield of roughly 6.5%-7%. Shares offer a combination of decent growth, a healthy dividend, and limited downside. Buy shares at the current price of around US$20. Click Here » |
|   | Franco-Nevada (NYSE: FNV) and Freeport-McMoRan Copper & Gold (NYSE: FCX) are the prime companies to own in the gold and copper resource segments, respectively. The April meltdown in gold impacted the shares of both companies, but did not change the fundamental reasons to own either (see original write-ups for FNV and FCX). Freeport remains inexpensive, selling at a forward P/E of under 9 and yielding 3.8%, with a very strong balance sheet. Franco-Nevada has been one of the year's stronger performers in the gold sector and quickly recovered all of its mid-April losses. The only thing that has changed for both companies is the share price. If you own either, we recommend you hold or consider averaging down. If you do not own them, we recommend you buy. In the current weak metals climate, wait for the price to come to you. Click Here » |

Editorial Board: Doug Casey, Casey Research; John Mauldin, Chairman of Mauldin Economics; Adrian Day, Adrian Day Asset Manager; Terry Coxon, Passport Financial; and, Gregory McNally, Toronto-based legal expert and member of the Turks and Caicos Bar Association.
Contributing Editors: Alexei Medved, Russia and former CIS; Gordon Chang, China; Steve Belmont, commodities; Chuck Butler, currencies; Claudio Maulhardt, Latin America; Dirk Steinhoff, Europe & Scandinavia; Ankur Shah, SE Asia & Singapore; Axel Merk, currencies/internationalization; Nick G., internationalization; Kiron Sarkar, global macro.
A MAULDIN ECONOMICS PUBLICATION Issue 2.5 • May 2013
INTERNATIONALIZE YOUR MONEY. YOUR LIFE.
Stock listed on the Over-the-counter (OTC) market (the "pink sheets") use a five-letter symbol ending in "F" that designates them as a foreign stock (may also include the suffix ".PK"). These stocks are not required to list with the SEC or submit quarterly reports. Liquidity can be limited and will make trading difficult during periods of low share volume. Unpredictable liquidity mandates the use of limit orders when buying and selling on the OTC market - no market orders should be attempted. The shares of pink sheet stocks also trade separately from the company shares traded on its home exchange, and can trade at a vastly different price. Quotes are only updated once a day and that can hinder the buying and selling of shares. For these reasons, we recommend that foreign stocks, when possible, be traded on their native exchange. Trading on the OTC market carries added risk, and each investor must determine their level of acceptable risk.
The securities mentioned in World Money Analyst should be considered as positions held for the medium- to long-term. World Money Analyst is not a trading or "alert" service. The material offered in World Money Analyst is intended to inform subscribers about possible investment opportunities. The analysis presented in World Money Analyst should be considered as a starting point from which each subscriber should conduct their own diligent research to determine if an investment meets their individual objectives and risk tolerance. World Money Analyst subscribers should monitor their investments to determine acceptable entry and exit prices. Market conditions, sector specific developments, company specific news, price volatility, government action, and myriad other factors can cause a change to an analyst's outlook at any time.
We focus on investments and strategies that anyone, living in most countries, can act upon. Certain investments and strategies uncovered by our editors may be subject to restrictions particular to your nationality, net worth, country of residence, or other factors. As always, it is important that every investor does his or her own due diligence and, if required, check with one's own counsel before investing.© Copyright 2013 by Mauldin Economics, LLC.
WORLD MONEY ANALYST, A MAULDIN ECONOMICS PUBLICATION
Publisher: Mauldin Economics
Managing Editor: Kevin Brekke
The Mauldin Economics website, Yield Shark, Thoughts from the Frontline, Thoughts from the Frontline Audio, Outside the Box, Over My Shoulder, World Money Analyst, Bull's Eye Investor, Things That Make You Go Hmmm…, Just One Trade, and Conversations are published by Mauldin Economics, LLC. Information contained in such publications is obtained from sources believed to be reliable, but its accuracy cannot be guaranteed. The information contained in such publications is not intended to constitute individual investment advice and is not designed to meet your personal financial situation. The opinions expressed in such publications are those of the publisher and are subject to change without notice. The information in such publications may become outdated and there is no obligation to update any such information.
John Mauldin, Mauldin Economics, LLC and other entities in which he has an interest, employees, officers, family, and associates may from time to time have positions in the securities or commodities covered in these publications or web site. Corporate policies are in effect that attempt to avoid potential conflicts of interest and resolve conflicts of interest that do arise in a timely fashion.
Mauldin Economics, LLC reserves the right to cancel any subscription at any time, and if it does so it will promptly refund to the subscriber the amount of the subscription payment previously received relating to the remaining subscription period. Cancellation of a subscription may result from any unauthorized use or reproduction or rebroadcast of any Mauldin Economics publication or website, any infringement or misappropriation of Mauldin Economics, LLC's proprietary rights, or any other reason determined in the sole discretion of Mauldin Economics, LLC.
Affiliate Notice
Mauldin Economics has affiliate agreements in place that may include fee sharing. If you have a website or newsletter and would like to be considered for inclusion in the Mauldin Economics affiliate program, please email us at http://affiliates.pubrm.net/signup/me. Likewise, from time to time Mauldin Economics may engage in affiliate programs offered by other companies, though corporate policy firmly dictates that such agreements will have no influence on any product or service recommendations, nor alter the pricing that would otherwise be available in absence of such an agreement. As always, it is important that you do your own due diligence before transacting any business with any firm, for any product or service.


Copyright © 2013 Mauldin Economics