World Money Analyst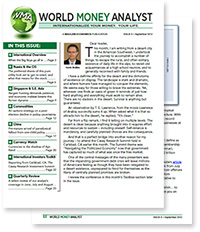 Introducing… World Money Analyst
From Mauldin Economics
For six months, we worked hard to find, recruit and enlist a globally diversified team of successful analysts and investors to share their deep understanding of their backyard markets – and the very best ways to invest in those markets.
Their unique analysis is brought together in a breakthrough new service – World Money Analyst – designed specifically to help you and other smart investors step off the shaky treadmill that comes from keeping all your investments, and all your assets, in a single politically controlled jurisdiction.
Simply stated, with World Money Analyst you'll have your own team of highly competent analysts, strategically positioned around the globe, working at your side to search the world for the next big opportunities.
You'll have a decisive advantage over single-market investors.
Meet The World Money Analyst Team
First and foremost, the contributing analysts whose work you'll be privy to in the pages of World Money Analyst are not slick "talking head" brokerage firm pitchmen, nor are they Ivy League academics pontificating about the unknowable.

Rather, they are internationally sophisticated, in-the-trenches investors who spend every day making money for themselves and their clients. An example: In our first issue of World Money Analyst, readers were introduced to Claudio Maulhardt, the Buenos Aires-based partner of Copernico Capital Partners.
It literally took us months to convince the publicity-shy Claudio to serve as our Latin American analyst, but we're glad we kept at it.
That's because Claudio is a conspicuous winner. Despite sizable corrections in most Latin American markets in 2011 – Brazil (down 18.8%); Argentina (down 32%); Chile (down 13%); Mexico (down 4.9%) – Claudio's fund was up 4.85%.
As you don't need us to tell you, anyone can make money in a rising market. But it takes a special kind of investor to make money in one that's falling.
And Claudio's in very good company. Among your other team members:
---

Grant Williams, Global Macro. Grant is a Singapore-based portfolio manager and strategist for the Testudo Fund as well as author of our very own popular investment letters, Bull's Eye Investor and Things That Make You Go Hmmm . In addition to keeping an eye out for opportunities in the region, Grant is part of the analyst group tasked with positioning World Money Analyst readers in powerful emerging investment trends.
---

Gordon G. Chang, China. Author of The Coming Collapse of China and columnist for Forbes.com, Gordon's analysis on the outlook for the Chinese juggernaut has regularly been a wake-up call for financial sinophiles. With China's economy now showing signs of fracturing, his unique insights and exclusive analysis for World Money Analyst have never been more important or timely.
---

Stephen Belmont, commodities market strategies. Tapping into his deep experience as chief market strategist and senior partner with the Rutsen Meier Belmont Group, Stephen will provide you his best trading ideas in global commodity markets.
---

Alexei Medved, Russia and the CIS. With an MBA from Wharton who pioneered East European investments in 1989 while working for a major global investment bank, Alexei Medved is a hands-on (and very successful) investor in Russian equities and bonds.
For the record, the Russian stock market beat all the other major stock markets in the world for the years 2000-2011 – and by a very wide margin: the US market was essentially flat over the period while Russia was up 671%! Maybe there's a more knowledgeable investor in these markets, but we don't know of one.
---

Chuck Butler, currency watch. In any international investment, the currency component can enhance (or hinder) your returns. In each monthly edition of World Money Analyst, Chuck Butler, head currency analyst and president of EverBank World Markets, guides you on a quick trip around the globe to find opportunities in the latest developments in world currencies.
---

Adrian Day, international special situations. Adrian Day is a British-born writer and money manager, a graduate of the London School of Economics, and president of his own money management firm, Adrian Day Asset Management, where he specializes in global diversification and resource equities. He has been a frequent guest on CNBC and Wall Street Journal radio. His latest book is Investing in Resources: How to Profit from the Outsized Potential and Avoid the Risks (published by Wiley & Sons).
---

Dirk Steinhoff, Europe. Prior to joining BFI Capital Group of Zurich as Managing Director, Portfolio Management (US clients), Dirk Steinhoff had acted as an independent asset manager for over 15 years. In addition, he successfully founded and built two companies in the realm of infrastructure and real estate management. With such experience, Dirk's unique perspective makes him an excellent judge of an investment's character.
---

Ankur Shah, South East Asia Equities. A specialist in South East Asian equities, Ankur Shah has worked as both a buy-side investment analyst for a global long/short equity hedge fund… as well as a sell-side analyst for an emerging markets investment bank. His eight years of emerging-market equity research experience – not to mention a proven value-investing methodology – makes him a perfect addition to the World Money Analyst team.
---

Axel Merk, Currencies/Internationalization. An authority on currencies and a pioneer in the use of strategic currency investing to seek diversification. A graduate of Brown University, Axel is the President and CIO of Merk Investments, manager of the Merk Funds, a firm he founded to make his investment philosophy accessible to retail investors.
He is a regular guest on the Wall Street Journal, Barron's, Financial Times, Bloomberg, and CNBC, and brings a unique perspective on the global economy, gold, and currencies.
---

Kevin Brekke, Europe, global investment vehicles. From his strategically positioned office in Switzerland, Managing Editor Kevin Brekke monitors the latest developments in his European backyard and digs in deep on issues related to financial privacy, global precious metals storage opportunities, the best financial houses to do business with and much more.
The world is a big place, and there's no need to remain a "stay-at-home investor" with the deep pool of talent you'll tap into with each monthly edition of World Money Analyst.
Smart investors understand the concept of risk and reward. In this case, you have zero risk, only the potential of a lifetime of big rewards, free of the threats that come from being entirely invested in a single market, in a single currency, in a single political jurisdiction.
Try World Money Analyst for yourself and receive our No-Questions-Asked Total Satisfaction Guarantee. If at any time within 90 days you decide World Money Analyst isn't exactly what you are looking for, cancel and receive a 100% refund! Simple as that.
You'll make the right choice.