World Money Analyst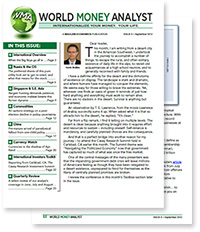 World Money Analyst Defeats Home Bias and Gives You International Streams of Investment Returns
Home bias destroys portfolios over time.
Home bias results from focusing only on domestic markets. Many investors fall victim to home bias because home markets are the easiest to trade and to track.
Doing so narrows your universe of opportunity and results in smaller gains than if you had a fully internationalized element of your portfolio.
It also piles all your risk in one place.
For example, if you trade US markets exclusively and the Federal Reserve makes a major misstep causing the markets to drop quickly, your entire portfolio takes a severe hit.
The solution to home bias, as you'll see below, is to look abroad for truly diverse opportunities that insulate you from domestic risk and give you a complementary stream of gain potential.
World Money Analyst from Mauldin Economics can help internationalize your portfolio (and your lifestyle) while giving you a chance at gains most US-based investors never see.
Led by Managing Editor Kevin Brekke, World Money Analyst only recommends global investment opportunities that meet TWO important criteria:
First, all recommended plays must trade on major, regulated global exchanges.
Second, all recommended plays must be able to be bought and sold via conventional, Internet-based, established brokerage accounts you can access from the US.
(A report currently available to World Money Analystreaders outlines possible brokerages if your current brokerage account is unsuitable.)
Recent gains you could've enjoyed, recommended by the global team of expert, local, on-the-ground investigators at World Money Analyst, include…
34.8% first-half-position gains in just one month from Russian airline Aeroflot

84% total return in 12 months when the Aeroflot position closed in January 2014

35.4% gains in 5 months from oil pipeline company Transneft

19.7% in 2 months on Indian IT giant Infosys

21.3% gains in just over a year from SingTel, a Singapore-based telecom company
The gains you see above are among the best performers of the past year. Had you participated in every play, you would've seen an average gain of 15.6%.
Though many of the gains delivered by World Money Analyst appeared in less than one year, World Money Analyst is NOT a short-term trading service.
Quick gains like you see above are an ancillary benefit of having an expert global team of on-the-ground analysts delivering a constant stream of opportunity to you.
In your monthly issues and action updates from World Money Analyst, you'll also see long-term internationalization strategies like currency plays, foreign real estate ideas, and details on lifestyle internationalization like how to obtain a second passport.
Below, you can meet the experts who contribute to your World Money Analyst monthly issues:

World Money Analyst Managing Editor Kevin Brekke.
From his office in Switzerland, Managing Editor Kevin Brekke manages the dispatches from the global team of World Money Analyst experts. He has lived all over the United States, lived in Germany for eight years, and visited both Singapore and Malaysia to investigate metals storage, banks, and brokerages in the past year.
---

Alexei Medved, Russia and the CIS. With an MBA from Wharton who pioneered East European investments in 1989 while working for a major global investment bank, Alexei Medved is a hands-on (and very successful) investor in Russian equities and bonds.
For the record, the Russian stock market beat all the other major stock markets in the world for the years 2000-2011 – and by a very wide margin: the US market was essentially flat over the period while Russia was up 671%! Maybe there's a more knowledgeable investor in these markets, but we don't know of one.
---

Ankur Shah, South East Asia Equities. A specialist in South East Asian equities, Ankur Shah has worked as both a buy-side investment analyst for a global long/short equity hedge fund… as well as a sell-side analyst for an emerging markets investment bank. His eight years of emerging-market equity research experience – not to mention a proven value-investing methodology – makes him a perfect addition to the World Money Analyst team.
---

Dirk Steinhoff, Europe. Prior to joining BFI Capital Group of Zurich as Managing Director, Portfolio Management (US clients), Dirk Steinhoff had acted as an independent asset manager for over 15 years. In addition, he successfully founded and built two companies in the realm of infrastructure and real estate management. With such experience, Dirk's unique perspective makes him an excellent judge of an investment's character.
---

Claudio Maulhardt covers Latin America and South America for World Money Analyst. Claudio, based in Buenos Aires, is partner at Copernico Capital Partners.
---

Robert Ross is a senior analyst at Mauldin Economics and Contributing Editor to Bull's Eye Investor. A native of Cleveland, OH, he graduated top of his class at Loyola University New Orleans College of Business with a degree in economics. While at Loyola, Robert studied under the tutelage of Dr. Walter Block, with whom he subsequently published a paper in the Journal of Social, Political and Economic Studies. After stints as a policy analyst for the Pelican Institute for Public Policy and in the financial advisory division at Merrill Lynch, Robert found his way to Mauldin Economics. Robert also worked as an analyst for Casey Research, where he conducted economic and equity research for The Casey Report and other publications.
---

Stephen Belmont, commodities market strategies. Tapping into his deep experience as chief market strategist and senior partner with the Rutsen Meier Belmont Group, dStephen will provide you his best trading ideas in global commodity markets.
---

Axel Merk, Currencies/Internationalization. An authority on currencies and a pioneer in the use of strategic currency investing to seek diversification. A graduate of Brown University, Axel is the President and CIO of Merk Investments, manager of the Merk Funds, a firm he founded to make his investment philosophy accessible to retail investors.
He is a regular guest on the Wall Street Journal, Barron's, Financial Times, Bloomberg, and CNBC, and brings a unique perspective on the global economy, gold, and currencies.
---

Chuck Butler, currency watch. In any international investment, the currency component can enhance (or hinder) your returns. In each monthly edition of World Money Analyst, Chuck Butler, head currency analyst and president of EverBank World Markets, guides you on a quick trip around the globe to find opportunities in the latest developments in world currencies.
---

Gordon G. Chang, China. Author of The Coming Collapse of China and columnist for Forbes.com, Gordon's analysis on the outlook for the Chinese juggernaut has regularly been a wake-up call for financial sinophiles. With China's economy now showing signs of fracturing, his unique insights and exclusive analysis for World Money Analyst have never been more important or timely.
---

Shanmuganathan "Shan" Nagasundaram, India. With his background as founding director of strategy definition, economic/financial and consulting for Benchmark Advisory Services (a boutique firm operating in the space of portfolio management and private equity investing), Shan is eminently qualified to cover India's emerging potential. With the opening of Indian markets to global investors, he will bring increased coverage of the country's varied markets to the pages of World Money Analyst.
A 100% risk-free subscription to World Money Analyst is just $179.
That price gets you a full year of monthly issues (each commonly containing two new investing ideas)…

Plus action email alerts if you need to make a move quickly based on breaking news

Model portfolio tracking at the World Money Analyst website

Free reports and bonus interview content (posted at the website for you to view and download).
Your risk-free subscription to World Money Analyst also comes with 90 days of purchase protection.
If you don't like what you see, you can get your entire subscription price back.
Click here to start your risk-free subscription to World Money Analyst today.