Yield Shark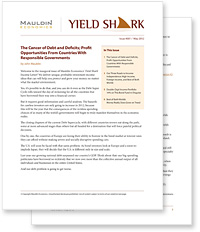 Yield Shark: The Income Investor's Solution to a Low-Interest-Rate World
From Mauldin Economics
Rarely has it been harder to earn a decent return on your money.
With governments around the world so deeply in debt, interest rates are at or near 100-year lows—and those indebted governments have every intention of keeping interest rates low as long as they possibly can.
Enter Yield Shark, an important service from Mauldin Economics.
On behalf of subscribers, John Mauldin's team of analysts look to boost investment income by finding just the right combination of yield and safety—including high-quality US and foreign dividend stocks with both great yields and capital-appreciation potential, corporate bond issues, and even the sovereign-debt issues of fiscally responsible governments.
Using proprietary research, Yield Shark's analysts move quickly to bring their favorite income opportunities to your attention—opportunities you are unlikely to hear about from your broker, financial cable shows, or anywhere else.
Each month they'll present you with a wide variety of higher yield and lower risk combinations, so you can pick precisely the kind of returns you're looking for. Some recent suggestions include…
A transportation company whose locked-in long-term shipping contracts have produced a handsome 13% return, year after year.
A financial-services giant currently paying investors a 14% annual yield. Better yet, its share price has already doubled—and, for reasons you'll read in Yield Shark, this stock should continue to appreciate.
A top-rated international bond fund averaging a 9.5% dividend payout, without a down year... and a total return of 879% since its inception in 1986.
An emerging-markets communications giant trading at only eight times earnings. Our team is anticipating double-digit annual appreciation on top of its current 10% dividend yield.
If you're fed up having to settle for US Treasuries, CDs, or other low-interest instruments because there seemed to be no safe, high-yielding alternatives… or if you've been investing in stocks without the benefit of great dividends, then it's time to put Yield Shark from Mauldin Economics to work for you.
Just how much more can you boost your income? Finding out couldn't be easier because you can try Yield Shark with absolutely no risk. With our No-Questions-Asked Total Satisfaction Guarantee, if at any time within 90 days you decide Yield Shark isn't exactly the income supercharger you are looking for, cancel and receive a 100% refund! Simple as that.