MODULE 1
Intro to Artificial Intelligence
An overview of the amazing world of AI... and the many ways to get exposure to this booming sector.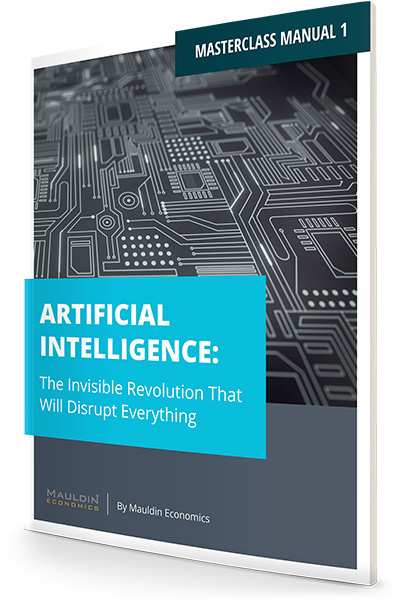 Masterclass Manual 1:
Artificial Intelligence: The Invisible Revolution That Will Disrupt Everything
AI technology is currently making exponential progress. There is literally no industry that has not been impacted by AI.
Thanks to advanced computer vision, machine learning, and algorithms, AI programs can now create original art and music... detect early-stage diseases in medical imaging... and screen and interview job applicants.
Improvements in natural language recognition will soon enable computers to have real-time conversations that are indistinguishable from talking with a real human.
The AI chatbot market alone is predicted to grow 29% per year through 2024.
And there is so much more...
This Masterclass Manual provides a deep dive into the exciting world of artificial intelligence and the amazing variety of AI branches, sub-sectors, and applications. You'll be surprised what's coming down the pike... and what's already here.
Mini-Documentary: AI: The Invisible Revolution
This 20-minute mini-documentary illustrates the enormous profit potential of artificial intelligence. It will become part of your AI Masterclass to re-watch and show to your friends, family, and coworkers.
MODULE 2
Machine Learning
Machine learning is a branch of AI that gives computers the ability to learn and improve automatically through experience—without being explicitly programmed.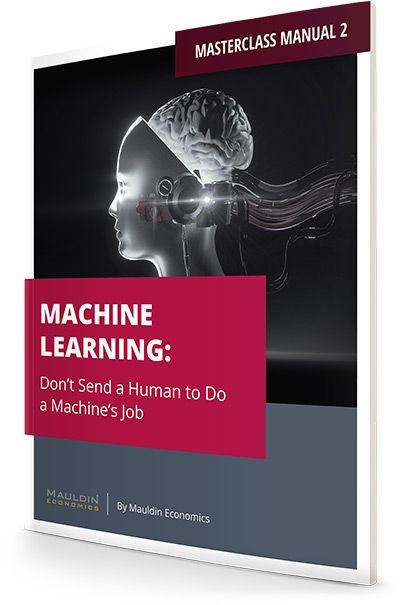 Masterclass Manual 2:
Machine Learning: Don't Send a Human to Do a Machine's Job
An estimated 80% of all global data today is unstructured. There aren't enough human data processors on the planet to deal with this amount of information.
Thanks to AI, machines can take over that job. They are now able to quickly identify patterns, connections, and relationships within data, all with increasing accuracy.
There is no place more important to put AI to good use than the healthcare sector... and the entire medical industry is ripe for disruption.
Machines can generate and read a patient's medical records and accurately diagnose health problems. What's more, AI can even predict what types of health issues a person may develop in the future. Plus, it can take care of tedious administrative tasks, which allows doctors to spend more time with their patients.
The sky is truly the limit for AI in healthcare, the food industry, retail, and transportation. And the two companies our analysts vetted excel in the machine learning field...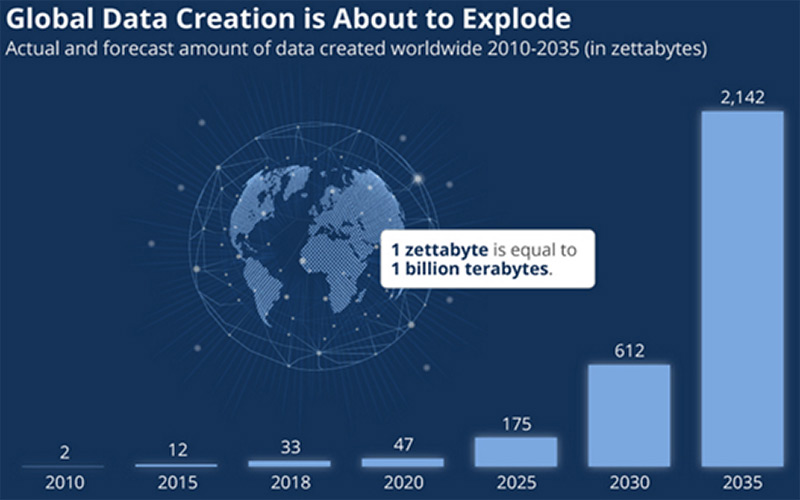 Data to Everything
Company A is a full-service provider that describes its service as a "Data to Everything Platform."
It helps customers like Domino's Pizza, Bank of America, and other Fortune 100 firms analyze their data via a machine learning toolkit that detects patterns and formulates solutions.
Over 17,000 companies are using this high-performance platform, and its customer retention consistently averages around 90%.
Moonshot Revenues
Company B's products sit on the analytics end of the data processing stack and are expected to generate $471 million in revenue this year. That's up from $38 million in 2014—only six years ago.
The company has more than 6,700 customers in over 90 countries and across 12 industries. About 740 of them are on the Forbes "Global 2,000" list of the world's largest public corporations.
Revenue is projected to climb to $816 million by 2022... a near-doubling from 2019.
You'll learn all the details about both companies in your AI Masterclass.
---
PLUS: Expert Interview on Machine Learning
Watch Mauldin Economics Publisher Ed D'Agostino and his guest Melanie Mitchell discuss promises and limitations of AI, the three types of machine learning, and what has to happen before we see truly autonomous cars.
The interview plus a full transcript are available on your attendees-only webpage.
MODULE 3
Computer Vision
Computer vision is artificial intelligence that can recognize objects, discover patterns, and make decisions with the data it uncovers. Think of it as technology's ability to learn and perform tasks that only humans used to be able to do.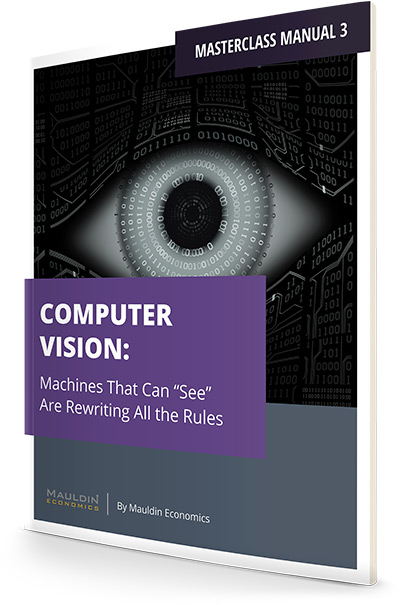 Masterclass Manual 3:
Computer Vision: Machines That Can "See" Are Rewriting All the Rules
You've seen computer vision in action if you've uploaded a photo to Facebook and it automatically identified the people in it, or if you've taken a photo of a product and your smartphone proceeded to show you all the stores where you could buy it.
Computer vision works through visual recognition techniques like image classification, object detection, image segmentation, object tracking, optical character recognition, and image captioning. Here's an example:

The global computer vision market is expected to grow over 30% per year and hit $48 billion by 2023.
And the companies at the frontlines are poised to make their shareholders very happy...
Finding the Chinks in the Armor
Company C is a pure play on and a global leader in the industrial-automation sector.
Its innovative systems help manufacturers spot and eliminate waste and defective products. This is a bigger deal than you may think. According to insurer Allianz, "The automotive and industrial supplier industries account for 70% of all losses due to defects."
The size of the surface vision and inspection market is growing by about 10% per year, with an expected $20 billion value by 2025.
The company also produced the first robotic forklift this year. The forklifts can handle large and heavy loads, and up to 100 of them can be controlled via the proprietary Fleet Manager software platform.
We expect the demand to be huge... and Company C is one of the best in its field.
Owning a Fifth of the Market
Company D is one of the world's leading companies in the fields of vision systems, software, sensors, and industrial barcode readers.
Founded in 1981 by an MIT faculty member who still heads up the company today, it has a 20% market share, worth $4.2 billion, in the six segments it serves.
The company offers a wide range of machine vision systems from simple bar code scanners to full 3D vision using multiple cameras. In April 2020, it unveiled the latest generation of its family of industrial image analysis systems.
The two largest segments of its client base are the automotive and consumer electronics industries. Despite its leading position in the market, the company still has plenty of room to expand... and very promising long-term growth potential.
Our analysts rate it a solid Buy at current prices.
---
PLUS: Expert Interview on Computer Vision
Watch Ed D'Agostino and his guest George Gilder talk about "Google's Marxism," why we don't have to worry about AI taking over the world, and what the advent of a new carbon era means for the future of AI.
The interview plus a full transcript are available on your attendees-only webpage.
MODULE 4
Edge Computing
Edge computing—as opposed to cloud computing—brings computation and data storage closer to the location where it is needed, to improve response times and save bandwidth.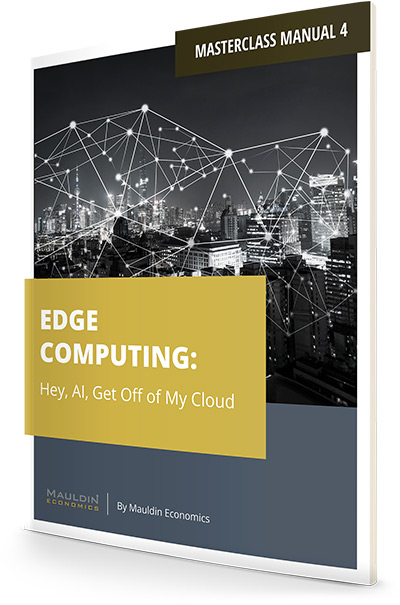 Masterclass Manual 4:
Edge Computing: Hey, AI, Get Off of My Cloud
As AI continues to push the boundaries of the possible, what's needed is lightning-quick crunching of data and an immediate response.
That's not possible if the computer has to send data to the cloud for processing and then wait for the results. Even a "latency" of a few seconds could make a critical difference.
The solution is to build networks that allows AI-driven processing and decision making without interaction with the cloud. For that, we need faster processing chips that are tailored to unique applications.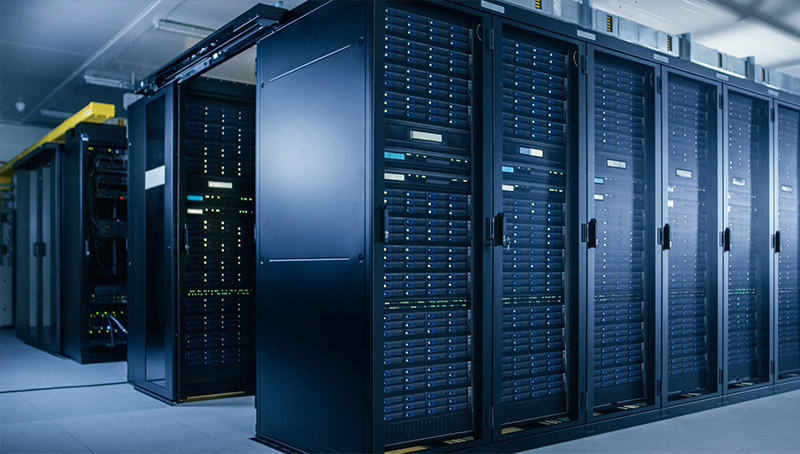 This AI chipset market is growing so fast, it's estimated that it will leap from $11 billion a year in 2019 to $71 billion by 2025.
A market of that size has attracted the attention of a number of key players in the tech space.
In this Masterclass Module, you'll learn all about edge computing and the companies that are best positioned to profit from it.
Content Delivery at Warp Speed
Content delivery networks (CDN) are vital for everything from video streaming to gaming and e-commerce. Content owners like Netflix, Facebook, and Amazon pay CDNs to deliver their content to users. But CDNs store their data on the cloud—and that can slow things down and impact customer experience.
Company E, which IPO'ed in 2007, is beating out the competition by moving into the edge computing space, which solves the speed problem associated with cloud computing.
The company could be easily overlooked because it has yet to turn a profit. However, sales have grown by 6% every year since 2016. And considering that it benefits from the same trends as its peers but trades at a fraction of their prices, this company's stock has over 100% upside in the next 12 months.
AI Brain in a Box
Company F designs graphics processing units (GPUs). Old-time central processing units (CPUs) are easily overloaded when you run a complex app on your computer. GPUs, on the other hand, can perform a huge number of calculations at the same time, which makes them super-fast and perfectly suited for AI.
This company can service massive data centers with its innovative GPUs—and the industry has taken notice. Within just four years, revenue rose tenfold. The company's products are essential building blocks for the AI revolution and used by nearly all the big key players in the field. The Mauldin Economics analysts expect demand for its products to grow exponentially.
The stock has risen 1,800% in the last five years, but it is still far from overpriced. Simply a must-have for your AI portfolio.
---
PLUS: Expert Interview on Edge Computing
Ed D'Agostino and his guest Stephen McBride converse about edge computing vs. cloud computing, as well as Stephen's #1 stock that beats all its competitors in the chip industry.
The interview plus a full transcript are available on your attendees-only webpage.
MODULE 5
Pharma Applications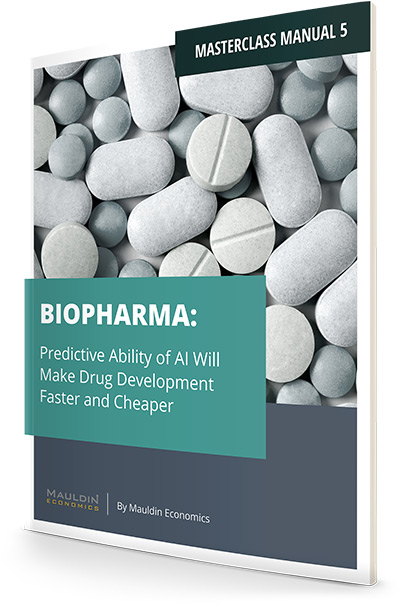 Masterclass Manual 5:
Biopharma: Predictive Ability of AI Will Make Drug Development Faster and Cheaper
For every pharmaceutical drug that makes it from the lab to your medicine cabinet, there are hundreds or even thousands that never see the light of day.
In the United States, only about 1 in 10 drug candidates that enter Phase 1 trials end up being approved by the FDA.
Considering that developing and testing a drug takes years and can cost billions of dollars, that's a lot of wasted time, effort, and money.
AI is a lifesaver for the biopharma industry. It can automate and streamline drug discovery and development to help companies develop drugs faster, cheaper, and with less risk.
Thanks to machine learning and computer vision, AI can now view, find, and interpret valuable information within charts, graphs, tables, photos, and other images. The data from thousands of sources like research papers, successful and failed clinical trials, patents, and patient medical files help the AI assess the outlook for a to-be-developed drug with great accuracy.
Analysts project that by 2024, 40% of global AI healthcare dollars will be spent on drug development.
Biopharma will be the #1 application for AI in the next two to three years... and these companies are likely to be big winners in the field.
Drug Discovery with AI
Company G is a clinical-stage biopharmaceutical company that leverages its AI-powered R&D engine to optimize the drug discovery process and find new applications for existing drugs.
The AI platform scans millions of data points from multiple sources—like symptoms, genes, proteins, and pathways specific to disease—to create metadata. Further analysis can then uncover previously unknown connections between pharmaceutical compounds and disease targets.
The company's proprietary AI platform may become an industry standard.
It already has a deep pipeline of drugs. In 2020, the company reported positive results from Phase 3 clinical trials, and we should see the first FDA product approval in 2021.
The Healthcare Data Behemoth
Company H has an unrivaled collection of healthcare data that grows larger every second.
That data itself is an enormous asset—but the company's real value is in turning data into actionable insights through a suite of groundbreaking technologies that are a "must-have" for any drug developer.
No surprise that the company has more than 8,000 clients in over 100 countries, and its retention rate for its top 1,000 customers is 99%.
In your Masterclass Manual, you'll find out all the details about these applications and the two blockbuster companies mentioned above.
---
PLUS: Expert Interview on Biopharma
Watch Ed D'Agostino and his guests Chris Wood and Panna Sharma discuss the amazing possibilities that AI opens up for the biopharma sector, as well as the best strategies for investors.
The interview plus a full transcript are available on your attendees-only webpage.