Mauldin Economics
Ever since his breakthrough book, Bull's Eye Investing: Targeting Real Returns in a Smoke and Mirrors Market (Wiley, 2004), best-selling author, analyst, and financial writer John Mauldin has been helping individual investors and institutions develop a clearer understanding of the forces driving the global economy and investment markets.
In addition to his public writings, John is a sought-after advisor to large hedge funds and to leading money managers.
John is also the cosponsor of an annual conference in California featuring a literal Who's Who in the world of economics and investments, with past faculty members including Mohammed El-Erian of Pimco, Harvard-based economist Niall Ferguson, Dr. Marc Faber, Lacy Hunt of Hoisington Investment Management, Neil Howe, Dr. A. Gary Shilling, and many more.
Today, John's Thoughts from the Frontline and Outside the Box—free e-letters that explore the big picture of world economics—make John one of America's most widely followed thinkers on the challenges and opportunities facing investors.
In 2012, after years of helping millions of individual investors understand the macro-economy and investment markets, and while assisting his institutional clients in positioning their portfolios to take advantage of these macro-trends, John had something of an epiphany:
His individual investor-readers desperately need to know what his institutional money-manager clients and friends know about the specific investments available to help them succeed in challenging markets.
And so
Mauldin Economics
was born.

Its mission is to bring to the attention of subscribers specific investments that John and his team uncover to meet today's most pressing investment goals; whether to boost investment income, generate capital gains, or preserve wealth in turbulent markets.
How We Differ
When you ask anyone in the industry about John Mauldin, it's not unusual for them to quip, "John's got the best Rolodex in the business."
Simply put, John's network of in-the-know economists and big-name money managers may be unparalleled in the industry. While we won't drop names, it is no exaggeration to say that John counts among his close friends and associates many of the biggest names in the world of finance and money management.
This is important to you, because it gives you the equivalent of direct access—just one small step removed—to some of the brightest minds and most successful managers in the world today.
On behalf of subscribers to Mauldin Economics, John taps into his network either directly or through the reams of high-level research he's privy to on a regular basis, to assist in identifying the smartest investments for today's markets. These ideas are then carefully screened and evaluated by a team of ace analysts, with only the best of the best brought to the attention of Mauldin Economics subscribers.
Why a Subscription Model?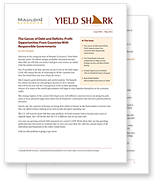 Many people get their information about investment ideas from commissioned brokers and financial planners, who are often pushed by their corporate managers to promote investments for reasons having little to do with the needs of the clients.
At Mauldin Economics, we believe in a more straightforward model. Namely, we do the heavy lifting on uncovering and analyzing today's smartest investments; then, when we find ideas that pass our analytical tests, we share the information with our subscribers. In exchange, we charge no commissions but rather a very reasonable annual subscription fee.
The beauty of this model is twofold.
Economies of scale. To produce the deep analysis we do for a single client, we would have to charge tens of thousands of dollars. Large hedge funds pay John upwards of $200,000 to consult with them and, as mentioned, his exclusive Bloomberg trading service goes for $40,000 a year per user. In contrast, by sharing the information it uncovers on today's best investments over a larger base of subscribers, Mauldin Economics can slash the annual subscription price.

In fact, many of the services offered by Mauldin Economics are available at less than $200 a year—a pittance considering the impact that these services can have on your bottom line (and peace of mind in these challenging markets).

You Win, or We Lose. The subscription model is the height of simplicity. Either we help you meet your most-pressing financial goals, or you drop us an email or call to cancel your subscription. In other words, we have every incentive to get things right because otherwise we'll lose you as a client.
We actually go one step further by offering a risk-free trial period for all of our services—usually a full three months—so you can kick the proverbial tires on the service to see if it's as good as we say it is. In the unlikely chance it doesn't meet your full expectations, you'll get an immediate refund of every penny you paid. (Even after your trial period, you can still cancel at any time for a no-questions-asked refund of your outstanding balance.)

But we don't want you to ever cancel, so you can rest assured that we go the extra mile to make sure you are positively ecstatic about your subscription to a Mauldin Economics service.
Ultimately, What's In It for You?
John Mauldin has been in the business of delving through the intricacies of the global economy and investment markets for decades. Yet, as he explained in his recent New York Times best-seller, Endgame, rarely if ever has the economic environment been as challenging as it is today.
Consequently, it's never been more important for you to team up with an organization such as Mauldin Economics. Here, you'll have access to the very best information and analysis on where the economy is most likely to head next… and the specific investment ideas you need to keep you on the right side of your goals in the challenging months just ahead.
To be clear: at Mauldin Economics we are NOT doom-and-gloomers. While there is much risk in today's markets, there is also much opportunity. Looking only at the glass as half-empty will leave you on the sidelines while some great opportunities to boost your income and your overall portfolio returns pass you by.
Simply stated, we believe in taking a realistic approach to the economy and investment markets that starts by stepping back from all the noise and fear in the daily news and, with the aid of our deep network, focusing on the search for the world's best income opportunities and for great companies doing great things—both in North America and around the world. Welcome to Mauldin Economics!