30+ blue-ribbon speakers in a private setting, including Leon Cooperman, Ian Bremmer, Peter Diamandis, Neil Howe, and Doug Kass

25+ hours of presentations and panel sessions spread over 5 days

Your most urgent questions about the economic, financial, and (geo)political risks and profit opportunities answered
Right now, we are witnessing one of the biggest economic calamities of the past century.
Worldwide, the COVID-19 pandemic has brought economies to a standstill. Governments and central banks are taking emergency measures at never-before-seen levels. And no one knows what the long-term consequences may be.
Mark Grant, chief global strategist at B. Riley FBR and regular Mauldin Economics contributor, recently wrote,
We are peering into the void, of the great unknown, and trying to make sense of an array of data that doesn't fit any economic models, because we have never been here before, and we don't know how to model for economic conditions that have never existed before, in anyone's lifetimes.
Models may not work. But it's still possible to predict what will happen... and how to circumnavigate dangers and seize profit opportunities that open up in the markets.
That's why we have brought together more than 30 of the most brilliant economists, asset managers, and political analysts for five days of information-packed sessions...
Pre-order your Virtual SIC 2020 Pass today!
Get Live Expert Guidance for
Prosperity and Protection
Watch more than 30 five-star speakers present their insights and deep-dive analysis on what is happening right now, what to expect, and what actions to take for financial gain and protection.
Here are some of the big-name faculty members you will see at the Virtual SIC 2020:
Leon Cooperman is chairman and CEO of Omega Advisors, is one of the most successful investors of our lifetime. He is a shining example of the American dream, an active philanthropist, and passionate defender of capitalism. He recently made the case for company bailouts in the wake of the COVID-19 pandemic in order to avoid a huge surge in unemployment... a topic he surely will tell us more about at the Virtual SIC 2020.

Ian Bremmer is president and founder of GZERO Media. He hosts the weekly digital and broadcast show, GZERO World, where he explains the key global stories of the moment, sits down for an in-depth conversation with the newsmakers and thought leaders shaping our world, and takes your questions. Ian is also the president and founder of GZERO Media's parent company, Eurasia Group, the leading global political risk research and consulting firm.

Peter Diamandis is an engineer, physician, and entrepreneur, and is the founder and chairman of X Prize Foundation, as well as the cofounder and executive chairman of Singularity University. He believes that we'll see a complete transformation of the healthcare sector following the current crisis, with far greater roles for AI and telehealth.

Neil Howe is the managing director of demography at Hedgeye Risk Management, an independent financial research firm. As a historian and generational researcher, he co-authored the 1997 cult classic, The Fourth Turning, which listed a global pandemic as one trigger for a chain of events culminating in a major crisis. He sure will have a lot to say about the current state of affairs and what it may lead to in the coming years.

Doug Kass is the president of Seabreeze Partners Management, Inc. and currently serves as a guest host on CNBC's Squawk Box and a contributor to The Street's Real Money. Until 1996, he worked as senior portfolio manager at Omega Advisors, a $6 billion investment partnership, and became famous as a savvy investor and short seller. Doug believes that the recent poor performance of financial stocks is not a reason to panic but an exceptional profit opportunity. At the SIC, he will elaborate on this and other trade ideas and insights.
PLUS more than 25 other brilliant minds, including:
Barry Ritholtz, CIO of Ritholtz Wealth Management, guest commentator on Bloomberg Television, and host of the Bloomberg podcast Masters in Business

David McWilliams, leading Irish economic commentator, four-time bestselling author, documentary maker, and regular contributor to Financial Times

Mike Pettis, senior fellow of Carnegie-Tsinghua Center for Global Policy, expert on China's economy, professor of finance at Peking University's Guanghua School of Management

Bruce Bartlett, American historian and best-selling author, sought-after economic and political TV commentator

Ross Beaty, self-made billionaire and serial precious metals mine finder, chairman of the board of directors at Equinox Gold, founder and chairman of Pan American Silver, the second-largest silver producer in the world

Bruce Mehlman, founder and CEO of Mehlman Castagnetti Rosen & Thomas, sought-after keynote speaker on policy and political trends

Karen Harris, managing director of Bain & Company's Macro Trends Group and expert on the forces that will impact labor and economic activity in the coming decades.

Jonathan Ward, renowned China expert, founder of Atlas Organization consultancy, has briefed the US Defense Intelligence Agency, Navy Strategy Division, and leading US corporations

Catherine Wood, CEO and CIO at ARK Investment Management, multiple award winner for outstanding performance in the financial business

Rene Aninao, global macro strategist and policy expert, managing partner of CORBU Strategic Intelligence

Ivy Zelman, founder and CEO of Zelman & Associates, highly respected housing expert, widely known on Wall Street for her bold, contrarian thinking and bearish projections about the 2008 housing market decline
... as well as perpetual audience favorites like David "Rosie" Rosenberg, Louis and Charles Gave, Lacy Hunt, Felix Zulauf, George Friedman, and more.
Pre-order your Virtual SIC 2020 Pass today!
How the Global Crisis Affects You as an Investor... and How to Benefit from It
Our presenters and panelists will be talking extensively about the dangers and profit opportunities that arise from the current crisis.
Panel discussions with the top experts in those respective fields:
Monetary Policy & Debt

The US Government in Flux—Political Effects of the Crisis

Re-Globalization and China's Role in the World

Europe in the Aftermath of COVID-19

Returning to the New Normal
If you've been to the SIC before—or watched it with a Virtual Pass—you know that these panel sessions are quite lively affairs and extremely popular with the audience.
In addition, here's a short list of other important topics you can expect to hear about:
Globalization, National Security, and Corporate Supply Chains

Dislocations and Moral Hazard

Winners and Losers—from Obvious Companies to Emerging Industries

Rich vs. Poor—Risk of Geopolitical Tensions and Wars

Immigration

Inflation vs. Deflation

Global Debt Levels
Pre-order your Virtual SIC 2020 Pass today!
Watch It All from the Comfort of Your Home... for Just
$795

$395

Ordering your Virtual SIC 2020 Pass today will get you: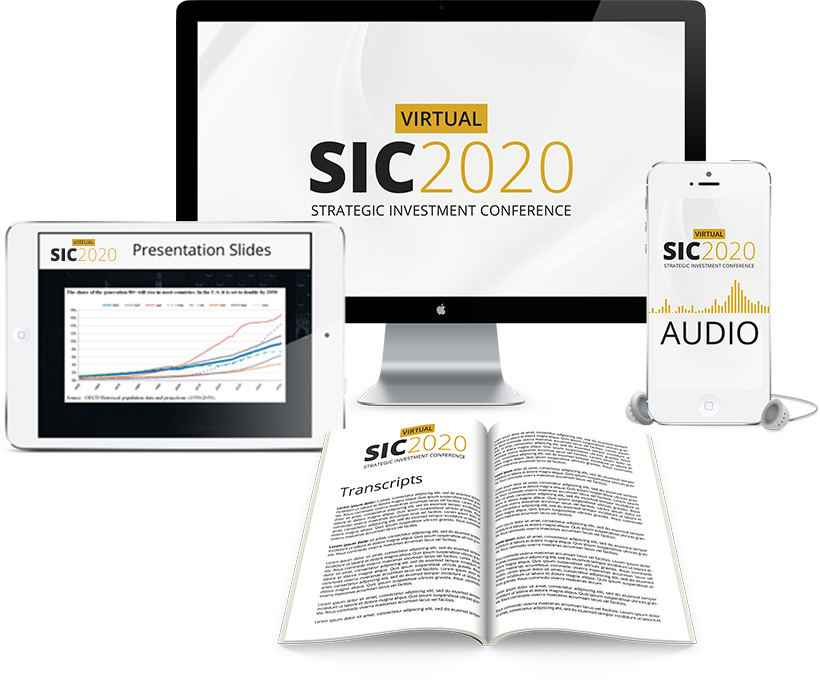 Full, LIVE access to the presentations and panels as they happen.

Ask the speakers: You can use your Virtual SIC 2020 Pass app to actively participate in Q&As with the speakers by submitting your questions.

25+ hours of video recordings: If you don't have time to tune in live, don't worry. You'll receive video recordings of all the presentations that you can watch at your leisure, from the comfort of your home.

MP3 audio recordings: High-quality audio you can listen to at any time, on any device.

Presenters' slide shows: Many of our speakers use slides to illustrate their presentations. We'll make these available to you in easily accessible PDF format, so you can view key trends and data at your own pace.

Full transcripts: Enjoy the SIC without having to take notes. The full transcripts that accompany your Virtual SIC 2020 Pass recordings allow you to skim through any presentation and revisit vital points at your convenience. The first transcripts will be posted within days after the conference ends.
We want to keep the Virtual SIC 2020 Pass easy to attain and affordable for every Mauldin Economics reader.
So we decided to sell it at a 50% discount to the list price.
When you pre-order today, you will get the full Virtual SIC 2020 experience for just $395—including the live stream feature, video and audio recordings, slides, and transcripts.
Order Form
YES, I want to order my Virtual SIC 2020 Pass today!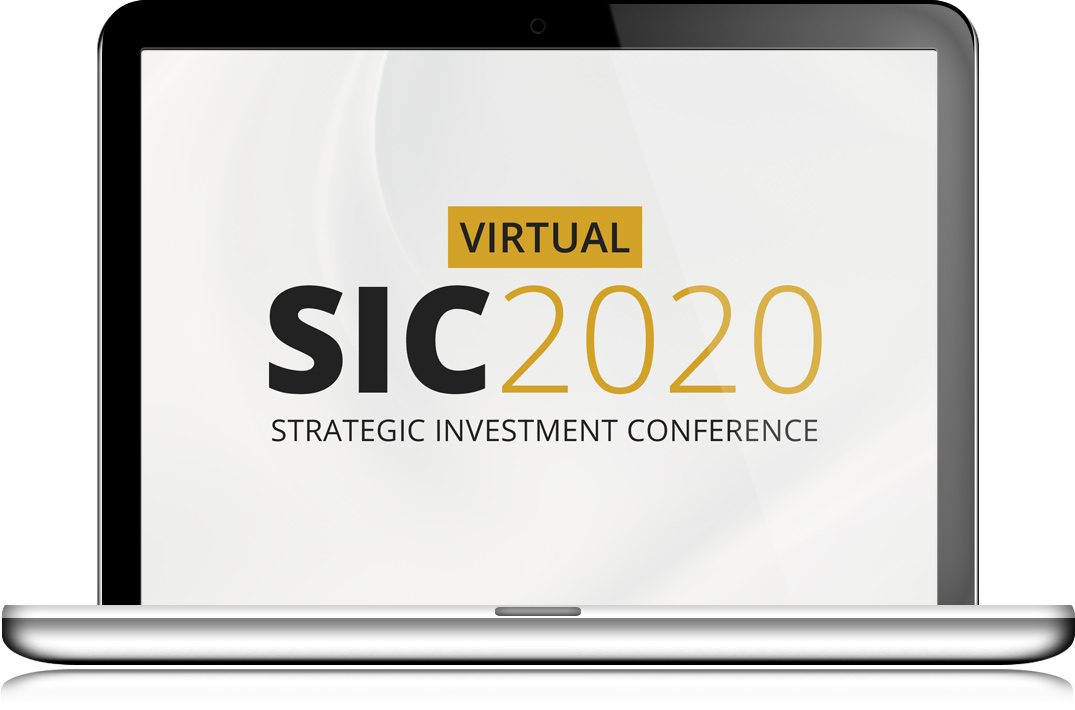 Instead of $795, I'll pay only $395... a 50% discount off the list price.
When I order today, I'll receive a confirmation email.
The actual login information and final agenda will be sent to me shortly before the Strategic Investment Conference starts on May 11, 2020.
My Virtual SIC 2020 Pass grants me real-time access to presentations and panels.
After the Virtual SIC 2020 is over, I will receive professionally prepared video and audio recordings, full transcripts of the presentations, and the slide shows the speakers used on site.