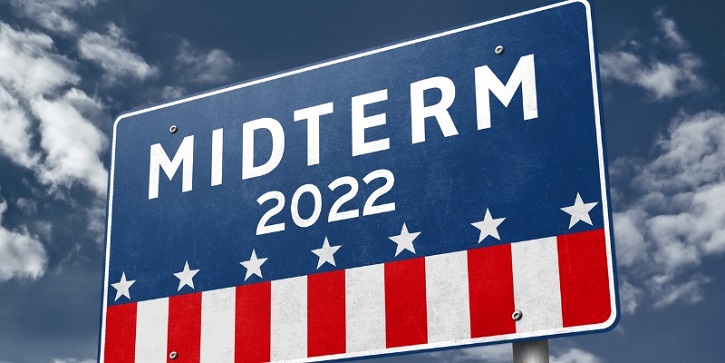 They mocked me on live TV
Stephen McBride
|
|
October 10, 2022
This article appears courtesy of RiskHedge, LLC.
---
They mocked me on live TV.
Almost four years ago to the day, I went on Yahoo! Finance's primetime market show.
They invited me on to discuss an article I wrote that went viral.
I made the case that stocks were likely to soar after the 2018 midterm elections.
If you remember, that was a difficult time for markets. We seemed to be teetering on the edge of a crash. The S&P was suffering one of its worst months since the financial crisis.
The anchors did not want to hear my bullish message... and tried to dismiss it as too simplistic.
Stocks rose 12% in the year after my appearance… just like I predicted they would.
They never invited me back.
Today, four years later, the midterms are around the corner again.
Let me show you my updated research—which includes a perfect 20-for-20 indicator backed by 80 years of stock market history. It suggests now is the ideal time to buy quality stocks.
I'll also share one of my top stocks to buy today.
First, you should know that midterms have a profound effect on stocks... regardless of which political party wins.
My team and I studied every midterm election since WWII. Here's what we found…
Since 1942, there have been 20 midterm elections…
US stocks climbed higher in the next 12 months after every single one.
Every single one.
That's 20 for 20!
I'll repeat it because this is so important:
For each of the past 20 midterms, stocks have ALWAYS climbed higher a year later. Always.
I bet you can't find another stock market indicator with a perfect 100% track record over 80 years.
See the results for yourself here.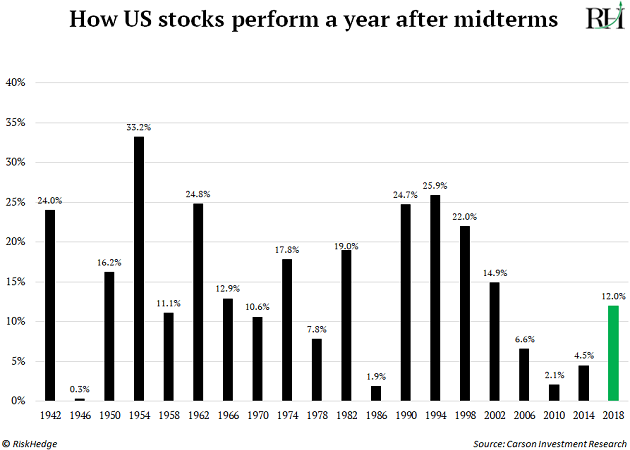 We've had every possible political combination in the past 80 years…
A Republican president with a Democratic Congress…
A Democratic president with a Republican Congress…
Republican president and Congress. Democratic president and Congress.
The market climbed higher every time.
Stocks don't just grind higher after a midterm election... They often surge.
Since 1942, stocks have jumped an average of 15% in the year after a midterm.
And if you measure from the yearly midterm lows, the results are even better. From their lows, stocks jumped an average of 32% over the next 12 months.
For perspective, that's more than triple the average performance for stocks in all years.
We're also entering the third year of a presidential term, which is historically the strongest year for stocks.
Take a look at this chart…
The performance of stocks in the third year of a presidential term beats all other years by a long shot.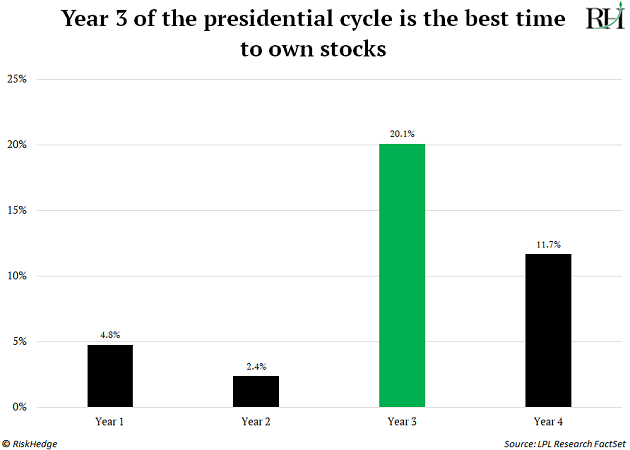 Why do markets behave this way with such remarkable consistency?
Glance up at the chart above once more, and you'll notice the second year of the presidential cycle is typically the worst for stocks.
That's the year we're in right now—the year when midterms occur.
Leading up to midterms, US stocks typically perform poorly. From January to October in midterm years, they drop an average of roughly 1%.
In all other years, stocks rise roughly 7% in that timeframe.
Think of midterm elections like a thick fog covering markets…
Unable to see what's coming, investors get nervous and act cautiously. Just as they would slow down while driving a car through a thick fog.
Once the election concludes and the fog clears, investors regain confidence, and the market gets back on track.
Now's your chance to take advantage of the "midterm surge."
As I mentioned, from January to October in midterm years, stocks fall roughly 1%, on average. But once midterms are in the rearview, stocks go from down 1% to finish the year up 6%, on average.
More importantly, stocks have finished UP in the 12 months after every midterm election since WWII.
I expect a similar script will play out again this time.
There's no guarantee, of course. But I'm not going to bet against a trend that's worked for nearly a century.
The bottom line is: we're going from the typically worst period for stocks to the best period. Don't get paralyzed by the current market situation.
Most investors are scared to buy stocks right now…
Even pro-money managers are hiding out in cash…
Today, you can buy your favorite stocks—on sale. All before the "midterm surge."
That's what I'm doing with my money.
I've been adding to my position in ASML (ASML).
Long-time RiskHedge readers know AMSL is one of my favorite stocks. It's more than doubled since I first recommended it in 2018.
ASML is the only company on the planet that makes the machine capable of producing the world's fastest computer chips.
It's a total, bona fide monopoly.
Computer chips are the most important resource in the world. They are the "fuel" powering every modern technology from data centers to smartphones and electric cars.
No company on this planet can make the latest and greatest chips without ASML's machines.
Yet, ASML is trading near its cheapest valuation since 2016. The last time you could buy it at this price, it more than doubled your investment in two years.
ASML is the perfect stock to ride the midterm surge.
Stephen McBride
Editor — Disruption Investor
PS: Here I am on Yahoo Finance four years ago, looking like a baby.
Why didn't anyone tell me to get wireless headphones?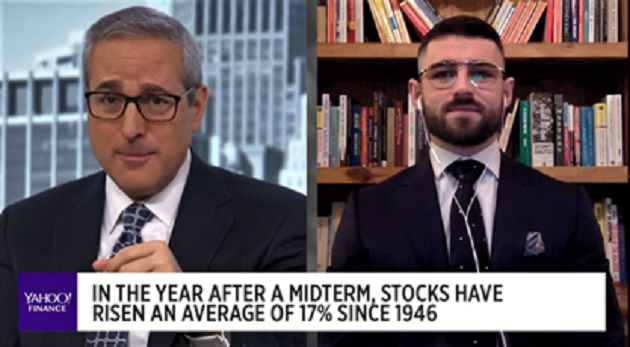 Stephen McBride is editor of the popular investment advisory Disruption Investor. Stephen and his team hunt for disruptive stocks that are changing the world and making investors wealthy in the process. Go here to discover one of Stephen's top investment themes and to try a risk-free subscription.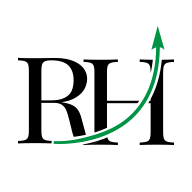 This article appears courtesy of RiskHedge, LLC. RiskHedge publishes investment research and is independent of Mauldin Economics. Mauldin Economics may earn an affiliate commission from purchases you make at RiskHedge.com