Street FreakInvestment Letter for Contrarian Thinkers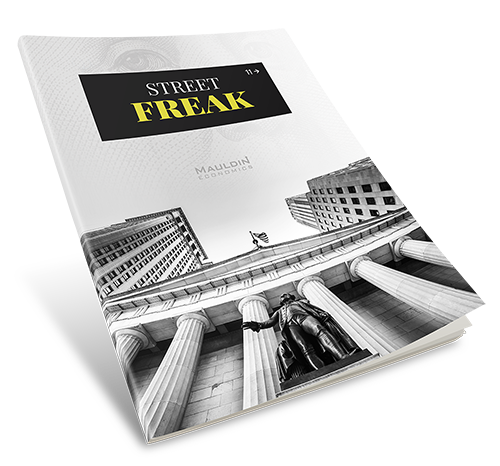 Learn how to trade with conviction, tap into investor psychology, and think out-of-consensus with the former head of ETF trading at Lehman Brothers.
---
Street Freak is written for astute investors who crave creative, fresh macro analysis and actionable trade ideas.
Every month, subscribers get Jared's latest trading ideas, market analysis, portfolio updates, and entertaining insights delivered to their inbox.
If you value the contrarian viewpoint and want access to a high-performing portfolio targeting the best risk-adjusted returns, then Street Freak is a perfect fit for you.
The Ideas Everyone Agrees on
Are Probably Wrong...
"Whatever is the consensus is usually wrong," Jared says.
He should know.
Unlike many of today's armchair analysts, he spent years on a cut-throat Wall Street trading floor, rising through the ranks to become the head of the ETF trading desk at Lehman Brothers. Some days, he traded as much as $1 billion in clients' assets.
He learned that Wall Street pulls strongly toward consensus. And that it is often wrong.
From picking winners from the "Most Hated" pile of stocks, to calling a bubble before almost anyone else, the knowledge Jared acquired on Wall Street shows throughout his analysis.
And there are other features that set Street Freak apart:
It's macro-focused. Jared takes a big-picture view of the US and global markets, picking out burgeoning trends, long-term opportunities, and safe places for your money.
It's a masterclass in investor psychology. The best investors are experts in human behavior. With Street Freak, you'll learn principles you can apply to your own investing strategy.
It's got the power of the network. Jared has an extensive network of Wall Street traders, hedge fund managers, and other financial professionals (though he often uses their consensus as a contrarian indicator).
It's irreverent. If you like your investment newsletters to sanctify Wall Street, Street Freak is not for you.
It's got conviction. Nearly all of the trades Jared recommends to his Street Freak subscribers are based on long-term trends that he himself invests in.
...And Not All Ideas Are Created Equal
Dangerous pitfalls await investors with no conviction. You are more likely to panic during a market correction or longer-term event. You're more likely to fall prey to greed or fear. And your portfolio will likely be listless—studies show that active managers' high-conviction trades outperform the market.
The problem with most investment newsletters is that ideas aren't weighted according to conviction level. As Jared says, "They are all just line items in the portfolio."
In contrast, each of the positions in the Street Freak portfolio is weighted according to Jared's conviction level for each particular investment thesis.