Robert's field investigations, coupled with his EES expertise, have helped him provide thousands of Yield Shark readers with low-risk returns.
Yield Shark has given readers the opportunity to earn an average return of 8%.*
Over the last 12 months,
During this same time, the S&P 500 averaged -0.1%.*
*As of June 2019
With Robert and Mauldin Economics' team of experts behind your portfolio, you'll be poised to generate market-beating returns... and you won't have to worry about finding decent yield ever again.
You'll enjoy the full Yield Shark service
risk-free and without obligation

for a full 30 days...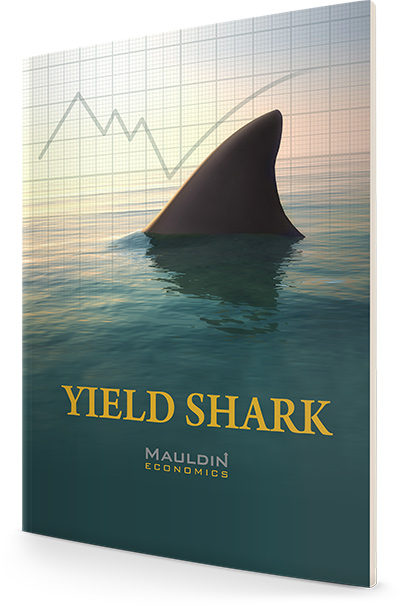 As soon as you become a member, you'll have unrestricted access to...
One NEW lucrative income stream every month...
The complete Yield Shark portfolio...
Timely alerts on the most important events impacting your savings...
5-Star VIP treatment from Mauldin Economics' dedicated customer service team...
Better yet, you don't risk a penny when you accept this trial—you can test-drive Yield Shark for a full 30 days.
You'll see firsthand how the income streams inside can pad your retirement.
(If you want, you can even start using them to have a bit more cash to spend today.)
If you're not 100% satisfied, you simply need to contact our customer service team and they'll offer you a prompt refund. No questions asked. And with no further obligation.

Yield Shark
today, risk-free
YES, I'd like to try
As soon as you sign up, you'll receive a welcome email with links that give you instant access to...
Yield Shark newsletter by Robert Ross
12 monthly issues of the
Yield Shark portfolio
Access to years of archives and the
100% Satisfaction Guarantee
There is absolutely no risk in trying Yield Shark. You have a full 30 days to decide if the service is right for you. Give Yield Shark a try today.
Getting started is easy: Just fill out the order form below to get instant access to superior yield and lower risk.