Mauldin Economics Presents Yield Shark
6.8% inflation decimated millions of Americans' retirement wealth in 2021.
Today, you're feeling inflation at the gas pump and the grocery store... it seems everything's rising in price with no end in sight.
The mainstream news says not to worry, the Fed is acting aggressively to "fight inflation."
If history is any guide, the Fed's response will likely be too little, too late.
Or too much, too late. The chances of the Fed raising rates to perfectly respond to a wildfire of inflation are nearly zero.
The last time the economy and the Fed were painted into a corner like they are now...
The heroic actions of Fed Chairman Paul Volcker broke the back of inflation by raising the Fed funds rate to 20%, getting the economy back on track but not without a recession in 1980–1981.
Volcker's moves, however, were at least partially responsible for the start of a historic market boom that began in 1982 and lasted until 2001.
Unfortunately, today's economy is far more complicated, and the stock market has already been on an extended bull run for years.
Today, investors like you must create a nimble portfolio packed with stocks that put money in their pockets just by owning them.
That's exactly what Ronald Read, a man who never made more than $11/hr. in his working life, did to amass an $8,000,000 portfolio when he retired.
In uncertain times like these, you need a portfolio that can weather any storm, sending you a stream of dividend income along the way, leaving you with plenty of dry powder to redeploy on other stock ideas.
Here's an example of a stock you want to own during high-inflation, rising-interest-rate times like these.
If you had made a $5,000 investment in Home Depot (HD) five years ago, you'd have $13,442 today, including dividends.
Home Depot Shares Are a Dividend High-Flier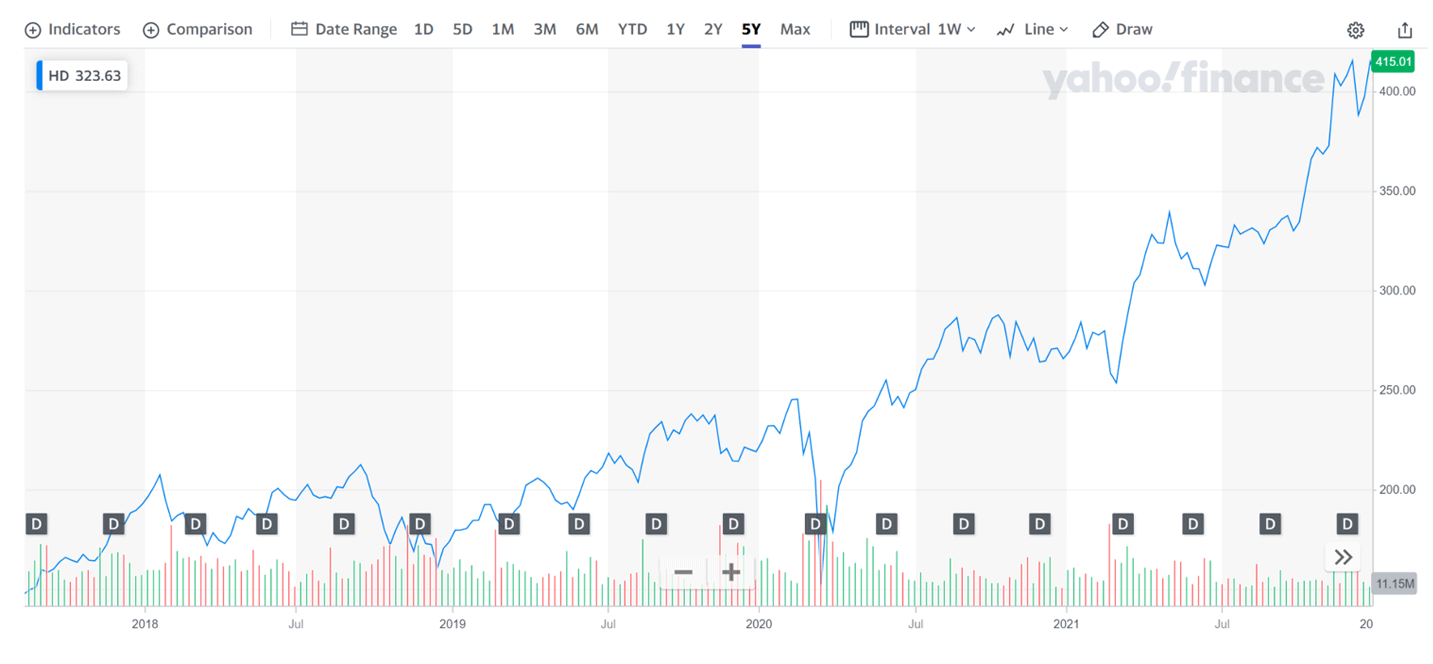 Source: Yahoo! Finance
That gain includes the "make money while you sleep" dividends HD shares paid along the way.

Without dividends, your Home Depot shares would only be worth $12,522 today.
With a similar investment in Proctor and Gamble (PG), your initial $5,000 would be worth $9,713 today, including dividends.
Proctor and Gamble's Great Yield Pays You Just to Hold Shares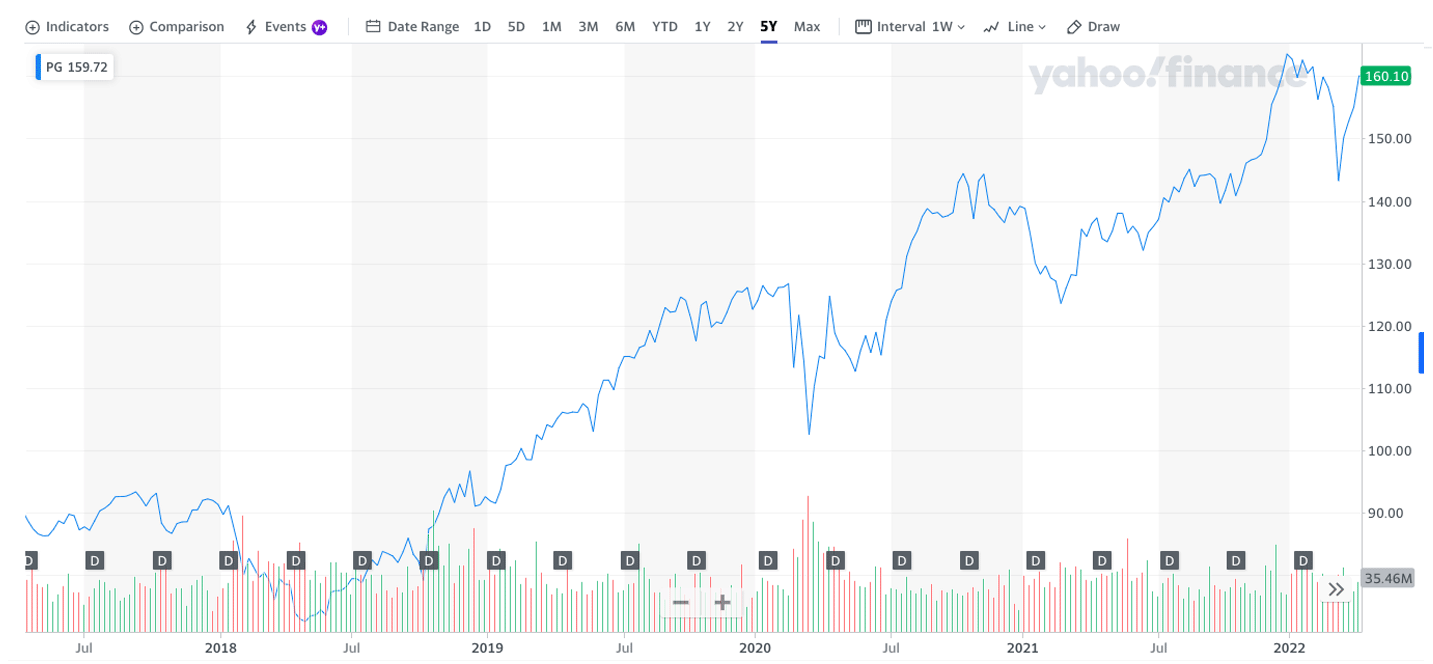 Source: Yahoo! Finance
Without dividends, your Proctor and Gamble shares would only be worth $8,849.
And a similar investment in Waste Management (WM) would be worth $10,778 today, including dividends.
WM Is a Dividend Superstar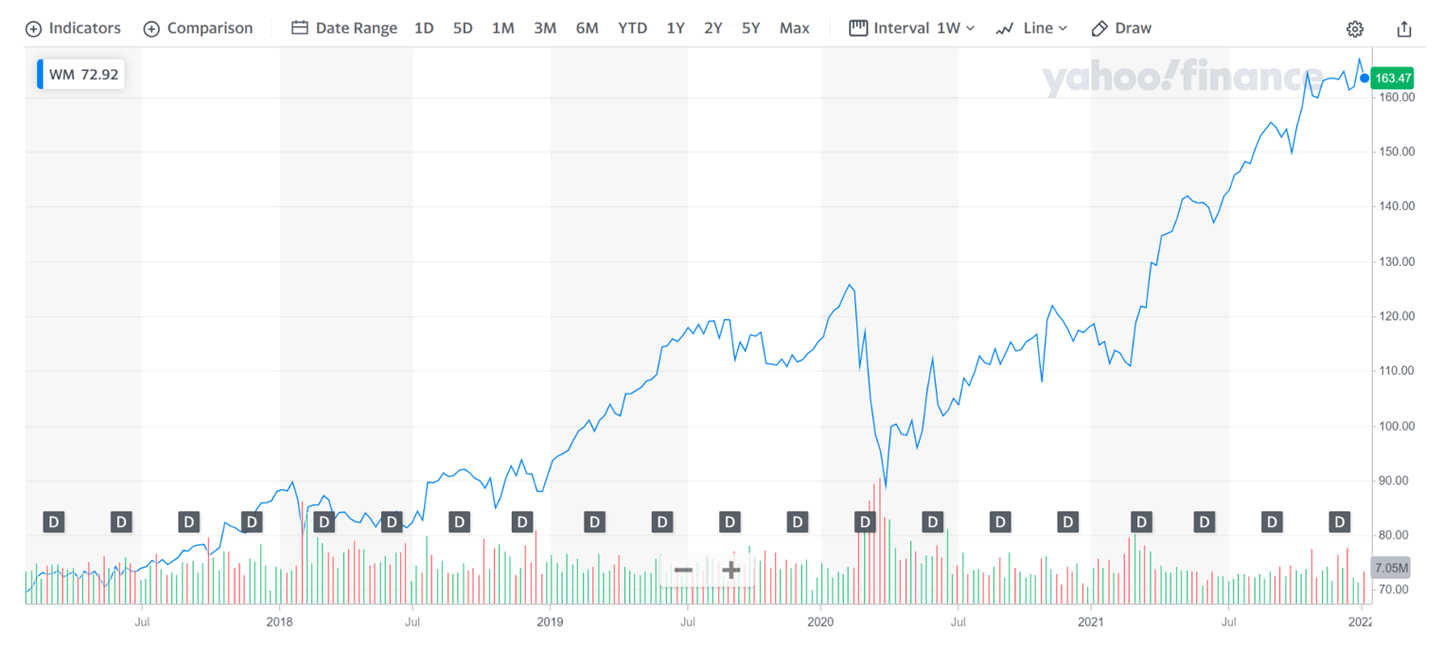 Source: Yahoo! Finance
Without dividends, your Waste Management shares would only be worth $10,066 today.
The point is clear—in uncertain times—stock market shocks, rising interest rates, rising inflation...
From the internet boom and bust... to the 2008 Great Recession... to the real estate boom... to the current return of soaring inflation and the new wave of geopolitical crises, dividend stocks help bulletproof your portfolio.
High-flying dividend stocks give your portfolio the strength it needs to withstand market turmoil, so the gains keep rolling in.
That's exactly what you get with Yield Shark... at least one new dividend-paying stock idea every single month.
Today, you can join Yield Shark from Mauldin Economics and get strong, stable stocks poised for growth and reliable dividend income payouts delivered to you every month.
Typically, a year of Yield Shark sells for $199. Today, you can save 75% and get a full year of monthly recommendations, alerts, and updates... access to the members-only website and model portfolio... and more—for just $49.
Plus, you have 90 days to decide if Yield Shark is right for you. If at any time you are not happy with your subscription, you can call and get your $49 membership fee returned to you, no hassles or questions asked.
Scroll down to see everything you get when you join Yield Shark today and to complete your order!
When you sign up for Yield Shark today you will receive access to: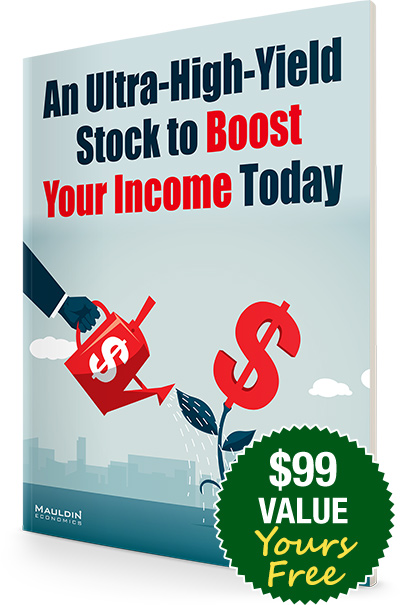 12 monthly issues

Timely alerts on current and new portfolio positions

A Special Bonus! Our brand-new report, An Ultra-High-Yield Stock to Boost Your Income Today. A $99 value—yours free just for joining us today. (*Please note, the dividend paid by the company in this special report is sky-high. It's a great opportunity right now... but keep in mind, the recommendations you get in each monthly issue focus on safe AND growing dividend yields.)

PLUS—a deep 75% discount!