The Inflation of Expectations
October 6, 2006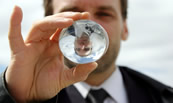 The Inflation of Expectations
The Need to Raise Rates
A Slowing Labor Market
The NBA and Ahead of My Time
This week we had two more Federal Reserve members repeat what has become the theme for their chorus, but not one the market seems to be paying much attention to. It should be. The market believes the Fed will soon start to cut rates, perhaps as early as first quarter of next year. It is not altogether clear that this will be the case.
I must admit to being somewhat baffled as to the apparent disregard by the stock market for what I view as a tough environment in the medium term with either a slowdown or a mild recession being suggested by numerous factors. While there are a lot of positive features to the economy, to me the risk to the economy still seems to be to the downside. I take small comfort in the fact that this perspective is shared by Fed Vice Chairman Donald Kohn, a very solid economist and financial market observer.
On Tuesday night at New York University, Kohn stated that he is more concerned about inflation than slowing economic growth because a recession is unlikely. "In the current circumstances, the upside risks to inflation are of greater concern...I am surprised at how little market participants seem to share my sense that the uncertainties around these paths and their implications for the stance of policy are fairly sizable at this point."
The Need to Raise Rates
Rumor has it that Kohn was Greenspan's preferred choice to follow him. In any event, he is closely tied to Bernanke. I think it is highly likely that Bernanke shares those sentiments. But they are not nearly as hawkish as the speech on Thursday by new Philadelphia Federal Reserve President Charles Plosser. In a speech peppered with stern anti-inflation warnings, and echoing the sentiments expressed by Dallas…
To continue reading, subscribe for free.
---
Or login below.