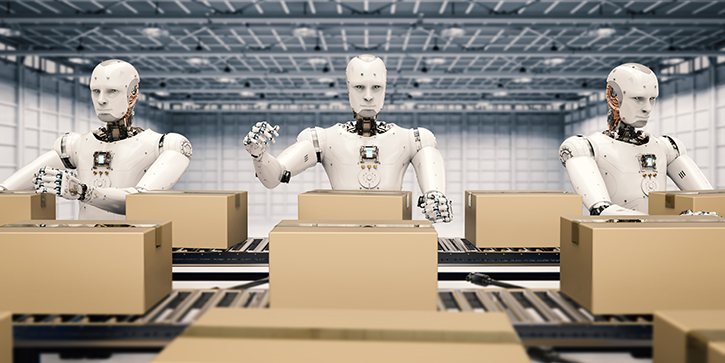 Why Robots Will Win the Coming Trade Wars
---
Suppose the US imposed tariffs on steel imported from the European Union. Prices on goods made with that steel would probably rise, but this would affect you only to the extent you rely on those particular goods.
When the EU responded by slapping tariffs on items "Made in USA," it would hurt you only if your livelihood depended on those export revenues.
Of course, we may be headed toward a wider trade war, which could cause more general price inflation, hurting everyone in some way—though I think it will be more targeted at first.
But one group is sure to win in a trade war because demand for their services will skyrocket.
Who are these lucky people?
They aren't people at all. They're robots.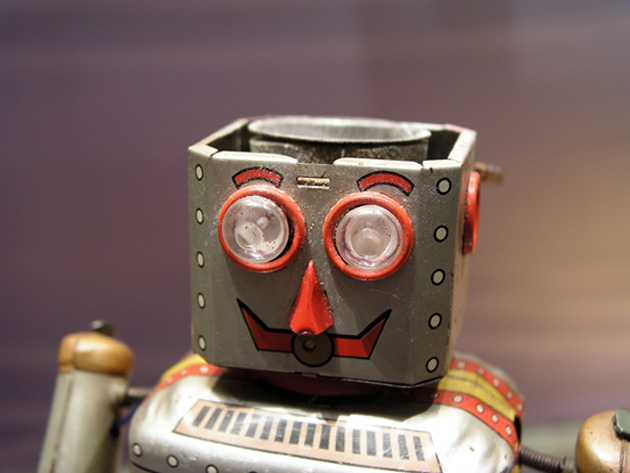 Photo: Michael Daln via Flickr
Trade Talks Fizzle
If you monitor trade and logistics news like I do, the signs are everywhere. Last week, US and Chinese negotiators met in Washington to cap the 100-day dialogue that Presidents Trump and Xi promised at their April summit.
It didn't go well, apparently.
The joint statement reported no new agreements, and both sides canceled their planned press conferences.
Two days later, President Trump ordered a "cross-government study" of whether US manufacturers can supply everything the military would need in a future war. White House trade advisor Peter Navarro, a longtime China trade skeptic, announced the review.
Certainly, the US needs to be ready for war and not too dependent on imports. But this could also be another step toward using national security to justify protectionist trade policies.
I suspect the White House has already decided what it will do. Now they are simply building justification for it.
So how do robots fit into this? Stay with me, we're getting there.
Automate or Die
Recently, we sent Connecting the Dots readers a survey asking how you like my letters. Several hundred of you responded with very useful feedback. I'll be implementing some of your suggestions in coming issues.
One common theme: People want practical ideas on how to invest in line with the macro topics and trends I cover. My trade-war forecast is a good example.
So let's get right to it and walk through how I get from big-picture themes to specific investments.
Last week, in Trump's Terrific Trade War, I wrote, "The global economy is a giant, well-oiled machine that's about to get gummed up."
It's hard to overstate how globalized the economy has become, compared to the 1990s. NAFTA, China's opening, and the end of the Cold War changed everything. If I'm right, everything is about to change again.
One of the many consequences is that it will give manufacturers yet another reason to cut their costs.
If you're an exporter and governments slap tariffs onto your goods, your foreign customers will have to pay more and potentially stop buying your products. To avoid that, you decide to absorb some of the cost and reduce your prices.
The problem is, those discounts will diminish and possibly erase your profit margin—unless you get more efficient. And the easiest way to do that is by automating production. If you're already automated, you automate more. You squeeze every ounce of efficiency from your business.
This isn't a new development. Intense competition is already forcing automation, but new trade restrictions will add further urgency.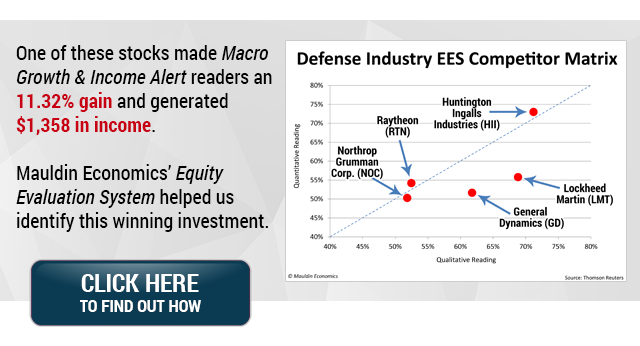 Finding Opportunity
My associate Robert Ross and I knew after the election that trade barriers would probably rise. In war-gaming the consequences for Macro Growth & Income Alert subscribers, we saw an opportunity in industrial automation and robotics companies.
In particular, we wanted automation suppliers based outside the US that would have better access to countries the US government might try to punish. We found several candidates and recommended one to subscribers in January.
An almost-16% gain in just six months is nothing to sneeze at, but I think it's just the beginning.
Plus, we're using options to draw income from two other stocks in this niche. We may end up owning the shares if their price falls, but in the meantime, we're still earning premium income.
It would be unfair to current subscribers for me to disclose those company names here. But you can find out by trying Macro Growth & Income Alert with our 90-day, full money-back guarantee. We guarantee that if our recommendations don't generate enough income to repay your subscription fee within these first three months, you can cancel for a full refund.
From April to June, readers who followed our recommendations earned $1,148 in income. And since February, those who made the recommended trades earned $2,667.
If you're interested in profiting from the big macro trends driving markets, Macro Growth & Income Alert can help you refine your strategy. You can get the details here.
A Whole New World
The action isn't all overseas, though. We all know Amazon and other US e-commerce companies are automating every possible task. One that's surprisingly hard: grabbing items from shelves and packing them to ship.
So far, robots aren't very good at recognizing the millions of shapes and manipulating them properly—but they're learning fast.
Last weekend, the Wall Street Journal reviewed several companies that are training robots to pick orders. They're getting close. A Chinese firm says it will open a fully automated warehouse in Shanghai by the end of this year.
That technology will find its way to the US, and companies like Amazon will deploy it pronto. The cost savings will be irresistible.
Won't it kill jobs? Yes, thousands of them. That's another complication we really don't need in these already complicated times… but it's coming anyway.
The good news is, some of these same robotic technologies will reduce the incentive to produce goods overseas and import (or re-import) them to the US.
Mass production is giving way to niche manufacturing and localization. That's already a worldwide trend and it's accelerating.
If we can get through these transition years—which will be tough—I think we'll find a whole new world on the other side.
See you at the top,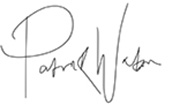 Patrick Watson
P.S. If you're reading this because someone shared it with you, click here to get your own free Connecting the Dots subscription. You can also follow me on Twitter: @PatrickW.
---