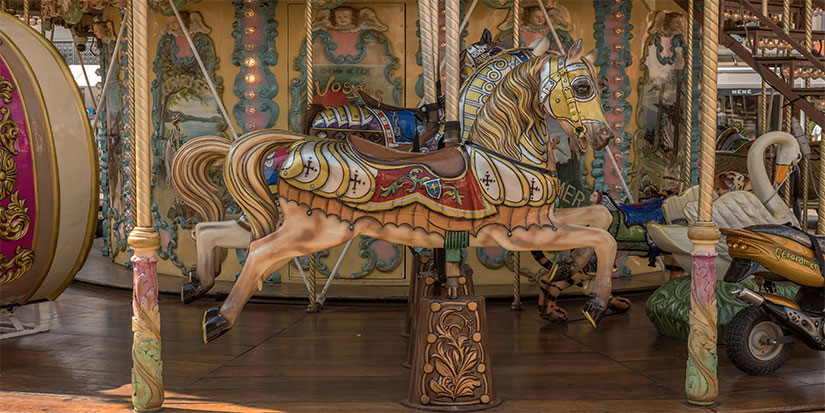 1,238 Square Miles of Dividends
---
As I hinted last week, I spent a few days in the "triple cities" of Binghamton, Endicott, and Johnson City, New York.
My boyfriend hails from the area and had a list of places he wanted to show me. And I was determined to keep my mind off stocks and the economy… but I just couldn't help myself.
When we arrived at Traditions at the Glen Hotel, we learned we had been upgraded to the TJ Watson Suite.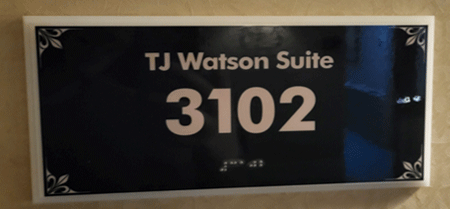 Now, I knew nothing about the hotel when I booked it. But I certainly knew the name TJ Watson.
Mr. Watson was chairman and CEO of International Business Machines Corp. (IBM) from 1914 to 1956.
During his tenure, he oversaw the transformation of IBM into an international powerhouse.
In 1935, IBM bought the Traditions mansion and the 430 acres of surrounding land. It was converted into the IBM Homestead, a meeting place for visiting executives and customers.
Both the walls in the suite and the corridor leading to breakfast were lined with photos and more history tidbits.
Dividends had weaseled their way back into my head.
One Building, Two Watchlist Companies
IBM has moved on and off my watchlist for years.
It's a Dividend Aristocrat with 26 years of dividend growth and currently pays a solid 4.6% yield.
It's stuck on my watchlist because I'm not sure about the future success of its cloud services business. The company, known for the invention of the floppy disk and the hard disk drive, is no longer focused on hardware and doesn't sell PCs.
I have closely followed the growth of SaaS (software-as-a-service) and other cloud-based services since COVID. But I'm still waiting to see the 2023 shakeout of the post-COVID new normal.
Even though I'm not yet sold on owning IBM, it was fascinating to see its lasting mark on the triple cities, as you can see in this photo I took: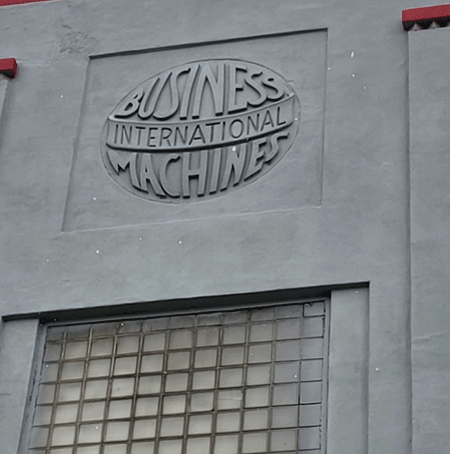 Right next to this seemingly empty building was one bearing the name of another dividend payer I'm adding to my watchlist.
BAE Systems PLC (BAESY)
moved its facilities to Endicott after its Johnson City location was flooded.
I recommended this UK-based defense company to my readers back in July 2012. At the time, we bought shares for $19.18 and earned a 6.2% yield.
The stock is now $42, and its yield has sunk to just 2.9%. That's not enough yield to interest me right now.
But it's one of the six largest suppliers to the US military, and I'm going to add this one to my watchlist again.
Carousel Dividend Capital of the World
The dividend story doesn't end here.
The tri-city area is also known for its six old-time carousels with original wooden horses. Hence the self-proclaimed nickname, "Carousel Capital of the World."
They were donated to local parks by George F. Johnson, the namesake of Johnson City.
In 1899, Johnson became half-owner of the Endicott Johnson Shoe Manufacturing Co. The company was massive, with 20,000 people working at its factories by the 1920s. And by the 1940s, the company was paying a generous 4%–5% yield to shareholders.
The company was acquired by Rocky Brands Inc. (RCKY) and still sells its Georgia Boot, Durango, and Lehigh Safety Shoes brands. This consumer discretionary company pays a yield of 2.6%.
The demand for work footwear isn't going to disappear, and I like the story. But the low yield and a dividend that doesn't look that safe means something would have to change for me to consider RCKY as a buy.
My tour of the world's dividend capital concluded when we drove past the original location of DICK's Sporting Goods, Inc. (DKS), which was also founded in Binghamton.
DICK's has only paid a dividend for the past 10 years, but the payment was raised the last eight of them. I wouldn't be surprised if the company is headed toward dividend aristocracy, but that's a few years off.
Here again, the stock only yields 1.65%. Shares have nearly tripled from their pre-COVID prices, driving down the yield. A combination of dividend hikes and a share price correction could make DICK's a bedrock holding contender in the future. So, I'll keep an eye on it.
What began as a family visit turned into a few hours of research and four more companies on my watchlist. All four fit into trends I'm watching this year. So, don't be surprised if you hear more about them in the coming months.
For more income, now and in the future,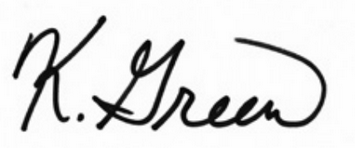 Kelly Green
Tags
Suggested Reading...