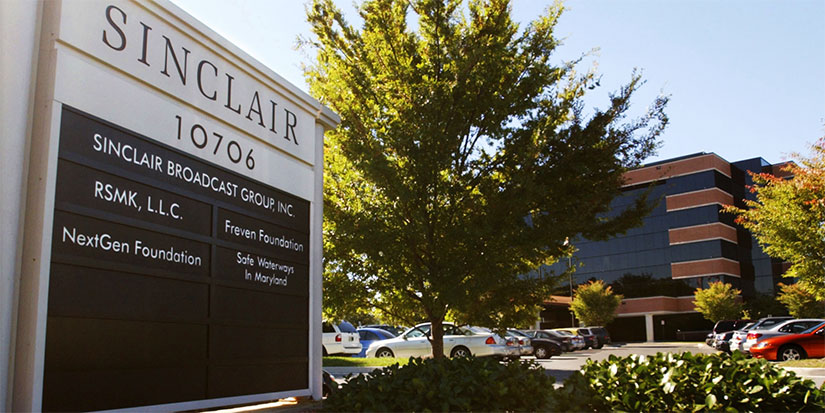 Don't Time the Market: Time Your Opportunities with Great Dividend Stocks
---
Showing my readers how to use dividends to build wealth and unlock streams of income is why I write this letter. It's what I do best. When I recommend a stock for its dividend, I always try to ensure that I'm not overpaying. I don't, however, try to time the market. There are exceptions, of course, but that is generally the case, and here's why:
Timing the market is hard, and it rarely works. If it were easy, we'd all be rich.

Most dividend stocks don't have wild price swings for timing to matter much.
But sometimes a dividend stock will get hit with a big price move. And if you find a good dividend stock that's on sale, it can really boost your yield.
Remember: the lower your buy price, the higher your yield will be.
That means your money is working harder for you. You'll still earn the same amount of income per share, but you'll be getting the shares at a lower price. Who doesn't love a good bargain?
Most of the time, I encourage my readers to ignore the mainstream media. The sensationalized reporting can cause investors to overreact and make choices based on their emotions instead of on the facts and accuracy.
However, there are times when we can use irrational moves in stock prices to our advantage.
Here's a look at some recent examples.
Broadcast Stocks Take a Beating
At the beginning of September, broadcast stocks started to crash.
Sinclair Broadcasting fell 21%: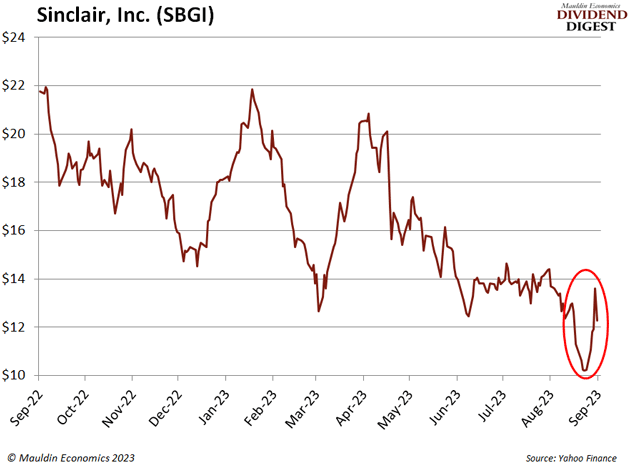 And Nexstar Media Group dropped 19%: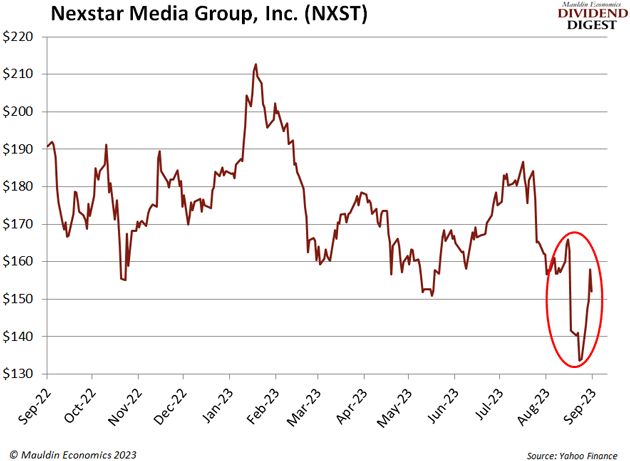 And they weren't alone. Warner Bros. Discovery (WBD) lost 16%, Paramount Global (PARA) fell 13.7%, and Comcast Corporation (CMCSA) sank 4.8% during the same time.
Just two weeks later, the entire group of stocks had recovered. So, what caused the selloff?
The Walt Disney Company (DIS) pulled its programming from Charter Communications (CHTR) on August 31 over a disagreement about future carriage fees. These are the fees that Charter pays to Disney so its customers have access to channels associated with ESPN, ABC, and Disney. The negotiations reached a stalemate as DIS pushed for a more traditional fee model and CHTR wanted a more flexible model.
Shares of Disney dropped 4.5% to their lowest level since May 2014. And Charter Communications shares shed 7.7%. The news of Disney's action rippled through the industry because the second-largest US cable provider (Charter) was demanding more pricing flexibility.
If Charter was successful, it would mean the whole industry might need to change its distribution and payments system. It was less about the money, and more about the future of television as it evolves and adapts to the new ways media is consumed.
The agreement reached last week is predicted to "reshape the media landscape." Charter has proposed a new type of cable TV bundle that combines access to Disney's most popular channels, like ESPN and FX, with ad-supported versions of its streaming services. It's an attempt to offer the best of both worlds: cable and streaming in one bundle.
The broadcast industry has changed a lot in the past decade, and this is more evidence that the change isn't over. And these changes can give us an opportunity to lock in a great investment.
Spotting a Golden Opportunity Hidden in Chaos
The deal reflects the ongoing transformation of an industry. But in the end, nothing fundamentally changed with these companies. Investors reacted to the news and shares dropped. If you had owned these shares, you could have overreacted, sold, and taken a loss when it wasn't necessary.
I followed this story because Paramount and Sinclair are both on my watchlist. I'm a big fan of Taylor Sheridan's shows on Paramount, like millions of other people. And when I recommended Sinclair to my readers back in 2012, they were able to double their money in just four months!
On September 7, Sinclair shares hit a low of $9.81. It was the first time the stock had traded under $10 in 10 years. That boosted its yield from 7.7% to a whopping 10%. What an opportunity! Shares are now back over $12 with a yield around 8%.
I still have some reservations about Sinclair, but this was the opportunity of a decade!
Opportunities like that do pop up. There are many industries that are still working through their post-COVID new normal, and there will be volatility along the way. If you keep your eyes open, you might be able to find some rare buying opportunities amidst the noise.
For more income now and in the future,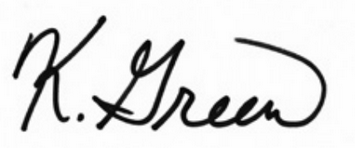 Kelly Green
Tags
Suggested Reading...